Add to Briefcase
July 12, 2017, 8 p.m.
Demo­crats pre­par­ing for bi­par­tis­an health care ne­go­ti­ations could face push­back from a base that's moved left on the is­sue since the 2016 elec­tion and lost much of its ap­pet­ite for work­ing across the aisle since Pres­id­ent Trump took of­fice.
Though party lead­ers have for months called for a seat at the ne­go­ti­at­ing table—something they ap­pear poised to get if Sen­ate Re­pub­lic­ans' latest pro­pos­al fails to garner enough sup­port next week—some on the Left fear that sit­ting down with Ma­jor­ity Lead­er Mitch Mc­Con­nell could of­fer Re­pub­lic­ans a life raft on an is­sue that's tear­ing the GOP apart and stalling the rest of its agenda.
While Demo­crat­ic lead­ers have signaled their con­tin­ued sup­port for bi­par­tis­an ef­forts to sta­bil­ize the in­sur­ance mar­kets, Demo­crats are ex­per­i­en­cing their own in­tra­party fis­sures on the is­sue. Many rank-and-file mem­bers are already look­ing for places to com­prom­ise with Re­pub­lic­ans, but a grow­ing chunk of the party has co­alesced around the single-pay­er pro­pos­als once only cham­pioned by the Far Left.
"Our people have tried to sit down in the past, and will sit down now," Sen­ate Minor­ity Lead­er Chuck Schu­mer told re­port­ers Tues­day. "We've asked for months to sit down with our Re­pub­lic­an col­leagues to come up with a pro­pos­al that im­proves the ex­ist­ing sys­tem."
The pro­spect of work­ing to­geth­er comes as a last re­sort for Re­pub­lic­ans, who have so far failed to unite their own mem­bers be­hind a plan to re­peal and re­place key pro­vi­sions of Obama­care. Mc­Con­nell said last week that if his party couldn't agree on an "ad­equate re­place­ment," he would reach across the aisle to sta­bil­ize fail­ing in­sur­ance mar­kets.
Plenty of rank-and-file Demo­crats ap­pear eager for the op­por­tun­ity. On the House side, a group of Demo­crat­ic mem­bers con­vened a press con­fer­ence Wed­nes­day morn­ing to dis­cuss their will­ing­ness to im­prove the health care law with Re­pub­lic­ans.
"For the past sev­en years, it's as though the Re­pub­lic­ans have re­fused to ac­know­ledge there's any­thing good about the Af­ford­able Care Act," said Rep. Peter Welch. "Demo­crats kept fall­ing in­to the trap of say­ing there's noth­ing wrong with the Af­ford­able Care Act. An area where there is com­mon agree­ment is that the in­di­vidu­al mar­ket is broken."
Sev­er­al Demo­crat­ic law­makers have a laun­dry list of pro­vi­sions they would like to see in a bi­par­tis­an health bill, with many nam­ing the guar­an­tee­ing of cost-shar­ing-re­duc­tion pay­ments and re­in­sur­ance among the first steps. Some showed will­ing­ness to sit down with Re­pub­lic­an Sens. Bill Cas­sidy and Susan Collins, who have cham­pioned a pro­pos­al that would al­low states to de­cide wheth­er to keep Obama­care or move to a dif­fer­ent sys­tem.
"I can see a Cas­sidy-Collins bill, a re­in­sur­ance bill, [Sen.] Jeanne Shaheen's bill on CSR pay­ments—I can see put­ting those all on the table and com­ing up with some real im­prove­ments if we're al­lowed to have that op­por­tun­ity," said Sen. Tim Kaine.
Collins her­self said she has been ap­proached by Demo­crat­ic law­makers to work on a com­prom­ise bill. Sen. Bill Nel­son told re­port­ers that he ran in­to the Maine law­maker in an air­port and began chat­ting with her about re­in­sur­ance.
But oth­er Demo­crats have their eyes on lar­ger shifts in the health care sys­tem—ones they won't be able to achieve by work­ing with Re­pub­lic­ans.
"The only ne­go­ti­ated po­s­i­tion that would be ac­cept­able would be a com­prom­ise to in­clude a pub­lic op­tion in the cur­rent Obama­care ex­change," said Neil Sroka, spokes­man for the lib­er­al group Demo­cracy for Amer­ica. "In our view, that's what Demo­crats should be stand­ing for, is Medi­care for all, and if you want to com­prom­ise, the only ac­cept­able com­prom­ise would be the in­stall­a­tion of a pub­lic op­tion."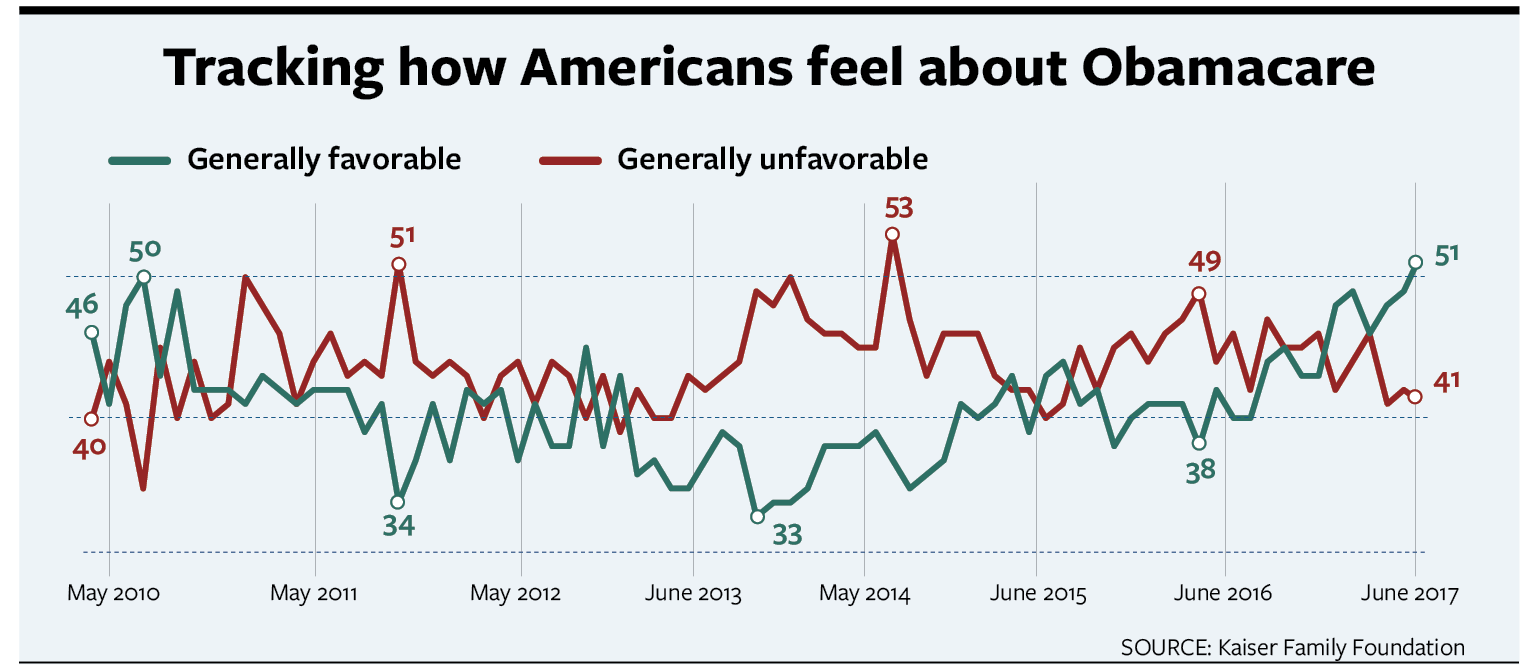 Once viewed as merely a lib­er­al talk­ing point, a Medi­care-for-all pro­pos­al in the House has now garnered 113 co­spon­sors. A re­cent poll by the Kais­er Fam­ily Found­a­tion found a little more than half of the pub­lic fa­vors a single-pay­er health plan where all Amer­ic­ans would get their in­sur­ance from a single gov­ern­ment plan. Kais­er says the in­crease in sup­port has largely been driv­en by in­de­pend­ents.
Sen. Eliza­beth War­ren re­cently told The Wall Street Journ­al that it was time to move on to a more lib­er­al mod­el.
"Pres­id­ent Obama tried to move us for­ward with health care cov­er­age by us­ing a con­ser­vat­ive mod­el that came from one of the con­ser­vat­ive think tanks, that had been ad­vanced by a Re­pub­lic­an gov­ernor in Mas­sachu­setts," she said. "Now it's time for the next step. And the next step is single-pay­er."
Sroka warned Demo­crats who cross the aisle that they could also risk ali­en­at­ing a base that has for months flooded phone lines and town halls in protest of GOP health care pro­pos­als.
"Any Demo­crat that is stra­tegic­ally dumb enough to sit down with Re­pub­lic­ans and throw them a life pre­serv­er on their god-aw­ful health care plan … will very quickly hear from the grass­roots," said Sroka.
But some say the push for single-pay­er could be a dis­trac­tion to the cur­rent ne­go­ti­ations.
"Now is not the time for Demo­crats to be trot­ting that out," said Andy Slavitt, former act­ing Cen­ter for Medi­care and Medi­caid Ser­vices ad­min­is­trat­or un­der Obama.
Even ex­perts at the lib­er­al Cen­ter for Amer­ic­an Pro­gress, a long­time ad­voc­ate for single-pay­er, said Demo­crats should be work­ing along­side Re­pub­lic­ans, giv­en the ur­gency of the fail­ing mar­kets.
"We can't wait a year or two years un­til Demo­crats might re­turn to power," said Toph­er Spiro, vice pres­id­ent for health policy at CAP. "It should not be a polit­ic­al game, we should do what we can now to sta­bil­ize the mar­kets."
But strategists who cau­tion Demo­crats against such ne­go­ti­ations say com­prom­ise is out of reach, and the at­tempt could give Re­pub­lic­ans an exit strategy on an is­sue where they risk fail­ing to up­hold sev­en years' worth of prom­ises.
"Re­pub­lic­ans have tied them­selves in this knot, and there is no reas­on Demo­crats should help them un­tie it," said Sroka. "It is pos­it­ively in­sane to be­lieve [Mc­Con­nell] would be a good-faith ne­go­ti­at­or with Demo­crats in pre­serving, pro­tect­ing, and fix­ing the prob­lems in Obama­care … and frankly it's a trap if he gets you in a room and tries to get you to pass Trump­Care le­gis­la­tion."