Add to Briefcase
July 12, 2017, 8 p.m.
Democrats preparing for bipartisan health care negotiations could face pushback from a base that's moved left on the issue since the 2016 election and lost much of its appetite for working across the aisle since President Trump took office.
Though party leaders have for months called for a seat at the negotiating table—something they appear poised to get if Senate Republicans' latest proposal fails to garner enough support next week—some on the Left fear that sitting down with Majority Leader Mitch McConnell could offer Republicans a life raft on an issue that's tearing the GOP apart and stalling the rest of its agenda.
While Democratic leaders have signaled their continued support for bipartisan efforts to stabilize the insurance markets, Democrats are experiencing their own intraparty fissures on the issue. Many rank-and-file members are already looking for places to compromise with Republicans, but a growing chunk of the party has coalesced around the single-payer proposals once only championed by the Far Left.
"Our people have tried to sit down in the past, and will sit down now," Senate Minority Leader Chuck Schumer told reporters Tuesday. "We've asked for months to sit down with our Republican colleagues to come up with a proposal that improves the existing system."
The prospect of working together comes as a last resort for Republicans, who have so far failed to unite their own members behind a plan to repeal and replace key provisions of Obamacare. McConnell said last week that if his party couldn't agree on an "adequate replacement," he would reach across the aisle to stabilize failing insurance markets.
Plenty of rank-and-file Democrats appear eager for the opportunity. On the House side, a group of Democratic members convened a press conference Wednesday morning to discuss their willingness to improve the health care law with Republicans.
"For the past seven years, it's as though the Republicans have refused to acknowledge there's anything good about the Affordable Care Act," said Rep. Peter Welch. "Democrats kept falling into the trap of saying there's nothing wrong with the Affordable Care Act. An area where there is common agreement is that the individual market is broken."
Several Democratic lawmakers have a laundry list of provisions they would like to see in a bipartisan health bill, with many naming the guaranteeing of cost-sharing-reduction payments and reinsurance among the first steps. Some showed willingness to sit down with Republican Sens. Bill Cassidy and Susan Collins, who have championed a proposal that would allow states to decide whether to keep Obamacare or move to a different system.
"I can see a Cassidy-Collins bill, a reinsurance bill, [Sen.] Jeanne Shaheen's bill on CSR payments—I can see putting those all on the table and coming up with some real improvements if we're allowed to have that opportunity," said Sen. Tim Kaine.
Collins herself said she has been approached by Democratic lawmakers to work on a compromise bill. Sen. Bill Nelson told reporters that he ran into the Maine lawmaker in an airport and began chatting with her about reinsurance.
But other Democrats have their eyes on larger shifts in the health care system—ones they won't be able to achieve by working with Republicans.
"The only negotiated position that would be acceptable would be a compromise to include a public option in the current Obamacare exchange," said Neil Sroka, spokesman for the liberal group Democracy for America. "In our view, that's what Democrats should be standing for, is Medicare for all, and if you want to compromise, the only acceptable compromise would be the installation of a public option."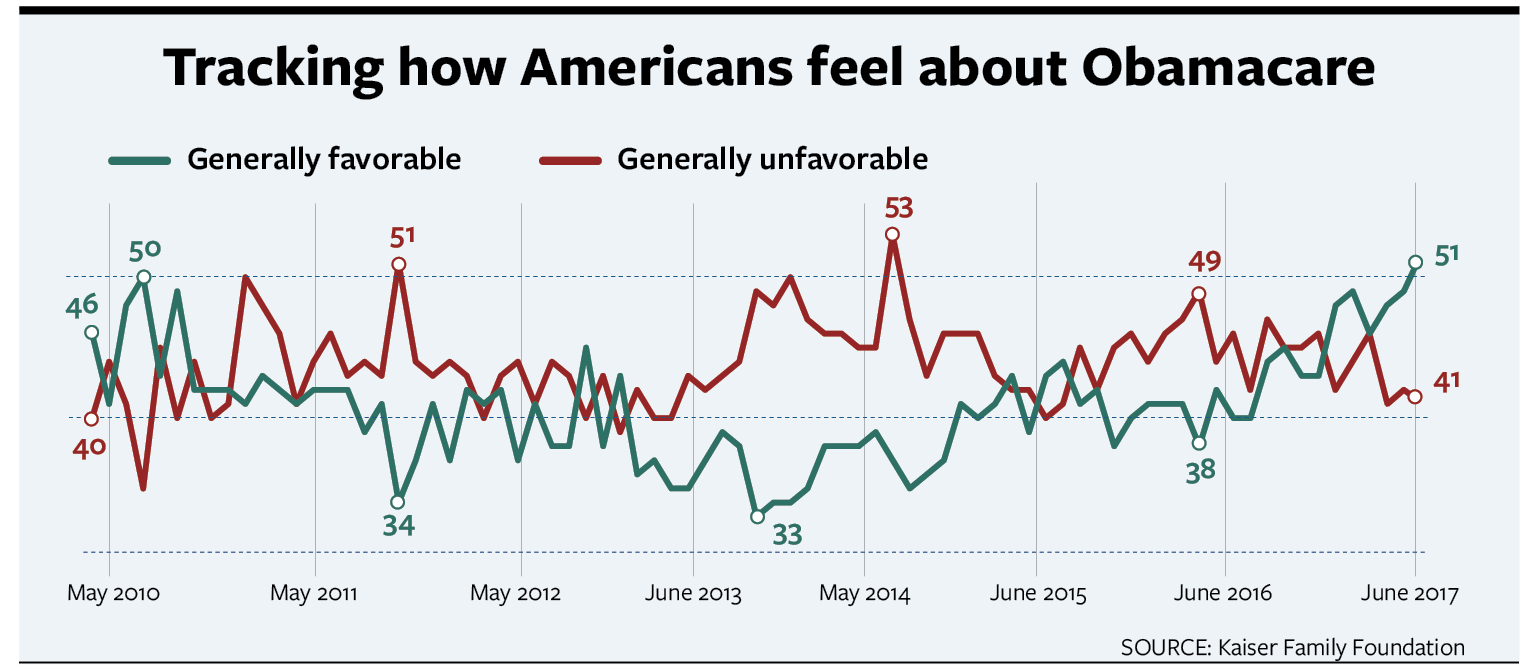 Once viewed as merely a liberal talking point, a Medicare-for-all proposal in the House has now garnered 113 cosponsors. A recent poll by the Kaiser Family Foundation found a little more than half of the public favors a single-payer health plan where all Americans would get their insurance from a single government plan. Kaiser says the increase in support has largely been driven by independents.
Sen. Elizabeth Warren recently told The Wall Street Journal that it was time to move on to a more liberal model.
"President Obama tried to move us forward with health care coverage by using a conservative model that came from one of the conservative think tanks, that had been advanced by a Republican governor in Massachusetts," she said. "Now it's time for the next step. And the next step is single-payer."
Sroka warned Democrats who cross the aisle that they could also risk alienating a base that has for months flooded phone lines and town halls in protest of GOP health care proposals.
"Any Democrat that is strategically dumb enough to sit down with Republicans and throw them a life preserver on their god-awful health care plan … will very quickly hear from the grassroots," said Sroka.
But some say the push for single-payer could be a distraction to the current negotiations.
"Now is not the time for Democrats to be trotting that out," said Andy Slavitt, former acting Center for Medicare and Medicaid Services administrator under Obama.
Even experts at the liberal Center for American Progress, a longtime advocate for single-payer, said Democrats should be working alongside Republicans, given the urgency of the failing markets.
"We can't wait a year or two years until Democrats might return to power," said Topher Spiro, vice president for health policy at CAP. "It should not be a political game, we should do what we can now to stabilize the markets."
But strategists who caution Democrats against such negotiations say compromise is out of reach, and the attempt could give Republicans an exit strategy on an issue where they risk failing to uphold seven years' worth of promises.
"Republicans have tied themselves in this knot, and there is no reason Democrats should help them untie it," said Sroka. "It is positively insane to believe [McConnell] would be a good-faith negotiator with Democrats in preserving, protecting, and fixing the problems in Obamacare … and frankly it's a trap if he gets you in a room and tries to get you to pass TrumpCare legislation."