Con­gress will soon be forced to de­bate yet an­oth­er short-term, stop­gap bill to keep the gov­ern­ment open, not be­cause a budget deal can't be reached, but be­cause law­makers haven't left enough time to reach one.
The House and Sen­ate have already left town for Thanks­giv­ing. And once they re­turn, both cham­bers are in ses­sion con­cur­rently for just four days — Dec. 10 through Dec. 13 — be­fore Con­gress ad­journs again for the hol­i­day re­cess.
Simply put, there won't be enough time for budget ne­go­ti­at­ors to so­lid­i­fy the de­tails of an agree­ment that sets spend­ing levels for the rest of fisc­al 2014 and fisc­al 2015 "" much less sell it to their re­spect­ive caucuses "" be­fore a Dec. 13 dead­line.
But that's not the only dead­line be­ing threatened by Con­gress's va­ca­tion sched­ule. Fund­ing for the fed­er­al gov­ern­ment ex­pires Jan. 15. So if House Budget Chair­man Paul Ry­an, R-Wis., and Sen­ate Budget Chair­wo­man Patty Mur­ray, D-Wash., fail, as ex­pec­ted, to reach agree­ment by Dec. 13, law­makers will re­turn to Wash­ing­ton the week of Jan. 6 star­ing down an­oth­er gov­ern­ment shut­down, with only about a week to do something about it.
All told, the two cham­bers of Con­gress have sched­uled just 10 days in ses­sion to­geth­er between Nov. 22 and Jan. 15, out of a pos­sible 51 days, not count­ing Thanks­giv­ing, Christ­mas, and New Year's Day.
That's why House Re­pub­lic­ans, be­fore leav­ing town for Thanks­giv­ing, began plot­ting to pass a con­tinu­ing res­ol­u­tion to keep the gov­ern­ment fun­ded past Jan. 15, when the cur­rent CR is set to ex­pire.
The like­li­hood of passing a short-term CR is high, ac­cord­ing to a House lead­er­ship aide. "But no de­cision has been made as to wheth­er we do it be­fore we leave [on Dec. 13] or when we get back [on Jan. 7]," the aide said.
Re­gard­less of tim­ing, law­makers say the most likely scen­ario is the House passing a three-month CR that funds the gov­ern­ment through April 15. "You will see a 90-day CR hap­pen," one House Re­pub­lic­an, who asked not to be iden­ti­fied so he could speak frankly about strategy, said last week.
The pref­er­ence among GOP law­makers is to pass the short-term CR pri­or to leav­ing town on Dec. 13. That way, if talk of an­oth­er gov­ern­ment shut­down arises over re­cess, the House GOP could ar­gue it ac­ted pree­mpt­ively to keep the gov­ern­ment open be­fore head­ing home for the hol­i­days.
There's no guar­an­tee that Con­gress would ap­prove any such short-term fund­ing bill, be­cause it would likely lock in a second round of se­quester cuts that mem­bers of both parties are hop­ing to avoid.
If ap­proved, however, the CR could buy Ry­an and Mur­ray more time to iron out the de­tails of a long-term budget deal that re­places those se­quester cuts with a mix of rev­en­ues and tar­geted spend­ing cuts.
Re­gard­less of wheth­er a budget agree­ment is reached, it's un­clear why Con­gress, in end­ing Oc­to­ber's 16-day gov­ern­ment shut­down, set two dead­lines that were threatened by its hol­i­day va­ca­tion sched­ule.
What We're Following See More »
SAUDI ARABIA BILL
Veto Override Scheduled for Wednesday in Senate
9 minutes ago
THE LATEST
Senate Majority Leader Mitch McConnell said this afternoon that the Senate on Wednesday will take up an override of President Obama's veto of legislation that would allow the families of 9/11 victims to sue the government of Saudi Arabia. "The vote is expected garner the two-thirds majority necessary to override the veto."
MEDIA SHOULD HOLD TRUMP RESPONSIBLE
Reid Devotes Senate Floor Speech to Trump's 'Racism'
53 minutes ago
THE LATEST
"Donald Trump is a racist," announced Senate Minority Leader Harry Reid from the Senate floor this afternoon. Reid said all of us are occasionally politically incorrect, but "I don't know of anyone that when that happens doesn't acknowledge it and, if necessary, apologize quickly." But Trump, he added, says things with "full intent to demean and to denigrate." Reid argued that the media isn't holding Trump to account, and should explicitly call him a racist.
ABSENT FROM LIST: GENNIFER FLOWERS
Most Trump Guests Have Military Ties
4 hours ago
TOP OF MIND
Trending on Google: 'Why Should Trump Not Be President'
4 hours ago
THE DETAILS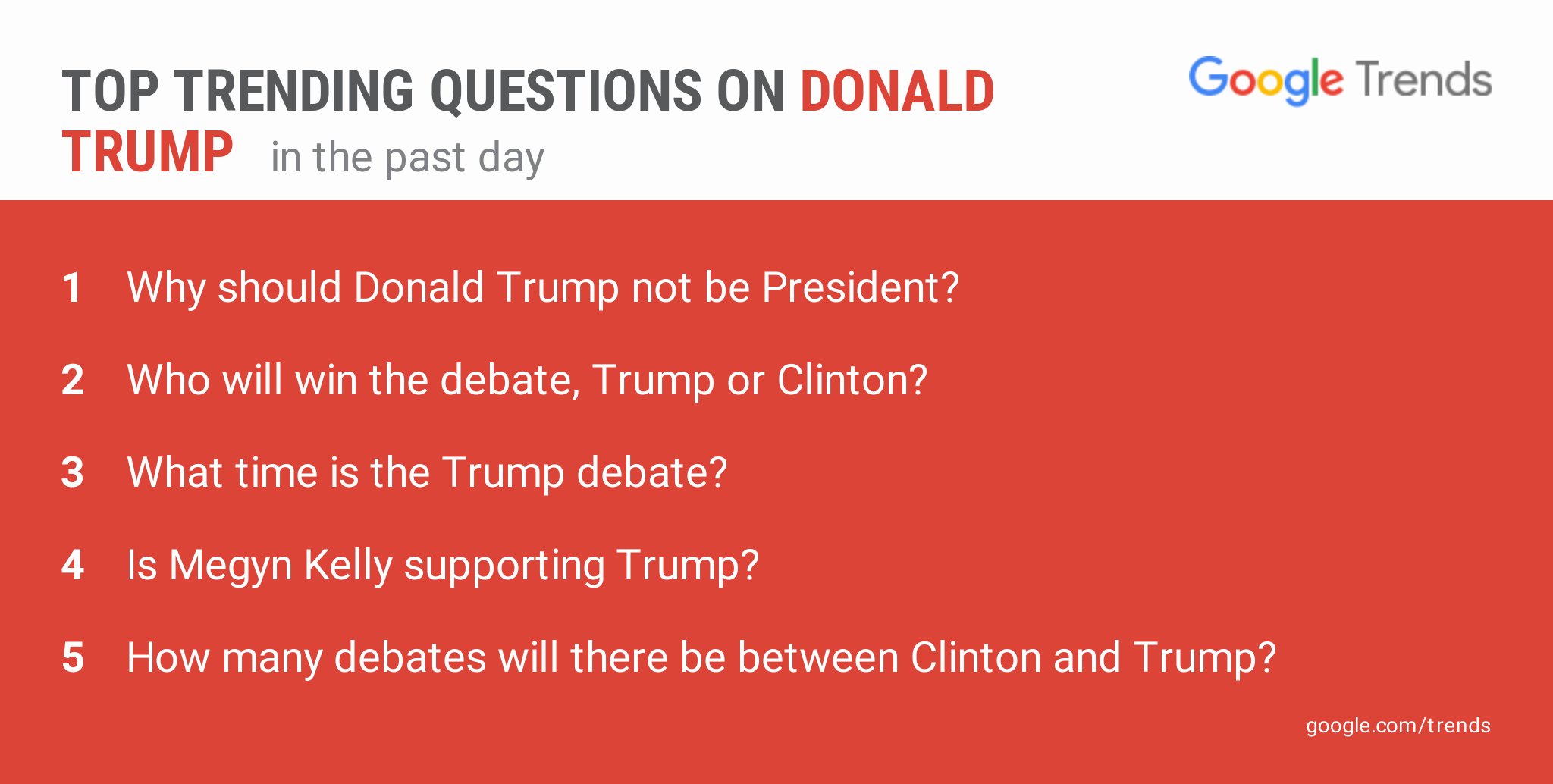 WHO PLAYED THE DONALD?
Longtime Clinton Aide Played Trump in Mock Debates
6 hours ago
THE DETAILS
After keeping the information private for most of the lead-up to the debate on Monday, it has been revealed that longtime Clinton aide Philippe Reines has been playing the role of Donald Trump in her debate prep. Reines knows Clinton better than most, able to identify both her strengths and weaknesses, and his selection for a sparring partner shows that Clinton is preparing for the brash and confrontational Donald Trump many have come to expect.