Add to Briefcase
July 6, 2017, 8 p.m.
Demo­crat­ic Rep. Tim Walz was happy to show off a ma­jor Re­pub­lic­an group's foot­age of his re­cent town hall.
The video, pro­moted by the Re­pub­lic­an Gov­ernors As­so­ci­ation, showed the can­did­ate for Min­nesota gov­ernor be­moan­ing the Demo­crat­ic Na­tion­al Com­mit­tee's in­struc­tion to ig­nore the Af­ford­able Care Act's "warts."
"I'm retweet­ing the RGA's at­tack on me," Walz said last week, "be­cause there are areas of the ACA that are fail­ing my con­stitu­ents," even as he stressed that "a vast num­ber of people be­ne­fit­ted" from the law.
Walz holds the unique po­s­i­tion of be­ing the only Rust Belt Demo­crat in the House who is run­ning statewide in 2018, mak­ing him­self a test case as his party seeks to climb back from the minor­ity while hold­ing onto right­ward-trend­ing rur­al dis­tricts like Walz's.
Walz, a former Army Na­tion­al Guards­man, also pumps the brakes on Demo­crats' oth­er ma­jor con­gres­sion­al push: the in­vest­ig­a­tion of Rus­si­an med­dling in the 2016 pres­id­en­tial elec­tion. While Walz wants Con­gress to in­vest­ig­ate the "threat," he says the is­sue "doesn't boil up as the first thing [voters] talk about," even if he takes "a little flak" from the Left for say­ing so.
"I think it would be prudent for us to quit try­ing to find the middle of the polit­ics and find the middle of their lives," Walz said.
Mean­while, Re­pub­lic­ans are en­ter­ing their fifth straight cycle of at­tack­ing the na­tion­al health care law even as a GOP-con­trolled Con­gress struggles to pass a re­place­ment plan.
RGA spokes­man Jon Thompson in an email ac­cused Walz of be­ing "disin­genu­ous" in his hand­ling of the is­sue, high­light­ing Demo­crat­ic-Farm­er-Labor Gov. Mark Dayton's Oc­to­ber re­mark that "the Af­ford­able Care Act is no longer af­ford­able to in­creas­ing num­bers of people."
"Con­gress­man Walz voted for Obama­care, Obama­care is im­plod­ing, and no mat­ter how hard he tries to walk it back, Min­nesota voters won't for­get that he has been a strong sup­port­er of Pres­id­ent Obama's failed health law," Thompson said.
The con­gress­man faces a crowded field of primary op­pon­ents to re­place Dayton, who isn't seek­ing reelec­tion. Walz, a former geo­graphy teach­er, will need to win rur­al votes—in­clud­ing in his Rochester- and Mankato-based seat—to com­ple­ment pro­gress­ive turnout in the Twin Cit­ies.
Walz's elect­or­al path is not unique. Dayton, a former sen­at­or, won the 2010 gubernat­ori­al primary by do­ing well in the Iron Range and rur­al Min­nesota. He went on to nar­rowly de­feat now-Rep. Tom Em­mer.
"I think any­one who's run­ning in the primary is go­ing to try to mir­ror that path," said Justin Per­pich, who led an un­suc­cess­ful ef­fort to draft rur­al Demo­crat­ic Rep. Rick No­lan in­to the race.
Walz's statewide bid has left open a vul­ner­able con­gres­sion­al seat. Demo­crats don't have a clear front-run­ner in Walz's dis­trict, which voted for Don­ald Trump by nearly 15 points in Novem­ber. Re­pub­lic­an Jim Haged­orn is already mak­ing a third bid for the seat. He came with­in 2,500 votes of un­seat­ing Walz in 2016, des­pite the in­cum­bent's fun­drais­ing ad­vant­age.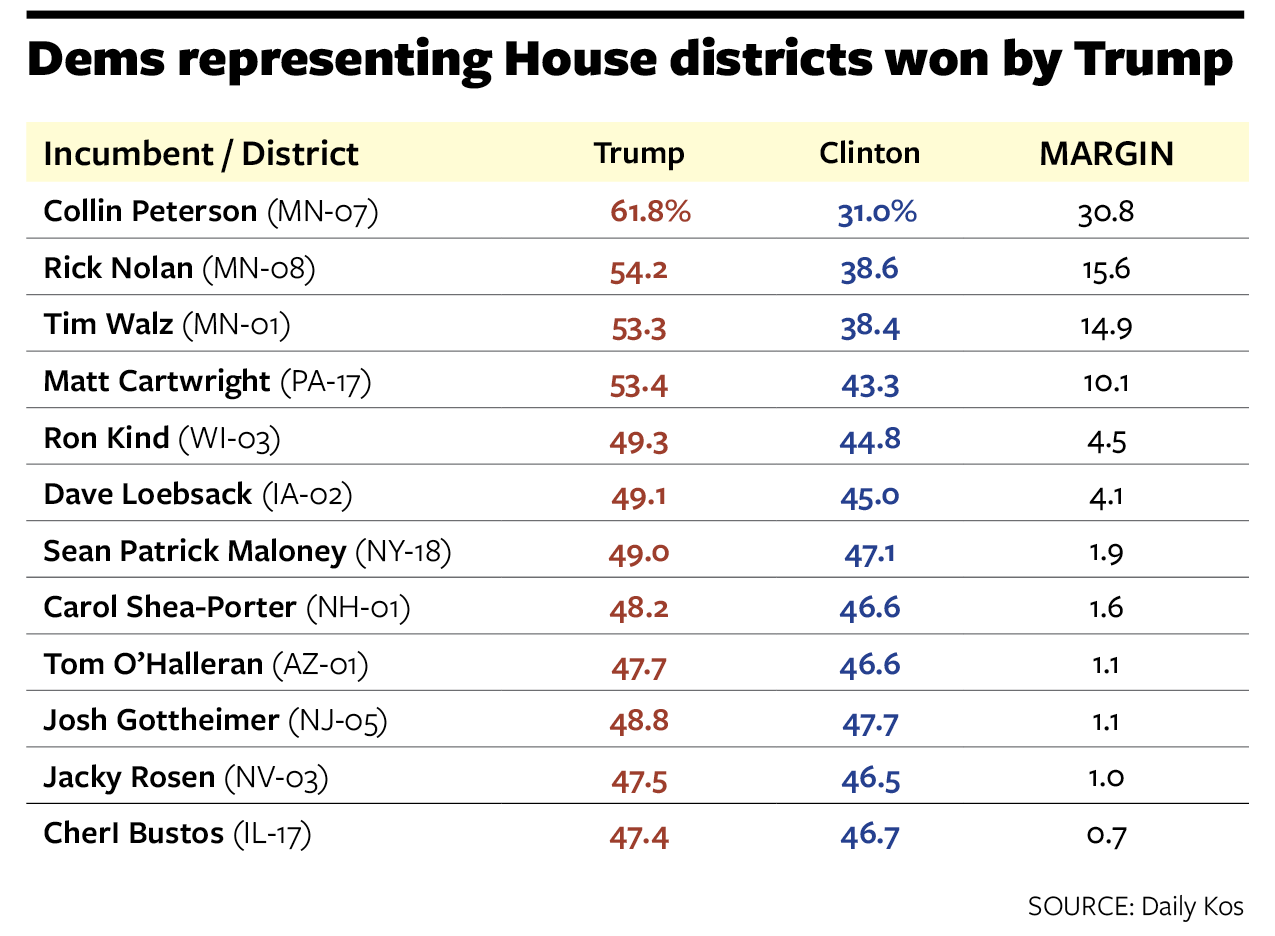 "After 12 years of a lib­er­al Demo­crat on most of the is­sues, I think they're ready for a change back to the Re­pub­lic­an Party," Haged­orn said. "We're very op­tim­ist­ic, but we're go­ing to work hard. We take noth­ing for gran­ted."
Re­pub­lic­ans have not won the gov­ernor's man­sion—or any statewide of­fice in Min­nesota—since 2006. But Trump came with­in 2 points of snap­ping the state's his­tor­ic run of back­ing Demo­crat­ic pres­id­en­tial can­did­ates, and the le­gis­lature is con­trolled by Re­pub­lic­ans.
Walz views the race as a high-stakes battle for Demo­crats in Min­nesota, jok­ing that his slo­gan should be "Walz or Wis­con­sin?" in ref­er­ence to con­ser­vat­ive policies en­acted in the neigh­bor­ing Badger State un­der Gov. Scott Walk­er.
Walz will still have to win over Demo­crats in Min­neapol­is and St. Paul, edging out loc­al com­pet­it­ors like St. Paul May­or Chris Cole­man as well as cur­rent Twin-Cit­ies-area state Reps. Paul This­sen and Erin Murphy, who both served in le­gis­lat­ive lead­er­ship. State Aud­it­or Re­becca Otto is also run­ning, and strategists are watch­ing state At­tor­ney Gen­er­al Lori Swan­son's likely en­trance as well.
"It is ab­so­lutely crit­ic­al for a Demo­crat to do ex­tremely well in the Twin Cit­ies," Cole­man said in an in­ter­view in May, not­ing that Hil­lary Clin­ton car­ried the state by do­ing well there in Novem­ber. "But as Demo­crats," he ad­ded, "we need to do much bet­ter in great­er Min­nesota."
Walz also runs the risk of ali­en­at­ing pro­gress­ive act­iv­ists, who have an out­sized in­flu­ence in Min­nesota. The state party will en­dorse a can­did­ate at its an­nu­al con­ven­tion two months be­fore the Au­gust primary. Walz, like the rest of the field, has not ruled out run­ning in the primary against the party-en­dorsed can­did­ate.
"It's a per­il­ous place to be to cri­ti­cize Obama­care and the im­pact of it, even though it's fa­cing chal­lenges," said one Demo­crat­ic con­sult­ant with ex­per­i­ence in the state. "DFLers in the state are ob­vi­ously very pro­tect­ive of Obama's leg­acy, and they see [Obama­care] as such a huge part of that."
For his part, DFL Chair Ken Mar­tin wor­ries about "snatch­ing de­feat from the jaws of vic­tory," giv­en the "late, crowded primary" and "the land­scape."
"Tim's a great can­did­ate; we have a lot of good can­did­ates in the field," Mar­tin said. "But we could cer­tainly lose this race."
Cor­rec­tion: This story ori­gin­ally stated Re­pub­lic­ans have not held a statewide of­fice in Min­nesota since 2006. That is the year they last won a statewide elec­tion there.