WAR­WICK, R.I.—Lin­coln Chafee has ac­cu­mu­lated a lot of memen­tos in this sub­ter­ranean stor­age space in a sub­urb­an Provid­ence strip mall.
The former in­de­pend­ent-turned-Demo­crat­ic gov­ernor of Rhode Is­land stood among mem­or­ab­il­ia from cam­paigns for gov­ernor, Sen­ate, and pres­id­ent, and posed with a photo of Bill Clin­ton be­fore pivot­ing to the next pres­id­ent in line.
"Here's the fath­er Bush—no, shouldn't do that," the former Re­pub­lic­an sen­at­or said, be­fore turn­ing to a shot with the late Cuban Pres­id­ent Fi­del Castro. "There's a good pro­gress­ive," Chafee said of Castro, who signed the photo in Span­ish call­ing Chafee "young and in­tel­li­gent."
Nearly two years after drop­ping a long-shot bid for the Demo­crat­ic pres­id­en­tial nom­in­a­tion against Hil­lary Clin­ton well be­fore the Iowa caucuses, Chafee is again con­sid­er­ing chal­len­ging the na­tion­al party's pre­ferred can­did­ate by run­ning to her left. For the past month, Chafee has taken to loc­al TV and ra­dio, at­tack­ing Rhode Is­land Gov. Gina Rai­mondo's re­cord on the eco­nomy and the state budget. He is open to run­ning in the primary against her next year.
Chafee, who served one term as gov­ernor be­fore de­clin­ing to seek reelec­tion in 2014, said he is "angry" about the state's sub­sidies to busi­nesses, in­vest­ments in "high-fee" hedge funds, and in­creased tolls on truck­ers. He says Rai­mondo, a former ven­ture cap­it­al­ist, "trans­ferred all that re­tir­ee wealth to Wall Street," com­pared to his "very con­ser­vat­ive" op­pos­i­tion as gov­ernor and War­wick may­or to in­ver­sions.
"In the Belt­way, there's a dif­fer­ent per­cep­tion than there is here," Chafee said. "They've gotta tune in. Don't make the same mis­take we made with our can­did­ate for pres­id­ent."
There's no love lost between Chafee and Rai­mondo, who in 2011 worked to­geth­er on pub­lic pen­sion re­form as gov­ernor and state treas­urer, re­spect­ively. He ac­cuses her of try­ing to "get some cranes in the sky," re­gard­less of cost, to help her win reelec­tion.
Rai­mondo is equally skep­tic­al of her pre­de­cessor. In an in­ter­view on ra­dio sta­tion WPRO earli­er this month, the gov­ernor said Chafee must "feel sore about something," point­ing to the im­proved un­em­ploy­ment rate com­pared to the last year of Chafee's term.
Rai­mondo's spokes­man, Mi­chael Raia, em­phas­ized that com­pan­ies don't re­ceive pub­lic in­cent­ives un­til the state sees tax rev­en­ue from the new jobs.
"For years, ad­min­is­tra­tions just neg­lected in­fra­struc­ture and didn't in­vest," Raia said. "Gov. Rai­mondo showed the polit­ic­al will to see an op­por­tun­ity to not only be able to put people back to work but to mod­ern­ize our in­fra­struc­ture, which is go­ing to be a boon for busi­ness."
Demo­crat­ic gov­ernors are in the spot­light for their fo­cus on jobs fol­low­ing Pres­id­ent Trump's elec­tion. "The whole game is job growth," Rai­mondo said in a New York Times re­port about the party's path for­ward that re­ferred to her as a "po­ten­tial pres­id­en­tial can­did­ate."
"That's what people want to see: fo­cus on the eco­nomy," Demo­crat­ic Gov­ernors As­so­ci­ation spokes­man Jared Leo­pold said. "That's what you're see­ing from Demo­crat­ic gov­ernors."
Rai­mondo, one of five Demo­crat­ic gov­ernors seek­ing reelec­tion next year, re­por­ted nearly $2.4 mil­lion on hand at the end of March. Her race is a pri­or­ity for na­tion­al Demo­crats as they look to re­build from a nearly his­tor­ic low in gov­ernor­ships in a po­ten­tially fa­vor­able cycle for the party.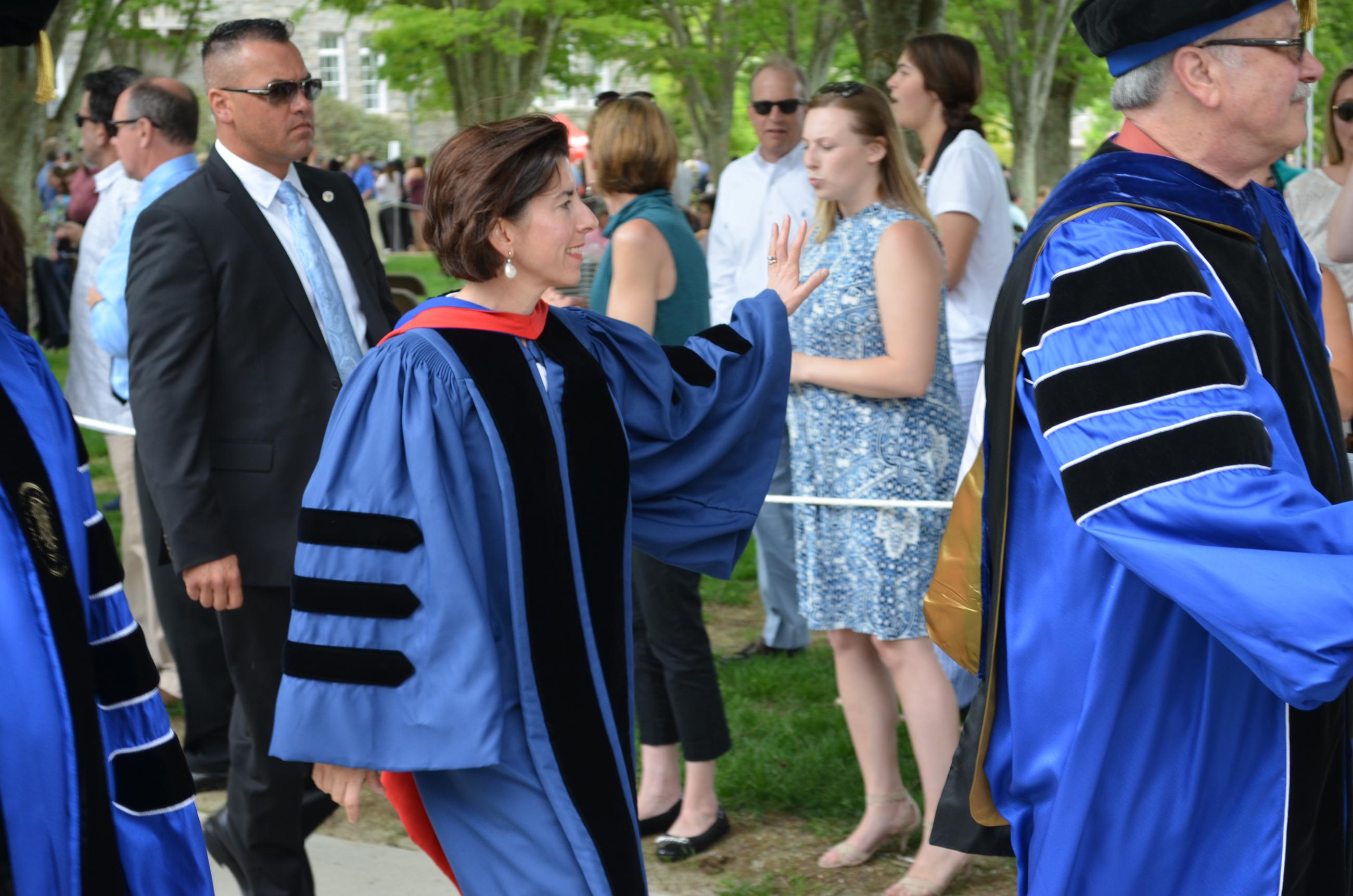 Leo­pold said a non­profit af­fil­i­ated with the DGA, Amer­ica Works USA, has spent about $350,000 on broad­cast, cable, and on­line me­dia for its first TV ads of the year, which tout Rai­mondo's plan to provide free pub­lic high­er edu­ca­tion. And EMILY's List, a group ded­ic­ated to elect­ing Demo­crat­ic wo­men who sup­port abor­tion rights, en­dorsed Rai­mondo in Feb­ru­ary, and has been ur­ging its na­tion­wide net­work on­line and in dir­ect mail to back the gov­ernor, ac­cord­ing to the group's pres­id­ent, Stephanie Schriock.
"Between her and [Ore­gon] Gov. Kate Brown, we've got two ex­traordin­ary ex­amples of what it means to have a wo­man's per­spect­ive in those gov­ernor's of­fices, and it is a fo­cus of wo­men and fam­il­ies as the cen­ter of the eco­nom­ic agenda," Schriock said.
Chafee may not be Rai­mondo's lone chal­lenger, should he run: state At­tor­ney Gen­er­al Peter Kil­martin hasn't ruled out a bid. Both of Rai­mondo's 2014 op­pon­ents have signaled they'll stay out: former Provid­ence May­or An­gel Taver­as said in Janu­ary he's "not open" to an­oth­er run in 2018. Chafee said Clay Pell, who re­cently an­nounced he's go­ing through a di­vorce, told him he won't run again either.
Even if he doesn't seek a second term, Chafee is amp­li­fy­ing the talk­ing points of Re­pub­lic­ans, whose state party headquar­ters are next door to Chafee's. ("I was here first," he notes.) The Re­pub­lic­an Gov­ernors As­so­ci­ation has slammed Rai­mondo for months for "mis­man­aging" the budget. Through its af­fil­i­ated State Solu­tions, Inc., the RGA has run di­git­al ads say­ing, "Rhode Is­land ranks as the worst state in Amer­ica for busi­ness."
Chafee voted for Sen. Bernie Sanders in the 2016 Demo­crat­ic primary and said he has "a good re­cord" on same-sex mar­riage and un­doc­u­mented im­mig­ra­tion: "I haven't wavered on pro­gress­ive is­sues."
While that could help his ap­peal to some gubernat­ori­al primary voters, his his­tory as a Re­pub­lic­an could hurt him amid the anti-Trump en­ergy on the Left.
"I really won­der if we can trust ex­actly where he is on all of this," Schriock said.