Frack­ing has sent the price of nat­ur­al gas plum­met­ing, just not for the people who need it most.
The straight-out-of-the-ground price of nat­ur­al gas is way down since the start of the boom in hy­draul­ic frac­tur­ing. Back in 2008, users buy­ing gas dir­ectly from drillers were pay­ing an av­er­age of $7.97 per thou­sand cu­bic feet, ac­cord­ing to the En­ergy In­form­a­tion Ad­min­is­tra­tion. By 2012, that cost — known as the "well­head" price — had dropped to $2.66 in nom­in­al dol­lars (not ad­jus­ted for in­fla­tion) res­ult­ing in a two-thirds dis­count in just five years.
However, those are the prices paid by pipeline op­er­at­ors, util­it­ies, large in­dus­tri­al users, and oth­er en­tit­ies that can buy gas dir­ectly from the com­pan­ies that drill for it.
By the time gas was piped in­to homes, in­di­vidu­al con­sumers were still pay­ing an av­er­age of $10.68 per thou­sand cu­bic feet. That's down from $13.98 in 2008, but the $3.30 price drop is much smal­ler — both in ab­so­lute and re­l­at­ive terms — than the one that big buy­ers are get­ting fur­ther up the chain.
And con­sumers are about to give some of those gains back. The EIA pro­jects that heat­ing costs for res­id­en­tial cus­tom­ers us­ing nat­ur­al gas will rise by an av­er­age of 13 per­cent this winter, adding an ad­di­tion­al $80 to the typ­ic­al house­hold's en­ergy bill over the course of the sea­son.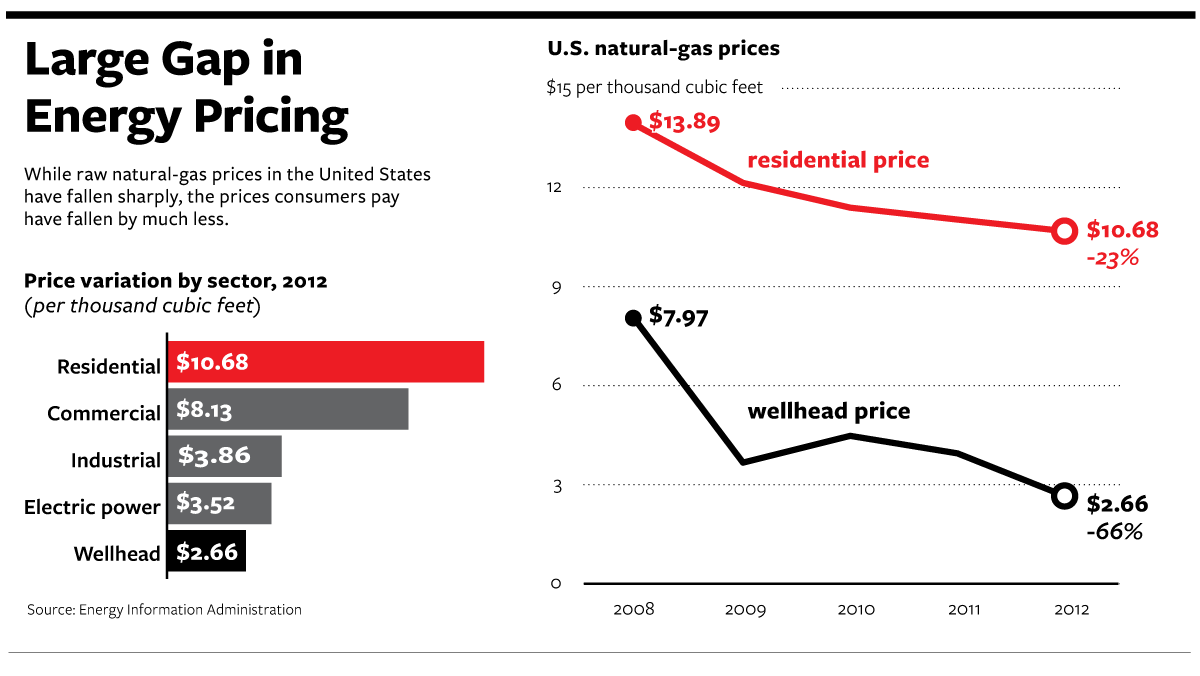 The up­com­ing price hike is a stick­ing point for the nat­ur­al-gas in­dustry as it tries to use the prom­ise of eco­nom­ic be­ne­fits to sell the pub­lic on frack­ing. And for cus­tom­ers, it's a set­back at a time when real wages are largely stag­nant, house­hold budgets are tight, and large-scale price cuts would mean much-needed re­lief.
None of this is to say the lower gas prices haven't been help­ful for con­sumers; the last few years of fall­ing per-unit costs have re­versed price in­creases that had spiked dur­ing the mil­len­ni­um's first dec­ade.
People close to some of the most vul­ner­able buy­ers of home heat­ing see how it's help­ing their con­stitu­ents.
"About six years ago, when nat­ur­al-gas prices were high, it was a real crisis," said John Wells, who dir­ects the home-heat­ing as­sist­ance pro­gram at Ac­tion for Bo­ston Com­munity De­vel­op­ment. "Low nat­ur­al-gas prices have been a god­send to low-in­come fam­il­ies."
And low nat­ur­al-gas prices help house­holds in areas oth­er than heat­ing. Cheap gas has cut costs for in­dus­tri­al users and elec­tri­city gen­er­at­ors, who in turn pass some of those sav­ings to con­sumers.
In­deed, in­dus­tri­al buy­ers are also catch­ing a deep­er dis­count than in­di­vidu­al house­holds. In 2008, in­dus­tri­al users were shelling out $9.65 per thou­sand cu­bic feet of nat­ur­al gas. In 2012, that was down to $3.86, a price level they hadn't en­joyed since 1999.
So what ac­counts for the sav­ings gap between large users and small ones? It's tempt­ing to blame util­ity com­pan­ies, which at first blush ap­pear to be buy­ing low and selling high.
But — so long as the na­tion's reg­u­lat­ory sys­tem is work­ing prop­erly — that can't hap­pen, says Amy Sweeney, a nat­ur­al-gas spe­cial­ist at the EIA. Util­ity com­pan­ies are sub­ject to a pub­lic com­mis­sion that has fi­nal say over the rates they can charge. And in set­ting those rates, the reg­u­lat­ors and util­it­ies are sup­posed to pass any fuel cost changes — up or down — to their cus­tom­ers.
In­stead, util­ity rates vary based on how much a com­pany spends on con­nect­ing cus­tom­ers with the gas sup­plies, and that's where con­sumers may see new costs. As gas has got­ten cheap­er, more cus­tom­ers are look­ing to get it de­livered to their homes and busi­nesses, and that has driv­en de­mand for util­it­ies to ex­pand the pipelines and oth­er amen­it­ies they use to de­liv­er gas to homes.
And un­like raw-ma­ter­i­al costs, those in­fra­struc­ture costs do get passed from util­it­ies to con­sumers in the form of high­er gas bills.
"To some ex­tent, what a con­sumer pays is go­ing to fol­low, at a lag, the en­ergy mar­kets," Sweeney said. "But oth­er things — a hook­up charge, a de­liv­ery charge, taxes — those can be a pretty strong com­pon­ent of what a cus­tom­er pays."