Some mil­it­ary mem­bers who were work­ing off Apple and An­droid-based smart­phones and tab­lets now must re­turn to us­ing older mod­el Black­Berrys be­cause of a se­cur­ity ser­vice switchover, ac­cord­ing to an email ob­tained by Nex­t­gov and con­firmed by Pentagon of­fi­cials.
The De­fense De­part­ment is build­ing a new mo­bile device man­age­ment sys­tem to mon­it­or gov­ern­ment-is­sued con­sumer smart­phones on mil­it­ary net­works, but it's not yet ready for prime time.
Em­ploy­ees with­in at least one Army or­gan­iz­a­tion were forced to dis­con­nect iPhones, iPads and An­droid devices from their ex­ist­ing se­cur­ity ser­vice, Good Mo­bile Mes­saging, be­cause the Pentagon is de­ploy­ing a new de­part­mentwide sys­tem by Fixmo, states an email that ap­peared in an Army list­serve.
Army per­son­nel "have been told that between now and whenev­er this 'fixmo' is on­line, their Droids and iTh­ings are simply to be­come use­less," the email said. The De­fense In­form­a­tion Sys­tems Agency is in the midst of trans­ition­ing smart­phone users in each mil­it­ary com­pon­ent to the full $16 mil­lion sys­tem.
"The vic­tim, er or­gan­iz­a­tion un­der mi­gra­tion offered their [Good] li­censes and serv­ers and ex­pert­ise to DISA, but were told no, don't want it," the email con­tin­ues. "Ex­pect­a­tion is that Droid and iTh­ing users will be device­less un­til March 2014 at earli­est, and they can either do without or go back to a BB 9930," an older mod­el Black­Berry smart­phone, "So…..once again, we are go­ing to save money through con­sol­id­a­tion no mat­ter how much it costs."
After a pro­posed buy­out of Black­Berry col­lapsed last month, Pentagon of­fi­cials em­phas­ized ef­forts to wean ser­vice mem­bers off re­li­ance on the com­pany's devices. But of­fi­cials on Monday night ac­know­ledged Black­Berry will re­tain its po­s­i­tion in the de­part­ment's mo­bile com­put­ing ar­sen­al for now.
"DISA will sup­port Black­Berry devices with the ex­ist­ing [Black­berry En­ter­prise Serv­er]. Dur­ing the trans­ition peri­od, DISA is not pro­vi­sion­ing new iOS/An­droid users on the ex­ist­ing serv­er," Pentagon spokes­man Dami­en Pick­art said in an email. "We are delay­ing pro­vi­sion­ing of those devices un­til the [mo­bile device man­age­ment] en­vir­on­ment is ready in Jan 2014. We will pro­vi­sion new devices as rap­idly as pos­sible start­ing in Janu­ary 2014."
The aim is to hook up 100,000 mil­it­ary per­son­nel and their gov­ern­ment-fur­nished Apple, Sam­sung, Black­Berry and oth­er con­sumer devices to the se­cur­ity ser­vice by Septem­ber 2014.
Some de­fense con­tract ana­lysts say the more pop­u­lar com­mer­cial devices may not meet bat­tle­field se­cur­ity stand­ards.
Ray Bjorklund, a long­time pro­cure­ment spe­cial­ist who now serves as pres­id­ent of Birch­Grove Con­sult­ing, spec­u­lated that "there may be a more fun­da­ment­al is­sue of device suit­ab­il­ity among the ma­jor man­u­fac­tur­ers and OS ver­sions."
Ac­cord­ing to DISA ap­prov­al doc­u­ments, only Black­Berry phones and Play­book tab­lets have an "au­thor­ity to op­er­ate," or ATO, on De­fense net­works — not An­droid, Apple or any oth­er device lines.
Bjorklund re­turned to the ques­tion raised by the list­serv email, about the short-term sac­ri­fices De­fense is mak­ing to po­ten­tially con­trol long-term costs.
"At what cost con­sol­id­a­tion? I am quite cer­tain the DoD has com­pleted some semb­lance of a busi­ness case for this pro­gram. However, I know it's of­ten dif­fi­cult to ra­tion­al­ize busi­ness cases in the mil­it­ary based on some fu­ture ho­ri­zon," he said. The ra­tionale of "spend money now to save money later" is a "stretch ra­tionale in daily gov­ern­ment op­er­a­tions. I hope the dis­rup­tion is worth it."
—
More from Nex­t­Gov, our sis­ter site:
Bit­coin Users Lose $40 Mil­lion in Ap­par­ent Nar­cot­ics Bazaar Heist 
Health­Care.gov Per­forms Well After Mak­ing White House's Re­pair Dead­line 
Navy De­ploys First High-Tech Sur­veil­lance Air­craft to Ok­inawa
What We're Following See More »
UNTIL DEC. 9, ANYWAY
Obama Signs Bill to Fund Government
2 hours ago
REDSKINS IMPLICATIONS
SCOTUS to Hear Case on Offensive Trademarks
3 hours ago
WHY WE CARE
"The Supreme Court is taking up a First Amendment clash over the government's refusal to register offensive trademarks, a case that could affect the Washington Redskins in their legal fight over the team name. The justices agreed Thursday to hear a dispute involving an Asian-American rock band called the Slants, but they did not act on a separate request to hear the higher-profile Redskins case at the same time." Still, any precedent set by the case could have ramifications for the Washington football team.
STAFF PICKS
Bannon Still Collecting Royalties from 'Seinfeld'
4 hours ago
WHY WE CARE
The Hollywood Reporter takes a look at a little-known intersection of politics and entertainment, in which Trump campaign CEO Steve Bannon is still raking in residuals from Seinfeld. Here's the digest version: When Seinfeld was in its infancy, Ted Turner was in the process of acquiring its production company, Castle Rock, but he was under-capitalized. Bannon's fledgling media company put up the remaining funds, and he agreed to "participation rights" instead of a fee. "Seinfeld has reaped more than $3 billion in its post-network afterlife through syndication deals." Meanwhile, Bannon is "still cashing checks from Seinfeld, and observers say he has made nearly 25 times more off the Castle Rock deal than he had anticipated."
IT'S ALL CLINTON
Reliable Poll Data Coming in RE: Debate #1
4 hours ago
WHY WE CARE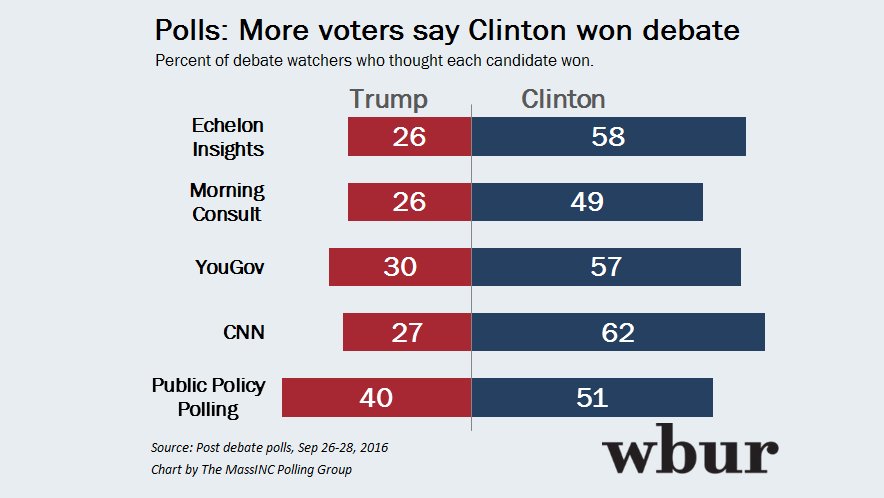 NEXT THURSDAY
Trump Transition Team Meeting with Silicon Valley VIPs
6 hours ago
THE DETAILS
Donald Trump's "transition team will meet next week with representatives of the tech industry, multiple sources confirmed, even as their candidate largely has been largely shunned by Silicon Valley. The meeting, scheduled for next Thursday at the offices of law and lobbying firm BakerHostetler, will include trade groups like the Information Technology Industry Council and the Internet Association that represent major Silicon Valley companies."