A fed­er­al rul­ing Tues­day has taken the fight over fix­ing De­troit's massive debt is­sues — brought on by a shrink­ing tax base gen­er­ated from high un­em­ploy­ment and desert­ing res­id­ents — out of the hands of feud­ing city of­fi­cials and cred­it­ors and un­der court su­per­vi­sion. And it's giv­en the city, which filed for Chapter 9 bank­ruptcy in Ju­ly, a break from pay­ing off its $18 bil­lion debt while it as­sembles a re­struc­tur­ing plan for its fin­ances.
The presid­ing judge called the hi­atus "an op­por­tun­ity for a fresh start." But the eli­gib­il­ity for bank­ruptcy pro­tec­tion is by no means a get-out-of-jail-free card. That fresh start re­quires a plan ap­proved by all parties in­volved, which could spell a month- or year-long em­battled pro­cess of back-and-forth ne­go­ti­ations. For the cit­izens of De­troit, that means feel­ing the pinch of bank­ruptcy for an in­def­in­ite amount of time, the long-term ef­fects of which re­main un­known. Here's what this week's rul­ing means for the Mo­tor City.
Pen­sions will be cut. Tues­day's rul­ing would al­low mu­ni­cip­al pen­sion cuts, even if those pen­sions are pro­tec­ted un­der the state's con­sti­tu­tion. However, cuts would only be ap­proved if the judge presid­ing over the case finds the rest of the plan "fair and equit­able," the De­troit Free Press re­ports, set­ting the bar high for a cred­ible plan.
Fire, po­lice, and san­it­a­tion ser­vices will be scaled back. When a city enters bank­ruptcy, cru­cial pub­lic and main­ten­ance ser­vices are usu­ally the first to shrink. Per­son­nel in san­it­a­tion ser­vices and fire and po­lice de­part­ments will be cut. Few­er op­er­at­ing fire­houses mean longer re­sponse times for emer­gen­cies. Main­ten­ance of roads and pub­lic trans­port­a­tion sink to the bot­tom of the pri­or­ity list, Potholes will grow lar­ger and roads won't be paved.
So will vari­ous city de­part­ments. City em­ploy­ees in a num­ber of branches of loc­al gov­ern­ment will see cuts in wages and be­ne­fits, and the staffers who keep their jobs will be pick­ing up the slack for the ones who don't.
Taxes will in­crease — again. Tax hikes are not likely to sit well with De­troit res­id­ents, but for of­fi­cials, they may be­come a ne­ces­sary evil in help­ing to dig the city out of debt. Any meas­ure re­quires a vote, and the ma­jor­ity of cit­izens must trust De­troit enough to let it pass. The city pre­vi­ously raised taxes as the threat of bank­ruptcy loomed, but such at­tempts failed to al­le­vi­ate the city's de­clin­ing tax rev­en­ue.
City as­sets could be auc­tioned off. Re­struc­tur­ing city fin­ances means eval­u­at­ing everything the city owns, and see­ing what can be sold or privat­ized. In dire times, auc­tion­ing off city as­sets, like pub­lic parks or san­it­a­tion op­er­a­tions, brings in a de­cent stream of cash. Such bar­gain­ing chips can even in­clude what's in­side De­troit's mu­seums and zoos, USA TODAY re­por­ted this sum­mer — paint­ings and an­im­als worth thou­sands or mil­lions of dol­lars.
De­troit may see the be­gin­nings of a polit­ic­al shakeup. The city's law­makers may not hold of­fice when De­troit pulls it­self up out of debt. Phil Batch­el­or, the former in­ter­im city man­ager for Vallejo, Cal­if., which de­clared bank­ruptcy in 2008, told NPR last year, "Many of the people who were in of­fice [in] the years lead­ing up to it are gone. And we have new coun­cil mem­bers that have come in and helped to re­build the city."
What We're Following See More »
UNTIL DEC. 9, ANYWAY
Obama Signs Bill to Fund Government
4 hours ago
REDSKINS IMPLICATIONS
SCOTUS to Hear Case on Offensive Trademarks
4 hours ago
WHY WE CARE
"The Supreme Court is taking up a First Amendment clash over the government's refusal to register offensive trademarks, a case that could affect the Washington Redskins in their legal fight over the team name. The justices agreed Thursday to hear a dispute involving an Asian-American rock band called the Slants, but they did not act on a separate request to hear the higher-profile Redskins case at the same time." Still, any precedent set by the case could have ramifications for the Washington football team.
STAFF PICKS
Bannon Still Collecting Royalties from 'Seinfeld'
5 hours ago
WHY WE CARE
The Hollywood Reporter takes a look at a little-known intersection of politics and entertainment, in which Trump campaign CEO Steve Bannon is still raking in residuals from Seinfeld. Here's the digest version: When Seinfeld was in its infancy, Ted Turner was in the process of acquiring its production company, Castle Rock, but he was under-capitalized. Bannon's fledgling media company put up the remaining funds, and he agreed to "participation rights" instead of a fee. "Seinfeld has reaped more than $3 billion in its post-network afterlife through syndication deals." Meanwhile, Bannon is "still cashing checks from Seinfeld, and observers say he has made nearly 25 times more off the Castle Rock deal than he had anticipated."
IT'S ALL CLINTON
Reliable Poll Data Coming in RE: Debate #1
6 hours ago
WHY WE CARE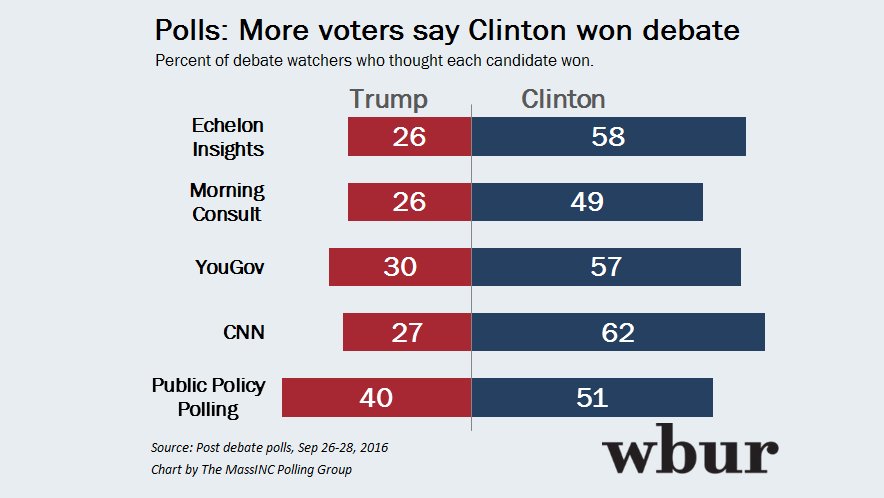 NEXT THURSDAY
Trump Transition Team Meeting with Silicon Valley VIPs
8 hours ago
THE DETAILS
Donald Trump's "transition team will meet next week with representatives of the tech industry, multiple sources confirmed, even as their candidate largely has been largely shunned by Silicon Valley. The meeting, scheduled for next Thursday at the offices of law and lobbying firm BakerHostetler, will include trade groups like the Information Technology Industry Council and the Internet Association that represent major Silicon Valley companies."