Young Amer­ic­ans are turn­ing against Barack Obama and Obama­care, ac­cord­ing to a new sur­vey of mil­len­ni­als, people between the ages of 18 and 29 who are vi­tal to the for­tunes of the pres­id­ent and his sig­na­ture health care law.
The most start­ling find­ing of Har­vard Uni­versity's In­sti­tute of Polit­ics: A ma­jor­ity of Amer­ic­ans un­der age 25—the young­est mil­len­ni­als—would fa­vor throw­ing Obama out of of­fice.
The sur­vey, part of a unique 13-year study of the at­ti­tudes of young adults, finds that Amer­ica's rising gen­er­a­tion is wor­ried about its fu­ture, dis­il­lu­sioned with the U.S. polit­ic­al sys­tem, strongly op­posed to the gov­ern­ment's do­mest­ic sur­veil­lance ap­par­at­us, and drift­ing away from both ma­jor parties. "Young Amer­ic­ans hold the pres­id­ent, Con­gress and the fed­er­al gov­ern­ment in less es­teem al­most by the day, and the level of en­gage­ment they are hav­ing in polit­ics are also on the de­cline," reads the IOP's ana­lys­is of its poll. "Mil­len­ni­als are los­ing touch with gov­ern­ment and its pro­grams be­cause they be­lieve gov­ern­ment is los­ing touch with them."
The res­ults blow a gap­ing hole in the be­lief among many Demo­crats that Obama's two elec­tions signaled a dur­able grip on the youth vote.
In­deed, mil­len­ni­als are not so hot on their pres­id­ent.
Obama's ap­prov­al rat­ing among young Amer­ic­ans is just 41 per­cent, down 11 points from a year ago, and now track­ing with all adults. While 55 per­cent said they voted for Obama in 2012, only 46 per­cent said they would do so again.
When asked if they would want to re­call vari­ous elec­ted of­fi­cials, 45 per­cent of mil­len­ni­als said they would oust their mem­ber of Con­gress; 52 per­cent replied "all mem­bers of Con­gress" should go; and 47 per­cent said they would re­call Obama. The re­call-Obama fig­ure was even high­er among the young­est mil­len­ni­als, ages 18 to 24, at 52 per­cent.
While there is no pro­vi­sion for a pub­lic re­call of U.S. pres­id­ents, the poll ques­tion re­vealed just how far Obama has fallen in the eyes of young Amer­ic­ans.
IOP dir­ect­or Trey Grayson called the res­ults a "sea change" at­trib­ut­able to the gen­er­a­tion's out­sized and un­met ex­pect­a­tions for Obama, as well as their con­cerns about the eco­nomy, Obama­care and gov­ern­ment sur­veil­lance.
The sur­vey of 2,089 young adults, con­duc­ted Oct. 30 through Nov. 11, spells trouble for the Af­ford­able Care Act. The fra­gile eco­nom­ics un­der­pin­ning the law hinge on the will­ing­ness of healthy, young Amer­ic­ans to forgo pen­al­ties and buy health in­sur­ance.
Ac­cord­ing to the poll, 57 per­cent of mil­len­ni­als dis­ap­prove of Obama­care, with 40 per­cent say­ing it will worsen their qual­ity of care and a ma­jor­ity be­liev­ing it will drive up costs. Only 18 per­cent say Obama­care will im­prove their care. Among 18-to-29-year-olds cur­rently without health in­sur­ance, less than one-third say they're likely to en­roll in the Obama­care ex­changes. 
More than two-thirds of mil­len­ni­als said they heard about the ACA through the me­dia. That's a bad omen for Obama­care, giv­en the in­tens­ive cov­er­age of the law's botched rol­lout. Just one of every four young Amer­ic­ans said they dis­cussed the law with a friend or through so­cial me­dia. Har­vard's John Della Volpe, who con­duc­ted the poll, said the pres­id­ent has done a poor job ex­plain­ing the ACA to young Amer­ic­ans.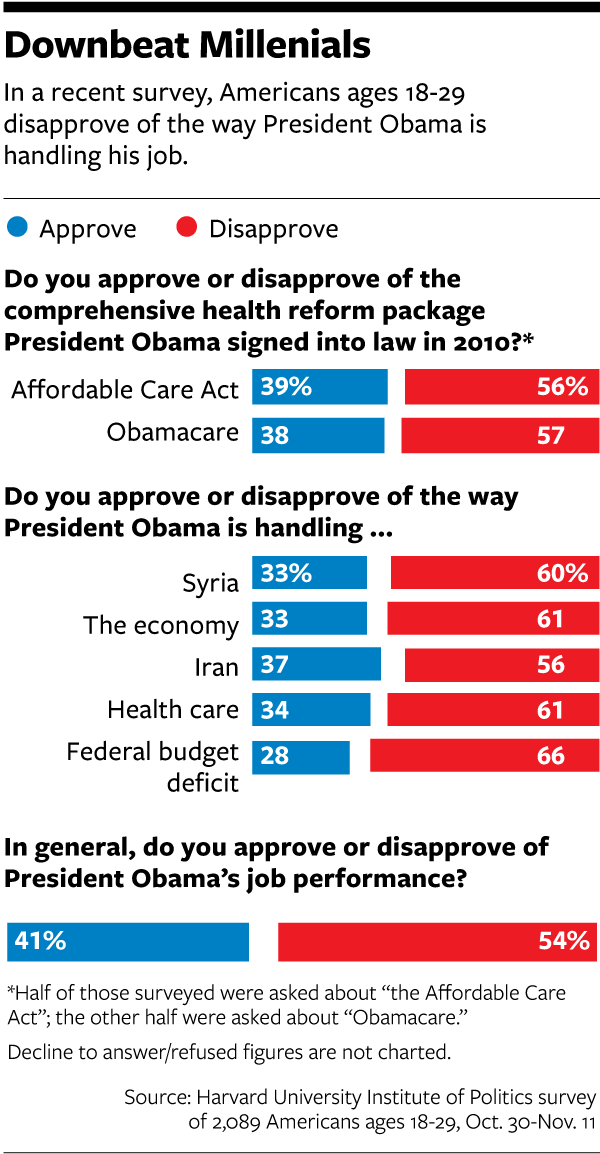 Re­pub­lic­an and Demo­crat­ic lead­ers should find little solace in the res­ults. The sur­vey said that 33 per­cent of young Amer­ic­ans con­sider them­selves Demo­crats and 24 per­cent identi­fy with the GOP. The largest and grow­ing seg­ment is among in­de­pend­ents, 41 per­cent of the total.
Demo­crats' ad­vant­age among young voters is fad­ing. Among the old­est mil­len­ni­als (ages 25 to 29), Demo­crats hold a 16-point lead over the GOP: 38 per­cent say they're Demo­crats, and 22 per­cent call them­selves Re­pub­lic­ans. Among the young­est of this rising gen­er­a­tion (ages 18 to 24), the gap is just 6 points, 31 per­cent for Demo­crats and 25 per­cent for Re­pub­lic­ans.
Ap­prov­al rat­ings of Con­gress have de­clined steeply in the past few years, with con­gres­sion­al Demo­crats now at 35 per­cent and con­gres­sion­al Re­pub­lic­ans at just 19 per­cent.
Young blacks say they are much less likely to vote in the 2014 midterm elec­tion than they were in Novem­ber 2009, sig­nal­ing a wor­ri­some level of en­gage­ment among a key Demo­crat­ic con­stitu­ency.
In ad­di­tion to health care, do­mest­ic spy­ing is an is­sue that puts Obama on the wrong side of the rising gen­er­a­tion. While split on wheth­er Ed­ward Snowden is a "pat­ri­ot" or a "trait­or" for re­veal­ing Obama's sur­veil­lance pro­grams, strong ma­jor­it­ies of 18-to-29-year-olds op­pose the gov­ern­ment col­lect­ing in­form­a­tion from so­cial net­works, Web-brows­ing his­tor­ies, email, GPS loc­a­tions, tele­phone calls, and text mes­sages.  
Col­lege loans are a big is­sue with young Amer­ic­ans, too. Nearly six of 10 called stu­dent debt a ma­jor prob­lem, and an­oth­er 22 per­cent called it a minor one. Sev­enty per­cent said their fin­an­cial situ­ation played in­to their de­cision wheth­er to at­tend col­lege.
Re­spond­ents were giv­en a list of op­tions for shrink­ing the na­tion's debt. Ma­jor­it­ies favored sug­ges­tions to tax the rich, cut for­eign eco­nom­ic aid in half, slash the nuc­le­ar-war­head ar­sen­al, and re­duce food stamps.
The res­ults con­form with a story I did this sum­mer with the help of the IOP ("The Out­siders: How Can Mil­len­ni­als Change Wash­ing­ton If They Hate It?"), ar­guing that while Mil­len­ni­als are deeply com­mit­ted to pub­lic ser­vice they don't see gov­ern­ment as an ef­fi­cient way to im­prove their lives or their com­munit­ies.
The IOP re­port is­sued today said: "This is not to say that young Amer­ic­ans are re­ject­ing polit­ics, the role of gov­ern­ment and the prom­ise of Amer­ica more gen­er­ally. They are send­ing a mes­sage to those in power that for them to re-en­gage in gov­ern­ment and polit­ics, the polit­ic­al pro­cess must be open, col­lab­or­at­ive and have the op­por­tun­ity for im­pact — and not one that simply per­petu­ates well-worn single is­sue agen­das."
The sur­vey was con­duc­ted on­line. The Na­tion­al Journ­al gen­er­ally re­frains from cov­er­ing on­line-only polls but has made past ex­cep­tions. In this case, Har­vard's IOP sur­vey uniquely fo­cuses on mil­len­ni­als with ac­cu­mu­lated data set and a cred­ible polling op­er­a­tion.
(Find full poll res­ults here: ht­tp://www.iop.har­vard.edu/)