Amer­ic­ans say the re­la­tion­ship between Pres­id­ent Obama and Con­gress was more frayed than usu­al in 2013 — and, if any­thing, only likely to get worse next year.
The first year of Obama's second term has been marked by a gov­ern­ment shut­down, no sig­ni­fic­ant le­gis­lat­ive achieve­ments, and in­cess­ant bick­er­ing between the ad­min­is­tra­tion and Cap­it­ol Hill, prompt­ing 57 per­cent of Amer­ic­ans to say the White House and Con­gress are co­oper­at­ing less than usu­al, ac­cord­ing to the latest United Tech­no­lo­gies/Na­tion­al Journ­al Con­gres­sion­al Con­nec­tion Poll.
Only 5 per­cent of Amer­ic­ans said Obama and Con­gress co­oper­ated more than usu­al this year. The sur­vey has a mar­gin of er­ror of plus or minus 3.6 per­cent­age points.
With Con­gress on track to pass the few­est new laws this year since at least 1947, Amer­ic­ans are even more pess­im­ist­ic about a re­newed co­oper­at­ive spir­it emer­ging in 2014, when the con­gres­sion­al midterm elec­tions will be held.
While 16 per­cent of poll re­spond­ents said they ex­pec­ted more co­oper­a­tion next year, 60 per­cent said the level of co­oper­a­tion would stay as bad as it is today, and 23 per­cent pre­dicted re­la­tions would de­teri­or­ate even fur­ther.
The fact that Con­gress and the White House don't get along is the rare is­sue on which Demo­crats and Re­pub­lic­ans agree, with 56 per­cent and 65 per­cent of the two parties, re­spect­ively, say­ing re­la­tions in 2013 are worse than nor­mal.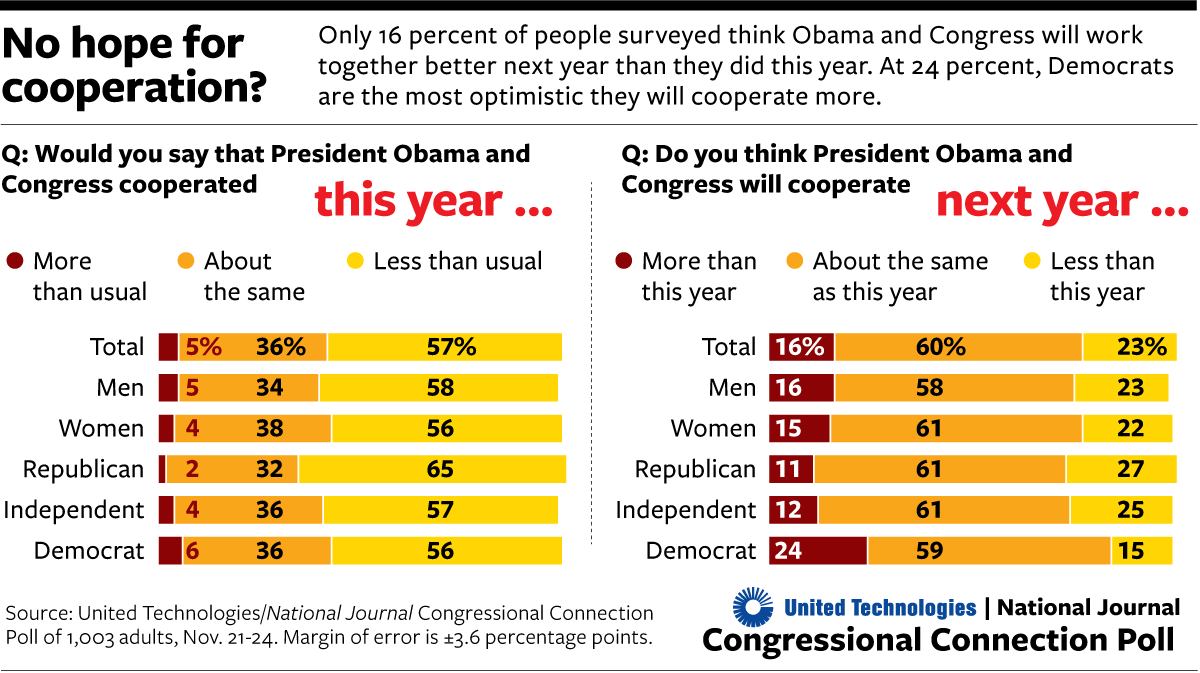 The Demo­crat­ic pess­im­ism is slightly lower in large part due to the views of blacks and oth­er non­white Amer­ic­ans. Afric­an-Amer­ic­ans were the only demo­graph­ic group in the sur­vey in which even 10 per­cent of re­spond­ents said the level of co­oper­a­tion in 2013 was bet­ter than usu­al, per­haps a re­flec­tion of re­sid­ual good­will to­ward the ef­forts of the na­tion's first Afric­an-Amer­ic­an pres­id­ent.
But at least a plur­al­ity of every demo­graph­ic group in the poll — across all races, ages, in­comes, edu­ca­tion levels, and re­gions — said the pres­id­ent and Con­gress were get­ting along less well than usu­al in 2013.
Still, some not­ably dif­fer­ent per­cep­tions of the cur­rent cli­mate emerged. Mil­len­ni­als, those between 18 and 29, were the most likely to say the cur­rent lack of co­oper­a­tion ranked "about the same as usu­al." While 43 per­cent of mil­len­ni­als felt that way, only 31 per­cent of those age 50 and over — Amer­ic­ans who have wit­nessed far more pres­id­en­cies — agreed.
Those over 50 are par­tic­u­larly dour about the pro­spects for 2014: 85 per­cent said the level of co­oper­a­tion would either be the same (61 per­cent) or even worse (26 per­cent).
Men and wo­men in the sur­vey were largely in agree­ment, both in rank­ing 2013 as less co­oper­at­ive than nor­mal (58 per­cent and 56 per­cent, re­spect­ively) and in pre­dict­ing that 2014 would bring more of the same (58 per­cent and 61 per­cent, re­spect­ively).
Law­makers and aides on the Hill tend to agree that re­la­tions between the White House and Con­gress are at a low point — they just dis­agree on who is to blame. Obama reached out to Sen­ate Re­pub­lic­ans this spring and sum­mer through a series of private din­ners at the White House and around Wash­ing­ton, but noth­ing sub­stant­ive emerged from the talks. In­stead, the gov­ern­ment shut down for the first time in 17 years.
Demo­crats blame an in­transigent and in­sur­gent tea party. "Le­gis­la­tion is the art of com­prom­ise, build­ing con­sensus, but we don't have that now," Sen­ate Ma­jor­ity Lead­er Harry Re­id told a Las Ve­gas tele­vi­sion sta­tion this week. "The tea party will not al­low Re­pub­lic­ans to com­prom­ise."
Re­pub­lic­ans blame an aloof and out-of-touch White House. "The Sen­ate and the pres­id­ent con­tin­ue to stand in the way of the Amer­ic­an people's pri­or­it­ies," Speak­er John Boehner said on the House floor Wed­nes­day. "When will they learn to say 'yes' to com­mon ground?"
Amer­ic­ans don't see either side co­oper­at­ing much now — or in the near fu­ture.
{{ BIZOBJ (video: 4603) }}