De­fense Sec­ret­ary Chuck Hagel donned his oth­er hat as the Pentagon's downs­izer-in-chief on Wed­nes­day, an­noun­cing his latest ef­forts to cut spend­ing and per­son­nel— this time, in his own of­fice.
"With the Pentagon con­front­ing his­tor­ic­ally steep and ab­rupt spend­ing re­duc­tions after a dec­ade of sig­ni­fic­ant budget growth," Hagel said at a press con­fer­ence, "there is a clear need, and an op­por­tun­ity, and I em­phas­ize op­por­tun­ity, to pare back over­head and stream­line headquar­ters across the De­part­ment." 
About 2,400 mil­it­ary and ci­vil­ian per­son­nel work on Hagel's staff, in the Of­fice of the Sec­ret­ary of De­fense; by fisc­al year 2019, that num­ber will drop to less than 2,200 per­son­nel. The re­duc­tions are ex­pec­ted to save about $1 bil­lion.
Con­sid­er­ing the scale of cuts the Pentagon is fa­cing — some $37 bil­lion this year, and po­ten­tially a total of $500 bil­lion if the across-the-board cuts known as se­quest­ra­tion re­main on the books in the com­ing years "" the cut­backs ap­pear neg­li­gible. However, the fact that the De­fense sec­ret­ary is per­son­ally tak­ing steps to re­shape elite branches with­in the Pentagon's labyrinth bur­eau­cracy is not­able, even in this era of fisc­al aus­ter­ity. These re­duc­tions are only a "first step," Hagel stressed, in the de­part­ment's ef­forts to "re­align de­fense spend­ing to meet new fisc­al real­it­ies and stra­tegic pri­or­it­ies."
The dir­ect­ive comes on the heels of Hagel's or­der this sum­mer that the Pentagon's top brass plan for a 20 per­cent cut in their op­er­at­ing budgets— not just with­in his own of­fice, but in the Joint Staff and Pentagon headquar­ters staff of each of the four armed ser­vices. Hagel on Wed­nes­day an­nounced his of­fice will see wide­spread re­or­gan­iz­a­tion span­ning not just staff but mis­sion. The Pentagon's policy shop, for in­stance, will elim­in­ate some seni­or po­s­i­tions but pri­or­it­ize op­er­a­tions in the Asia-Pa­cific re­gion, and space and cy­ber cap­ab­il­it­ies. The of­fice of Per­son­nel and Read­i­ness will "sharpen" its fo­cus on force man­age­ment and read­i­ness, mil­it­ary health care, com­pens­a­tion and re­tire­ment re­form, as the de­fense in­tel­li­gence of­fice plans how its mis­sion and fo­cus will evolve now that the era dom­in­ated by wars in Ir­aq and Afgh­anistan is com­ing to a close. "All these de­cisions will not only res­ult in a smal­ler and flat­ter OSD, but one that I be­lieve will be bet­ter pre­pared for the ser­i­ous and com­plex 21st cen­tury se­cur­ity chal­lenges that we face as a De­part­ment and as a na­tion," Hagel said.
With no deal to avert se­quest­ra­tion yet, Hagel is can­did about the tea leaves for his de­part­ment's budget woes — many of which, such as mil­it­ary re­tire­ment be­ne­fits and base clos­ures — are po­ten­tial polit­ic­al land­mines on Cap­it­ol Hill. "Dif­fi­cult but ne­ces­sary choices re­main ahead for the De­part­ment on com­pens­a­tion re­form, force struc­ture, ac­quis­i­tions and oth­er ma­jor parts of DoD," he said. "These choices will be much more dif­fi­cult if Con­gress fails to halt se­quest­ra­tion and fully fund the Pres­id­ent's budget re­quest."
What We're Following See More »
UNTIL DEC. 9, ANYWAY
Obama Signs Bill to Fund Government
2 hours ago
REDSKINS IMPLICATIONS
SCOTUS to Hear Case on Offensive Trademarks
3 hours ago
WHY WE CARE
"The Supreme Court is taking up a First Amendment clash over the government's refusal to register offensive trademarks, a case that could affect the Washington Redskins in their legal fight over the team name. The justices agreed Thursday to hear a dispute involving an Asian-American rock band called the Slants, but they did not act on a separate request to hear the higher-profile Redskins case at the same time." Still, any precedent set by the case could have ramifications for the Washington football team.
STAFF PICKS
Bannon Still Collecting Royalties from 'Seinfeld'
4 hours ago
WHY WE CARE
The Hollywood Reporter takes a look at a little-known intersection of politics and entertainment, in which Trump campaign CEO Steve Bannon is still raking in residuals from Seinfeld. Here's the digest version: When Seinfeld was in its infancy, Ted Turner was in the process of acquiring its production company, Castle Rock, but he was under-capitalized. Bannon's fledgling media company put up the remaining funds, and he agreed to "participation rights" instead of a fee. "Seinfeld has reaped more than $3 billion in its post-network afterlife through syndication deals." Meanwhile, Bannon is "still cashing checks from Seinfeld, and observers say he has made nearly 25 times more off the Castle Rock deal than he had anticipated."
IT'S ALL CLINTON
Reliable Poll Data Coming in RE: Debate #1
4 hours ago
WHY WE CARE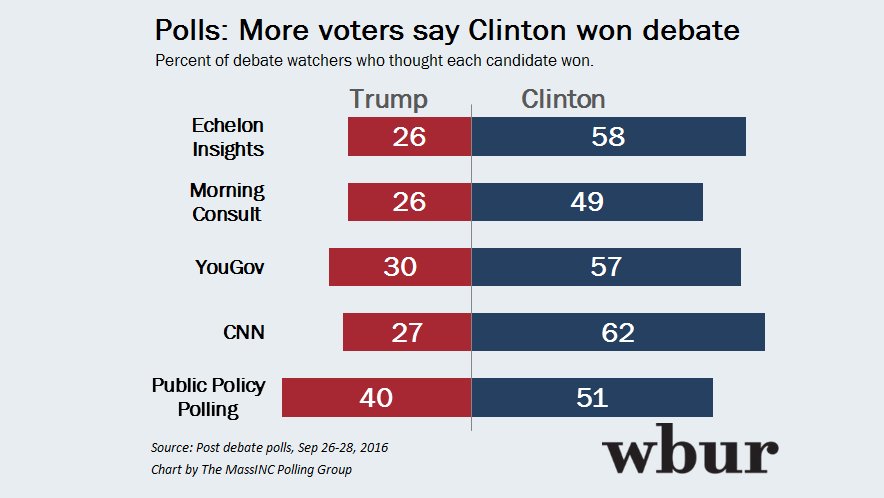 NEXT THURSDAY
Trump Transition Team Meeting with Silicon Valley VIPs
6 hours ago
THE DETAILS
Donald Trump's "transition team will meet next week with representatives of the tech industry, multiple sources confirmed, even as their candidate largely has been largely shunned by Silicon Valley. The meeting, scheduled for next Thursday at the offices of law and lobbying firm BakerHostetler, will include trade groups like the Information Technology Industry Council and the Internet Association that represent major Silicon Valley companies."