The Wis­con­sin state As­sembly voted Wed­nes­day to keep 72,000 res­id­ents from be­ing taken off the state's health-cov­er­age plan for its low-in­come res­id­ents.
If the meas­ure passes the state Sen­ate, Wis­con­sin­ites earn­ing more than 100 per­cent of the fed­er­al poverty line will be shif­ted off Badger­Care and in­to the Obama­care ex­change to pur­chase in­sur­ance on April 1. That trans­ition is a crit­ic­al three-month delay from Jan. 1 be­cause of the tu­mul­tu­ous rol­lout of Health­Care.gov, Re­pub­lic­an Gov. Scott Walk­er says. In Oc­to­ber, Wis­con­sin had only 877 en­rollees.
The delay also post­pones cov­er­age for even more of the state's poor. An es­tim­ated 83,000 res­id­ents liv­ing be­low the fed­er­al poverty line who would be­come newly eli­gible for the pro­gram Jan. 1 could also have to wait the three months. Demo­crats sent let­ters protest­ing the plan.
"You in­tend to pay for the cost of ex­tend­ing Medi­caid/Badger­Care to these low-in­come Wis­con­sin cit­izens by delay­ing cov­er­age to even poorer Wis­con­sin cit­izens by the same three months," wrote Demo­crat­ic state Sen. Tim Cul­len in a let­ter to Walk­er. "Put simply, you pro­pose to pay to cov­er the second-low­est in­come group by delay­ing cov­er­age to the very poorest Wis­con­sin cit­izens who have no cov­er­age today."
Be­cause the delay keeps some of the poorest off the state's rolls, tax­pay­ers will save roughly $23 mil­lion if the deal is ap­proved, the state's non­par­tis­an budget of­fice es­tim­ates. 
Badger­Care of­fers in­sur­ance to Wis­con­sin­ites whose em­ploy­ers do not provide it and whose in­come is too high to qual­i­fy for Medi­caid. The pro­gram cur­rently cov­ers people earn­ing up to 200 per­cent of the fed­er­al poverty line, but it will be rolled back to 100 per­cent of the fed­er­al poverty line, the least amount Amer­ic­ans can earn to qual­i­fy for premi­um tax cred­its on the ex­change.
Walk­er re­jec­ted fed­er­al money for Medi­caid ex­pan­sion, one of 25 Re­pub­lic­an U.S. gov­ernors to do so. He has said he does not be­lieve the fed­er­al gov­ern­ment will fol­low through on its prom­ise to cov­er the costs of ex­pan­sion.
He de­fends the delay of the Badger­Care over­haul with a sim­il­ar lo­gic.
"People who are tak­ing the Medi­caid ex­pan­sion are de­pend­ing on the fed­er­al gov­ern­ment liv­ing up to their com­mit­ment, a fed­er­al gov­ern­ment that can't even get a web­site up and go­ing," Walk­er said last month.
Since Walk­er's com­ments and the un­veil­ing of his pro­pos­al, the Health and Hu­man Ser­vices De­part­ment has made hun­dreds of fixes to Health­Care.gov. On Sunday, it an­nounced that it met its goal to make the on­line fed­er­al ex­change a smooth ex­per­i­ence for "the vast ma­jor­ity of users." On Wed­nes­day, re­ports leaked that 29,000 people had signed up for cov­er­age on the first two days of Decem­ber.
Con­sumers have un­til Dec. 23 to sign up for ex­change cov­er­age that be­gins Jan. 1.
If the Re­pub­lic­an-con­trolled Le­gis­lature ap­proves the delay, however, cur­rent Badger­Care re­cip­i­ents would be covered by the pro­gram through March, giv­ing them more time to shop for in­sur­ance, but for­cing oth­er low-in­come Wis­con­sin­ites to wait longer for cov­er­age.
The Wis­con­sin state Sen­ate is ex­pec­ted to take up the meas­ure Dec. 19.
What We're Following See More »
UNTIL DEC. 9, ANYWAY
Obama Signs Bill to Fund Government
4 hours ago
REDSKINS IMPLICATIONS
SCOTUS to Hear Case on Offensive Trademarks
4 hours ago
WHY WE CARE
"The Supreme Court is taking up a First Amendment clash over the government's refusal to register offensive trademarks, a case that could affect the Washington Redskins in their legal fight over the team name. The justices agreed Thursday to hear a dispute involving an Asian-American rock band called the Slants, but they did not act on a separate request to hear the higher-profile Redskins case at the same time." Still, any precedent set by the case could have ramifications for the Washington football team.
STAFF PICKS
Bannon Still Collecting Royalties from 'Seinfeld'
5 hours ago
WHY WE CARE
The Hollywood Reporter takes a look at a little-known intersection of politics and entertainment, in which Trump campaign CEO Steve Bannon is still raking in residuals from Seinfeld. Here's the digest version: When Seinfeld was in its infancy, Ted Turner was in the process of acquiring its production company, Castle Rock, but he was under-capitalized. Bannon's fledgling media company put up the remaining funds, and he agreed to "participation rights" instead of a fee. "Seinfeld has reaped more than $3 billion in its post-network afterlife through syndication deals." Meanwhile, Bannon is "still cashing checks from Seinfeld, and observers say he has made nearly 25 times more off the Castle Rock deal than he had anticipated."
IT'S ALL CLINTON
Reliable Poll Data Coming in RE: Debate #1
6 hours ago
WHY WE CARE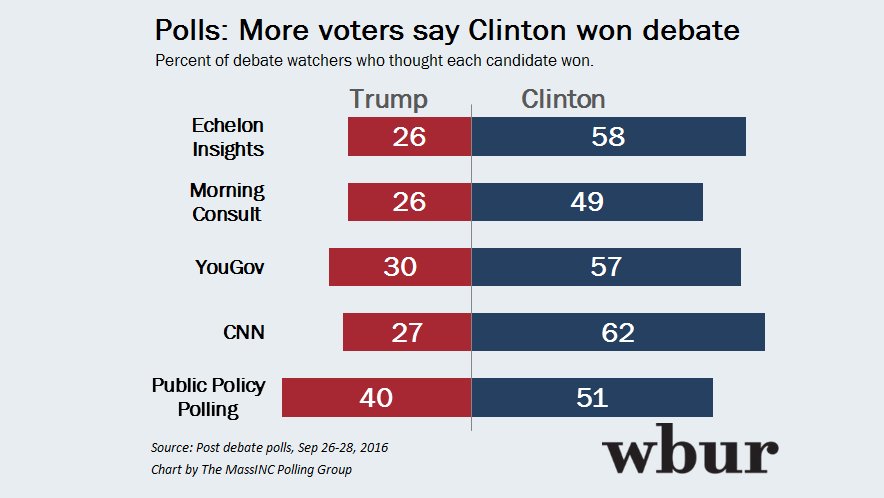 NEXT THURSDAY
Trump Transition Team Meeting with Silicon Valley VIPs
8 hours ago
THE DETAILS
Donald Trump's "transition team will meet next week with representatives of the tech industry, multiple sources confirmed, even as their candidate largely has been largely shunned by Silicon Valley. The meeting, scheduled for next Thursday at the offices of law and lobbying firm BakerHostetler, will include trade groups like the Information Technology Industry Council and the Internet Association that represent major Silicon Valley companies."