Most graphs of polling data show shifts that are very gradu­al. (Track­ing real-time changes in poll res­ults of­ten is about as ex­cit­ing as watch­ing paint dry.) Re­cently, however, the Huff­Post Poll­ster web­site pro­duced a graph of na­tion­al polling on Con­gress that showed one of the most dra­mat­ic shifts I've ever seen in 40 years of in­volve­ment in polit­ics. It charts re­sponses to the ques­tion of wheth­er voters would like Re­pub­lic­ans or Demo­crats to con­trol the House.
The year began with Demo­crats 8 points ahead of Re­pub­lic­ans on the gen­er­ic con­gres­sion­al bal­lot test, 46 per­cent to 38 per­cent. The GOP had come out of the 2012 elec­tions lick­ing its wounds, hav­ing lost a pres­id­en­tial elec­tion that, just a year earli­er, ap­peared highly win­nable. As the year pro­gressed, the Demo­crat­ic ad­vant­age gradu­ally but con­sist­ently de­clined, par­al­lel­ing a sim­il­ar erosion of Pres­id­ent Obama's job-ap­prov­al rat­ing since his reelec­tion. The drop in Demo­crats' num­bers leveled off in June, to a stat­ist­ic­ally in­sig­ni­fic­ant 1 per­cent­age point lead over Re­pub­lic­ans. It is im­port­ant to re­mem­ber that there is a his­tor­ic tend­ency for this poll ques­tion to skew by a couple of points in fa­vor of Demo­crats, mak­ing that mea­ger edge al­most cer­tainly an il­lu­sion.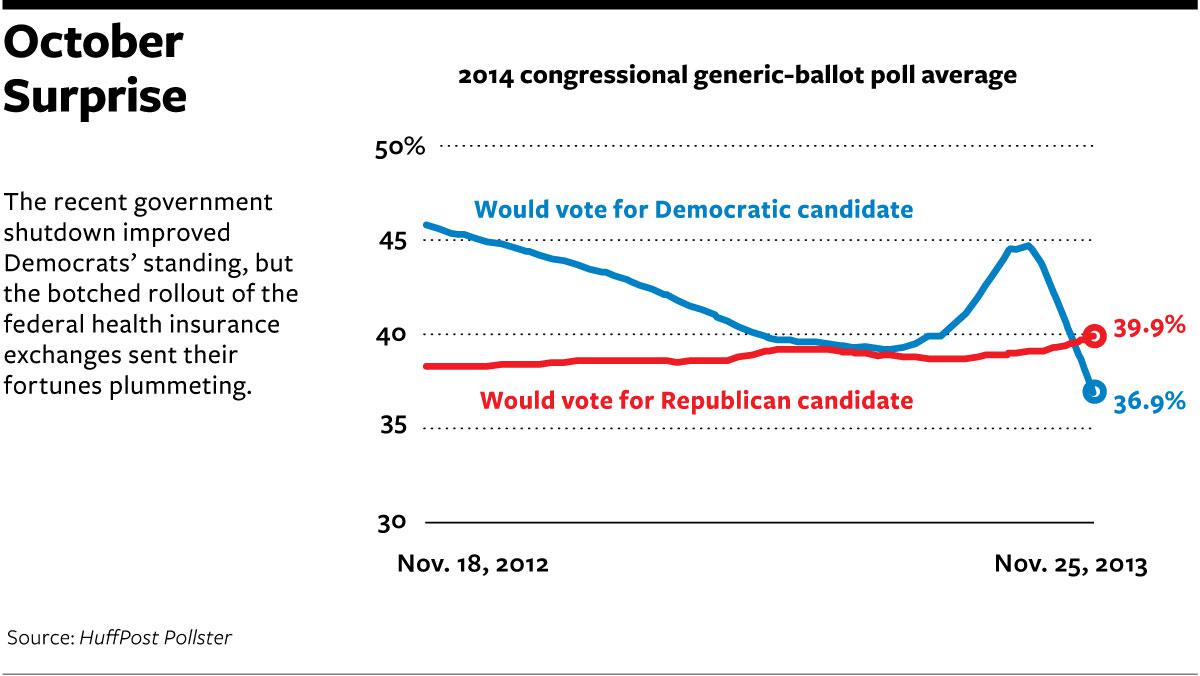 Then, in Au­gust, state­ments star­ted com­ing from some of the more exot­ic Re­pub­lic­ans in the House and Sen­ate that per­haps it was a good idea to shut down the gov­ern­ment over the im­ple­ment­a­tion of the Af­ford­able Care Act. Not­with­stand­ing warn­ings from House and Sen­ate Re­pub­lic­an lead­ers and ex­per­i­enced (and wiser) mem­bers that such an ef­fort would be a dis­aster for the party, the Re­pub­lic­ans in the "kami­kaze caucus" barreled ahead, over the cliff, shut­ting down the gov­ern­ment.
Sure enough, the Demo­crat­ic num­bers in the gen­er­ic bal­lot began to pull dra­mat­ic­ally ahead, re­sem­bling a steep as­cent up the side of a moun­tain, end­ing about 7 points ahead of Re­pub­lic­ans, 45 per­cent to 38 per­cent — an ad­vant­age that, were it to last un­til the elec­tion, would give Demo­crats a chance to re­cap­ture the House.
Then, in mid-Oc­to­ber, the fo­cus shif­ted from the gov­ern­ment-shut­down fiasco to a dif­fer­ent de­bacle, this time a Demo­crat­ic dis­aster: the botched launch of the Obama­care web­site and sub­sequent im­ple­ment­a­tion prob­lems of the health care law, in­clud­ing ter­min­a­tion no­tices go­ing out to many people who had in­sur­ance cov­er­age. The Demo­crat­ic num­bers from the gen­er­ic-bal­lot test dropped from 45 per­cent to 37 per­cent, and Re­pub­lic­ans moved up to 40 per­cent. This 10-point net shift from a Demo­crat­ic ad­vant­age of 7 points to a GOP edge of 3 points in just over a month is breath­tak­ing, per­haps an un­pre­ced­en­ted swing in such a short peri­od. Oc­cur­ring around Elec­tion Day, such a shift would prob­ably amount to the dif­fer­ence between Demo­crats pick­ing up at least 10 House seats, pos­sibly even the 17 needed for a ma­jor­ity, and in­stead los­ing a half-dozen or so seats.
Of course, with the elec­tion 11 months away, it's too early to get really ex­cited about this turn­about, but it demon­strates the volat­il­ity we are see­ing these days in Amer­ic­an polit­ics. It must also give Demo­crats a sense of déjà  vu, back to when the bot­tom fell out for them dur­ing the 2009-10 fight over pas­sage of the Af­ford­able Care Act. In that case, though, they suffered a gradu­al de­cline in party for­tunes, start­ing in the sum­mer of 2009 and cul­min­at­ing in the loss of 63 seats and the House ma­jor­ity in Novem­ber 2010 — the biggest drop in House seats for either party since 1948 and the largest in a midterm elec­tion since 1938. Demo­crats didn't fare much bet­ter in the Sen­ate, los­ing six seats.
No one knows for sure how the next few phases of ACA im­ple­ment­a­tion will go. Demo­crats' hopes that their for­tunes will im­prove as a res­ult of up­com­ing fisc­al de­bates are start­ing to look pretty shaky, however. Demo­crats may be count­ing on Re­pub­lic­ans to en­gage in more self-de­struct­ive be­ha­vi­or when gov­ern­ment fund­ing ex­pires in mid-Janu­ary and the debt ceil­ing ex­pires in Feb­ru­ary.
But it looks in­creas­ingly likely that Re­pub­lic­ans will go along with a deal, avert­ing a spend­ing/debt-ceil­ing crisis, and not re­peat the dis­aster of this fall. Avoid­ing such a fight would keep most of the pub­lic's fo­cus on Obama­care, and, in Re­pub­lic­ans' eyes, give them the gift that will keep on giv­ing. At this point, that doesn't ap­pear to be an un­real­ist­ic ex­pect­a­tion.
But what will hap­pen next? A jaded ob­serv­er might sug­gest that cer­tain Sen­ate Demo­crats may try to move the goal­posts of a budget deal, push­ing for ad­di­tion­al Re­pub­lic­an con­ces­sions to the point that House Speak­er John Boehner can't de­liv­er enough of the hard-liners in his caucus, thus cre­at­ing a re­peat of last fall's show­down. Of course, that is a highly cyn­ic­al view, but it does not seem im­plaus­ible that Sen­ate Ma­jor­ity Lead­er Harry Re­id might try such a strategy. The catch is wheth­er Demo­crats could po­ten­tially sab­ot­age a budget deal without leav­ing any in­crim­in­at­ing fin­ger­prints. The cyn­ics might be wrong but, then again, Re­id has six Sen­ate seats up next year in states that Mitt Rom­ney car­ried by double-di­git mar­gins. We'll see.