Dir­ect-to-con­sumer ge­net­ic test­ing com­pany 23andMe will stop sales of health-re­lated tests fol­low­ing a warn­ing let­ter from the Food and Drug Ad­min­is­tra­tion two weeks ago.
"23andMe has been giv­ing con­sumers ac­cess to health in­form­a­tion for six years and is com­mit­ted to find­ing the right reg­u­lat­ory path for our cus­tom­ers," CEO and founder Anne Wo­j­cicki wrote in a state­ment on the com­pany web­site Thursday. "I am highly dis­ap­poin­ted that we have reached this point and will work hard to make sure con­sumers have dir­ect ac­cess to health in­form­a­tion in the near fu­ture. Our goal is to work co­oper­at­ively with the FDA to provide that op­por­tun­ity."
The goal of 23andMe is to provide con­sumers with dir­ect ac­cess to their ge­net­ic in­form­a­tion in an easy and af­ford­able way. A test can be pur­chased on­line for $99, and provides re­ports on 254 dif­fer­ent con­di­tions and dis­eases.
However, the FDA ex­pressed con­cerns that the com­pany was selling its product as a dia­gnost­ic test for health risks. The agency said 23andMe must gain gov­ern­ment au­thor­iz­a­tion be­fore con­tinu­ing to mar­ket the product as a med­ic­al test.
The com­pany will con­tin­ue to provide an­ces­try in­form­a­tion and raw data to con­sumers, but will put the sale of health-re­lated res­ults on hold.
In­di­vidu­als who pur­chased ge­net­ic test­ing kits pri­or to when the FDA let­ter was sent on Nov. 22 will con­tin­ue to have ac­cess to their full res­ults. Those who pur­chased them on or after that date will only re­ceive an­ces­try in­form­a­tion and raw data, and will be eli­gible for a re­fund.
Wo­j­cicki em­phas­ized that the com­pany stands by their data, not­ing that the samples are sent to CLIA cer­ti­fied labs — the same stand­ards used for most health-re­lated tests.
"The in­form­a­tion 23andMe provides is in­cred­ibly ac­cur­ate," 23andMe spokes­wo­man Cath­er­ine Afar­i­an told Na­tion­al Journ­al in early Novem­ber. "If we tell you you're a C-C there, you are. From there, the next step is in­ter­pret­a­tion — what does sci­ence know about it?"
This is where the res­ults be­come less clear. 
As Na­tion­al Journ­al pre­vi­ously re­por­ted, there is a sig­ni­fic­ant amount of un­cer­tainty re­gard­ing the in­ter­pret­a­tion side of these test res­ults. The con­cern is that in­di­vidu­als may make im­port­ant med­ic­al de­cisions based on res­ults that are con­stantly chan­ging and that even ex­perts don't com­pletely un­der­stand.
The com­pany will con­tin­ue to move for­ward with the FDA's reg­u­lat­ory re­view pro­cess, and hopes to re­sume of­fer­ing health-re­lated in­form­a­tion shortly.
What We're Following See More »
SAUDI ARABIA BILL
Veto Override Scheduled for Wednesday in Senate
1 hours ago
THE LATEST
Senate Majority Leader Mitch McConnell said this afternoon that the Senate on Wednesday will take up an override of President Obama's veto of legislation that would allow the families of 9/11 victims to sue the government of Saudi Arabia. "The vote is expected garner the two-thirds majority necessary to override the veto."
MEDIA SHOULD HOLD TRUMP RESPONSIBLE
Reid Devotes Senate Floor Speech to Trump's 'Racism'
2 hours ago
THE LATEST
"Donald Trump is a racist," announced Senate Minority Leader Harry Reid from the Senate floor this afternoon. Reid said all of us are occasionally politically incorrect, but "I don't know of anyone that when that happens doesn't acknowledge it and, if necessary, apologize quickly." But Trump, he added, says things with "full intent to demean and to denigrate." Reid argued that the media isn't holding Trump to account, and should explicitly call him a racist.
ABSENT FROM LIST: GENNIFER FLOWERS
Most Trump Guests Have Military Ties
5 hours ago
TOP OF MIND
Trending on Google: 'Why Should Trump Not Be President'
5 hours ago
THE DETAILS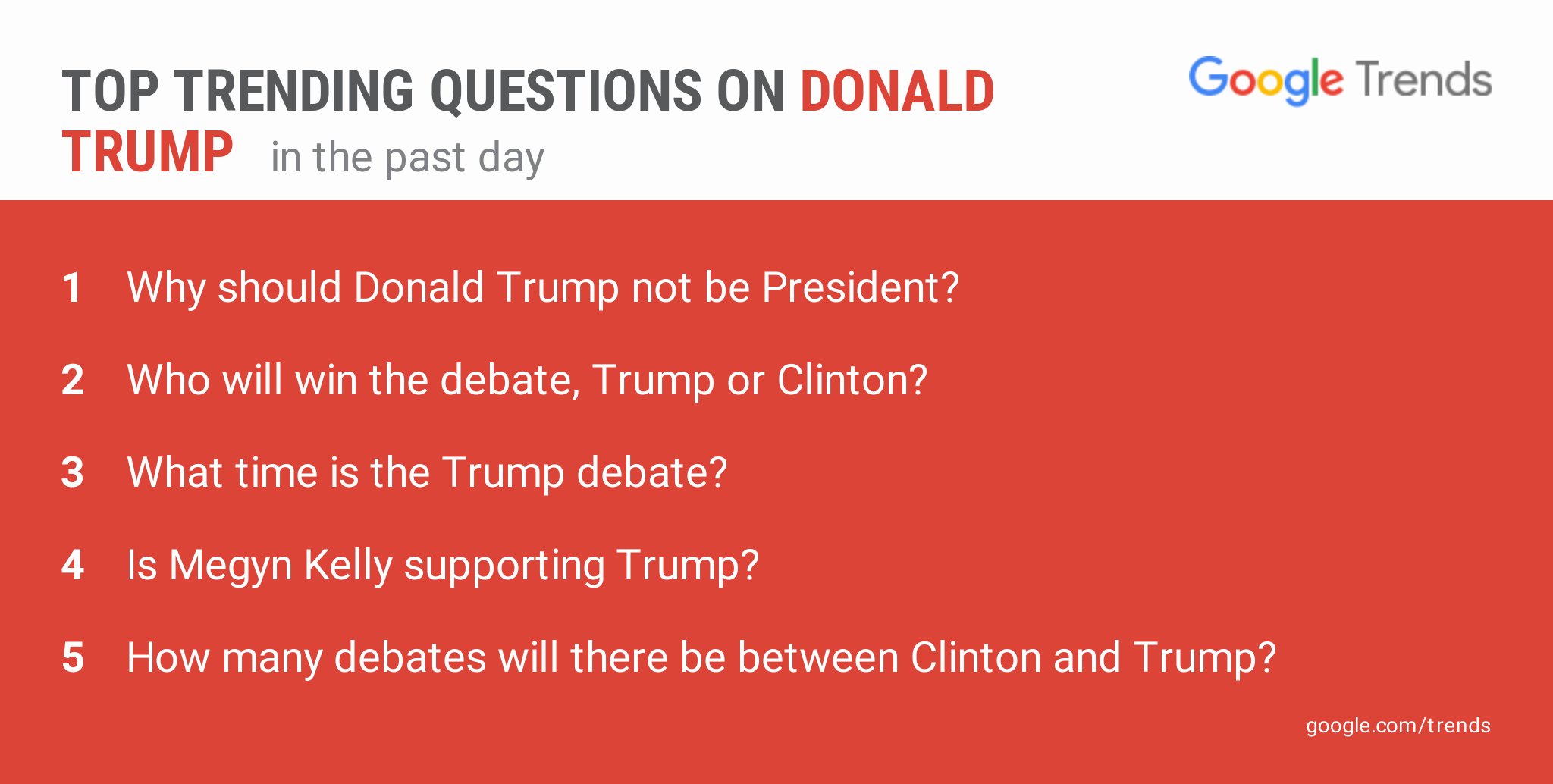 WHO PLAYED THE DONALD?
Longtime Clinton Aide Played Trump in Mock Debates
8 hours ago
THE DETAILS
After keeping the information private for most of the lead-up to the debate on Monday, it has been revealed that longtime Clinton aide Philippe Reines has been playing the role of Donald Trump in her debate prep. Reines knows Clinton better than most, able to identify both her strengths and weaknesses, and his selection for a sparring partner shows that Clinton is preparing for the brash and confrontational Donald Trump many have come to expect.