Of­fi­cials in the Obama ad­min­is­tra­tion had already de­cided they needed to delay new health in­sur­ance op­tions for small busi­nesses even as of­fi­cials were testi­fy­ing be­fore Con­gress that the pro­gram would be ready, ac­cord­ing to newly re­leased in­tern­al emails.
The emails, re­leased by Re­pub­lic­ans on the House En­ergy and Com­merce Com­mit­tee, show that of­fi­cials with­in the Cen­ters for Medi­care and Medi­caid Ser­vices de­cided in Au­gust that they needed to delay part of a new in­sur­ance mar­ket­place for small busi­nesses.
"Guys, this is ab­so­lutely ur­gent and I need an an­swer on this today. If this is late we have to pub­lic an­nounce we are late with a de­liv­er­able which means Mar­ilyn Taven­ner and the Sec­ret­ary will have to an­nounce," Mo­nique Ou­t­er­bridge, dir­ect­or of CMS's Of­fice of In­form­a­tion Ser­vices, wrote on Aug. 6.
The delay was not pub­licly an­nounced un­til Sept. 26 — just days be­fore the sched­uled Oct. 1 launch. The ad­min­is­tra­tion has since de­cided to push back the on­line en­roll­ment pro­cess un­til next year.
CMS said the emails re­leased Fri­day only cov­er part of the de­cision-mak­ing pro­cess. Seni­or of­fi­cials did not sign off on the fi­nal de­cision to par­tially delay the small-busi­ness ex­change, known as SHOP, un­til mid-Septem­ber, CMS said.
"The emails in ques­tion are between a small group of in­di­vidu­als in­volved in a broad­er de­cision-mak­ing pro­cess, and they re­flect one piece of many con­ver­sa­tions about man­aging de­liv­er­ables and com­mu­nic­at­ing ex­pect­a­tions," CMS said in a state­ment. "These emails do not re­flect fi­nal de­cisions made by more seni­or CMS of­fi­cials."
Al­though the delay was not fi­nal­ized un­til Septem­ber, the emails show that tech­nic­al of­fi­cials and con­tract­ors knew in Ju­ly and Au­gust they were un­likely to meet the dead­line for an Oct. 1 launch.
"As the pa­per trail broadens, we see more and more evid­ence that the ad­min­is­tra­tion was fully aware its sig­na­ture health care law was not ready for prime time," En­ergy and Com­merce Chair­man Fred Up­ton, R-Mich., said in a state­ment. "The doc­u­ments we are now re­view­ing tell a much, much dif­fer­ent story than what of­fi­cials test­i­fied to Con­gress."
Of­fi­cials from CMS and CGI, the lead con­tract­or already un­der fire for its work build­ing Health­Care.gov, scrambled in Ju­ly and Au­gust to fig­ure out wheth­er they would be able to launch the SHOP ex­change on time.
"I've es­cal­ated your con­cerns re­gard­ing the SHOP Em­ploy­ee ap­plic­a­tion not be­ing com­pleted un­til 10/15/13, and the con­cern that the Em­ploy­er ap­plic­a­tion de­vel­op­ment will not be com­pleted un­til 8/30/13; whereby the Em­ploy­er will be able to enter the ap­plic­a­tion, get eli­gib­il­ity, shop for a plan, but can­not move through the en­tire ap­plic­a­tion pro­cess be­cause the Em­ploy­ee Ap­plic­a­tion De­vel­op­ment will not be com­pleted un­til 10/15/13," CMS's Jo-Ann Webber wrote in a Ju­ly 26 email.
An­oth­er CMS of­fi­cial noted in re­sponse that Chiquita Brooks-Las­ure, the policy dir­ect­or for the of­fice im­ple­ment­ing most of the Af­ford­able Care Act, had test­i­fied the day be­fore that the SHOP ex­change would be ready.
CMS of­fi­cials and CGI ul­ti­mately de­cided on a sched­ule that had the SHOP ex­change open­ing to em­ploy­ers on Nov. 1 — one month late — and then to em­ploy­ees on Nov. 15.
"Can we sign this in blood?" asked Henry Chao, the CMS in­form­a­tion of­ficer who handled much of the im­ple­ment­a­tion ef­fort.
"Whose?" CGI replied.
— This story was up­dated at 1:10 p.m.
What We're Following See More »
SAUDI ARABIA BILL
Veto Override Scheduled for Wednesday in Senate
14 minutes ago
THE LATEST
Senate Majority Leader Mitch McConnell said this afternoon that the Senate on Wednesday will take up an override of President Obama's veto of legislation that would allow the families of 9/11 victims to sue the government of Saudi Arabia. "The vote is expected garner the two-thirds majority necessary to override the veto."
MEDIA SHOULD HOLD TRUMP RESPONSIBLE
Reid Devotes Senate Floor Speech to Trump's 'Racism'
58 minutes ago
THE LATEST
"Donald Trump is a racist," announced Senate Minority Leader Harry Reid from the Senate floor this afternoon. Reid said all of us are occasionally politically incorrect, but "I don't know of anyone that when that happens doesn't acknowledge it and, if necessary, apologize quickly." But Trump, he added, says things with "full intent to demean and to denigrate." Reid argued that the media isn't holding Trump to account, and should explicitly call him a racist.
ABSENT FROM LIST: GENNIFER FLOWERS
Most Trump Guests Have Military Ties
4 hours ago
TOP OF MIND
Trending on Google: 'Why Should Trump Not Be President'
4 hours ago
THE DETAILS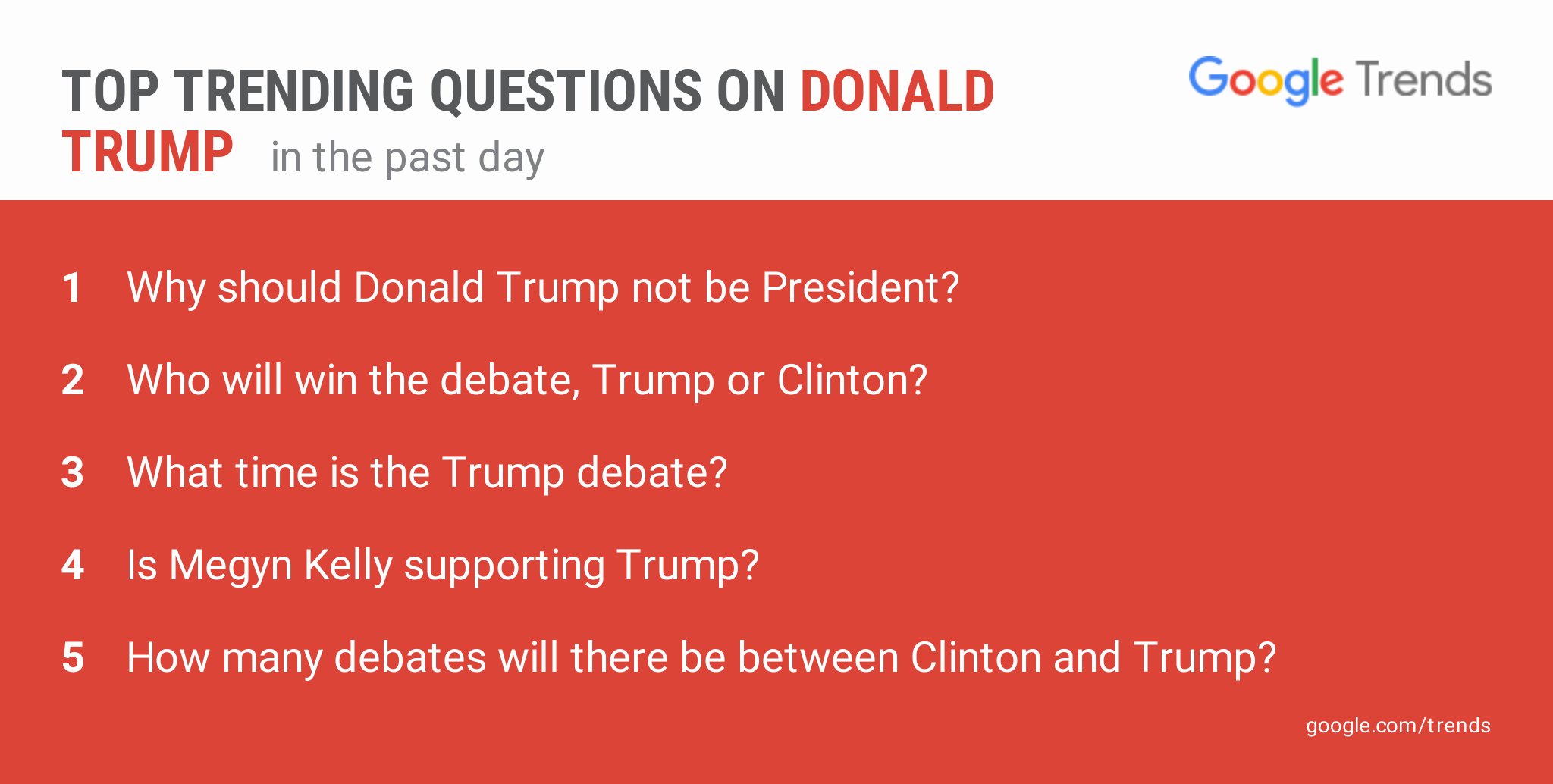 WHO PLAYED THE DONALD?
Longtime Clinton Aide Played Trump in Mock Debates
7 hours ago
THE DETAILS
After keeping the information private for most of the lead-up to the debate on Monday, it has been revealed that longtime Clinton aide Philippe Reines has been playing the role of Donald Trump in her debate prep. Reines knows Clinton better than most, able to identify both her strengths and weaknesses, and his selection for a sparring partner shows that Clinton is preparing for the brash and confrontational Donald Trump many have come to expect.