Obama­care isn't for every­one.
Some con­sumers are nav­ig­at­ing all the way through the lengthy Health­Care.gov ap­plic­a­tion just to find out they can't sign up or won't qual­i­fy for the premi­um as­sist­ance that puts the "af­ford­able" in the Af­ford­able Care Act.
Four Geor­getown law stu­dents de­veloped a jar­gon-free app for Amer­ic­ans curi­ous about the new health in­sur­ance op­tions but not in­ter­ested in the on­line fed­er­al ex­change's wait times. "The Short and Happy Guide to Health Care Cov­er­age" lets con­sumers see wheth­er Health­Care.gov is for them.
"The great thing about the app is that you can in­put spe­cif­ic in­form­a­tion about your­self, and after you get to the end of the pro­gram, it spits out a spe­cif­ic per­son­al­ized re­port which you can email to your­self," said Will Mor­ris­on, one of the stu­dents in­volved in the pro­ject.
The stu­dents — Mor­ris­on, Ger­ald Leverich, Aman­da Krause, and Jes­sica Ny­man — said they em­barked on the pro­ject be­fore Health­Care.gov's failed launch. They used the les­sons from the fed­er­al ex­change web­site to shape their own work, mak­ing ba­sic in­form­a­tion about the law and who qual­i­fies a pri­or­ity after they learned that con­sumers of­ten couldn't get far enough in the ap­plic­a­tion to find out.
"Sift­ing through the law and pulling out all the rel­ev­ant in­form­a­tion was the hard­est part of the pro­ject," Krause said.
In ad­di­tion to de­term­in­ing wheth­er a per­son qual­i­fies for Medi­caid and should ap­ply through their state, or qual­i­fies for tax cred­its and should ap­ply for health in­sur­ance on Health­Care.gov, the app will cal­cu­late the pen­alty if you de­cide to opt out of health in­sur­ance.
While the app only won hon­or­able men­tion in Geor­getown's Iron Tech Law­yer com­pet­i­tion, it was de­veloped for En­roll Amer­ica — the non­par­tis­an, non­profit or­gan­iz­a­tion whose mis­sion is to max­im­ize the num­ber of Amer­ic­ans en­rolled in Obama­care — and could be­come a part of the or­gan­iz­a­tion's aware­ness and out­reach ef­forts next year.
What We're Following See More »
STAFF PICKS
Bannon Still Collecting Royalties from 'Seinfeld'
49 minutes ago
WHY WE CARE
The Hollywood Reporter takes a look at a little-known intersection of politics and entertainment, in which Trump campaign CEO Steve Bannon is still raking in residuals from Seinfeld. Here's the digest version: When Seinfeld was in its infancy, Ted Turner was in the process of acquiring its production company, Castle Rock, but he was under-capitalized. Bannon's fledgling media company put up the remaining funds, and he agreed to "participation rights" instead of a fee. "Seinfeld has reaped more than $3 billion in its post-network afterlife through syndication deals." Meanwhile, Bannon is "still cashing checks from Seinfeld, and observers say he has made nearly 25 times more off the Castle Rock deal than he had anticipated."
IT'S ALL CLINTON
Reliable Poll Data Coming in RE: Debate #1
1 hours ago
WHY WE CARE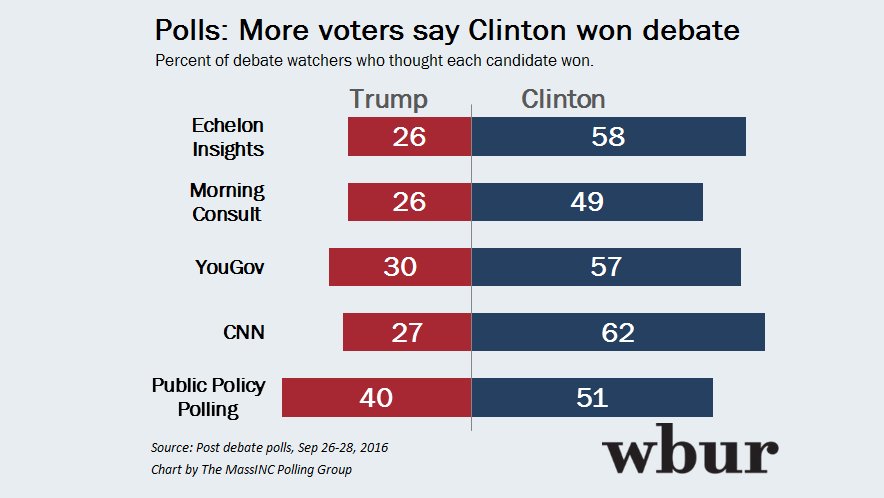 NEXT THURSDAY
Trump Transition Team Meeting with Silicon Valley VIPs
3 hours ago
THE DETAILS
Donald Trump's "transition team will meet next week with representatives of the tech industry, multiple sources confirmed, even as their candidate largely has been largely shunned by Silicon Valley. The meeting, scheduled for next Thursday at the offices of law and lobbying firm BakerHostetler, will include trade groups like the Information Technology Industry Council and the Internet Association that represent major Silicon Valley companies."
WHAT WILL PASS?
McConnell Doubts Criminal Justice Reform Can Pass This Year
3 hours ago
ALSO FIRED UNATTRACTIVE WAITRESSES
Trump Did Business with Cuba
4 hours ago
THE LATEST
Today in bad news for Donald Trump:
Newsweek found that a company he controlled did business with Cuba under Fidel Castro "despite strict American trade bans that made such undertakings illegal, according to interviews with former Trump executives, internal company records and court filings." In 1998, he spent at least $68,000 there, which was funneled through a consluting company "to make it appear legal."
The Los Angeles Times reports that at a golf club he owns in California, Trump ordered that unattractive female staff be fired and replaced with prettier women.