En­ergy-con­ser­va­tion in­terest groups are call­ing on the En­vir­on­ment­al Pro­tec­tion Agency to make en­ergy ef­fi­ciency a cent­ral part of its new green­house-gas reg­u­la­tions for ex­ist­ing power plants.
The Al­li­ance to Save En­ergy and the Amer­ic­an Coun­cil for an En­ergy-Ef­fi­cient Eco­nomy jointly sub­mit­ted com­ments to EPA on Thursday high­light­ing the role they be­lieve en­ergy-sav­ing meas­ures can play in up­com­ing reg­u­la­tions to lim­it power-plant car­bon emis­sions.
"The Al­li­ance and ACEEE strongly sup­port the re­cog­ni­tion and en­cour­age­ment of en­ergy ef­fi­ciency as an emis­sions re­duc­tion strategy and a means to help achieve com­pli­ance with air qual­ity reg­u­la­tions," the com­ments state. The Al­li­ance and ACEEE fur­ther con­tend that en­ergy-ef­fi­ciency meas­ures could serve as a cost-ef­fect­ive way for states to meet the forth­com­ing stand­ards.
The com­ments re­com­mend that the agency in­cor­por­ate a num­ber of pro­vi­sions in­to the reg­u­la­tions, which are due to be re­leased in June 2014 and fi­nal­ized the fol­low­ing year.
Among the pro­vi­sions sug­ges­ted, the or­gan­iz­a­tions say the agency should im­ple­ment end-use en­ergy-ef­fi­ciency meas­ures to achieve com­pli­ance. EPA should also provide guid­ance to states as to what kinds of en­ergy-ef­fi­ciency pro­grams may be used to achieve the emis­sions-re­duc­tion tar­get, the com­ments state. The Al­li­ance and ACEEE are quick to note, however, that EPA should al­low states flex­ib­il­ity in de­term­in­ing which pro­grams and meas­ures should be ap­plied.
The com­ments ar­rive as part of a lar­ger push by vari­ous stake­hold­ers to in­flu­ence the agency's de­cision-mak­ing pro­cess ahead of the draft reg­u­la­tions re­lease.
At the be­gin­ning of the week, Na­tion­al Journ­al re­por­ted that the Re­gion­al Green­house Gas Ini­ti­at­ive, a co­ali­tion of North­east­ern states, is call­ing on EPA to al­low states with ex­ist­ing power-plant emis­sions caps to use already-ex­ist­ing lim­its as a way of com­ply­ing with the stand­ard.
What We're Following See More »
ABSENT FROM LIST: GENNIFER FLOWERS
Most Trump Guests Have Military Ties
2 hours ago
TOP OF MIND
Trending on Google: 'Why Should Trump Not Be President'
2 hours ago
THE DETAILS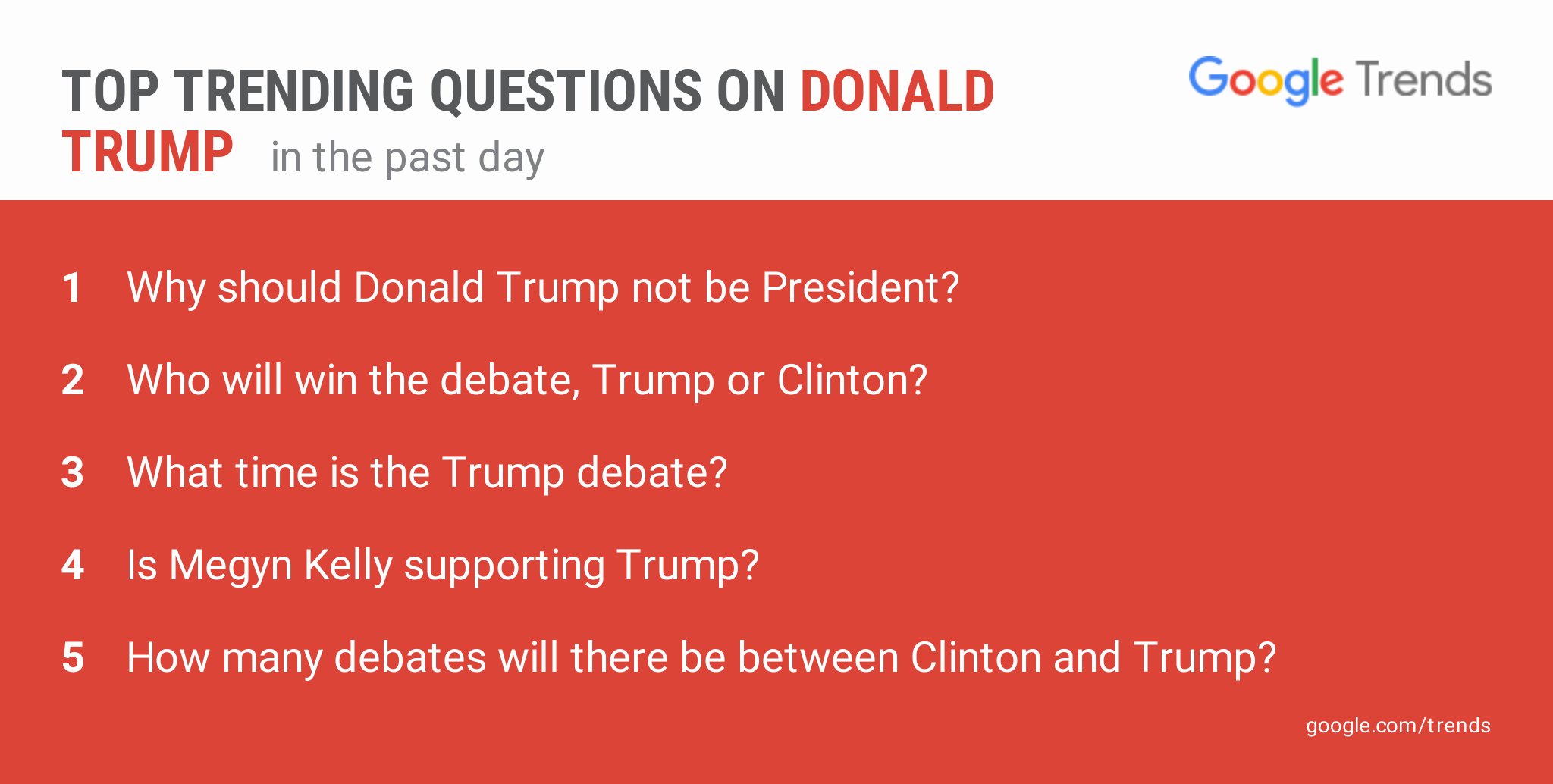 WHO PLAYED THE DONALD?
Longtime Clinton Aide Played Trump in Mock Debates
5 hours ago
THE DETAILS
After keeping the information private for most of the lead-up to the debate on Monday, it has been revealed that longtime Clinton aide Philippe Reines has been playing the role of Donald Trump in her debate prep. Reines knows Clinton better than most, able to identify both her strengths and weaknesses, and his selection for a sparring partner shows that Clinton is preparing for the brash and confrontational Donald Trump many have come to expect.
WEEKEND POLLING ROUNDUP
New Polls Still Show Razor-Thin Margins
5 hours ago
THE QUESTION
How Many Times Has the Trump Campaign Emailed Ted Cruz's Supporters?
5 hours ago
THE ANSWER
More than 30 times, in the case of some donors. Long before Cruz endorsed Trump—and before he even snubbed the nominee at the Republican National Convention—"the senator quietly began renting his vast donor email file to his former rival, pocketing at least tens of thousands of dollars, and more likely hundreds of thousands, that can be used to bankroll the Texan's own political future."