Nat­ur­al gas ad­voc­ates are fa­cing fresh cri­ti­cism about the fuel's cli­mate foot­print, even as gas-fired power plants snag mar­ket share from coal units that emit vastly more car­bon.
Gas crit­ics have ar­gued in re­cent years that leaks of meth­ane — a po­tent green­house gas — from pro­duc­tion wells risk sub­stan­tially off­set­ting the car­bon ad­vant­age gas holds over coal.
And now a new study is rais­ing a sep­ar­ate set of ques­tions about the cli­mate foot­print of the U.S. nat­ur­al-gas pro­duc­tion boom.
The En­vir­on­ment­al In­teg­rity Pro­ject (EIP) re­port looks at green­house-gas emis­sions from big in­fra­struc­ture and in­dus­tri­al pro­jects that are crop­ping up along­side sur­ging U.S. gas pro­duc­tion.
"The shale gas boom has un­leashed a tid­al wave of pro­pos­als to build new com­pressors and pipelines, and ex­pand chem­ic­al, fer­til­izer, and pet­ro­leum plants that de­pend on nat­ur­al gas for feed­stock or fuel," the re­port states.
"Since Janu­ary 1, 2012, these in­dus­tries have pro­posed or already ob­tained Clean Air Act per­mits that au­thor­ize a 91 mil­lion ton in­crease in green­house gas emis­sions — as much as the out­put from twenty large (500 mega­watt) coal-fired power plants," adds the study titled "Gas Rush: In­creas­ing Green­house Gas Emis­sions from New Oil, Gas and Chem­ic­al Plants."
To be sure, EIP isn't claim­ing that these emis­sions neg­ate the ad­vant­age of gas-fired power plants that emit roughly half as much car­bon di­ox­ide as coal-fired plants.
In­deed EIP pre­dicts the emis­sions from the vari­ous planned gas-re­lated in­fra­struc­ture pro­jects they sur­veyed, such as li­que­fied-nat­ur­al-gas ter­min­als and chem­ic­al plants that use nat­ur­al gas, would be the equi­val­ent of 10 gigawatts of coal-fired power gen­er­a­tion.
That's a lot few­er coal gigawatts than ana­lysts pre­dict will be re­tired in com­ing years — due in part to com­pet­i­tion from low-cost gas and in part to Obama ad­min­is­tra­tion air-pol­lu­tion rules.
A late 2012 re­port by the Brattle Group fore­casts that 59 to 77 gigawatts of coal-plant ca­pa­city will be moth­balled over the next five years, while a re­cent Re­u­ters ana­lys­is is less ag­gress­ive, pre­dict­ing about 46 gigawatts of re­tire­ments over 10 years.
And the growth of nat­ur­al-gas-fired elec­tri­city plants at coal's ex­pense has helped cut U.S. en­ergy-re­lated car­bon emis­sions to their low­est level since 1994, ac­cord­ing to the fed­er­al En­ergy In­form­a­tion Ad­min­is­tra­tion.
But the EIP re­port notes that the build-out of oth­er gas-re­lated or gas-en­abled in­fra­struc­ture means these power-sec­tor cli­mate ad­vant­ages will be "par­tially off­set by high­er emis­sions from oth­er in­dus­tries cash­ing in on cheap and abund­ant sup­plies of oil and gas from shale de­pos­its."
EIP Dir­ect­or Eric Schaef­fer said the re­port shows the need for ex­pan­ded green­house-gas reg­u­la­tions bey­ond the power-plant stand­ards the En­vir­on­ment­al Pro­tec­tion Agency is craft­ing.
"The Obama ad­min­is­tra­tion ap­proaches its sixth year without hav­ing even pro­posed green­house-gas stand­ards for the nat­ur­al gas, chem­ic­al, or re­fin­ing sec­tors, al­though a re­view of per­mits in­dic­ates that emis­sions are es­cal­at­ing rap­idly from all three in­dus­tries. Time is run­ning out for ac­tion," he said in a state­ment.
An oil-and-gas-in­dustry spokes­man de­fen­ded the U.S. nat­ur­al-gas boom.
"The facts are the facts. The United States is lead­ing the world in re­duced emis­sions while at the same time it is the No. 1 pro­du­cer of nat­ur­al gas in the world. It is cre­at­ing jobs and bil­lions of dol­lars rev­en­ue for the gov­ern­ment at the time that it needs it the most," said Amer­ic­an Pet­ro­leum In­sti­tute spokes­man Eric Wohlschle­gel.
Gas ad­voc­ates have also fiercely pushed back against the cri­ti­cisms over meth­ane, and they have an ally in En­ergy Sec­ret­ary Ern­est Mon­iz, who has said re­peatedly that meth­ane emis­sions won't neg­ate the fuel's car­bon ad­vant­ages.
But the new EIP re­port shows that as the U.S. nat­ur­al-gas boom con­tin­ues, the in­dustry's role in cli­mate policy will re­main con­tested ter­rain.
What We're Following See More »
STAFF PICKS
Bannon Still Collecting Royalties from 'Seinfeld'
49 minutes ago
WHY WE CARE
The Hollywood Reporter takes a look at a little-known intersection of politics and entertainment, in which Trump campaign CEO Steve Bannon is still raking in residuals from Seinfeld. Here's the digest version: When Seinfeld was in its infancy, Ted Turner was in the process of acquiring its production company, Castle Rock, but he was under-capitalized. Bannon's fledgling media company put up the remaining funds, and he agreed to "participation rights" instead of a fee. "Seinfeld has reaped more than $3 billion in its post-network afterlife through syndication deals." Meanwhile, Bannon is "still cashing checks from Seinfeld, and observers say he has made nearly 25 times more off the Castle Rock deal than he had anticipated."
IT'S ALL CLINTON
Reliable Poll Data Coming in RE: Debate #1
1 hours ago
WHY WE CARE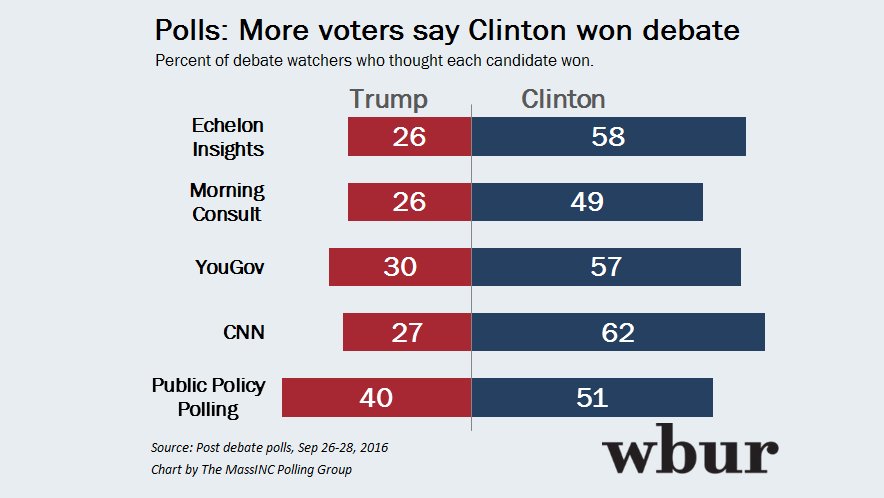 NEXT THURSDAY
Trump Transition Team Meeting with Silicon Valley VIPs
3 hours ago
THE DETAILS
Donald Trump's "transition team will meet next week with representatives of the tech industry, multiple sources confirmed, even as their candidate largely has been largely shunned by Silicon Valley. The meeting, scheduled for next Thursday at the offices of law and lobbying firm BakerHostetler, will include trade groups like the Information Technology Industry Council and the Internet Association that represent major Silicon Valley companies."
WHAT WILL PASS?
McConnell Doubts Criminal Justice Reform Can Pass This Year
3 hours ago
ALSO FIRED UNATTRACTIVE WAITRESSES
Trump Did Business with Cuba
4 hours ago
THE LATEST
Today in bad news for Donald Trump:
Newsweek found that a company he controlled did business with Cuba under Fidel Castro "despite strict American trade bans that made such undertakings illegal, according to interviews with former Trump executives, internal company records and court filings." In 1998, he spent at least $68,000 there, which was funneled through a consluting company "to make it appear legal."
The Los Angeles Times reports that at a golf club he owns in California, Trump ordered that unattractive female staff be fired and replaced with prettier women.