Ham­id Kar­zai is play­ing a dan­ger­ous game.
By slow-walk­ing the se­cur­ity pact, the Afghan pres­id­ent has frus­trated the Obama ad­min­is­tra­tion to the point that U.S. of­fi­cials are hint­ing they might go be­hind Kar­zai's back to ask an­oth­er Afghan of­fi­cial to sign the ac­cord by the end of the year.
But for all of Wash­ing­ton's anti-Kar­zai fury, some de­fense ex­perts say that in­stead of sidestep­ping Kar­zai, the U.S. would be best served by ac­tu­ally con­sent­ing to his re­quest: go­ing for­ward with the pact after Kar­zai's suc­cessor is se­lec­ted in April.
If the suc­cessor, and not Kar­zai, is the one to fi­nally ink the deal, the U.S. and its al­lies can be sure Afgh­anistan's new lead­er­ship is on board with the agree­ment, said Paul Hamill, dir­ect­or of ex­tern­al af­fairs for the Amer­ic­an Se­cur­ity Pro­ject.
"The worst of all worlds [would be] to get six months down the line and have a new pres­id­ent who does not want to im­ple­ment the agree­ment," said Hamill, who formerly worked as a con­tract­or with­in Kar­zai's pres­id­en­tial palace.
Al­low­ing for­eign powers to keep mil­it­ary bases and op­er­ate with­in the coun­try is an ex­tremely sens­it­ive is­sue — one the Afghan people must fully buy in­to. By delay­ing the pact's sign­ing un­til after the up­com­ing elec­tions, the agree­ment will have the be­ne­fit of fol­low­ing a cam­paign sea­son that had provided the ap­pro­pri­ate ven­ue for dif­fer­ences of opin­ion to emerge — even if those opin­ions come from can­did­ates who are call­ing for the U.S. to pull out of com­pletely, Hamill said.
"We need the Taliban, who would cam­paign against it, to be part of the elect­or­al pro­cess — to put down their weapons and fight at the bal­lot box," Hamill said. "I fun­da­ment­ally be­lieve they would not win, and the Afghan people would choose to be part of the world com­munity "¦ but I think that de­cision pro­cess would be good for the long-term sta­bil­ity and stra­tegic en­gage­ment with NATO and the U.S. so that any­one who wins the elec­tion can say, 'I cam­paigned for the agree­ment and won.' "
Ad­di­tion­ally, many are hope­ful that Kar­zai's suc­cessor will be a more amen­able ne­go­ti­at­ing part­ner.
"Who­ever he is "¦ is also likely to be more re­li­able," Sen­ate Armed Ser­vices Chair­man Carl Lev­in, D-Mich., said in a let­ter last week to Pres­id­ent Obama. "And there would be great­er con­fid­ence in his stick­ing with an agree­ment he has signed."
A delay would also give Kar­zai's suc­cessor an "im­me­di­ate ac­com­plish­ment" after tak­ing of­fice, ad­ded Brook­ings In­sti­tu­tion seni­or fel­low Mi­chael O'Han­lon, "and some good graces in the eyes of his fel­low Afghans, who are in fa­vor of it."
And there's an­oth­er sur­pris­ing sup­port­er of the plan to wait un­til after the elec­tion: Kar­zai him­self.
Late last month — after a coun­cil of some 2,500 Afghan tri­bal eld­ers en­dorsed the pact Kar­zai ne­go­ti­ated with the U.S., the Afghan lead­er made un­ex­pec­ted course change, sur­pris­ing U.S. of­fi­cials and some with­in his gov­ern­ment by in­sist­ing the agree­ment wait un­til after his suc­cessor is elec­ted in the April.
Kar­zai has also layered on new, con­tro­ver­sial de­mands in ex­change for his sig­na­ture, in­clud­ing that the U.S. re­lease Afghan pris­on­ers be­ing held at Guantanamo Bay, but there is little-to-no-chance the U.S. will ac­com­mod­ate those de­mands in the fi­nal pact.
The draft agree­ment, which took more than a year of ne­go­ti­ations, sets the ground­work for co­oper­a­tion between Wash­ing­ton and Ka­bul for the next dec­ade, in­clud­ing a frame­work for the U.S. to con­tin­ue fund­ing the Afghan se­cur­ity forces. The U.S. and NATO are ex­pec­ted to leave up to 12,000 troops after the form­al end of com­bat op­er­a­tions in 2014. The troops would serve in a lim­ited op­er­a­tion primar­ily aimed at train­ing, ad­vising, and as­sist­ing loc­al forces, as well as and launch­ing coun­terter­ror­ism op­er­a­tions — but only with the co­oper­a­tion of loc­al forces.
Wait­ing for Kar­zai's suc­cessor is not without draw­backs. It leaves the mil­it­ary less time to deal with the ser­i­ous lo­gist­ic­al hurdles of plan­ning a fol­low-up mis­sion to the dec­ade­long Afgh­anistan war. En­gin­eer­ing a suc­cess­ful next chapter re­quires lead time to co­ordin­ate with al­lies and to keep the right in­fra­struc­ture in the coun­try. Al­tern­at­ively, a draw-down op­er­a­tion on this scale would take some time to carry out safely.
There are also safety con­cerns. De­fense Sec­ret­ary Chuck Hagel said there's a "real pos­sib­il­ity" the U.S. will pull all its troops from the coun­try un­less the pact is signed soon.
"The pres­id­ent can't com­mit Amer­ic­an forces "¦ no oth­er coun­try can, un­less we are pro­tec­ted with an agree­ment," Hagel said on CBS's Face the Na­tion.
Those con­cerns are to be taken ser­i­ously, but it's un­clear how much the lack of a signed pact changes the lo­gist­ic­al hurdles fa­cing the U.S. forces. With or without Kar­zai's sig­na­ture, Wash­ing­ton in the com­ing months will need to plan for all con­tin­gen­cies, es­pe­cially with the elec­tions com­ing be­fore the slated end of com­bat op­er­a­tions. NATO is already plan­ning for all op­tions — in­clud­ing po­ten­tially a zero op­tion that leaves no troops after 2014, Lev­in said.
It would be good for the mil­it­ary to know a year in ad­vance if the U.S. is stay­ing in Afgh­anistan or not, "but I don't think it's es­sen­tial," O'Han­lon said. "If we're talk­ing about that last 10,000 troops and their bases, I think they can be pulled out in a few short months — prob­ably two or three months. You have to do it in a way that's safe, so you don't leave your­self vul­ner­able as you're mak­ing your way to the air­port"¦. We can de­vel­op that plan now."
What We're Following See More »
UNTIL DEC. 9, ANYWAY
Obama Signs Bill to Fund Government
2 hours ago
REDSKINS IMPLICATIONS
SCOTUS to Hear Case on Offensive Trademarks
3 hours ago
WHY WE CARE
"The Supreme Court is taking up a First Amendment clash over the government's refusal to register offensive trademarks, a case that could affect the Washington Redskins in their legal fight over the team name. The justices agreed Thursday to hear a dispute involving an Asian-American rock band called the Slants, but they did not act on a separate request to hear the higher-profile Redskins case at the same time." Still, any precedent set by the case could have ramifications for the Washington football team.
STAFF PICKS
Bannon Still Collecting Royalties from 'Seinfeld'
4 hours ago
WHY WE CARE
The Hollywood Reporter takes a look at a little-known intersection of politics and entertainment, in which Trump campaign CEO Steve Bannon is still raking in residuals from Seinfeld. Here's the digest version: When Seinfeld was in its infancy, Ted Turner was in the process of acquiring its production company, Castle Rock, but he was under-capitalized. Bannon's fledgling media company put up the remaining funds, and he agreed to "participation rights" instead of a fee. "Seinfeld has reaped more than $3 billion in its post-network afterlife through syndication deals." Meanwhile, Bannon is "still cashing checks from Seinfeld, and observers say he has made nearly 25 times more off the Castle Rock deal than he had anticipated."
IT'S ALL CLINTON
Reliable Poll Data Coming in RE: Debate #1
4 hours ago
WHY WE CARE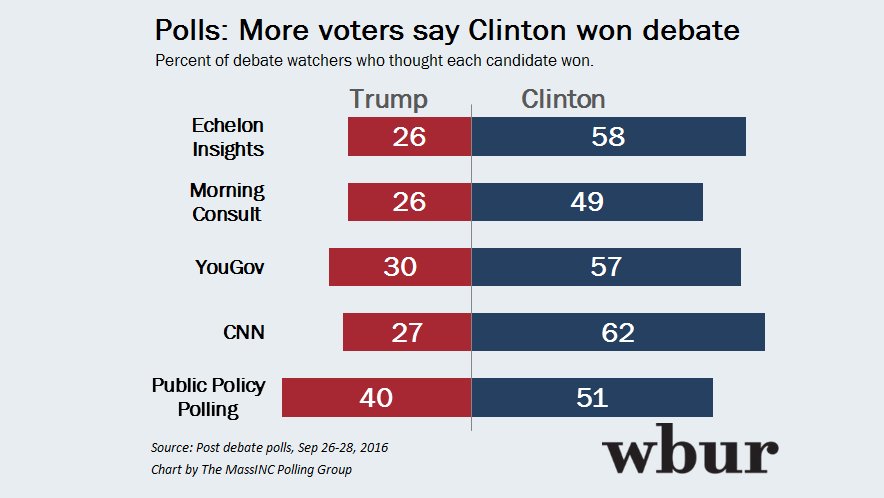 NEXT THURSDAY
Trump Transition Team Meeting with Silicon Valley VIPs
6 hours ago
THE DETAILS
Donald Trump's "transition team will meet next week with representatives of the tech industry, multiple sources confirmed, even as their candidate largely has been largely shunned by Silicon Valley. The meeting, scheduled for next Thursday at the offices of law and lobbying firm BakerHostetler, will include trade groups like the Information Technology Industry Council and the Internet Association that represent major Silicon Valley companies."