It's nearly Fest­ivus! And to cel­eb­rate, at least a couple state cap­it­ols are get­ting ready to take out the poles and air the griev­ances.
What is Fest­ivus, ex­actly? Fest­ivus is the, ori­gin­ally fic­tion­al, "Fest­ivus for the Restivus" cre­ated by Frank Cost­anza in a 1997 epis­ode of Sein­feld. As le­gend has it, Cost­anza cre­ated the hol­i­day when he failed to ac­quire a doll for his son George when he was a child. It's cel­eb­rated on Dec. 23 by "gath­er­ing your fam­ily around and telling them all the ways they have dis­ap­poin­ted you in the last year," a prac­tice more form­ally re­ferred to as "the air­ing of the griev­ances." In­stead of a tree, there is a bare alu­min­um pole to rally around. The hol­i­day also fea­tures feats of strength, when the head of the house­hold chal­lenges someone else to a wrest­ling match.
The Wis­con­sin and Flor­ida state cap­it­ols will both have Fest­ivus poles on dis­play this hol­i­day sea­son. In Wis­con­sin, a sil­ver pole is already stand­ing between two nativ­ity scenes in the packed ro­tunda. A sign hangs on the pole prom­ising an air­ing of the griev­ances on the 23rd, but no feats of strength "due to li­ab­il­ity is­sues."
In Flor­ida, where a stand­ard Fest­ivus pole wouldn't quite be ap­pro­pri­ately weird enough, a nearly 6-foot-tall poll made out of empty PBR cans will go up this week in the Cap­it­ol build­ing. The pole will be on the same floor of the ro­tunda as the more stand­ard nativ­ity scene that's been up since last week. Chaz Stevens, who was the Flor­ida res­id­ent to ap­ply to put up the Fest­ivus dis­play, says that he con­siders it his "ri­dicu­lous state­ment versus what I con­sider, as an athe­ist, as their ri­dicu­lous state­ment."
Amer­ica: where free­dom of re­li­gion means stuff­ing a cramped ro­tunda for a week or so with a di­orama on the birth of Je­sus and a stack of empty beer cans. Or, well, at least that's the case in Flor­ida.
In the war on Christ­mas, Ha­nukkah, and the gen­er­al hol­i­day sea­son, Fest­ivus al­ways wins.
What We're Following See More »
NEVER TRUMP
USA Today Weighs in on Presidential Race for First Time Ever
10 hours ago
THE DETAILS
"By all means vote, just not for Donald Trump." That's the message from USA Today editors, who are making the first recommendation on a presidential race in the paper's 34-year history. It's not exactly an endorsement; they make clear that the editorial board "does not have a consensus for a Clinton endorsement." But they state flatly that Donald Trump is, by "unanimous consensus of the editorial board, unfit for the presidency."
COMMISSIONERS NEED TO DELIBERATE MORE
FCC Pushes Vote on Set-Top Boxes
11 hours ago
THE LATEST
"Federal regulators on Thursday delayed a vote on a proposal to reshape the television market by freeing consumers from cable box rentals, putting into doubt a plan that has pitted technology companies against cable television providers. ... The proposal will still be considered for a future vote. But Tom Wheeler, chairman of the F.C.C., said commissioners needed more discussions."
UNTIL DEC. 9, ANYWAY
Obama Signs Bill to Fund Government
16 hours ago
IT'S ALL CLINTON
Reliable Poll Data Coming in RE: Debate #1
18 hours ago
WHY WE CARE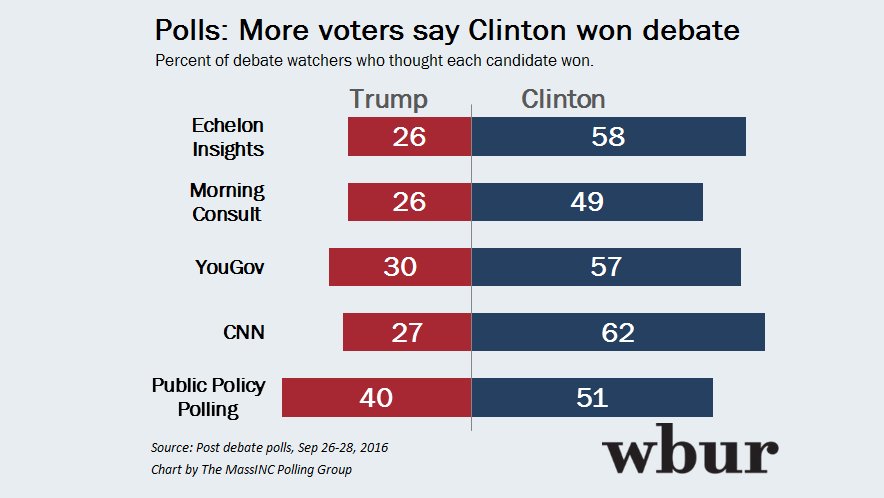 WHAT WILL PASS?
McConnell Doubts Criminal Justice Reform Can Pass This Year
20 hours ago