Scott Brown is chan­ging minds in New Hamp­shire.
Since the spring, the man who only a year ago was a U.S. sen­at­or in neigh­bor­ing Mas­sachu­setts has toyed with run­ning for the Gran­ite State's Sen­ate seat. But only in the last two weeks have many GOP lead­ers there be­gun tak­ing Brown ser­i­ously. Where­as be­fore they saw a fallen polit­ic­al star des­per­ate for at­ten­tion, they now see a pos­sible first-tier con­tender genu­inely con­tem­plat­ing a cam­paign.
He's no sure bet; those close to the one­time Bay State law­maker, who lost reelec­tion last year, say his odds are no bet­ter than 50-50. And Re­pub­lic­an op­er­at­ives con­cede the many chal­lenges that await­ing Brown are reas­on enough to doubt he'll ever jump in. But over the past few months, their once palp­able skep­ti­cism has trans­formed in­to cau­tious op­tim­ism.
"I think Brown's in­terest in New Hamp­shire over the past sev­er­al months has gone from passing, to luke­warm, to ser­i­ous," said Jim Mer­rill, a long­time GOP hand who's pre­vi­ously voiced skep­ti­cism about a cam­paign. "I think he is now very ser­i­ous about a po­ten­tial run, and GOP act­iv­ists and lead­ers here are en­cour­aged."
A Brown cam­paign would have a con­sid­er­able im­pact on battle for the Sen­ate ma­jor­ity in 2014. The state GOP has yet to re­cruit a threat­en­ing chal­lenger to Demo­crat­ic in­cum­bent Sen. Jeanne Shaheen, a wasted op­por­tun­ity in a swing state where Re­pub­lic­ans have a strong re­cord. Brown's name ID, mod­er­ate repu­ta­tion and fun­drais­ing prowess guar­an­tee he'd be a for­mid­able op­pon­ent, even if he'd likely be­gin as an un­der­dog to the pop­u­lar former gov­ernor.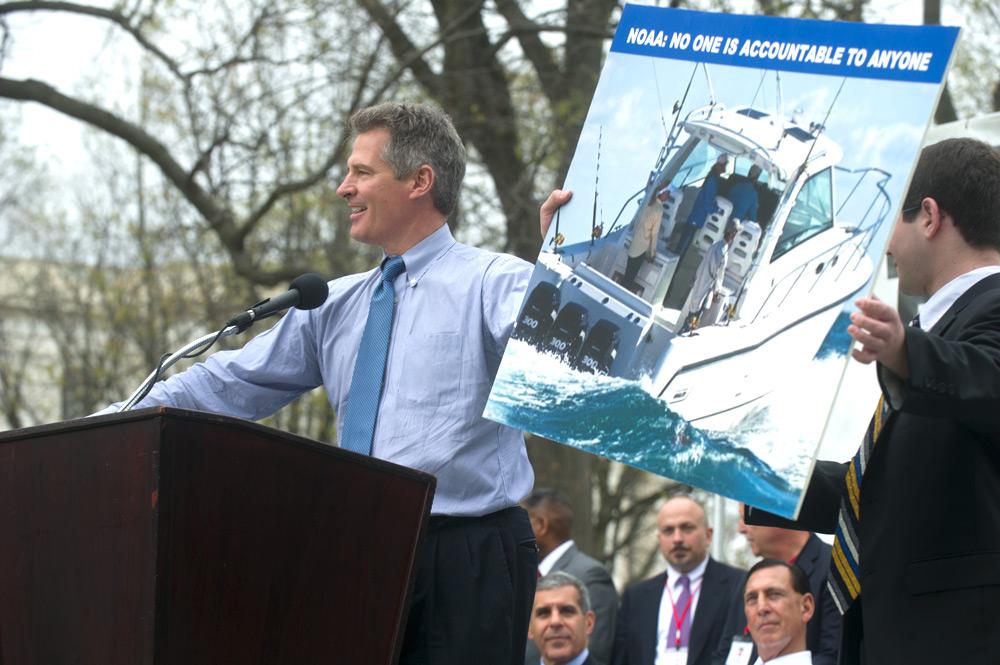 Brown's first for­ays in­to New Hamp­shire polit­ics in April — and the spec­u­la­tion they eli­cited about a pos­sible Sen­ate cam­paign — were ini­tially greeted with eye-rolls. He was a car­pet­bag­ger in­trud­ing on a state that could hold its own polit­ic­ally without the help of a Bay State neigh­bor. Speak­ing at loc­al GOP events at­trac­ted at­ten­tion, but Re­pub­lic­ans com­plained he wasn't per­form­ing the due di­li­gence re­quired of a pos­sible statewide can­did­ate — re­tail polit­ics like call­ing es­tab­lish­ment and act­iv­ist lead­ers.  (Chet Suss­lin)
But the last few months have changed his, and the party's, cir­cum­stances. Fel­low Re­pub­lic­ans con­sid­er­ing a cam­paign, like state Sen­ate Ma­jor­ity Lead­er Jeb Brad­ley and former Rep. Charlie Bass, de­clined. And the en­trance of an­oth­er can­did­ate, former GOP Sen. Bob Smith, has pan­icked Re­pub­lic­an lead­ers. Smith, who was de­feated by his own party in a 2002 primary be­fore run­ning un­suc­cess­fully for Sen­ate in Flor­ida, un­ex­pec­tedly an­nounced his can­did­acy early this month, and most ana­lysts con­sider him a glor­i­fied gad­fly with little chance of un­seat­ing Shaheen.
So when news broke last week that Brown was speak­ing at the state party's hol­i­day fun­draiser in late Decem­ber, the re­ac­tion was dif­fer­ent. "I've been skep­tic­al about Sen­at­or Brown all year," said Fer­gus Cul­len, former state party chair­man. "But his agree­ing to head­line an event for the state party, and do­ing so on the heels of Bob Smith's an­nounce­ment, rep­res­ents a change, something dif­fer­ent from what he's done for the past six months. There's no ques­tion the es­tab­lish­ment here is rolling out the wel­come mat for him."
Shaheen's cir­cum­stances had also changed while Re­pub­lic­ans waited for Brown. Sources close to ex-sen­at­or point to Obama­care's dis­astrous rol­lout, and the polit­ic­al price it has ex­ac­ted on Demo­crats, as ad­ded in­cent­ive to run. Shaheen re­mains for­mid­able, but Demo­crats else­where have taken a hit in ap­prov­al over the health care law.
"Cer­tainly, as I was look­ing at the race, it was very much up­hill," said Brad­ley. "That tra­ject­ory might have flattened out a little bit. Even though it would be up­hill for him, he would put the race in play."
Be­fore reach­ing a gen­er­al elec­tion, however, Brown would have to win a primary. Most Re­pub­lic­ans don't think that will be a prob­lem for a party des­per­ate to find a vi­able al­tern­at­ive to Shaheen, but Brown's re­cord is riddled with apostas­ies that will in­vite skep­ti­cism from some con­ser­vat­ive quar­ters. And it's one of sev­er­al reas­ons for skep­ti­cism about a Brown cam­paign.
Among oth­er breaks from or­tho­doxy, he has sup­por­ted abor­tion-rights, a ban on as­sault rifles and backed a fisc­al cliff deal that meant an end to the Bush-era tax cuts. Such things meant little when he was the hero of the GOP after win­ning a 2010 spe­cial elec­tion in Mas­sachu­setts, or when he vied against the lib­er­al icon War­ren. But it could mat­ter in a GOP primary, the likes of which Brown nev­er faced in 2009 or 2012.
New Hamp­shire — pro­por­tion­ately at least — has more Re­pub­lic­ans than Mas­sachu­setts, and those Re­pub­lic­ans are more con­ser­vat­ive, said one GOP con­sult­ant fa­mil­i­ar with both state's polit­ics.
"New Hamp­shire is not like Mas­sachu­setts in that it has an or­gan­ized and vo­cal con­ser­vat­ive act­iv­ist base," said the strategist, who asked for an­onym­ity to speak can­didly. "You can ex­pect that base to give Scott Brown a hard time over some of his less con­ser­vat­ive votes he made when he was a sen­at­or from Mas­sachu­setts."
In ad­di­tion to Smith, he would face con­ser­vat­ive act­iv­ist Kar­en Test­er­man in a primary. Brown would be favored to de­feat both, but the pro­spect of slug­ging it out for con­ser­vat­ive votes could be enough to per­suade him to stay put in what is by all ac­counts a com­fort­able life out­side of polit­ics. There, he makes a lot of money as a Fox News con­trib­ut­or and mem­ber of a Bo­ston-area law firm. "Does he really want to give up his life in the private sec­tor?" said one per­son fa­mil­i­ar with Brown's think­ing. "I think he really en­joys what he's do­ing right now. Does he want to give that up to go to a dys­func­tion­al Con­gress?"
Even those who have talked with Brown con­cede that only he knows what he's truly think­ing. His calls to GOP lead­ers and act­iv­ists have still been lim­ited, and no Re­pub­lic­an is aware of any staff form­ally work­ing with Brown even as he makes cam­paign-style vis­its around the state. So far, he's run­ning a one-man ef­fort. "I think he's ac­tu­ally keep­ing his own coun­sel on this," said Tom Rath, a top GOP strategist in New Hamp­shire. "I don't know any­body up here who is a Scott Brown guy."
Still, ex­pect­a­tions around Brown have shif­ted con­sid­er­ably since even be­fore the Thanks­giv­ing hol­i­days. Now Re­pub­lic­ans are play­ing a wait­ing game for his de­cision — one some ex­pect won't come un­til late winter or even early spring. That would nor­mally an­noy even the most ar­dent Brown fan, but New Hamp­shire Re­pub­lic­ans don't have a choice. At this point, there's no oth­er vi­able can­did­ate in wait­ing.
And at least now, un­like be­fore, they think they have a real­ist­ic shot at nab­bing Brown. "I still feel like Charlie Brown, war­ily eye­ing Lucy hold­ing the foot­ball," said Cul­len. "We're giv­ing him one last chance to be ser­i­ous about this."