One of Dodd-Frank's most well-known pro­vi­sions was com­pleted Tues­day, three and a half years after Pres­id­ent Obama signed the sweep­ing fin­an­cial-re­form law.
Five agen­cies passed a fi­nal ver­sion of the so-called Vol­ck­er Rule on Tues­day. Three of the 20 reg­u­lat­ors who voted on the law op­posed it.
The Vol­ck­er Rule, named for the ci­gar-lov­ing former Fed­er­al Re­serve Chair­man Paul Vol­ck­er, bans banks from mak­ing cer­tain spec­u­lat­ive bets with their own money. It was an at­tempt, through the 2010 fin­an­cial-re­form law, to curb risky be­ha­vi­or at fin­an­cial in­sti­tu­tions.
The pro­vi­sion has drawn sub­stan­tial ad­vocacy and lob­by­ing on both sides of the aisle. Pro-re­form ad­voc­ates wor­ried it would be too weak to guard against reck­less be­ha­vi­or and tax­pay­er bail­outs of Wall Street firms; Wall Street feared it would put U.S. banks at a dis­ad­vant­age with their for­eign coun­ter­parts and stop fin­an­cial firms from en­ga­ging in what they viewed as es­sen­tial activ­it­ies. The re­lease of a 298-page draft pro­pos­al in 2011 garnered nearly 500 "sub­stant­ive and unique" pub­lic-com­ment let­ters and roughly 18,000 in total, ac­cord­ing to a Fed doc­u­ment.
The fi­nal ver­sion may bring a sim­il­ar out­pour­ing of com­ment­ary, al­though things ap­peared re­l­at­ively calm Tues­day morn­ing as law­yers and lob­by­ists began to sift through the 71-page rule and its nearly 900 pages of ac­com­pa­ny­ing pre­amble.
The U.S. Cham­ber of Com­merce's Dav­id Hirschmann, who heads the group's Cen­ter for Cap­it­al Mar­kets Com­pet­it­ive­ness and who has fought against the Vol­ck­er Rule, fo­cused on the rule-writ­ing pro­cess rather than its sub­stance in his ini­tial com­ments. Hirschmann said he was "dis­ap­poin­ted" that the reg­u­lat­ors didn't re-pro­pose the rule for fur­ther com­ment be­fore fi­nal­iz­ing it.
"We will now have to care­fully ex­am­ine the fi­nal rule to con­sider the im­pact on li­quid­ity and mar­ket-mak­ing, and take all op­tions in­to ac­count as we de­cide how best to pro­ceed," he said in a state­ment. Hirschmann told Na­tion­al Journ­al that his col­leagues would spend the next few days try­ing to get a clear­er pic­ture of what the rule would mean in prac­tice for the cham­ber's mem­bers.
The fin­an­cial-re­form ad­voc­ates at Bet­ter Mar­kets, on the oth­er hand, offered cau­tious op­tim­ism. "Today's fi­nal­iz­a­tion of the Vol­ck­er Rule ban on pro­pri­et­ary trad­ing is a ma­jor de­feat for Wall Street and a dir­ect at­tack on the high risk 'quick-buck' cul­ture of Wall Street that fo­cuses on big short-term gains re­gard­less of the risks to oth­ers," Bet­ter Mar­kets Pres­id­ent Den­nis Kelle­her said in a state­ment after the fi­nal rule was re­leased.
Sens. Jeff Merkley, D-Ore., and Carl Lev­in, D-Mich., who pushed for the pro­vi­sion to be in­cluded in the fin­an­cial-re­form law, struck a sim­il­ar tone. "Early in­dic­a­tions sug­gest that per­sist­ence and com­mon sense can pre­vail in the face of even the fiercest spe­cial-in­terest lob­by­ing cam­paigns: Hedging looks tough­er, mar­ket-mak­ing looks sim­pler, trader com­pens­a­tion re­mains ap­pro­pri­ately struc­tured, and CEOs are re­quired to set the tone at the top," they said in a joint state­ment.
The main dif­fi­culty in writ­ing the rule, reg­u­lat­ors said, was dif­fer­en­ti­at­ing between mar­ket mak­ing and hedging, which are al­lowed, and pro­pri­et­ary trad­ing, which is not. This is hard, Fed Gov. Dan Tarullo said, be­cause the same trade can be al­lowed in one con­text or cir­cum­stance, but for­bid­den in an­oth­er. The fi­nal rule also con­tains a num­ber of ex­emp­tions to the pro­pri­et­ary trad­ing ban, such as trad­ing in vari­ous gov­ern­ment ob­lig­a­tions. Reg­u­lat­ors also said they would be open to tweak­ing the rule as time went on as they re­ceived feed­back.
There's still much to be done to im­ple­ment the rule and en­sure banks are com­ply­ing, in ad­di­tion to the mine­field of pos­sible law­suits and oth­er chal­lenges. But on Tues­day, Fed Gen­er­al Coun­sel Scott Al­varez turned to the Beatles to ex­plain how the reg­u­lat­ors who have been work­ing on the rule since its in­cep­tion are feel­ing: "We made it through truly an 'Oc­topus Garden' of is­sues and a thick­et of com­ments in the 'Nor­we­gi­an Wood,' and fi­nally we can say, 'Here Comes the Sun.' "
What We're Following See More »
UNTIL DEC. 9, ANYWAY
Obama Signs Bill to Fund Government
56 minutes ago
REDSKINS IMPLICATIONS
SCOTUS to Hear Case on Offensive Trademarks
1 hours ago
WHY WE CARE
"The Supreme Court is taking up a First Amendment clash over the government's refusal to register offensive trademarks, a case that could affect the Washington Redskins in their legal fight over the team name. The justices agreed Thursday to hear a dispute involving an Asian-American rock band called the Slants, but they did not act on a separate request to hear the higher-profile Redskins case at the same time." Still, any precedent set by the case could have ramifications for the Washington football team.
STAFF PICKS
Bannon Still Collecting Royalties from 'Seinfeld'
2 hours ago
WHY WE CARE
The Hollywood Reporter takes a look at a little-known intersection of politics and entertainment, in which Trump campaign CEO Steve Bannon is still raking in residuals from Seinfeld. Here's the digest version: When Seinfeld was in its infancy, Ted Turner was in the process of acquiring its production company, Castle Rock, but he was under-capitalized. Bannon's fledgling media company put up the remaining funds, and he agreed to "participation rights" instead of a fee. "Seinfeld has reaped more than $3 billion in its post-network afterlife through syndication deals." Meanwhile, Bannon is "still cashing checks from Seinfeld, and observers say he has made nearly 25 times more off the Castle Rock deal than he had anticipated."
IT'S ALL CLINTON
Reliable Poll Data Coming in RE: Debate #1
2 hours ago
WHY WE CARE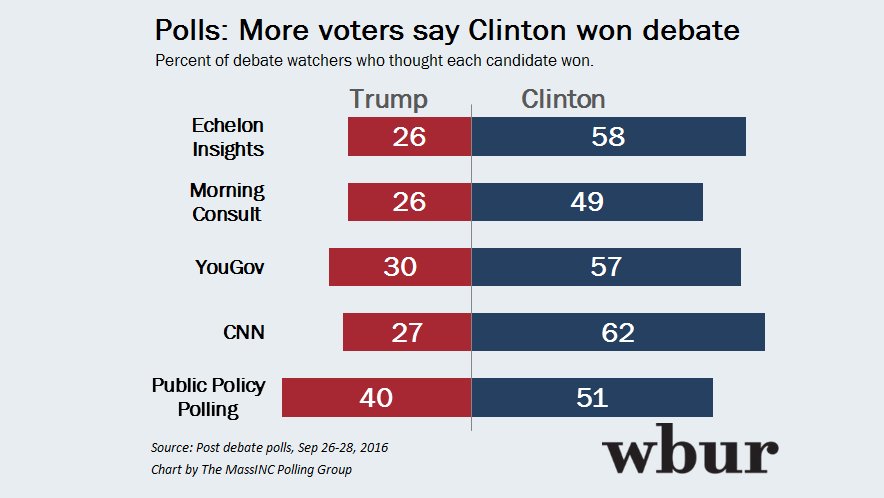 NEXT THURSDAY
Trump Transition Team Meeting with Silicon Valley VIPs
5 hours ago
THE DETAILS
Donald Trump's "transition team will meet next week with representatives of the tech industry, multiple sources confirmed, even as their candidate largely has been largely shunned by Silicon Valley. The meeting, scheduled for next Thursday at the offices of law and lobbying firm BakerHostetler, will include trade groups like the Information Technology Industry Council and the Internet Association that represent major Silicon Valley companies."