Demo­crats are bullish on cut­ting in­to Re­pub­lic­an gov­ernor seats this cycle in states where Hil­lary Clin­ton ex­celled last year. And there are more of them than one might ex­pect.
The South­w­est in par­tic­u­lar will likely in­vite plenty of at­ten­tion. It in­cludes Nevada and New Mex­ico, two of the nine states that Clin­ton car­ried where a Re­pub­lic­an-held gov­ernor seat is on the bal­lot, as well as Ari­zona, where Clin­ton's 4-point loss was nar­row­er than oth­er re­cent Demo­crat­ic nom­in­ees.
Those provide golden op­por­tun­it­ies for the party to cut in­to the GOP's near-his­tor­ic ma­jor­ity of gov­ernors. Demo­crats hope the com­bin­a­tion of Pres­id­ent Trump's sag­ging ap­prov­al num­bers and the pick­ing apart of Re­pub­lic­an in­cum­bent re­cords can as­sist their ef­fort to re­sus­cit­ate the na­tion­al party at the state level.
"Our mar­gin was closer than most battle­grounds, in­clud­ing North Car­o­lina, Ohio, Iowa," Ari­zona Demo­crat­ic Party Chair Alex­is Tamer­on said.
Texas was also in that ter­rit­ory, as Clin­ton's 9-point los­ing mar­gin was just a point high­er than in Ohio. But Re­pub­lic­an Gov. Greg Ab­bott has stock­piled $34 mil­lion as of the end of 2016 in what is one of the most ex­pens­ive states to wage a statewide cam­paign.
Ari­zona has elec­ted gov­ernors of the party op­pos­ite that of the White House in every elec­tion since 1994. The po­ten­tial for a down-bal­lot back­lash to Trump promp­ted Demo­crat­ic state Sen. Steve Far­ley to con­sider run­ning. Phoenix May­or Greg Stan­ton and Dav­id Gar­cia, the 2014 Demo­crat­ic nom­in­ee for su­per­in­tend­ent of pub­lic in­struc­tion, are also pos­sible can­did­ates.
To pre­pare for 2018, Gov. Doug Ducey told Na­tion­al Journ­al in Decem­ber that he is "fo­cus­ing on the eco­nomy, K-12 edu­ca­tion, pub­lic safety—these aren't par­tis­an is­sues." Ducey had more than $500,000 as of Dec. 31 and could reap sup­port from polit­ic­al groups as­so­ci­ated with the Koch broth­ers, whose sum­mit in Cali­for­nia the gov­ernor at­ten­ded last month.
Ducey is a busi­ness-minded ex­ec­ut­ive whom even Demo­crats view as dis­tinctly re­moved from his con­tro­ver­sial pre­de­cessor, Jan Brew­er. He has also tried to sep­ar­ate him­self from Wash­ing­ton Re­pub­lic­ans: He warned against hasty re­peal of the Af­ford­able Care Act, and he's been si­lent on fur­ther con­struc­tion of the bor­der wall and an im­port tar­iff, both of which could im­pact the state's Mex­ic­an-de­pend­ent eco­nomy and en­joyed little sup­port in a re­cent poll by Phoenix-based Data Or­bit­al.
"Those are two losers, as far as Ari­zona is con­cerned," said Terry God­dard, a former Ari­zona at­tor­ney gen­er­al and Demo­crat­ic nom­in­ee for gov­ernor. "Ducey would have to cam­paign with the ad­min­is­tra­tion, and that could be a dicey pro­pos­i­tion—but I'm not say­ing it is yet."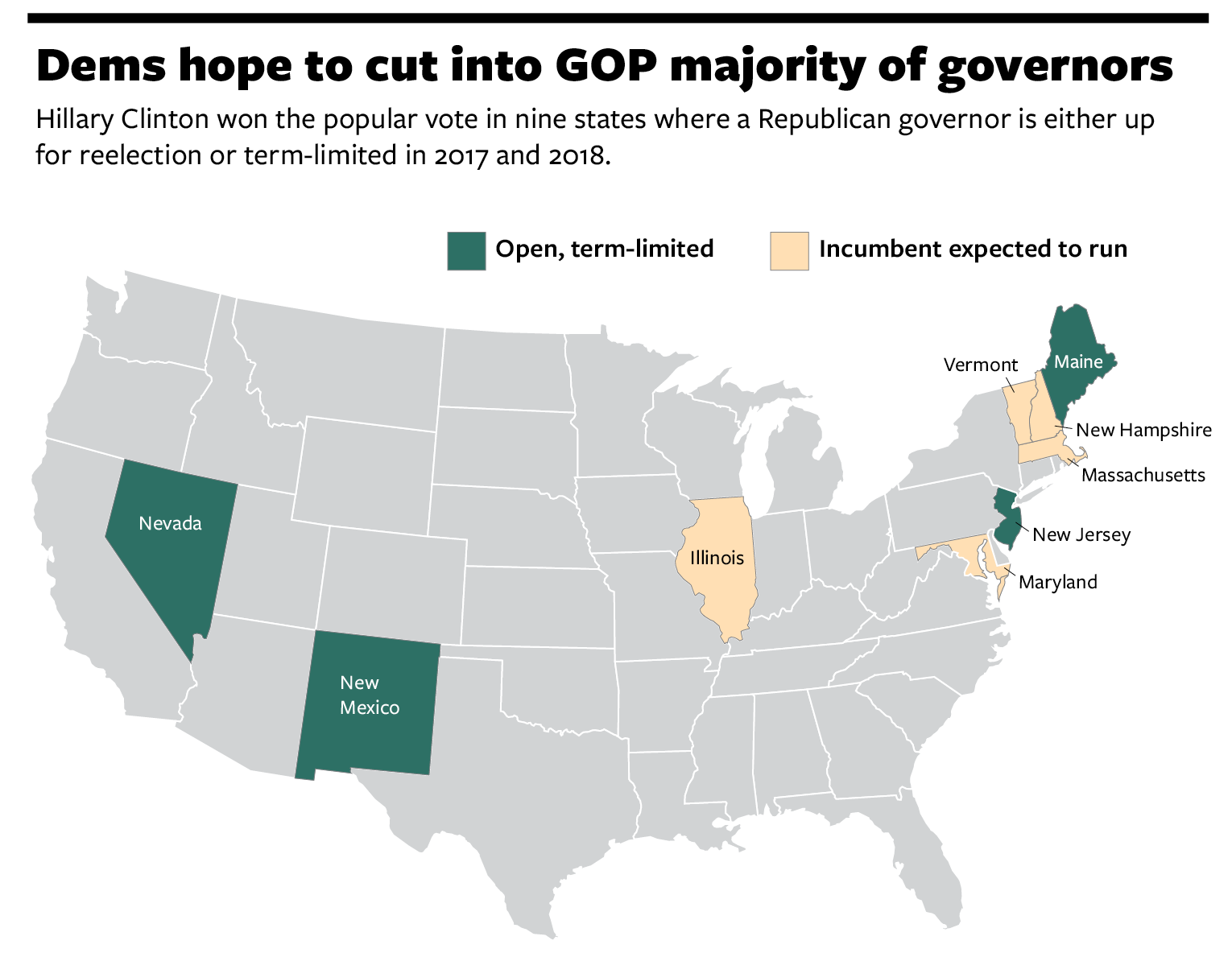 Nevada prom­ises to be a gubernat­ori­al battle­ground next year after serving as one of the few bright spots for Demo­crats in Novem­ber. Clin­ton car­ried it by 2 points, and the party held Harry Re­id's open Sen­ate seat and flipped both state le­gis­lat­ive cham­bers.
Re­pub­lic­an Gov. Bri­an San­dov­al is term-lim­ited. Among po­ten­tial can­did­ates, Demo­crats are already eye­ing Steve Sis­ol­ak, who chairs the Clark County Com­mis­sion and re­cently re­por­ted $3.8 mil­lion on hand. He could face Re­pub­lic­an state At­tor­ney Gen­er­al Adam Lax­alt, who re­por­ted $1.5 mil­lion on hand to start 2017 and is con­sid­er­ing a bid.
San­dov­al told re­port­ers in Wash­ing­ton last month he was con­fid­ent that his party would pre­vail, not­ing the state's "cyc­lic­al" his­tory of Re­pub­lic­an ad­vances in midterms.
"It all de­pends on the can­did­ate," he ad­ded. "Nevada is a place where a lot of people vote for the can­did­ate versus the party, and I think the Re­pub­lic­ans will have pretty strong lineup."
New Mex­ico Gov. Susana Mar­tinez, a former chair of the Re­pub­lic­an Gov­ernors As­so­ci­ation, is also leav­ing of­fice in two years, and Demo­crats have wasted no time mak­ing moves to re­place her.
Rep. Michelle Lu­jan Grisham an­nounced in Decem­ber that she would run. State At­tor­ney Gen­er­al Hec­tor Bal­der­as and Santa Fe May­or Javi­er Gonzales are both "con­sid­er­ing" bids. Ven­ture cap­it­al­ist Jeff Apo­daca, whose fath­er, Jerry Apo­daca, was gov­ernor in 1970s, is also a pos­sible can­did­ate.
In an in­ter­view at the U.S. Con­fer­ence of May­ors meet­ing in Wash­ing­ton last month, Gonzales praised New Mex­ic­ans' re­jec­tion of Trump in Novem­ber and said "many of us" in the His­pan­ic com­munity "per­son­al­ized" the pres­id­ent's de­scrip­tion of un­doc­u­mented im­mig­rants as crim­in­als.
"What the bal­lot looks like and who's on it in 2018 could very much in­flu­ence what turnout is go­ing to be," Gonzales said. "And that's our op­por­tun­ity."