One of the few re­main­ing paths for the Re­pub­lic­an Party to grow its near-his­tor­ic ma­jor­ity of gov­ernors is a sweep of one of the bluest parts of the coun­try.
Re­pub­lic­ans in Con­necti­c­ut and Rhode Is­land, the two re­main­ing New Eng­land states with Demo­crat­ic gov­ernors, are hop­ing to de­feat a couple of in­cum­bents with flag­ging rat­ings in states with a re­cent his­tory of elect­ing GOP gov­ernors.
New Eng­land gen­er­ally prefers Demo­crats for fed­er­al of­fice—in 2016, the six states col­lect­ively gave all but one of their 33 elect­or­al votes to Hil­lary Clin­ton and elec­ted only one GOP mem­ber of Con­gress—but Demo­crats' re­cent trav­ails at the state level could of­fer Re­pub­lic­ans an open­ing.
Rhode Is­land Gov. Gina Rai­mondo in 2014 be­came the state's first gov­ernor elec­ted as a Demo­crat since Bruce Sund­lun in 1990. Con­necti­c­ut's Demo­crat­ic drought went back to 1986 be­fore Gov. Dan­nel Mal­loy was elec­ted in 2010. They are now among the party's most vul­ner­able in­cum­bents.
Re­pub­lic­ans picked up gov­ernor seats last year in New Hamp­shire and Ver­mont, which have two-year terms, and already con­trolled them in Maine and Mas­sachu­setts. They must de­fend all four next year as they seek to com­plete the New Eng­land set.
The Re­pub­lic­an Gov­ernors As­so­ci­ation sees Con­necti­c­ut as "a top pickup op­por­tun­ity in 2018," ac­cord­ing to spokes­man Jon Thompson. He said the group is also "keep­ing a very close eye" on Rhode Is­land and its gov­ernor's "weak lead­er­ship."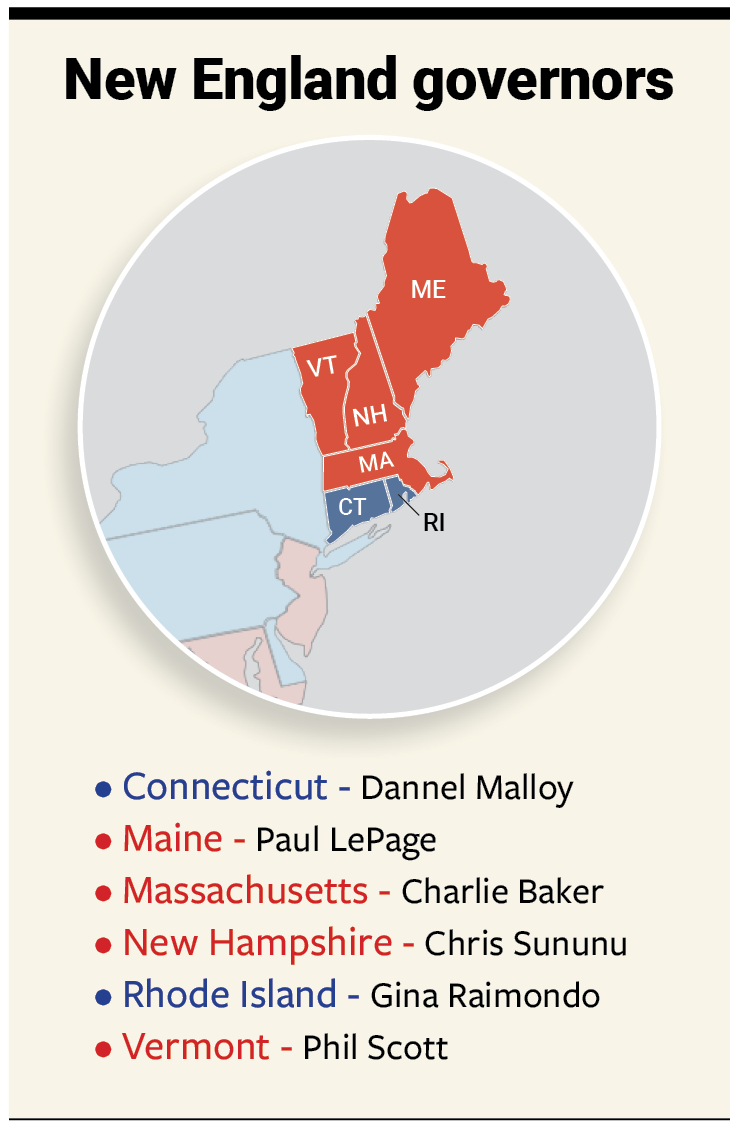 Wis­con­sin Gov. Scott Walk­er, who chairs the RGA, said in an in­ter­view shortly after the Novem­ber elec­tions that Mal­loy, who chairs the Demo­crat­ic Gov­ernors As­so­ci­ation, is "one of the most un­pop­u­lar [gov­ernors] in the coun­try, by far." Gen­er­al Elec­tric's de­cision to move its headquar­ters to neigh­bor­ing Mas­sachu­setts "may be a center­piece to that cam­paign," he ad­ded.
Sup­port­ing his as­sess­ment was a Quin­nipi­ac Uni­versity poll from June 2016 that found the state's eco­nomy had sunk Mal­loy's ap­prov­al down to 24 per­cent, which was among the low­est rat­ings the polling unit had ever re­cor­ded among gov­ernors in the nine states it reg­u­larly sur­veys.
"The right can­did­ate, I think, could do well there," Walk­er said.
While Mal­loy hasn't said wheth­er he will seek a third term, at least two Re­pub­lic­ans are pub­licly angling for the nom­in­a­tion to face him: Dan­bury May­or Mark Boughton and Trum­bu­ll First Se­lect­man Tim Herbst, who both spoke with Na­tion­al Journ­al in D.C. last week at the U.S. Con­fer­ence of May­ors.
"I would be shocked if he ran for reelec­tion, al­though I would be the first one to donate so I could run against his re­cord," Boughton said.
Mal­loy's first term was dom­in­ated by a $1.5 bil­lion tax hike. After nar­rowly win­ning reelec­tion in 2014, he ali­en­ated labor uni­ons and pro­gress­ive groups by slash­ing pub­lic-sec­tor jobs to patch a $1 bil­lion de­fi­cit.
"He's paid a polit­ic­al price for it," Roy Oc­chiogrosso, Mal­loy's chief strategist on his two suc­cess­ful cam­paigns for gov­ernor, said of the state's budget cuts un­der his ten­ure.
Con­necti­c­ut Demo­crat­ic Party spokes­man Leigh Ap­pleby said in an email Wed­nes­day that "Demo­crats are op­tim­ist­ic go­ing in­to 2018," cit­ing pro­gress­ive policies Mal­loy ap­proved such as paid sick leave and a min­im­um-wage in­crease, as well as "in­vest­ing in man­u­fac­tur­ing op­por­tun­it­ies" in aerospace and nav­al con­struc­tion. Mal­loy also signed gun-con­trol le­gis­la­tion after the New­town school mas­sacre.
Demo­crats are already us­ing Pres­id­ent Trump as a boo­gey­man in the midterm elec­tions. Ap­pleby said Re­pub­lic­an can­did­ates aren't suf­fi­ciently push­ing back on re­peal of the Af­ford­able Care Act, an­thro­po­gen­ic cli­mate-change deni­al, or abor­tion rights. And DGA spokes­man Jared Leo­pold said it "will be chal­len­ging for Re­pub­lic­ans to make an ar­gu­ment that Don­ald Trump needs an ally in Con­necti­c­ut or Rhode Is­land."
Boughton re­cog­nizes the dif­fi­culty of run­ning statewide as a Re­pub­lic­an in Con­necti­c­ut. "It's about as blue as you can pos­sibly get," he said. But he noted his "great story to tell" as the may­or of a "Demo­crat­ic city" and his "demon­strated abil­ity to re­late to blue-col­lar voters, people in our urb­an cores" from his cam­paign for gov­ernor in 2014 and lieu­ten­ant gov­ernor in 2010.
Herbst sim­il­arly touts his ho­met­own of Trum­bu­ll as an "oas­is of op­por­tun­ity" in a state plagued by "Hart­ford in­siders." In launch­ing his statewide ex­plor­at­ory com­mit­tee after los­ing the 2014 state treas­urer race, Herbst said he hopes to ap­peal to Re­pub­lic­ans and "sens­ible Demo­crats."
Rai­mondo could face a re­match with Cran­ston May­or Al­lan Fung, a Re­pub­lic­an who said in an in­ter­view last week that he was giv­ing a po­ten­tial bid "ser­i­ous con­sid­er­a­tion." His van­quished op­pon­ent in the 2014 Re­pub­lic­an primary, Ken Block, has also said he will "con­sider what to do about 2018." Cur­rent and former state le­gis­lat­ors have ex­pressed in­terest in a bid.
The gov­ernors might also have to fend off primary chal­lenges. In Rhode Is­land, Clay Pell, one of Rai­mondo's 2014 primary op­pon­ents and the grand­son of former Sen. Claiborne Pell, hasn't hin­ted at his 2018 plans. In Con­necti­c­ut, Middletown May­or Dan Drew formed an ex­plor­at­ory com­mit­tee in what is likely an ef­fort to lay the ground­work for a cam­paign should Mal­loy re­tire, though in an in­ter­view Monday he de­clined to rule out chal­len­ging the gov­ernor.
If the Con­necti­c­ut seat does open, Demo­crats would have a de­cept­ively short timeline to jump in­to the race. It took Mal­loy 18 months to be­come the first gubernat­ori­al can­did­ate un­der the state's cam­paign fin­ance sys­tem to qual­i­fy for more than $6 mil­lion in pub­lic funds for his suc­cess­ful 2010 race.
"If you're gonna qual­i­fy for pub­lic fin­an­cing and you want to run for gov­ernor in 2018," Oc­chiogrosso said, "you prob­ably don't have a whole lot longer to wait."