Dec. 11, 2013, 12:37 p.m.
Ayo Kimathi, the De­part­ment of Home­land Se­cur­ity em­ploy­ee who had an al­ter ego as a mil­it­ant black su­prem­acist, has fi­nally left the agency, months after his rad­ic­al moon­light­ing was outed.
In Novem­ber, we re­por­ted that DHS still hadn't fired Kimathi, four months after his web­site es­pous­ing the "eth­nic cleans­ing" of whites and "black-skinned Uncle Tom race trait­ors" had come to light. In Au­gust, he was placed on paid leave, pending ad­min­is­trat­ive re­view.
But Wed­nes­day af­ter­noon, DHS deputy press sec­ret­ary Gil­lian Christensen con­firmed to Na­tion­al Journ­al that Kimathi, a pro­cure­ment spe­cial­ist for Im­mig­ra­tion and Cus­toms En­force­ment, has left the agency. "Mr. Kimathi is no longer an ICE em­ploy­ee. His last day with the agency was Decem­ber 6," she said. She could not, however, cla­ri­fy wheth­er he resigned or was form­ally ter­min­ated, cit­ing gov­ern­ment-wide em­ploy­ment pri­vacy policies. 
Kimathi, go­ing by the nom de guerre "the Ir­rit­ated Genie," ran a web­site called "War on the Ho­ri­zon" and gave lec­tures preach­ing that blacks had to rise up in a massive war between the races. "In or­der for Black people to sur­vive the 21st cen­tury, we are go­ing to have to kill a lot of whites — more than our Chris­ti­an hearts can pos­sibly count," he wrote in one such post.
Civil-ser­vice laws make it ex­ceed­ingly dif­fi­cult for the gov­ern­ment to fire em­ploy­ees, even in cases like this, but many ob­serv­ers ex­pressed out­rage that Kimathi was still cash­ing a gov­ern­ment paycheck while his case was un­der re­view.
"This is wel­come but long over­due news," said Josh Glasstet­ter of the South­ern Poverty Law Cen­ter, the anti-hate group that first outed Kimathi. "DHS had known for months about Kimathi's pro­mo­tion of vi­ol­ence. Some of his cowork­ers re­portedly feared for their own safety. Re­gret­tably, DHS only took ac­tion after we pub­li­cized his activ­it­ies."
What We're Following See More »
UNTIL DEC. 9, ANYWAY
Obama Signs Bill to Fund Government
4 hours ago
REDSKINS IMPLICATIONS
SCOTUS to Hear Case on Offensive Trademarks
4 hours ago
WHY WE CARE
"The Supreme Court is taking up a First Amendment clash over the government's refusal to register offensive trademarks, a case that could affect the Washington Redskins in their legal fight over the team name. The justices agreed Thursday to hear a dispute involving an Asian-American rock band called the Slants, but they did not act on a separate request to hear the higher-profile Redskins case at the same time." Still, any precedent set by the case could have ramifications for the Washington football team.
STAFF PICKS
Bannon Still Collecting Royalties from 'Seinfeld'
6 hours ago
WHY WE CARE
The Hollywood Reporter takes a look at a little-known intersection of politics and entertainment, in which Trump campaign CEO Steve Bannon is still raking in residuals from Seinfeld. Here's the digest version: When Seinfeld was in its infancy, Ted Turner was in the process of acquiring its production company, Castle Rock, but he was under-capitalized. Bannon's fledgling media company put up the remaining funds, and he agreed to "participation rights" instead of a fee. "Seinfeld has reaped more than $3 billion in its post-network afterlife through syndication deals." Meanwhile, Bannon is "still cashing checks from Seinfeld, and observers say he has made nearly 25 times more off the Castle Rock deal than he had anticipated."
IT'S ALL CLINTON
Reliable Poll Data Coming in RE: Debate #1
6 hours ago
WHY WE CARE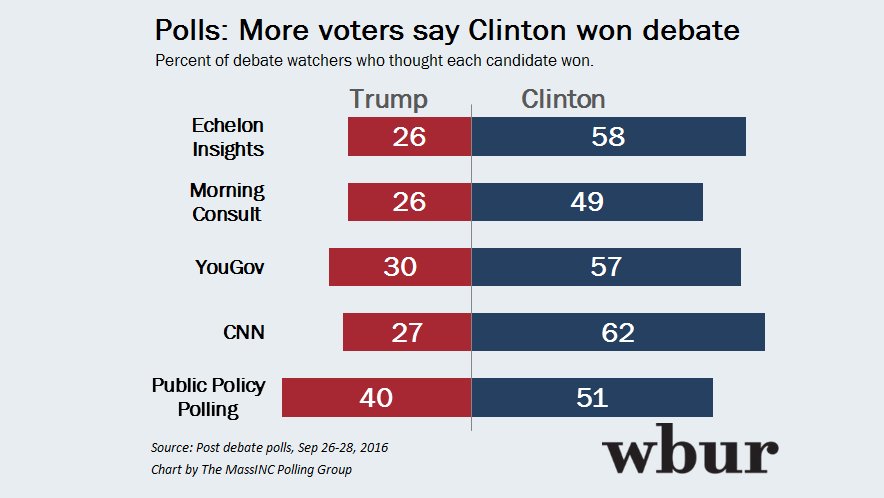 NEXT THURSDAY
Trump Transition Team Meeting with Silicon Valley VIPs
8 hours ago
THE DETAILS
Donald Trump's "transition team will meet next week with representatives of the tech industry, multiple sources confirmed, even as their candidate largely has been largely shunned by Silicon Valley. The meeting, scheduled for next Thursday at the offices of law and lobbying firm BakerHostetler, will include trade groups like the Information Technology Industry Council and the Internet Association that represent major Silicon Valley companies."