A duo of strange bed­fel­lows in­tro­duced le­gis­la­tion Thursday that would sig­ni­fic­antly re­form — and re­duce in scope — the re­new­able fuel stand­ard, a man­date that re­quires in­creas­ingly large amounts of bio­fuels to be blen­ded with gas­ol­ine.
The bill, in­tro­duced by Sens. Di­anne Fein­stein, D-Cal­if., and Tom Coburn, R-Okla., would elim­in­ate the corn-eth­an­ol por­tion of the RFS but re­tain the smal­ler man­dates that re­quire volumes of ad­vanced bio­fuels not de­rived from feed­stock, such as cel­lu­losic. Fein­stein and Coburn have worked to­geth­er in the past on elim­in­at­ing sub­sidies for the corn-eth­an­ol in­dustry.
In a rar­ity for en­ergy policy, this le­gis­la­tion is at­tract­ing sup­port right out of the gate from both sides of the aisle. Sens. Richard Burr, R-N.C., Susan Collins, R-Maine, Bob Cork­er, R-Tenn., Kay Hagan, D-N.C., Jeff Flake, R-Ar­iz., Joe Manchin, D-W.Va., Jim Risch, R-Idaho, and Patrick Toomey, R-Pa., are also co­spon­sors.
An­oth­er un­likely pair — Sens. Ben Cardin, D-Md., and Dav­id Vit­ter, R-La. — is work­ing on sep­ar­ate le­gis­la­tion that also seeks to keep the ad­vanced-bio­fuels goals of the pro­gram in­tact while re­mov­ing al­to­geth­er or re­du­cing the corn-eth­an­ol part. Tim­ing on this le­gis­la­tion is un­clear, a spokes­per­son for Cardin said Wed­nes­day.
The RFS, en­acted in 2005 and strengthened sig­ni­fic­antly in 2007, re­quires re­finers to blend 16.55 bil­lion gal­lons of bio­fuels in 2013. Most of that — 13 bil­lion — will be corn eth­an­ol. The man­date has come un­der in­tense scru­tiny from a di­verse group of stake­hold­ers, ran­ging from the oil and re­fin­ing in­dus­tries, to live­stock and food groups, to en­vir­on­ment­al­ists.
After dither­ing on the is­sue for much of this year, the Sen­ate held its first hear­ing on the man­date Wed­nes­day, in the Sen­ate En­vir­on­ment and Pub­lic Works Com­mit­tee.
Chair­wo­man Bar­bara Box­er, D-Cal­if., in­dic­ated she won't sup­port ma­jor re­form to the policy. "As chair­man of this com­mit­tee, and I have the gavel for now, I'm not go­ing to let us re­verse course…. I'm just not," she said.
"No pro­gram is per­fect, that's for sure, whatever it is; even in the private sec­tor, no new product is per­fect and no new mar­ket­ing strategy is per­fect at first. So we've got to work to­geth­er, and I'm will­ing to do that. But I just think, over­all, let's not turn our back on a way to make sure we can be­come more en­ergy in­de­pend­ent and have a bet­ter en­vir­on­ment in the long run," Box­er ad­ded.
Mean­while, House En­ergy and Com­merce Com­mit­tee Chair­man Fred Up­ton, R-Mich., and rank­ing mem­ber Henry Wax­man, D-Cal­if., have been jointly work­ing on the RFS since March. 
Clare Foran contributed to this article.
What We're Following See More »
UNTIL DEC. 9, ANYWAY
Obama Signs Bill to Fund Government
51 minutes ago
REDSKINS IMPLICATIONS
SCOTUS to Hear Case on Offensive Trademarks
1 hours ago
WHY WE CARE
"The Supreme Court is taking up a First Amendment clash over the government's refusal to register offensive trademarks, a case that could affect the Washington Redskins in their legal fight over the team name. The justices agreed Thursday to hear a dispute involving an Asian-American rock band called the Slants, but they did not act on a separate request to hear the higher-profile Redskins case at the same time." Still, any precedent set by the case could have ramifications for the Washington football team.
STAFF PICKS
Bannon Still Collecting Royalties from 'Seinfeld'
2 hours ago
WHY WE CARE
The Hollywood Reporter takes a look at a little-known intersection of politics and entertainment, in which Trump campaign CEO Steve Bannon is still raking in residuals from Seinfeld. Here's the digest version: When Seinfeld was in its infancy, Ted Turner was in the process of acquiring its production company, Castle Rock, but he was under-capitalized. Bannon's fledgling media company put up the remaining funds, and he agreed to "participation rights" instead of a fee. "Seinfeld has reaped more than $3 billion in its post-network afterlife through syndication deals." Meanwhile, Bannon is "still cashing checks from Seinfeld, and observers say he has made nearly 25 times more off the Castle Rock deal than he had anticipated."
IT'S ALL CLINTON
Reliable Poll Data Coming in RE: Debate #1
2 hours ago
WHY WE CARE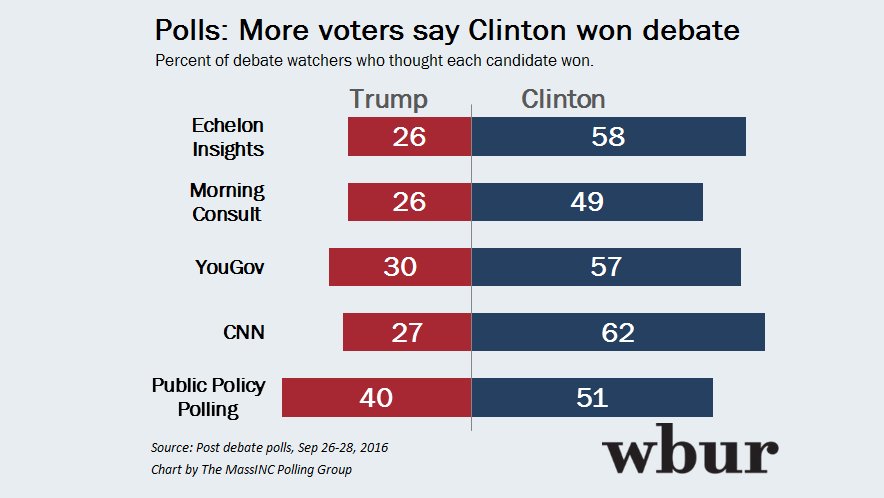 NEXT THURSDAY
Trump Transition Team Meeting with Silicon Valley VIPs
5 hours ago
THE DETAILS
Donald Trump's "transition team will meet next week with representatives of the tech industry, multiple sources confirmed, even as their candidate largely has been largely shunned by Silicon Valley. The meeting, scheduled for next Thursday at the offices of law and lobbying firm BakerHostetler, will include trade groups like the Information Technology Industry Council and the Internet Association that represent major Silicon Valley companies."