Dec. 12, 2013, 12:02 p.m.
The Na­tion­al Re­pub­lic­an Con­gres­sion­al Com­mit­tee proudly launched a faux cam­paign web­site for Demo­crat­ic can­did­ate Domen­ic Rec­chia this week, mock­ing him as a "ca­reer politi­cian "¦ ask­ing for your vote." They even bought Google ads to dir­ect New York­ers to www.domen­ic-rec­chia.com, de­signed at first glance to look like it could be Rec­chia's own, down to the same yel­low star re­pla­cing the dot in the 'i' of his last name.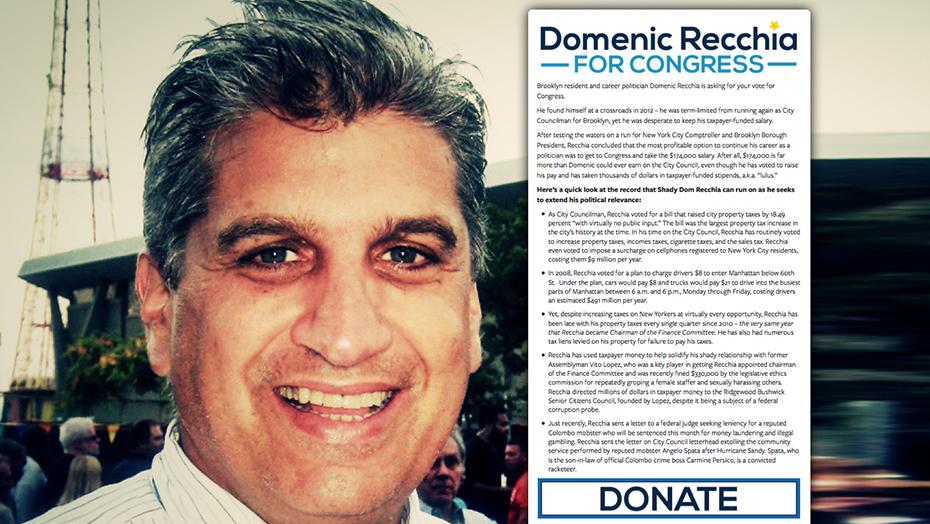 The prob­lem is such a look-alike site, with a ban­ner blar­ing "Domen­ic Rec­chia for Con­gress," may vi­ol­ate Fed­er­al Elec­tion Com­mis­sion reg­u­la­tions for con­fus­ing the pub­lic, elec­tion law­yers say. (Screen­grab)
"This doesn't even strike me as a close call," said Paul S. Ry­an, seni­or coun­sel for the Cam­paign Leg­al Cen­ter, a non­par­tis­an cam­paign watch­dog group. "It's a slam dunk."
The Rec­chia site is just the latest in a series of mock­ing mi­cros­ites the NR­CC has put on­line to at­tack, taunt, and oth­er­wise an­noy Demo­crat­ic con­gres­sion­al can­did­ates from Montana to New York to West Vir­gin­ia.
Each site fol­lows a sim­il­ar mod­el of a URL (nick­ra­hall­for­con­gress.com, for ex­ample) that looks just like a can­did­ate's, a head­line sug­gest­ing it is an of­fi­cial site ("Nick Ra­hall for Con­gress"), bit­ing at­tacks against the can­did­ate ("Ra­hall's budget was so far left of the main­stream "¦ ") and then a donate but­ton — with funds dir­ec­ted to the NR­CC.
An­drea Bozek, a spokes­wo­man for the NR­CC, de­fen­ded the sites as "100 per­cent" leg­al.
"The real reas­on Demo­crats are whin­ing about these web­sites is be­cause the web traffic has been off the charts and as a res­ult voters are learn­ing the truth about their can­did­ates' dis­astrous re­cords," she said. "Not only are these sites ex­tremely ef­fect­ive but they are l00 per­cent leg­al — it's no sur­prise that Demo­crats are run­ning scared."
The GOP cam­paign arm is buy­ing search ads to pro­mote the sites. For in­stance, when res­id­ents of the Staten Is­land dis­trict that Rec­chia is run­ning in search his name, the first res­ult is an ad dir­ect­ing them to the NR­CC site. "Domen­ic Rec­chia is Run­ning for Con­gress Learn More Today," the ad says.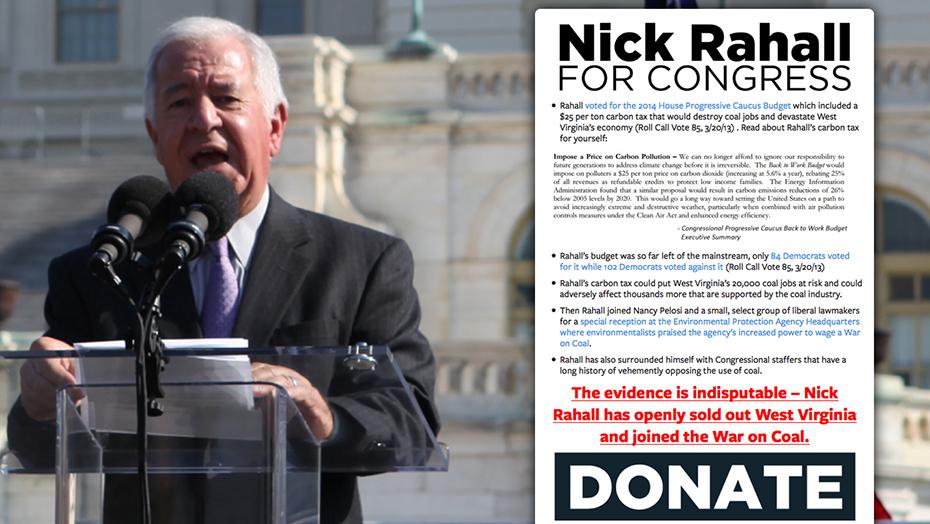 Voters in Montana who google the name of John Lewis, the Demo­crat­ic con­gres­sion­al can­did­ate there, see john­lewis4­con­gress.com, the NR­CC site, as the first res­ult. "John Lewis Has a Plan for Montana Go to this Site To Learn More," the ad says.  (Screen­grab)
After the NR­CC launched three such sites, in­clud­ing one tar­get­ing New York Demo­crat­ic con­gres­sion­al can­did­ate Sean Eldridge, Rep. Lynn West­mo­re­land, R-Geor­gia, deputy chair­man of the NR­CC, wrote in a Septem­ber fun­drais­ing pitch to donors, "We ruined three Demo­crats' cam­paign launches last week and the Demo­crat­ic Con­gres­sion­al Cam­paign Com­mit­tee (Pelosi's cam­paign ma­chine) couldn't be more up­set."
Un­der FEC reg­u­la­tions, polit­ic­al com­mit­tees can­not use a can­did­ate's name in a "spe­cial pro­ject," such as a mi­cros­ite, un­less it "clearly and un­am­bigu­ously shows op­pos­i­tion to the named can­did­ate."
The de­tailed texts of the sites do clearly show such op­pos­i­tion — the Rec­chia site calls him "shady" and al­leges "mob­ster" ties — but Ry­an said that does not ap­pear suf­fi­cient to pass muster based on past FEC pre­ced­ent.
"Neither the URL nor the head­line at the top of the webpage show op­pos­i­tion," Ry­an said. "While it cer­tainly be­comes clear while you read in­to the body of the text of this webpage that the polit­ic­al party op­poses Rec­chia's can­did­acy, it is not clear from the title or the URL."
Larry Noble, a former gen­er­al coun­sel of the FEC and now the head of a bi­par­tis­an Amer­ic­ans for Cam­paign Re­form, said there is a "strong ar­gu­ment" that the NR­CC sites are over the line.
"Part of their at­tempt is to sow con­fu­sion and draw people there who would be look­ing for the can­did­ate's web­site," Noble said. The FEC rules ex­ist, he said, to try to avoid such voter con­fu­sion. "All the can­did­ate has is their name."
To de­fend the sites, the NR­CC re­ferred Na­tion­al Journ­al to Mark Braden, a former chief coun­sel for the Re­pub­lic­an Na­tion­al Com­mit­tee. "Do I think it's a vi­ol­a­tion? No," Braden said, adding the sites are "pretty clear" they are in op­pos­i­tion to the named can­did­ates.
Leg­al­ity aside, wheth­er the elec­tions com­mis­sion, which is equally di­vided between three Re­pub­lic­ans and three Demo­crats and even more grid­locked than Cap­it­ol Hill, would ever crack down on the mi­cros­ites is an­oth­er mat­ter, Noble said.
"Would there be four votes at the FEC to do any­thing about it?" he asked. "I have some ser­i­ous doubts."