For Demo­crats, the tea party is the gift that keeps on giv­ing. For Re­pub­lic­ans, the group is something akin to a flesh-eat­ing vir­us that threatens to chomp away at the GOP.
The civil war between es­tab­lish­ment and tea-party Re­pub­lic­ans in­tens­i­fied this week when House Speak­er John Boehner slammed out­side con­ser­vat­ive groups for "ri­dicu­lous" push­back against the bi­par­tis­an budget agree­ment, which cleared his cham­ber Thursday. Tea-party-sym­path­et­ic or­gan­iz­a­tions, Boehner later said, are "push­ing our mem­bers in places where they don't want to be."
Wash­ing­ton in­siders agree. Sixty-five per­cent of Re­pub­lic­an in­flu­en­cers on the Hill called tea-party chal­lengers to Re­pub­lic­an law­makers "very un­help­ful" to the GOP, ac­cord­ing to a Na­tion­al Journ­al Polit­ic­al In­siders poll pub­lished Fri­day. Their pres­ence on the cam­paign trail leads to fur­ther splin­ter­ing of the Grand Old Party, whose widen­ing rift between es­tab­lish­ment and tea-party mem­bers has not gone un­noticed by both Demo­crat­ic op­pon­ents and the gen­er­al pub­lic. "Let's shoot at the op­pos­i­tion, not our own troops," one In­sider pleaded. "Most Re­pub­lic­ans think they're idi­ots," said an­oth­er.
On the oth­er hand, 78 per­cent of Demo­crat­ic In­siders find tea-party chal­lengers to be "very help­ful." Demo­crats de­pend on ul­tracon­ser­vat­ives can­did­ates like Steve Stock­man, who is tak­ing great pains to la­bel his Re­pub­lic­an op­pon­ent for a Sen­ate seat in Texas, Sen. John Cornyn, a lib­er­al. For them, a di­vided Re­pub­lic­an party means more legroom for Demo­crat­ic can­did­ates to sweep voters fed up with ideo­lo­gic­al de­bates.
Polit­ic­al fig­ures like Stock­man do the job of drag­ging the na­tion­al Re­pub­lic­an im­age away from the main­stream — and voters — for the Demo­crats. With midterm elec­tions more than 10 months away, there's still time for more tea-party chal­lengers to step up to the po­di­um and ex­acer­bate the situ­ation. "For every Rand Paul and Marco Ru­bio, you get five Ken Bucks and Todd Akins," said one in­sider in the poll.
Come next Novem­ber, the biggest tea-party sup­port­ers could be the lib­er­als they want to squash. "We should be form­ing in­de­pend­ent-ex­pendit­ure com­mit­tees and su­per PACs to sup­port any tea parti­er in­ter­ested in tak­ing on Re­pub­lic­an in­cum­bents," joked a Demo­crat­ic In­sider. An­oth­er summed up simply, "Thank you, Steve Stock­man."
What We're Following See More »
STAFF PICKS
Bannon Still Collecting Royalties from 'Seinfeld'
54 minutes ago
WHY WE CARE
The Hollywood Reporter takes a look at a little-known intersection of politics and entertainment, in which Trump campaign CEO Steve Bannon is still raking in residuals from Seinfeld. Here's the digest version: When Seinfeld was in its infancy, Ted Turner was in the process of acquiring its production company, Castle Rock, but he was under-capitalized. Bannon's fledgling media company put up the remaining funds, and he agreed to "participation rights" instead of a fee. "Seinfeld has reaped more than $3 billion in its post-network afterlife through syndication deals." Meanwhile, Bannon is "still cashing checks from Seinfeld, and observers say he has made nearly 25 times more off the Castle Rock deal than he had anticipated."
IT'S ALL CLINTON
Reliable Poll Data Coming in RE: Debate #1
1 hours ago
WHY WE CARE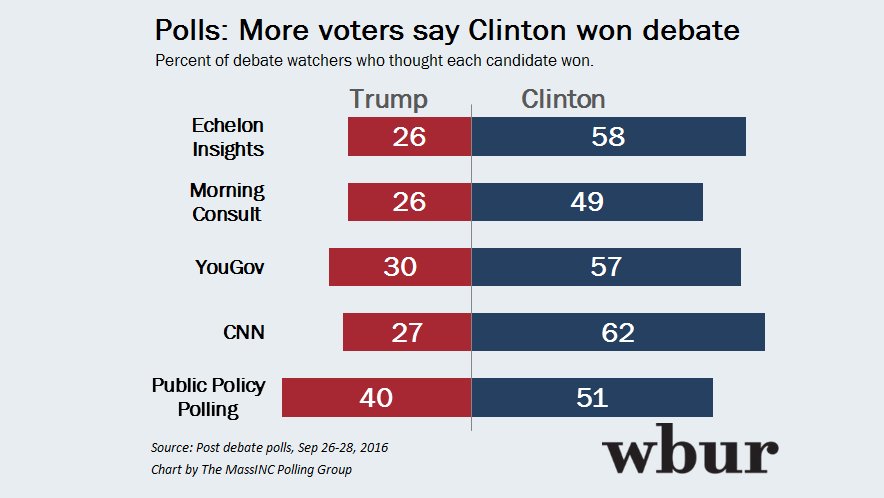 NEXT THURSDAY
Trump Transition Team Meeting with Silicon Valley VIPs
3 hours ago
THE DETAILS
Donald Trump's "transition team will meet next week with representatives of the tech industry, multiple sources confirmed, even as their candidate largely has been largely shunned by Silicon Valley. The meeting, scheduled for next Thursday at the offices of law and lobbying firm BakerHostetler, will include trade groups like the Information Technology Industry Council and the Internet Association that represent major Silicon Valley companies."
WHAT WILL PASS?
McConnell Doubts Criminal Justice Reform Can Pass This Year
3 hours ago
ALSO FIRED UNATTRACTIVE WAITRESSES
Trump Did Business with Cuba
4 hours ago
THE LATEST
Today in bad news for Donald Trump:
Newsweek found that a company he controlled did business with Cuba under Fidel Castro "despite strict American trade bans that made such undertakings illegal, according to interviews with former Trump executives, internal company records and court filings." In 1998, he spent at least $68,000 there, which was funneled through a consluting company "to make it appear legal."
The Los Angeles Times reports that at a golf club he owns in California, Trump ordered that unattractive female staff be fired and replaced with prettier women.