Dec. 13, 2013, 11:43 a.m.
Ac­cus­ing the U.S. of vi­ol­at­ing "the spir­it" of last month's in­ter­im deal, Ir­an stopped ne­go­ti­ations with world powers in Vi­enna over how to curb its nuc­le­ar pro­gram — just one day after Wash­ing­ton an­nounced new sanc­tions against com­pan­ies and in­di­vidu­als found sup­port­ing Tehran's nuc­le­ar am­bi­tions.
Dip­lo­mats are down­play­ing Tehran's de­cision to end the talks. Ac­cord­ing to Re­u­ters, dip­lo­mats stressed the "in­con­clus­ive out­come" of the Vi­enna dis­cus­sions about how to im­ple­ment the deal, meant to cur­tail the most dan­ger­ous as­pects of Ir­an's nuc­le­ar pro­gram in ex­change for about $7 bil­lion in sanc­tions re­lief, and said this did not mean the deal was in "ser­i­ous trouble." Dis­cus­sions, they say, are ex­pec­ted to re­sume soon.
However, the news, which comes as the Obama ad­min­is­tra­tion has launched a charm of­fens­ive to per­suade skep­tic­al mem­bers of Con­gress to give dip­lomacy a chance and avoid levy­ing new sanc­tions on Ir­an, does raise the pos­sib­il­ity of two sep­ar­ate out­comes:  
1) The Nov. 23 deal is fra­gile, and Ir­an is not a guar­an­teed play­er. The Obama ad­min­is­tra­tion wor­ries new sanc­tions from Con­gress would un­ravel the sens­it­ive nuc­le­ar ne­go­ti­ations, but to pre­vent mem­bers from tak­ing ac­tion, it must prove it can and will keep the eco­nom­ic pres­sure on Tehran. Thursday's sanc­tions an­nounce­ment, just hours be­fore seni­or State and Treas­ury De­part­ment of­fi­cials test­i­fied on Cap­it­ol Hill — was a strong step in that dir­ec­tion.
That Tehran is hes­it­ant to con­cretely com­mit to more talks after the sanc­tions is a sign Ir­a­ni­an of­fi­cials may not be bluff­ing when they warn new sanc­tions would de­rail a deal. The nuc­le­ar deal was con­sidered a ma­jor dip­lo­mat­ic break­through and a sol­id chance to end the dec­ade­long nuc­le­ar dis­pute. So, after Fri­day's spat, those mem­bers of Con­gress in­clined to give talks a chance may have more am­muni­tion to con­vince their col­leagues not to call Ir­an's bluff.
2) However, that the Ir­a­ni­an del­eg­a­tion re­turned to Tehran after the U.S. simply demon­strated it would en­force its ex­ist­ing sanc­tions is not ne­ces­sar­ily an en­cour­aging sign that the coun­try — which is ob­vi­ously fa­mil­i­ar with the in­ter­na­tion­al vise around its eco­nomy — is ser­i­ous. 
There's no chance Wash­ing­ton will lift all its sanc­tions at once, just as there's vir­tu­ally no chance Ir­an will dis­mantle all of its nuc­le­ar pro­gram im­me­di­ately. Every­one knows some form of pres­sure must re­main for ne­go­ti­ations to con­tin­ue. If Ir­an breaks off — or ex­tens­ively pauses — nuc­le­ar talks now be­cause it is angry about sanc­tions that are already in force, im­pa­tient con­gres­sion­al hawks are vir­tu­ally cer­tain to move for­ward with new meas­ures to cripple Ir­an's eco­nomy and test its re­solve. And in that case, very likely, the deal would be kaput. 
What We're Following See More »
UNTIL DEC. 9, ANYWAY
Obama Signs Bill to Fund Government
56 minutes ago
REDSKINS IMPLICATIONS
SCOTUS to Hear Case on Offensive Trademarks
1 hours ago
WHY WE CARE
"The Supreme Court is taking up a First Amendment clash over the government's refusal to register offensive trademarks, a case that could affect the Washington Redskins in their legal fight over the team name. The justices agreed Thursday to hear a dispute involving an Asian-American rock band called the Slants, but they did not act on a separate request to hear the higher-profile Redskins case at the same time." Still, any precedent set by the case could have ramifications for the Washington football team.
STAFF PICKS
Bannon Still Collecting Royalties from 'Seinfeld'
2 hours ago
WHY WE CARE
The Hollywood Reporter takes a look at a little-known intersection of politics and entertainment, in which Trump campaign CEO Steve Bannon is still raking in residuals from Seinfeld. Here's the digest version: When Seinfeld was in its infancy, Ted Turner was in the process of acquiring its production company, Castle Rock, but he was under-capitalized. Bannon's fledgling media company put up the remaining funds, and he agreed to "participation rights" instead of a fee. "Seinfeld has reaped more than $3 billion in its post-network afterlife through syndication deals." Meanwhile, Bannon is "still cashing checks from Seinfeld, and observers say he has made nearly 25 times more off the Castle Rock deal than he had anticipated."
IT'S ALL CLINTON
Reliable Poll Data Coming in RE: Debate #1
2 hours ago
WHY WE CARE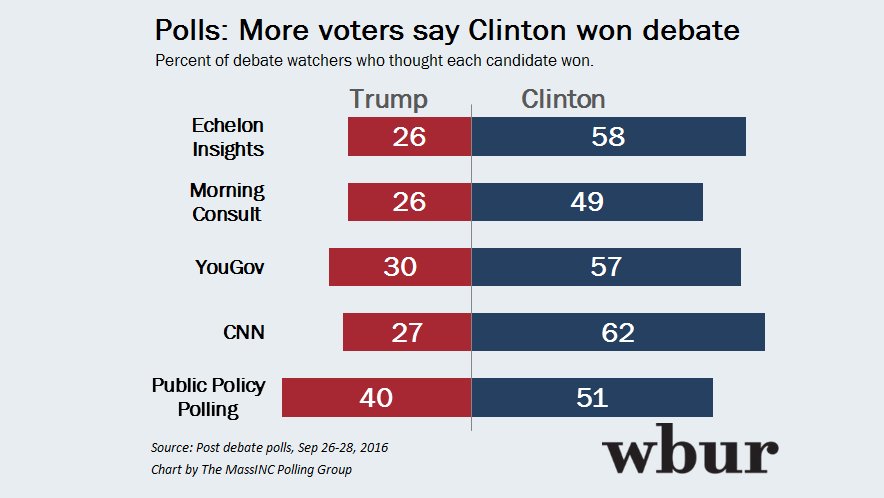 NEXT THURSDAY
Trump Transition Team Meeting with Silicon Valley VIPs
5 hours ago
THE DETAILS
Donald Trump's "transition team will meet next week with representatives of the tech industry, multiple sources confirmed, even as their candidate largely has been largely shunned by Silicon Valley. The meeting, scheduled for next Thursday at the offices of law and lobbying firm BakerHostetler, will include trade groups like the Information Technology Industry Council and the Internet Association that represent major Silicon Valley companies."