It's easy to let your head ex­plode look­ing at new num­bers show­ing how much time Con­gress spent in ses­sion in 2013. The House broke a re­cord this year, work­ing the few­est hours in a nonelec­tion year since 2005, at an av­er­age of just about 28 hours a week (or 942 total), ac­cord­ing to The New York Times. The Sen­ate spent just 99 days vot­ing this year, near a 1991 low of 95 days.
When you look at how many hours com­par­able Amer­ic­ans on av­er­age spend work­ing or on work re­lated activ­it­ies, Con­gress's re­cord seems pretty bad  on its face. Ac­cord­ing to the most re­cent Bur­eau of Labor Stat­ist­ics data, em­ployed people ages 25-54 with chil­dren spent 8.8 hours per av­er­age work day on work or work re­lated activ­it­ies in 2012. For a five-day week, that av­er­ages out to 44 hours a week. Of course, not all Amer­ic­ans just work on week­days. For all em­ployed Amer­ic­ans, 34 per­cent worked on week­ends in 2012.
That sure makes it seem like work­ing in Con­gress is a pretty cushy gig. But that would ig­nore the vast amount of drudgery your rep­res­ent­at­ives and sen­at­ors have to put up with off the floor.
Na­tion­al Journ­al's Alex Seitz-Wald lays out the num­bers: House mem­bers work 70 hours per week on av­er­age when they're in D.C., and nearly 60 hours per week when they're not, ac­cord­ing to a sur­vey by the Con­gres­sion­al Man­age­ment Found­a­tion.
Here's how mem­bers spend their time: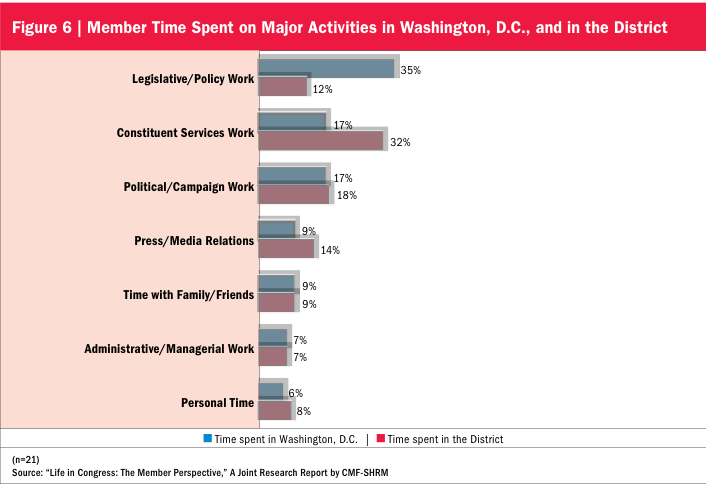 The "per­son­al time" and "fam­ily/friends" sliv­ers are un­ques­tion­ably bleak. That's es­pe­cially true com­pared with oth­er Amer­ic­ans. Em­ployed Amer­ic­ans ages 25-54 with chil­dren spend nearly a quarter of their av­er­age 2012 work day on either leis­ure and sports, house­hold activ­it­ies, eat­ing and drink­ing, or caring for oth­ers. At best, mem­bers of Con­gress don't even come close to touch­ing that.
So while Con­gress isn't really spend­ing all that much time do­ing that ac­tu­al work of passing (or block­ing) le­gis­la­tion, don't start rush­ing to get that plush con­gres­sion­al job quite yet.
{{ BIZOBJ (video: 4627) }}