Claim­ing a man­date he nev­er had, the newly reelec­ted pres­id­ent fois­ted a bold agenda upon Con­gress and the pub­lic, then watched it col­lapse with­in months — a vic­tim of scan­dal, cyn­ic­al op­pon­ents, and his own hubris. One des­pair­ing ad­viser de­clared, "This is the end of the pres­id­ency."
That was George W. Bush in 2005. Or was it Barack Obama this past year? Read­ing Peter Baker's ex­traordin­ary ac­count of the Bush-Cheney era, Days of Fire, I found a strik­ing num­ber of par­al­lels between Bush's fifth year in of­fice and the at­ro­cious first 12 months of Pres­id­ent Obama's second term.
My takeaway: Obama needs to shat­ter the cycle of dys­func­tion (his and his­tory's) or risk leav­ing of­fice like Bush, un­pop­u­lar and re­l­at­ively un­ac­com­plished.
Here are nine ana­logues between Bush's 2005 and Obama's 2013, start­ing with "¦
1. As­sum­ing vic­tory came with spoils. Bush wasted no time plot­ting an ex­pans­ive vis­ion for his second term, or­der­ing speech­writers to pro­duce an In­aug­ur­al Ad­dress that made "end­ing tyranny in our world" of­fi­cial U.S. policy. His do­mest­ic agenda in­cluded changes to So­cial Se­cur­ity, im­mig­ra­tion, the tax code, and court-clog­ging lit­ig­a­tion rules. Obama un­leashed an ag­gress­ively lib­er­al agenda in his second In­aug­ur­al Ad­dress, prom­ising to com­bat cli­mate change, loosen im­mig­ra­tion re­stric­tions, curb gun vi­ol­ence, and ex­pand hu­man and civil rights.
Bush and Obama made the same mis­take. Both men con­vinced them­selves that they were reelec­ted be­cause of their agen­das, rather than be­cause of neg­at­ive cam­paign strategies that es­sen­tially dis­qual­i­fied their rivals — Demo­crat John Kerry and Re­pub­lic­an Mitt Rom­ney. In fact, many of the is­sues claimed as pres­id­en­tial man­dates in 2005 and 2013 ac­tu­ally re­ceived re­l­at­ively little at­ten­tion from the can­did­ates and from the me­dia in 2004 and 2012. On the night of Obama's elec­tion, I wrote:
Barack Obama won a second term but no man­date. Thanks in part to his own small-bore and bru­tish cam­paign, vic­tory guar­an­tees the pres­id­ent noth­ing more than the head­ache of build­ing con­sensus in a grid­locked cap­it­al on be­half of a po­lar­ized pub­lic.
If the pres­id­ent be­gins his second term un­der any de­lu­sion that voters rub­ber-stamped his agenda on Tues­day night, he is doomed to fail.
Man­dates are rarely won on elec­tion night. They are earned after In­aug­ur­a­tion Day by lead­ers who spend their polit­ic­al cap­it­al wisely, tak­ing ad­vant­age of events without over­reach­ing.
Obama's ad­visers mocked the column and oth­ers like it, a sign of "¦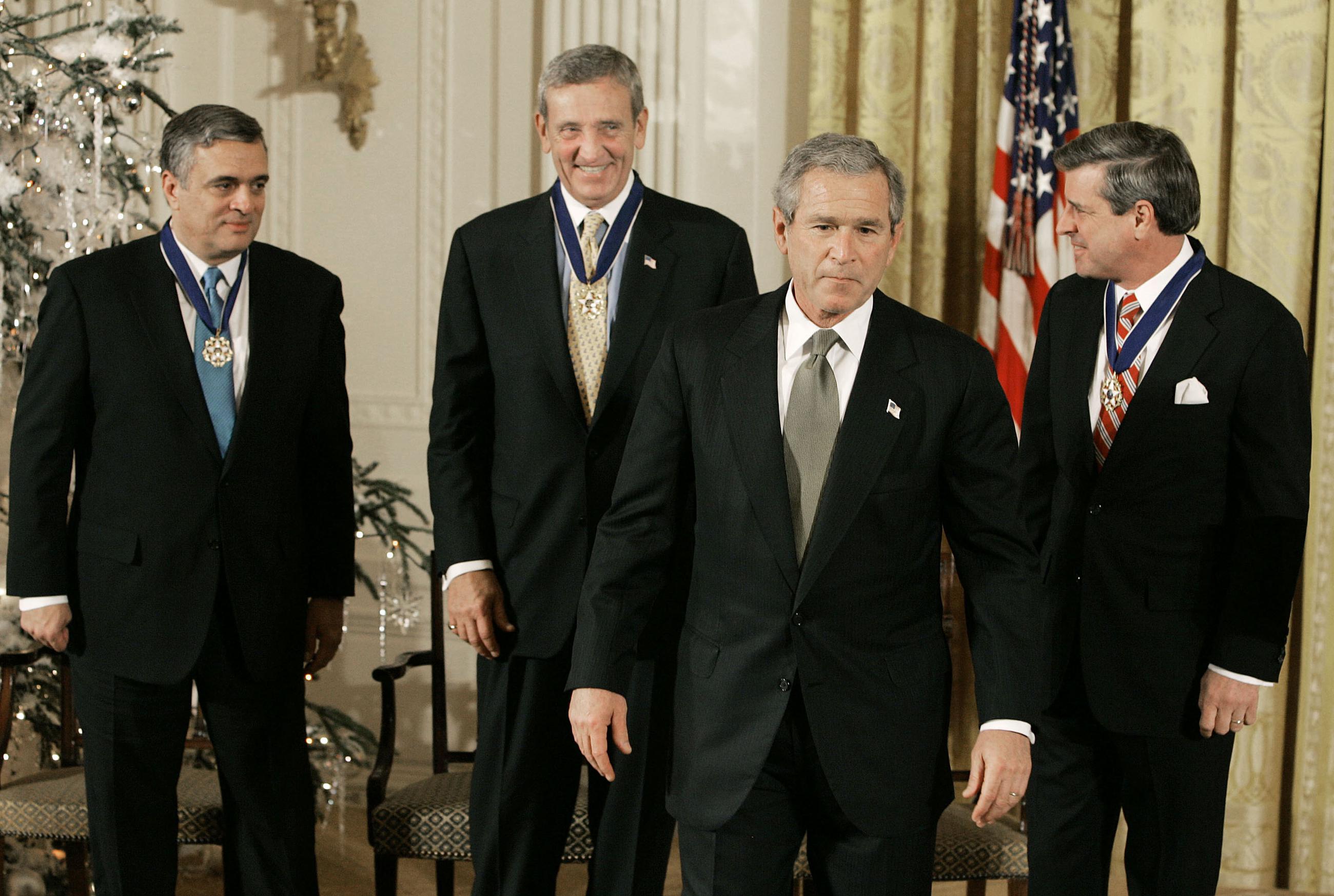 2. In­sti­tu­tion­al ar­rog­ance and over­reach. Early in his second term, Bush brushed aside ques­tions about Bern­ard Kerik's back­ground and nom­in­ated the former New York po­lice com­mis­sion­er to head the Home­land Se­cur­ity De­part­ment. Baker con­cluded the move "demon­strated that a pres­id­ent at the peak of his power and in­flu­ence thought he could dis­miss such is­sues and the rest of Wash­ing­ton would go along." A short time later, Bush awar­ded Pres­id­en­tial Medals of Free­dom to George Ten­et, Jerry Bremer, and Tommy Franks, three ar­chi­tects of the Ir­aq War. "It was the act of a pres­id­ent fresh off reelec­tion feel­ing em­powered and a little de­fi­ant," Baker wrote.Bush walks off stage after present­ing the Medal of Free­dom to (from left) Ten­et, Franks, and Bremer. (Mark Wilson/Getty Im­ages)
Shortly after his reelec­tion, at the height of his powers, Obama faced a choice in the 2012 lame-duck ses­sion of Con­gress: Lead with hu­mil­ity and seek com­prom­ise with the GOP on a long-term budget deal, or rub Re­pub­lic­an faces in de­feat. Obama forced his rivals to ac­cept high­er taxes on the wealthy. It was his prerog­at­ive; he won the elec­tion. And he set the tone for a harsh and hu­mi­li­at­ing 2013. Mean­while "¦
3. First-term suc­cess haunted the second term. The in­creas­ingly un­pop­u­lar Ir­aq war Was an is­sue in 2004, even after Sad­dam Hus­sein's cap­ture, but Bush had man­aged to fin­esse it for reelec­tion. Obama's white whale was the Af­ford­able Care Act. In both cases, luck ran out after Elec­tion Day. The death toll rose in Ir­aq dur­ing Bush's fifth year. For Obama, the fed­er­al health in­sur­ance web­site didn't work, and mil­lions of Amer­ic­ans lost their in­sur­ance policies des­pite his prom­ises to the con­trary.
Both pres­id­ents de­ceived the pub­lic about their sig­na­ture policies, and their cred­ib­il­ity crumbled. In­su­lar­ity hurt both teams. Vice Pres­id­ent Dick Cheney fam­ously said the Ir­aq in­sur­gency was in its "last throes." Obama and his ad­visers char­ac­ter­ized cata­stroph­ic flaws with the ACA web­site as "glitches." Mak­ing mat­ters worse "¦
4. Nobody took re­spons­ib­il­ity. Faced with fail­ure, Bush and Obama re­luct­antly ac­know­ledged the pub­lic's frus­tra­tion. "Like most Amer­ic­ans," Bush said of Ir­aq in mid-2005, "I see the im­ages of vi­ol­ence and blood­shed. Every pic­ture is hor­ri­fy­ing, and the suf­fer­ing is real. Amid all this vi­ol­ence, I know Amer­ic­ans ask the ques­tion: Is the sac­ri­fice worth it? It is worth it, and it is vi­tal to the fu­ture se­cur­ity of our coun­try."
Eight years later, a chastened Obama ad­dressed his broken prom­ises on health care. "I com­pletely get how up­set­ting this can be for a lot of Amer­ic­ans, par­tic­u­larly after as­sur­ances they heard from me," Obama said in Novem­ber. "To those Amer­ic­ans, I hear you loud and clear."
As I wrote last week, the pres­id­ents also shared an al­lergy to fir­ing people. Their re­luct­ance may have something to do with the fact that they "¦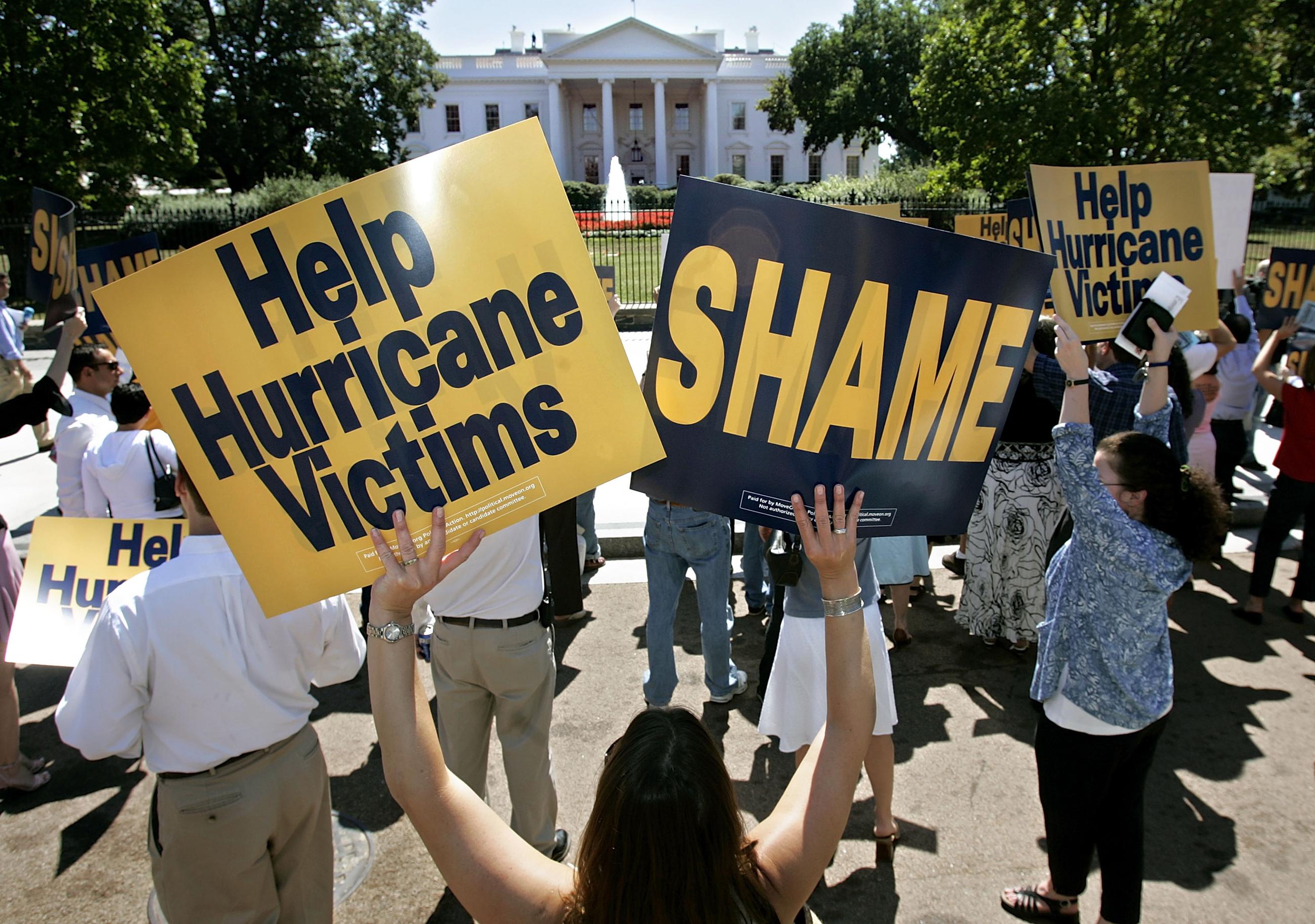 5. Dragged their feet in re­sponse to crises. In his chapter on Hur­ricane Kat­rina, Baker wrote, "Now deep in the fight year of a pres­id­ency already marked by one crisis after an­oth­er, Bush was slow to re­cog­nize the scale of the dis­aster." By the time he did, it was too late. Steve Schmidt, the vice pres­id­ent's coun­selor, wrote in an email to a col­league, "This is the end of the pres­id­ency." Mo­ve­On PAC mem­bers and sup­port­ers march in protest of the Bush ad­min­is­tra­tion's hand­ling of Hur­ricane Kat­rina. (Chip So­mod­ev­illa/Getty Im­ages)
Des­pite warn­ings that the health care web­site wasn't ready, the White House went ahead with the rol­lout and then min­im­ized the ex­tent of the prob­lems, even in­tern­ally, for weeks.
In fair­ness, the pres­id­ents had to deal with "¦.
6. An op­pos­i­tion party that took par­tis­an­ship to new levels. Writ­ing of Bush's ill-fated ef­fort to over­haul the So­cial Se­cur­ity sys­tem, Baker said, "Demo­crats had seized on the is­sue to at­tack Bush, cal­cu­lat­ing it was a way of weak­en­ing a newly reelec­ted pres­id­ent." The Obama White House and its apo­lo­gists seem to for­get the zero-sum game tac­tics of Bush-era Demo­crats when they cri­ti­cize con­gres­sion­al Re­pub­lic­ans (ac­cur­ately) for mak­ing pres­id­en­tial de­struc­tion a sin­gu­lar goal. Like Bush, Obama also had an op­pos­ite prob­lem "¦
7. Pres­sure from the base. Bush got beat up by fel­low Re­pub­lic­ans over his choice of Har­riet Miers to serve on the Su­preme Court. Con­ser­vat­ives be­lieved she was pro­fes­sion­ally and ideo­lo­gic­ally un­suited. "He was mad at his aides, ag­grav­ated that they had let this hap­pen," Baker wrote of the Miers nom­in­a­tion, which was with­drawn. "But he real­ized he was the one who had put his friend in the situ­ation and it was time to find a way out."
Op­pos­i­tion from lib­er­als didn't stop Obama from pro­pos­ing en­ti­tle­ment re­form in pub­lic, but the protests had the in­ten­ded ef­fect in private. The pres­id­ent felt hemmed in by the Left dur­ing budget ne­go­ti­ations, ac­cord­ing to White House of­fi­cials in­volved in the talks.
And, of course, there were the big dis­trac­tions "¦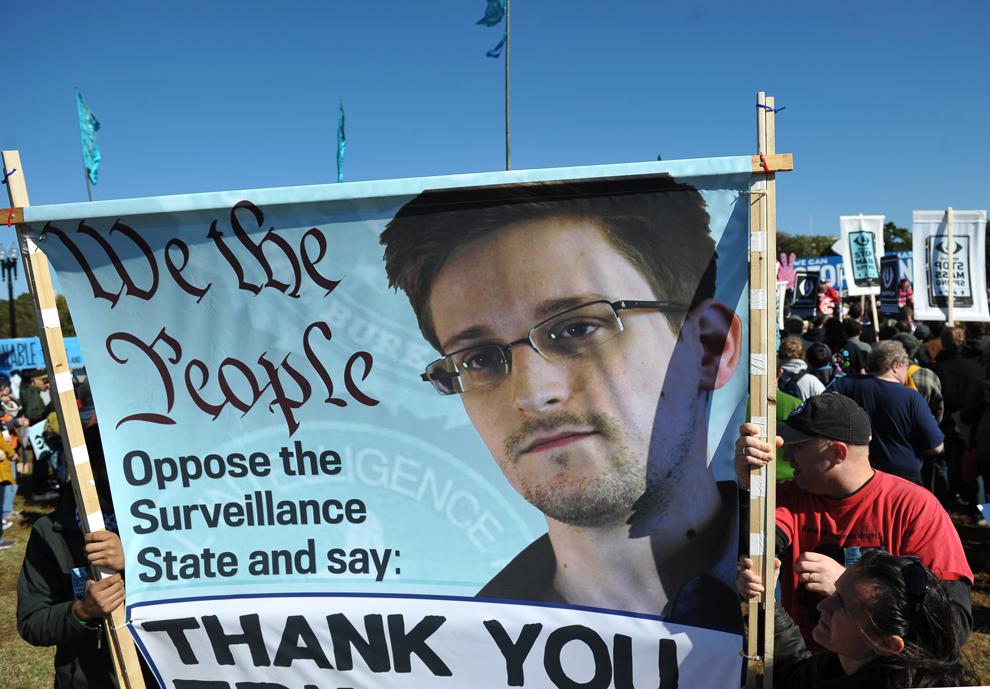 8. Scan­dals. For Bush, it was the in­vest­ig­a­tion of a leak the led to ex­pos­ure of an un­der­cov­er CIA agent. The in­quiry di­vided the White House staff and cast a pall over the ad­min­is­tra­tion. For Obama, it was the IRS's re­view of polit­ic­al or­gan­iz­a­tions, the Justice De­part­ment's seizure of As­so­ci­ated Press tele­phone re­cords, and wide­spread sur­veil­lance by the Na­tion­al Se­cur­ity Agency. The con­tro­ver­sies, along with the 2012 at­tack in Benghazi, Libya, were ex­acer­bated by the way the White House handled them — with shift­ing ex­plan­a­tions and, in some cases, out­right dis­tor­tions.(Photo by Man­del Ngan/AFP/Getty Im­ages)
All of this led to a miser­able fifth year and "¦
9. Failed agen­das. "Of the four do­mest­ic goals he had set for 2005," Baker wrote of Bush, "three were dead." Only tort re­form had been par­tially ac­com­plished. Obama had a sim­il­ar re­cord, fail­ing on guns, im­mig­ra­tion, and the long-term budget. Through fed­er­al reg­u­la­tions, he made par­tial pro­gress on cli­mate change.
Bush ended his fifth year in of­fice giv­ing a na­tion­al ad­dress on Ir­aq in which he showed an un­usu­al amount of con­tri­tion and ac­count­ab­il­ity. Ac­know­ledging the war had been "more dif­fi­cult than we ex­pec­ted," Bush offered an olive branch to war op­pon­ents.
"We will con­tin­ue to listen to hon­est cri­ti­cism and make every change that will help us com­plete the mis­sion," Bush said. He was re­war­ded with an 8-point bump in his ap­prov­al rat­ing to 47 per­cent, Baker wrote, "sug­gest­ing the pub­lic was still will­ing to listen."
That is the one ray of light for Obama. If after the events and mis­takes of 2005 Amer­ic­ans were still will­ing to listen to Bush, there may still be hope for Obama. His pres­id­ency might re­cov­er.
Of course, the next year brought a spate of worse news for Bush, primar­ily a grim and un­re­lent­ing es­cal­a­tion of war in Ir­aq — his white whale, the is­sue that even­tu­ally swal­lowed a pres­id­ency.
{{ BIZOBJ (video: 4631) }}