Dec. 16, 2013, 12:02 p.m.
For Texas tea parti­ers, the space between Sen­ate hero and Sen­ate vil­lain is just 26 votes.
That is the num­ber of times John Cornyn has cast a dif­fer­ent vote this year than the state's oth­er sen­at­or, the tea party-pre­ferred Ted Cruz.
It works out to less than 10 per­cent of the 273 (and count­ing) roll calls the Sen­ate has taken in 2013.
And in some of those votes, in­clud­ing a hand­ful of ju­di­cial con­firm­a­tions for Obama ad­min­is­tra­tion ap­pointees, Cornyn staked out a more con­ser­vat­ive po­s­i­tion than his fel­low Tex­an, who has be­come a grass­roots GOP star in the past two years.
But don't tell that to his tea-party crit­ics. In­deed, while Cruz has been cheered back home for his work in Wash­ing­ton, plenty of act­iv­ists in Texas have been hop­ing for the chance to de­feat Cornyn in the Texas Re­pub­lic­an primary. Some tea-party groups had tried for months to re­cruit a well-known chal­lenger. (Idio­syn­crat­ic Rep. Steve Stock­man sub­mit­ted pa­pers to take up their cause just minutes be­fore the fil­ing dead­line last week. Since then, he's bashed Cornyn as "lib­er­al John Cornyn.")
"The prob­lem with Sen. Cornyn isn't that he's some big lib­er­al," said JoAnn Flem­ing, ex­ec­ut­ive dir­ect­or for one of the groups, Grass­roots Amer­ica We the People, which tried to re­cruit a chal­lenger to Cornyn. "He con­tin­ues to do fun­draisers and of­fer sup­port for es­tab­lish­ment-type Re­pub­lic­ans who we be­lieve aren't help­ing to get to the root of the prob­lem: big gov­ern­ment…. He's done some things we be­lieve aren't in the best in­terest of the coun­try be­cause they con­tin­ue to grow gov­ern­ment."
Of course, it's the con­tent of par­tic­u­lar split votes, not the total num­ber, that most an­im­ates Cornyn's de­tract­ors. (This ana­lys­is coun­ted roll calls in which both sen­at­ors voted. Cornyn and Cruz have missed five and 16 votes this year, re­spect­ively.)
He and Cruz have di­verged in­fre­quently, but one such vote was on a clo­ture mo­tion for a spend­ing bill just be­fore the fed­er­al gov­ern­ment shut down this fall. Days earli­er on Fox News Sunday, Cruz had said, "A vote for clo­ture is a vote for Obama­care."
And Cornyn has also taken past votes — es­pe­cially the one to let the fed­er­al gov­ern­ment bail out en­dangered banks dur­ing the fin­an­cial crisis of 2008 — that have in­furi­ated some con­ser­vat­ives.
That, along with Cornyn's status in lead­er­ship (the Sen­ate's No. 2 Re­pub­lic­an and two re­cent terms at the helm of the Na­tion­al Re­pub­lic­an Sen­at­ori­al Com­mit­tee), has fueled some dis­quiet about the Lone Star State's seni­or sen­at­or since he won a thor­oughly un­in­ter­est­ing primary in 2008 with 81 per­cent of the vote.
But as his of­fi­cial du­ties go, there is little day­light between Cornyn and the fa­vor­ite of the act­iv­ists work­ing to un­seat him.
What We're Following See More »
SAUDI ARABIA BILL
Veto Override Scheduled for Wednesday in Senate
9 minutes ago
THE LATEST
Senate Majority Leader Mitch McConnell said this afternoon that the Senate on Wednesday will take up an override of President Obama's veto of legislation that would allow the families of 9/11 victims to sue the government of Saudi Arabia. "The vote is expected garner the two-thirds majority necessary to override the veto."
MEDIA SHOULD HOLD TRUMP RESPONSIBLE
Reid Devotes Senate Floor Speech to Trump's 'Racism'
53 minutes ago
THE LATEST
"Donald Trump is a racist," announced Senate Minority Leader Harry Reid from the Senate floor this afternoon. Reid said all of us are occasionally politically incorrect, but "I don't know of anyone that when that happens doesn't acknowledge it and, if necessary, apologize quickly." But Trump, he added, says things with "full intent to demean and to denigrate." Reid argued that the media isn't holding Trump to account, and should explicitly call him a racist.
ABSENT FROM LIST: GENNIFER FLOWERS
Most Trump Guests Have Military Ties
4 hours ago
TOP OF MIND
Trending on Google: 'Why Should Trump Not Be President'
4 hours ago
THE DETAILS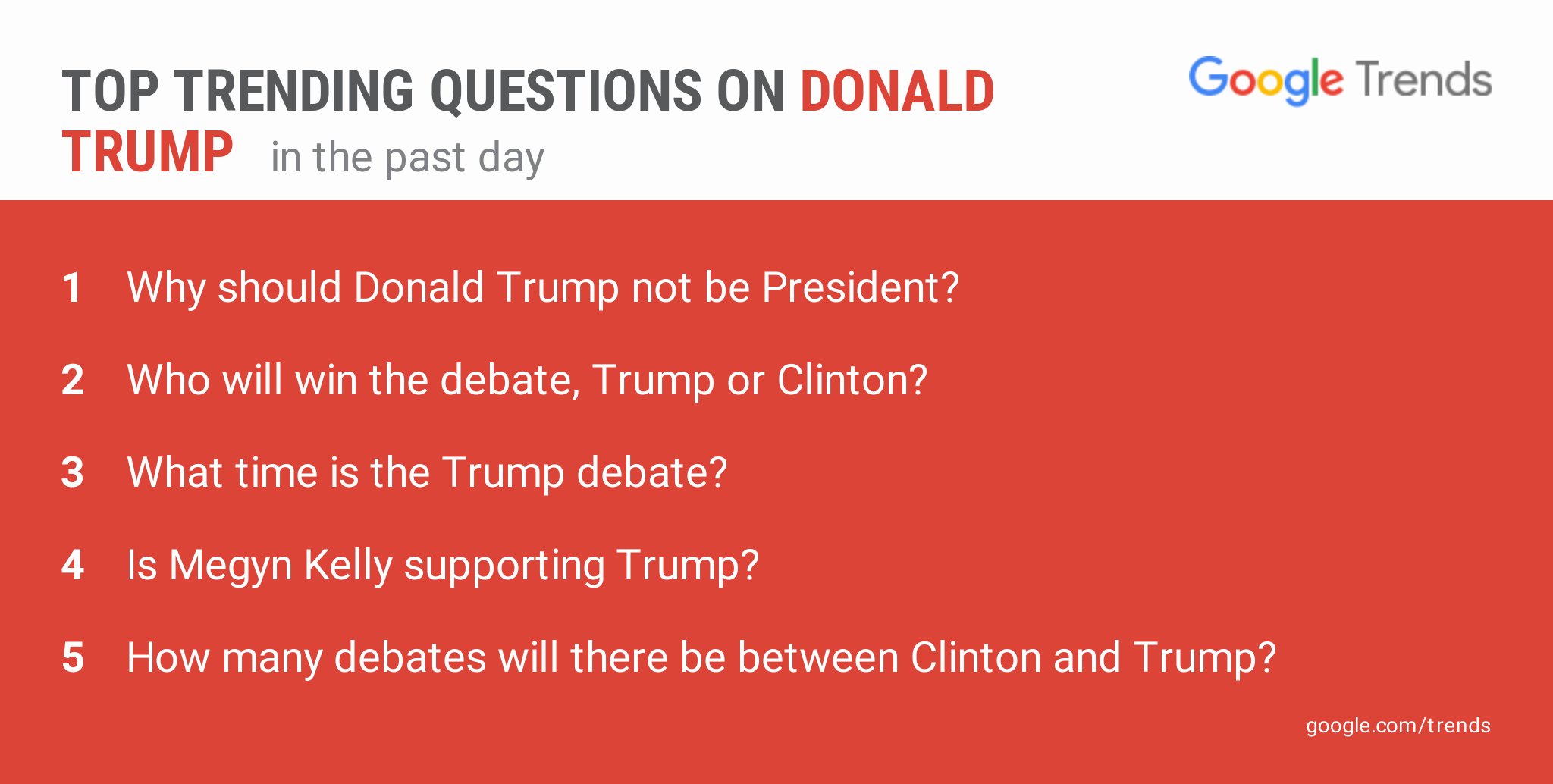 WHO PLAYED THE DONALD?
Longtime Clinton Aide Played Trump in Mock Debates
6 hours ago
THE DETAILS
After keeping the information private for most of the lead-up to the debate on Monday, it has been revealed that longtime Clinton aide Philippe Reines has been playing the role of Donald Trump in her debate prep. Reines knows Clinton better than most, able to identify both her strengths and weaknesses, and his selection for a sparring partner shows that Clinton is preparing for the brash and confrontational Donald Trump many have come to expect.