The In­teri­or De­part­ment should beef up ef­forts to en­sure tax­pay­ers get a fair re­turn on bil­lions of dol­lars worth of pet­ro­leum that oil and gas com­pan­ies pro­duce from fed­er­al lands and wa­ters, con­gres­sion­al aud­it­ors said.
A Gov­ern­ment Ac­count­ab­il­ity Of­fice re­port re­leased Tues­day looks crit­ic­ally at the in­tric­ate sys­tem of lease terms for com­pan­ies that took in over $66 bil­lion in fisc­al 2012 from the sale of pet­ro­leum pro­duced in fed­er­ally owned re­gions.
The re­port is most crit­ic­al of In­teri­or's man­age­ment of on­shore areas, ar­guing that reg­u­lat­ors have been slug­gish in try­ing to ad­just roy­alty rates that have re­mained stat­ic at 12.5 per­cent even as oil prices — and com­pan­ies' re­turns — have soared.
"As a res­ult of not suc­cess­fully chan­ging fed­er­al reg­u­la­tions to provide it­self with the flex­ib­il­ity needed to make timely ad­just­ments to on­shore lease terms, In­teri­or's abil­ity to en­sure that the pub­lic is re­ceiv­ing a fair re­turn is lim­ited," the re­port states.
"Moreover, In­teri­or con­tin­ues to of­fer on­shore leases with lease terms — terms last­ing the life of the lease — that have not been ad­jus­ted in re­sponse to chan­ging mar­ket con­di­tions, po­ten­tially fore­go­ing a con­sid­er­able amount of rev­en­ue," adds the re­port that Sen­ate En­ergy and Nat­ur­al Re­sources Com­mit­tee Chair­man Ron Wyden, D-Ore., re­ques­ted.
It cred­its In­teri­or with some im­prove­ments, in­clud­ing in the man­age­ment of off­shore de­vel­op­ment, where roy­alty rates have in­creased, but said more is needed. That's es­pe­cially true for on­shore re­gions, where In­teri­or has less lee­way to make changes ab­sent form­al changes to its reg­u­la­tions.
Oil and gas pro­du­cers paid the fed­er­al gov­ern­ment $10 bil­lion in roy­al­ties and oth­er pay­ments in fisc­al 2012 from fed­er­al lands and wa­ters, but the re­port sug­gests a bet­ter re­turn is pos­sible.
In­teri­or, in a re­sponse to GAO in­cluded with the re­port, said it's work­ing to ad­dress re­com­mend­a­tions to up­date its rules and policies.
The de­part­ment's plans in­clude a new reg­u­la­tion that will al­low In­teri­or "broad flex­ib­il­ity" to set on­shore roy­alty rates, ac­cord­ing to a let­ter to GAO from Rhea Suh, In­teri­or's as­sist­ant sec­ret­ary for policy, man­age­ment, and budget.
Wyden has said he hopes to im­prove the fed­er­al sys­tem that gov­erns en­ergy roy­al­ties.
In a state­ment Tues­day, Wyden said the GAO re­port "drives home the point" that In­teri­or "may not be keep­ing up with times."
"The In­teri­or De­part­ment has an ob­lig­a­tion to en­sure Amer­ic­an tax­pay­ers are get­ting a fair re­turn for com­mer­cial use of their pub­lic lands. Since a ma­jor share of on­shore roy­al­ties also go to states and In­di­an tribes, short­com­ings in roy­alty col­lec­tions also short those states and Tribes," he said.
What We're Following See More »
SAUDI ARABIA BILL
Veto Override Scheduled for Wednesday in Senate
14 minutes ago
THE LATEST
Senate Majority Leader Mitch McConnell said this afternoon that the Senate on Wednesday will take up an override of President Obama's veto of legislation that would allow the families of 9/11 victims to sue the government of Saudi Arabia. "The vote is expected garner the two-thirds majority necessary to override the veto."
MEDIA SHOULD HOLD TRUMP RESPONSIBLE
Reid Devotes Senate Floor Speech to Trump's 'Racism'
58 minutes ago
THE LATEST
"Donald Trump is a racist," announced Senate Minority Leader Harry Reid from the Senate floor this afternoon. Reid said all of us are occasionally politically incorrect, but "I don't know of anyone that when that happens doesn't acknowledge it and, if necessary, apologize quickly." But Trump, he added, says things with "full intent to demean and to denigrate." Reid argued that the media isn't holding Trump to account, and should explicitly call him a racist.
ABSENT FROM LIST: GENNIFER FLOWERS
Most Trump Guests Have Military Ties
4 hours ago
TOP OF MIND
Trending on Google: 'Why Should Trump Not Be President'
4 hours ago
THE DETAILS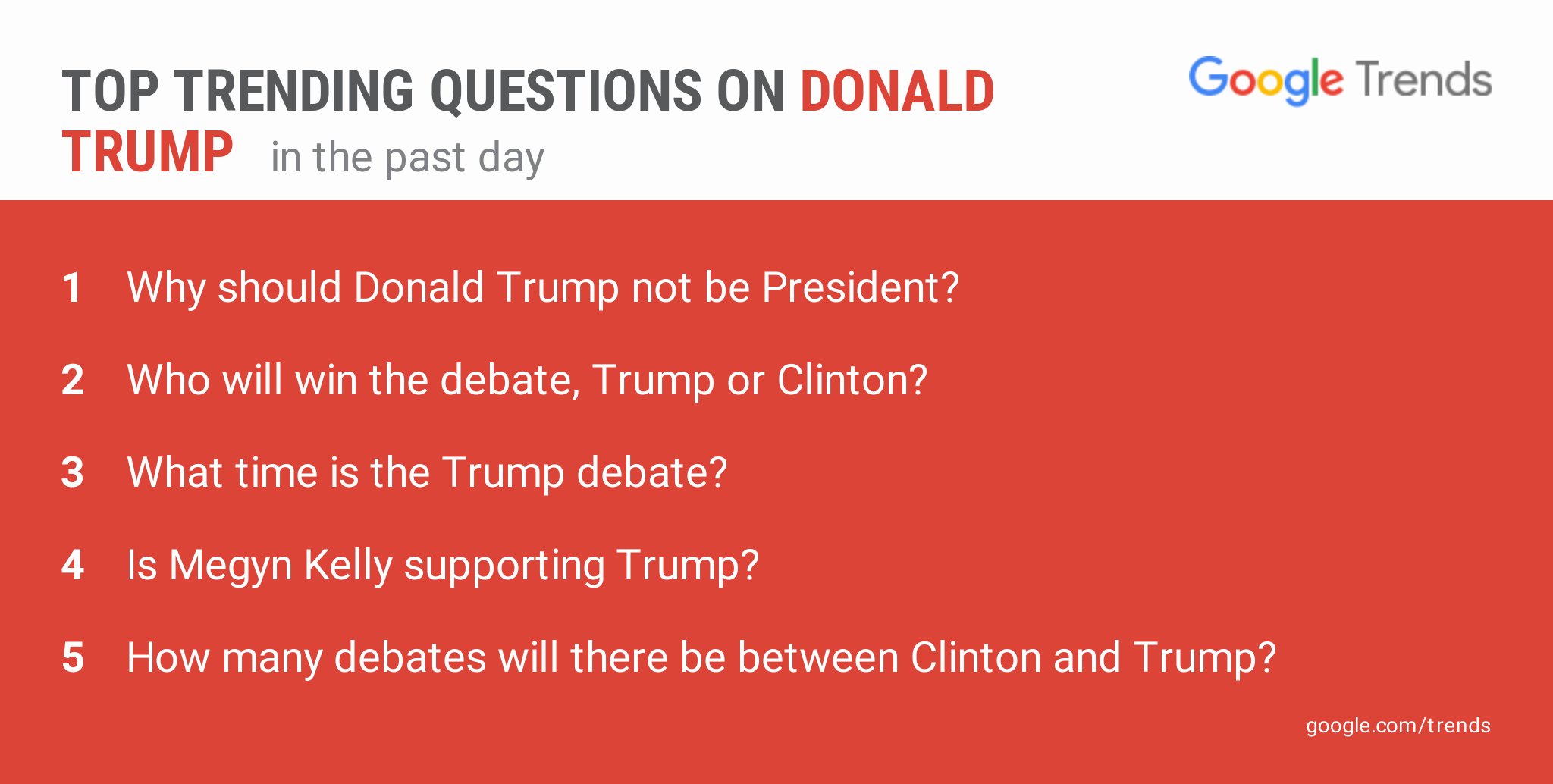 WHO PLAYED THE DONALD?
Longtime Clinton Aide Played Trump in Mock Debates
7 hours ago
THE DETAILS
After keeping the information private for most of the lead-up to the debate on Monday, it has been revealed that longtime Clinton aide Philippe Reines has been playing the role of Donald Trump in her debate prep. Reines knows Clinton better than most, able to identify both her strengths and weaknesses, and his selection for a sparring partner shows that Clinton is preparing for the brash and confrontational Donald Trump many have come to expect.