Add to Briefcase
Oct. 27, 2016, 8 p.m.
The clear divergence on energy policy
Bill Mur­ray, writ­ing for Real­Clear­Polit­ics
While Ken Bone has be­come a meme, he is also "the man who in­jec­ted the one ser­i­ous policy ques­tion on en­ergy and the en­vir­on­ment" in­to the cam­paign. In re­sponse to his ques­tion at the second pres­id­en­tial de­bate, the can­did­ates es­sen­tially re­it­er­ated their well-es­tab­lished policies, re­veal­ing to the cap­tive na­tion­al audi­ence "an enorm­ous policy gap." Don­ald Trump "handles the conun­drum of bal­an­cing cli­mate con­cerns with en­ergy jobs by simply ig­nor­ing cli­mate change al­to­geth­er," while Hil­lary Clin­ton says "one thing in pub­lic and an­oth­er in private." Since be­fore he an­nounced his cam­paign for pres­id­ent, Trump has called cli­mate change a hoax propag­ated by China; as pres­id­ent, he would likely roll back "most, if not all, of Pres­id­ent Obama's en­vir­on­ment­al reg­u­la­tions." As for Clin­ton, John Podesta's emails re­leased by WikiLeaks show that her cam­paign has a "strong anti-oil and -coal rhet­or­ic in pub­lic while dra­mat­ic­ally di­al­ing back such rhet­or­ic in private." Now we wait and see if "the next pres­id­ent car­ries Obama's cli­mate plans for­ward … or stomps them in­to the dust."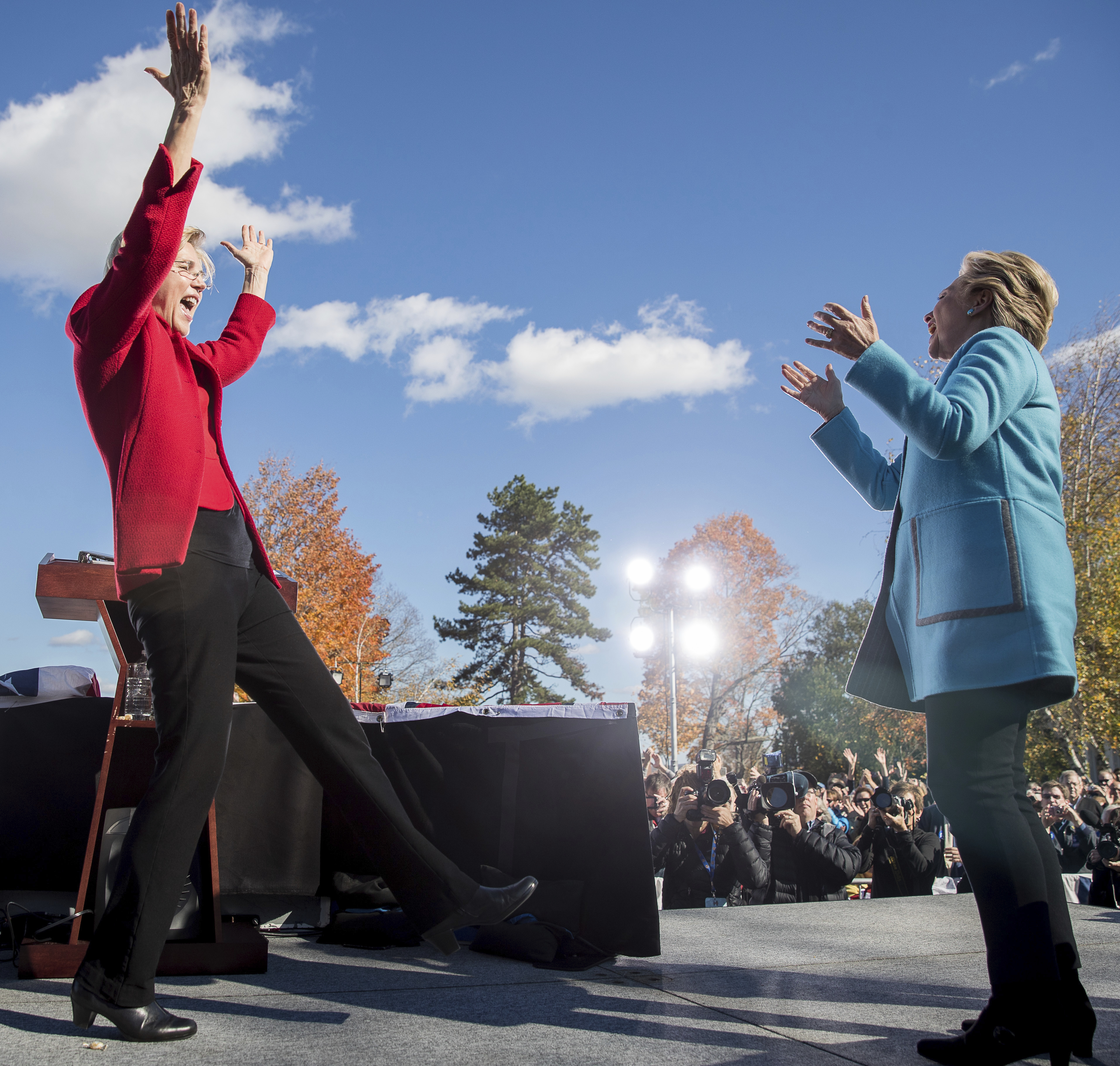 Warren, Sanders ready to command Democratic Party
Daniel Hen­ninger, writ­ing for The Wall Street Journ­al
When asked in a re­cent poll if they prefer a Demo­crat­ic Sen­ate to help Hil­lary Clin­ton or a Re­pub­lic­an Sen­ate as a check on Clin­ton, 53 per­cent of voters chose the lat­ter. The ob­vi­ous ex­ten­sion from that ques­tion: If Demo­crats win the Sen­ate, "would you be happy with Eliza­beth War­ren and Bernie Sanders as co-pres­id­ents of the United States?" Eliza­beth War­ren is not cris­scross­ing the coun­try for Clin­ton and Demo­crat­ic can­did­ates solely to get them elec­ted. "She's get­ting out the vote to make sure Eliza­beth War­ren is in po­s­i­tion next year to co-run the gov­ern­ment from Cap­it­ol Hill." Sanders and War­ren are work­ing for the soul of the Demo­crat­ic Party, ready to push back on Clin­ton if she moves too far to­wards the cen­ter. Clin­ton has hugged them close to get elec­ted pres­id­ent; she might have to set up a bunk bed for them in the White House.
Canada sees the worst of America in 2016
Fath­er Ray­mond J. de Souza, writ­ing for the Na­tion­al Post
Eight years ago, Amer­ica was the land of hope and change, and while the anoint­ment of Pres­id­ent Obama was "mes­si­an­ic," it was ac­cep­ted. "Now it is the sea­son of fear. … The 2016 elec­tion has held up a mir­ror to Amer­ica, and she is not beau­ti­ful." Much of the con­ver­sa­tion this cycle has sur­roun­ded which "70-year-old man … with a life­time his­tory of lech­ery" will be resid­ing in the White House come Jan. 20, with a fo­cus on the way Don­ald Trump has spoken about wo­men "as dis­pos­able sexu­al ob­jects." While her short­com­ings are not on the same level as miso­gyny and sub­jec­tion of wo­men, "Hil­lary Clin­ton rep­res­ents the apex of an­oth­er gen­er­a­tions-long de­grad­a­tion of Amer­ic­an polit­ics: namely, the use of pub­lic of­fice as a means of per­son­al en­rich­ment." Amer­ica is ready for the end of what has been a hideous cam­paign for pres­id­ent. "They will fi­nally be able to put down the mir­ror. But the face will re­main dis­figured and dis­eased."