Dec. 17, 2013, 10:34 a.m.
Don't ex­pect the re­l­at­ive fisc­al peace on the Hill en­gendered by the budget deal to last for long. Top Re­pub­lic­ans are already look­ing ahead to the next fight: the debt ceil­ing.
"I doubt that the House, or, for that mat­ter, the Sen­ate, is will­ing to give the pres­id­ent a clean debt-ceil­ing in­crease," Sen­ate Minor­ity Lead­er Mitch Mc­Con­nell told re­port­ers Tues­day.
Mc­Con­nell ap­peared to de­fer to his House GOP coun­ter­parts to fig­ure out what, ex­actly, they can ex­tract us­ing the lever­age of the debt ceil­ing. "I can't ima­gine it be­ing done 'clean,' so we'll have to see what the House in­sists on adding to it as a con­di­tion for pas­sage."
His com­ments come after House Budget Chair­man Paul Ry­an said over the week­end that his caucus, with Sen­ate coun­ter­parts, will have to "meet and dis­cuss what it is we want out of the debt lim­it."
"We don't want noth­ing out of this debt lim­it," Paul said on Fox News Sunday. "We're go­ing to de­cide what it is we can ac­com­plish out of this debt-lim­it fight."
Con­gress may not have to face the pro­spect of rais­ing the coun­try's bor­row­ing lim­it un­til March, or maybe even as late as June, ac­cord­ing to the Con­gres­sion­al Budget Of­fice.
Mc­Con­nell, who has been re­l­at­ively mum on the debt lim­it in the gov­ern­ment-shut­down af­ter­math, still eyes the debt lim­it as something that Re­pub­lic­ans can use to get something out of the ad­min­is­tra­tion and Demo­crat­ic con­gres­sion­al lead­ers.
"Every time the pres­id­ent asks us to raise the debt ceil­ing is a good time to try and achieve something im­port­ant for the coun­try, and as you all know, many sig­ni­fic­ant pieces of le­gis­la­tion have been at­tached to debt ceil­ings over the years," Mc­Con­nell said Tues­day. "The debt-ceil­ing le­gis­la­tion is a time that brings us all to­geth­er and gets the pres­id­ent's at­ten­tion, which with this pres­id­ent in par­tic­u­lar when it comes to re­du­cing spend­ing, is a bit of a chal­lenge."
Michael Catalin contributed to this article.
What We're Following See More »
SAUDI ARABIA BILL
Veto Override Scheduled for Wednesday in Senate
9 minutes ago
THE LATEST
Senate Majority Leader Mitch McConnell said this afternoon that the Senate on Wednesday will take up an override of President Obama's veto of legislation that would allow the families of 9/11 victims to sue the government of Saudi Arabia. "The vote is expected garner the two-thirds majority necessary to override the veto."
MEDIA SHOULD HOLD TRUMP RESPONSIBLE
Reid Devotes Senate Floor Speech to Trump's 'Racism'
53 minutes ago
THE LATEST
"Donald Trump is a racist," announced Senate Minority Leader Harry Reid from the Senate floor this afternoon. Reid said all of us are occasionally politically incorrect, but "I don't know of anyone that when that happens doesn't acknowledge it and, if necessary, apologize quickly." But Trump, he added, says things with "full intent to demean and to denigrate." Reid argued that the media isn't holding Trump to account, and should explicitly call him a racist.
ABSENT FROM LIST: GENNIFER FLOWERS
Most Trump Guests Have Military Ties
4 hours ago
TOP OF MIND
Trending on Google: 'Why Should Trump Not Be President'
4 hours ago
THE DETAILS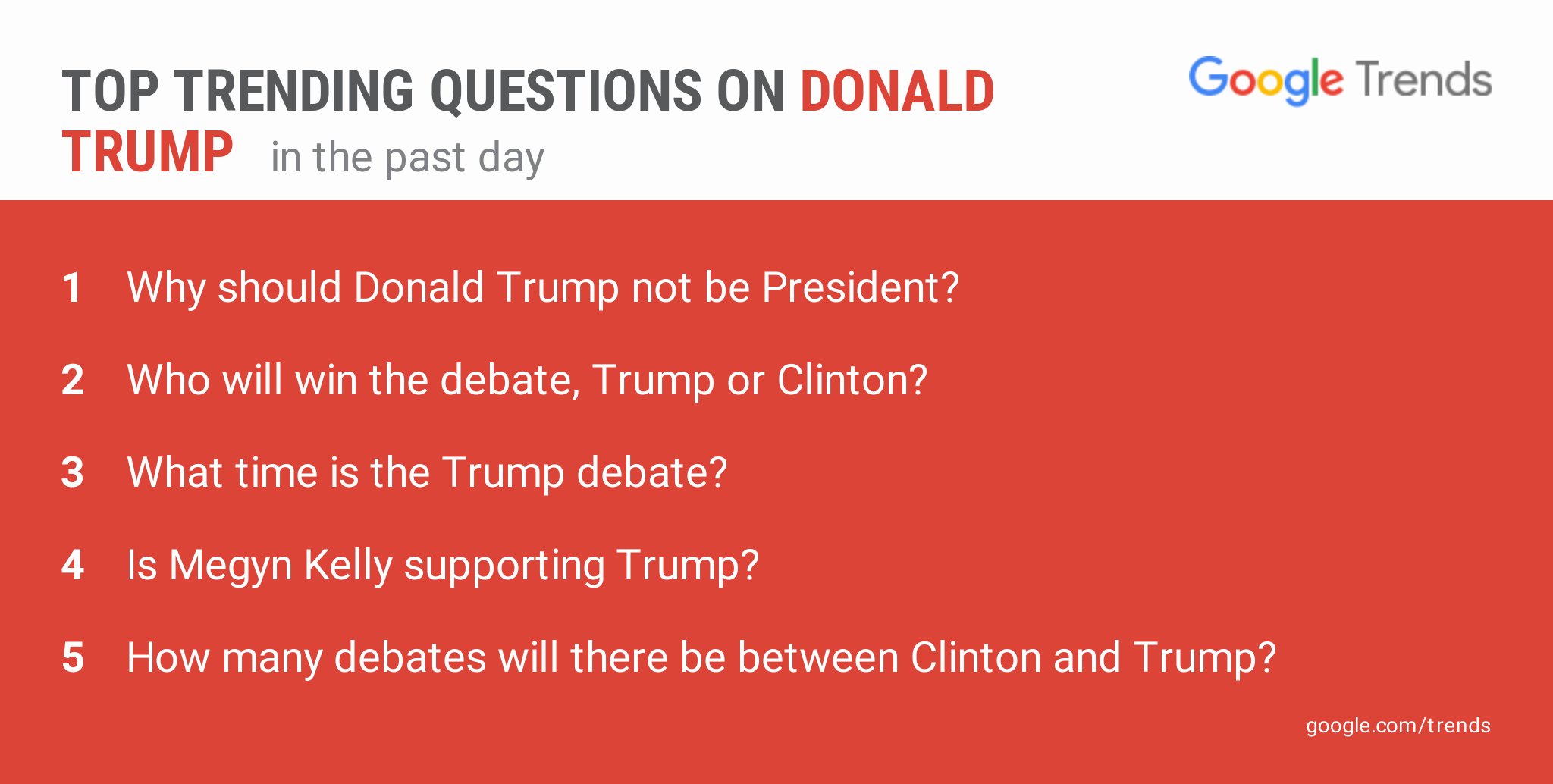 WHO PLAYED THE DONALD?
Longtime Clinton Aide Played Trump in Mock Debates
6 hours ago
THE DETAILS
After keeping the information private for most of the lead-up to the debate on Monday, it has been revealed that longtime Clinton aide Philippe Reines has been playing the role of Donald Trump in her debate prep. Reines knows Clinton better than most, able to identify both her strengths and weaknesses, and his selection for a sparring partner shows that Clinton is preparing for the brash and confrontational Donald Trump many have come to expect.