Amer­ic­ans over­whelm­ingly fa­vor rais­ing the fed­er­al min­im­um wage, sug­gest­ing the is­sue could be one that gives Demo­crats some mo­mentum head­ing in­to the 2014 midterm elec­tions.
Ac­cord­ing to a Na­tion­al Journ­al poll, sup­port for rais­ing the cur­rent wage of $7.25 an hour is broad-based, cross­ing all in­come levels. Only about one-quarter of those sur­veyed be­lieve rais­ing the rate would harm the eco­nomy.
Ac­cord­ing to the poll, 71 per­cent of Amer­ic­ans said the wage should be boos­ted, with a sub­stan­tial num­ber of those sur­veyed — 39 per­cent — back­ing a hike to $10 an hour. What's more, 27 per­cent be­lieve the rate should be even high­er.
And while sup­port for a wage hike is highest among those who earn $30,000 an­nu­ally or less (79 per­cent), re­spond­ents who earn between $30,000 and $75,000 and those who earn more than $75,000 also sup­port rais­ing the wage in large num­bers — at 74 per­cent and 61 per­cent, re­spect­ively. Sup­port is highest among Afric­an-Amer­ic­ans (91 per­cent) and wo­men (74 per­cent).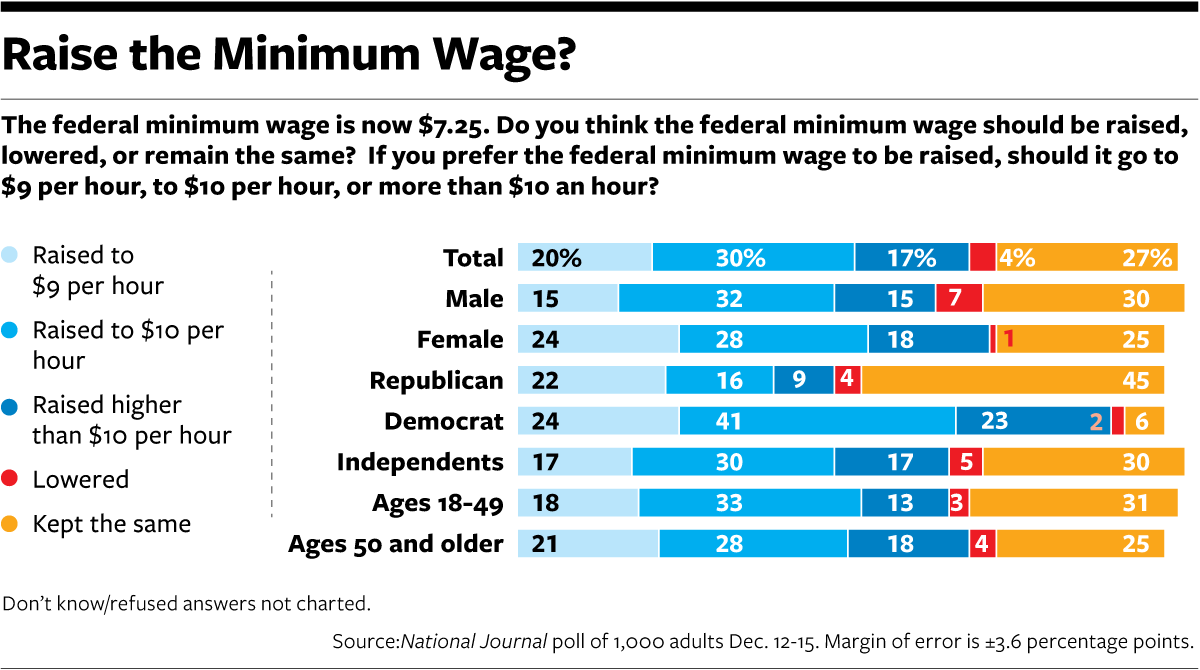 While 28 per­cent of those sur­veyed be­lieve rais­ing the wage would harm the eco­nomy, nearly half (48 per­cent) said it would act as a stim­u­lant.
Demo­crats and in­de­pend­ents over­whelm­ing fa­vor an in­crease, with sup­port touch­ing 92 per­cent and 70 per­cent, re­spect­ively. But about half of Re­pub­lic­ans sup­por­ted a min­im­um wage hike.
That could be im­port­ant in 2014 as Demo­crats try to make the min­im­um wage an elec­tion-year ar­gu­ment. Pres­id­ent Obama pro­posed hik­ing the wage to $9 an hour in his State of the Uni­on ad­dress. House Re­pub­lic­ans this spring voted down a meas­ure to hike the wage to $10.10 an hour — a meas­ure Obama now says he sup­ports. The White House re­cently has pivoted back to the is­sue, both be­cause of grow­ing pres­sure from the pro­gress­ive base to take ac­tion and its need to shift the con­ver­sa­tion away from the tu­mul­tu­ous rol­lout of the Af­ford­able Care Act.
Sen­ate Demo­crats are ex­pec­ted to try to ad­vance a bill that would raise the wage to $10.10 early in the new year in ad­vance of the midterm elec­tions, but they will have dif­fi­culty find­ing sup­port from Re­pub­lic­ans in the cham­ber.
Con­gress last passed a min­im­um-wage hike in 2007, when George W. Bush was in the White House. And while law­makers have failed to act since then, a num­ber of states haven't waited. Cali­for­nia, Con­necti­c­ut, New Jer­sey, New York, and Rhode Is­land all passed in­creases this year. Mont­gomery and Prince George's counties in sub­urb­an Mary­land and the Dis­trict of Columbia are on course to even­tu­ally raise the wage loc­ally to $11.50 an hour.
The poll was con­duc­ted by land­line and cell-phone in­ter­views with a na­tion­ally rep­res­ent­at­ive sample of 1,000 adults by Prin­ceton Sur­vey Re­search As­so­ci­ates In­ter­na­tion­al from Dec. 12-15. The mar­gin of er­ror is plus or minus 3.6 per­cent­age points.