While most of this election cycle has been marked by an acceleration of changes in each party's coalition—a more urban, more educated Democratic Party and a whiter, more working-class Republican Party—one important demographic trend of the past decade could somewhat reverse this year.
Though Barack Obama was twice elected with remarkably high levels of support from young voters and opposition from seniors, Hillary Clinton's political career has been marked by challenges appealing to millennials but deep loyalty among some older voters. As Clinton seems increasingly likely to helm the Democratic Party of the future, several strategists say they are preparing for a decline in the sharp age gap that has defined the Democratic coalition in the Obama years. The change won't be dramatic, but a party remade in Clinton's image might feature a little less Obama-cool and a little more gray hair; slightly fewer '90s kids and more former flower-children; a bit less Kendrick Lamar and more Elton John.
"Obama was the pinnacle of age-based politics. Hillary is returning more to a traditional coalition," Democratic pollster Celinda Lake said. "Obama was incredibly strong with millennials, and helped make the millennials Democrats. The Clintons have always had some strength with seniors, and she's always had some strength with seniors."
While Clinton has made significant strides with millennial voters in recent weeks, she inspires far less loyalty than Obama did, losing more to third-parties. Meanwhile, a recent NBC News/Wall Street Journal poll showed her with a slight lead among seniors, which Romney won by 12 points in 2012. A FiveThirtyEight analysis of SurveyMonkey data in September comparing Obama's approval rating to support for Clinton showed her underperforming his support with 18-24 year olds while over-performing it with the oldest groups.
The result, in one recent Quinnipiac poll: Hillary Clinton won roughly the same percentage of the vote from 18-to-34-year-old respondents as she did from senior citizens.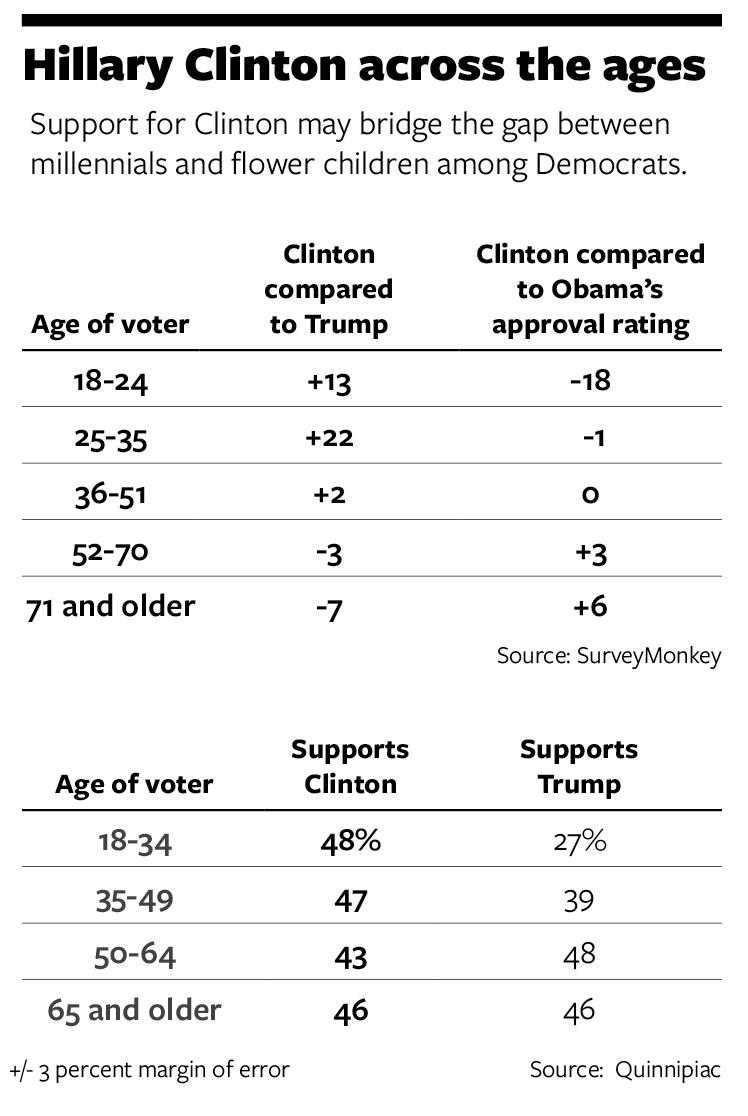 Other consultants were skeptical that Clinton will significantly outperform Obama with seniors—and some public polling is less positive than the NBC/WSJ poll—but the evolution would be a natural continuation of Clinton's last decade of presidential aspirations.
Twice faced with anti-Washington opponents who attracted overwhelming support from young voters—Obama and Sen. Bernie Sanders—Clinton has consistently found her staunchest supporters among older voters, a group that Democrats might have no choice but to rely on more if millennials continue to express more independence after Obama.
"The same patterns have emerged, where she's underperforming among millennials but doing relatively better against the outsider antiestablishment candidate [with older voters]," said Democratic pollster Ben Tulchin, who polled for Sanders. "She just represents the establishment. Older voters tend to be more establishment in their voting patterns."
Although Democrats remain worried about Clinton's ability to connect with young voters, her particular appeal to a set of older voters has some Democrats optimistic that, if elected, she might help her party perform somewhat better in midterm elections. While Obama's youthful coalition twice swept him to the presidency, it fell off dramatically in 2010 and 2014.
"Older voters vote in presidential years and in midterm elections," said Martha McKenna, a Democratic consultant. "When Hillary wins with older voters in the presidential … it'll help us start the 2018 election in a strong place because seniors are such a big part of the electorate."
A Democratic Party more reliant on support from older voters might also somewhat rethink its messaging in upcoming elections, some strategists said. While social issues and climate change, for example, are motivating issues for young voters, they tend not to be as important to older voters. Several Democrats pointed to Rep. Paul Ryan budget's proposals on entitlement reform as key issues with which they might be able to motivate a slightly older coalition.
A need to reach seniors could also preserve more traditional means of communication in Democratic campaigns, perhaps sustaining campaign tactics such as direct mail even as digital advertising becomes increasingly important to campaign strategies.
Other strategists, however, worry that being overly concerned about older, persuadable voters might result in underinvesting in outreach to young voters, who tend to express left-leaning views but are less attached to the Democratic Party and seem more willing to leave for third-party candidates.
"[With older voters] is where her moderate middle-of-the-road is helpful, but there's a direct tradeoff with millennials," Tulchin said. "I think there are a lot of points she's leaving on the board right now with millennials."
One question is whether Clinton's relative weakness with young voters and possible overperformance with older voters will endure for future elections, or whether it's merely a product of circumstances unique to this election.
Some Democrats said they expect that millennial voters will warm to her over time, especially if she focuses on policy fights where young voters overwhelmingly agree with Democratic positions. But other explanations for the shift—Clinton's perception as being closely tied to the establishment, a long-term bond forged with some voters going back to the 1990s, race, and cultural effect—suggest that Clinton's impact on the age makeup of the party could be long-lasting.
"I don't know if [millennials] are ever going to be as enthused as they are about President Obama," said Andrew Baumann, a pollster with the Global Strategy Group. "And among older voters there's going to be just a little bit more comfort with her than Obama."
Republican pollster Jim McLaughlin said Clinton is "probably doing a little bit better with older voters than she should be, but also she's underperforming with these millennials. … There's certain candidates who can really connect with a certain type of voter. Hillary Clinton hasn't shown an ability to connect with these young people."
As Lake pointed out, Clinton's cultural connection to older voters, and cultural disconnect with younger people, is unlikely to change.
"The things that made Obama contemporary to millennials, like the fist-bumping, it was like 'What did he just do?' to the seniors," Lake said. "The millennials had to explain it to their grandparents. No millennial has to explain Hillary Clinton to her grandparents."