More than 50 civil-liber­ties and In­ter­net-free­dom groups sent a let­ter to Con­gress on Wed­nes­day strongly re­ject­ing a bill to re­form the Na­tion­al Se­cur­ity Agency's data-col­lec­tion pro­grams be­cause it would "en­trench some of the worst forms of NSA sur­veil­lance."
The co­ali­tion is tar­get­ing the FISA Im­prove­ments Act, a meas­ure cham­pioned by Sen­ate In­tel­li­gence Com­mit­tee Chair­wo­man Di­anne Fein­stein, D-Cal­if., who has been among the NSA's most vo­cal de­fend­ers since rev­el­a­tions about the agency's In­ter­net and phone metadata col­lec­tion began sur­fa­cing in June. Her bill enu­mer­ates prop­er use for the bulk-col­lec­tion pro­grams, re­quires the NSA to provide an­nu­al re­ports on the use of its tele­phone metadata data­base, and makes it a crim­in­al pen­alty to ac­cess data pro­cured via the For­eign In­tel­li­gence Sur­veil­lance Act without au­thor­iz­a­tion.
Cri­ti­cism of Fein­stein's bill is noth­ing new, but the let­ter fol­lows a fed­er­al judge's opin­ion re­leased earli­er this week that char­ac­ter­ized NSA sur­veil­lance as likely un­con­sti­tu­tion­al and "al­most Or­wellian." In re­sponse, Fein­stein con­ceded Tues­day that the Su­preme Court, not Con­gress, should de­cide the con­sti­tu­tion­al­ity of the agency's data col­lec­tion.
Fein­stein's bill "does not of­fer real re­form to stop the NSA's mass col­lec­tion of our com­mu­nic­a­tions and com­mu­nic­a­tions re­cords," reads the let­ter, whose sig­nat­or­ies in­clude Red­dit, the Amer­ic­an Civil Liber­ties Uni­on, and Hu­man Rights Watch. The bill in­stead "seeks to en­trench some of the worst forms of NSA sur­veil­lance in­to U.S. law and to ex­tend the NSA sur­veil­lance pro­grams in un­pre­ced­en­ted ways."
Fein­stein ap­pears un­likely to stop push­ing her le­gis­la­tion, however, say­ing in a state­ment Tues­day that she be­lieves the NSA's call-re­cords pro­gram "can be­ne­fit from ad­di­tion­al trans­par­ency and pri­vacy pro­tec­tions — in­clud­ing ad­di­tion­al pub­lic re­port­ing and ad­ded court re­view pro­vi­sions which were re­cently ad­op­ted by the Sen­ate In­tel­li­gence Com­mit­tee in the bi­par­tis­an FISA Im­prove­ments Act."
But Fein­stein's pub­lic de­fer­ence to the Su­preme Court, com­bined with a grow­ing sense among tech groups large and small that her bill merely co­di­fies the NSA's ex­ist­ing au­thor­ity, in­dic­ates that any mo­mentum for the bill is, for now, hal­ted.
"The re­cent fed­er­al judge's rul­ing that the Na­tion­al Se­cur­ity Agency's phone-sur­veil­lance pro­gram is likely un­con­sti­tu­tion­al un­der the Fourth Amend­ment is the latest con­firm­a­tion that mass sur­veil­lance is in­com­pat­ible with a demo­crat­ic so­ci­ety," said Joanna Parke, man­aging dir­ect­or of Thought­Works, which also signed the let­ter.
The let­ter does not ex­pressly sup­port al­tern­at­ive le­gis­la­tion pro­posed to rein in the NSA, but sev­er­al of the sig­nat­or­ies have pre­vi­ously ex­pressed sup­port for Rep. Jim Sensen­bren­ner's Free­dom Act, which had 115 co­spon­sors as of Tues­day. Sensen­bren­ner's bill and a mir­ror one in the Sen­ate by Ju­di­ciary Chair­man Patrick Leahy, D-Vt., would re­strict the col­lec­tion of metadata, cre­ate a spe­cial ad­voc­ate to over­see the secret For­eign In­tel­li­gence Sur­veil­lance Court, and de­mand the NSA in­crease its trans­par­ency and ac­count­ab­il­ity.
What We're Following See More »
UNTIL DEC. 9, ANYWAY
Obama Signs Bill to Fund Government
4 hours ago
REDSKINS IMPLICATIONS
SCOTUS to Hear Case on Offensive Trademarks
4 hours ago
WHY WE CARE
"The Supreme Court is taking up a First Amendment clash over the government's refusal to register offensive trademarks, a case that could affect the Washington Redskins in their legal fight over the team name. The justices agreed Thursday to hear a dispute involving an Asian-American rock band called the Slants, but they did not act on a separate request to hear the higher-profile Redskins case at the same time." Still, any precedent set by the case could have ramifications for the Washington football team.
STAFF PICKS
Bannon Still Collecting Royalties from 'Seinfeld'
6 hours ago
WHY WE CARE
The Hollywood Reporter takes a look at a little-known intersection of politics and entertainment, in which Trump campaign CEO Steve Bannon is still raking in residuals from Seinfeld. Here's the digest version: When Seinfeld was in its infancy, Ted Turner was in the process of acquiring its production company, Castle Rock, but he was under-capitalized. Bannon's fledgling media company put up the remaining funds, and he agreed to "participation rights" instead of a fee. "Seinfeld has reaped more than $3 billion in its post-network afterlife through syndication deals." Meanwhile, Bannon is "still cashing checks from Seinfeld, and observers say he has made nearly 25 times more off the Castle Rock deal than he had anticipated."
IT'S ALL CLINTON
Reliable Poll Data Coming in RE: Debate #1
6 hours ago
WHY WE CARE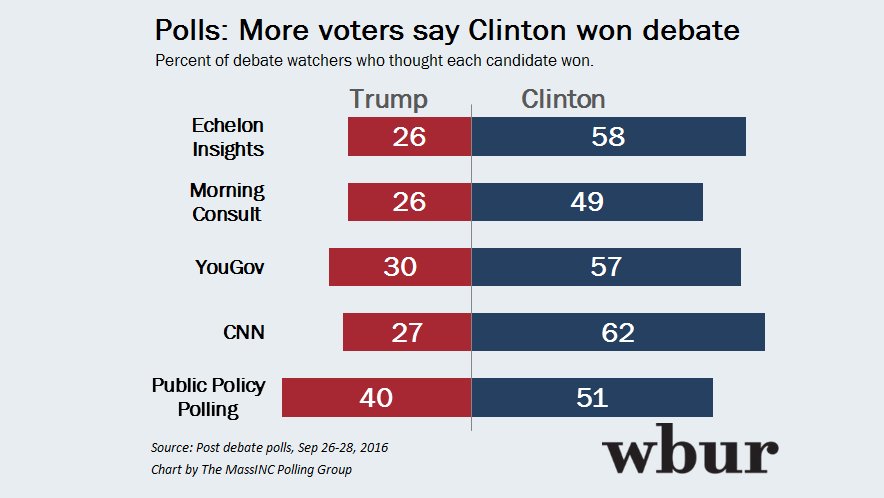 NEXT THURSDAY
Trump Transition Team Meeting with Silicon Valley VIPs
8 hours ago
THE DETAILS
Donald Trump's "transition team will meet next week with representatives of the tech industry, multiple sources confirmed, even as their candidate largely has been largely shunned by Silicon Valley. The meeting, scheduled for next Thursday at the offices of law and lobbying firm BakerHostetler, will include trade groups like the Information Technology Industry Council and the Internet Association that represent major Silicon Valley companies."