Dec. 18, 2013, 12:57 p.m.
When you have a Demo­crat like Sen. Mary Landrieu on your side, why both­er stick­ing your neck out for her Re­pub­lic­an chal­lenger?
So goes the mind-set of most big fossil-fuel com­pan­ies, which are pump­ing more of their money to Landrieu — one of the in­dustry's biggest sup­port­ers — than to her GOP chal­lenger, Rep. Bill Cas­sidy. Re­pub­lic­ans, who at­tract most of this in­dustry's back­ing and see a road to the Sen­ate ma­jor­ity run­ning through Louisi­ana, are not happy.
"We are max­ing out to her," one lob­by­ist for a ma­jor oil com­pany said about Landrieu. "And yes, we are field­ing phone calls and get­ting pres­sure from our friends on the Re­pub­lic­an side, say­ing: 'You're miss­ing a great op­por­tun­ity for a pickup.' "
One Re­pub­lic­an polit­ic­al strategist in­volved in Sen­ate races soun­ded a sim­il­ar tone, al­beit from the oth­er per­spect­ive.
"I give them grief all the time," the strategist said. "I say to them: 'What are you do­ing? Cut her off. Go neut­ral. We'll take that for now.' "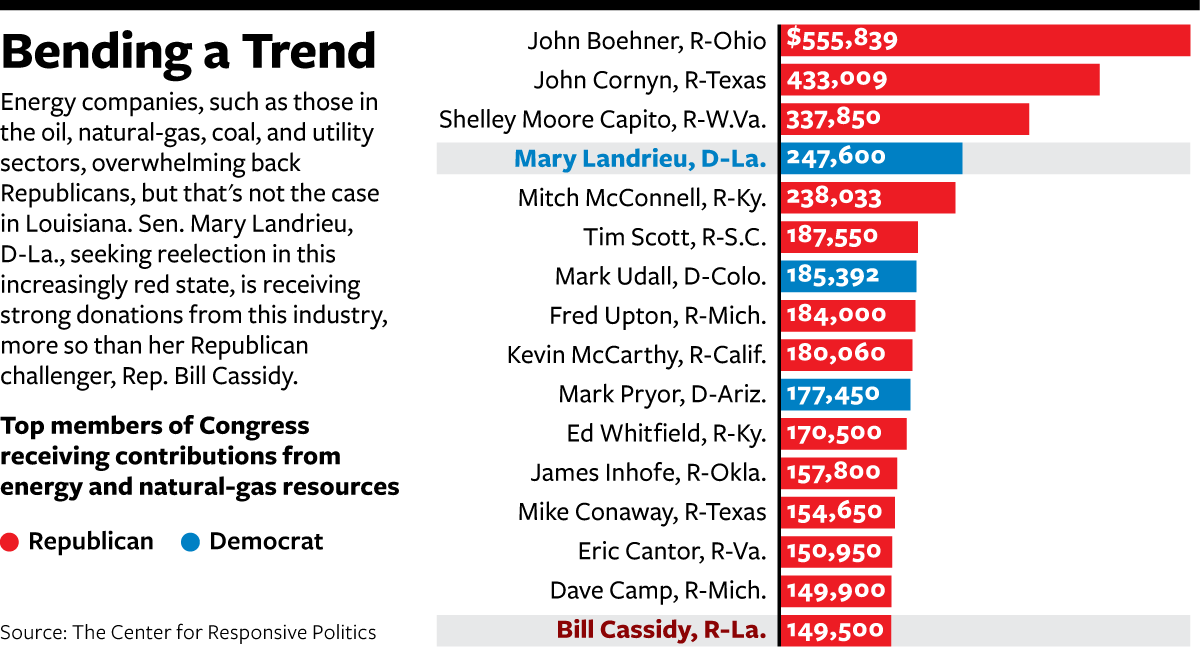 While en­ergy com­pan­ies are usu­ally known for back­ing Re­pub­lic­ans, Louisi­ana Sen. Mary Landrieu, D-La., is re­ceiv­ing strong dona­tions from this in­dustry. (Stephanie Stamm)En­ergy com­pan­ies, in­clud­ing those in the oil, nat­ur­al-gas, coal, and util­ity sec­tors, over­whelm­ingly fa­vor Re­pub­lic­an can­did­ates. Less than one-quarter of the money from this in­dustry has gone to Demo­crats so far this cycle, ac­cord­ing to Fed­er­al Elec­tion Com­mis­sion data com­piled by the Cen­ter for Re­spons­ive Polit­ics.
In fact, she is poised to chair the en­ergy com­mit­tee this Con­gress, giv­en the news Wed­nes­day that Pres­id­ent Obama is go­ing to nom­in­ate cur­rent Fin­ance Chair­man Max Baucus, D-Mont., to be am­bas­sad­or to China, which opens up that chair­man­ship to cur­rent En­ergy Chair­man Ron Wyden, D-Ore., whose dream job is to chair the power­ful Fin­ance pan­el. This will strengthen her po­s­i­tion even more run­ning for reelec­tion and at­tract more en­ergy dol­lars to her cam­paign.
"If Landrieu be­comes En­ergy Chair in 2014, it will help her cam­paign since its more ef­fect­ive to say that she IS chair than she WILL be chair," said an en­ergy ex­pert who re­ques­ted an­onym­ity im­me­di­ately fol­low­ing the news Wed­nes­day.
Landrieu, along with Sens. Mark Pry­or, D-Ark., and Mark Be­gich, D-Alaska, are ex­cep­tions to the rule that en­ergy com­pan­ies mostly sup­port Re­pub­lic­ans. This is prob­lem­at­ic for Re­pub­lic­ans who real­ize tak­ing back con­trol of the Sen­ate will likely re­quire pick­ing up as many of these three seats as pos­sible. Landrieu, who is lead­ing Cas­sidy in most polling by a hand­ful of per­cent­age points, has so far re­ceived $247,600 from the oil and gas in­dustry — the third highest out of any can­did­ate this cycle. Cas­sidy, mean­while, has re­ceived $149,500 from the sec­tor.
Pub­licly, Re­pub­lic­ans ex­press con­fid­ence this trend will change, es­pe­cially in Landrieu's race.
"As this race re­mains close, I think they will be un­der in­creas­ing pres­sure to make sure they are sup­port­ing both can­did­ates and look­ing at the race not through par­tis­an or in­cum­bent lenses, but who is go­ing to of­fer the best op­por­tun­ity to part­ner in job cre­ation in the en­ergy sec­tor in Louisi­ana," said Rob Collins, ex­ec­ut­ive dir­ect­or of the Na­tion­al Re­pub­lic­an Sen­at­ori­al Com­mit­tee, in an in­ter­view Tues­day.
Re­fer­ring to the al­most $150,000 Cas­sidy has garnered so far from the in­dustry, Collins ad­ded: "The fact that they're already con­trib­ut­ing to Cas­sidy in a sig­ni­fic­ant way would in­dic­ate to me that he's seen pos­it­ively by the in­dustry; they're just fo­cus­ing on in­cum­bents right now, and as con­di­tions con­tin­ue to de­teri­or­ate with Landrieu, we ex­pect they'll re­con­sider their po­s­i­tion and hope they'll back Cas­sidy."
When presen­ted with Collins's com­ment, Landrieu re­spon­ded: "Well, I think the evid­ence, based on cam­paign con­tri­bu­tions, would sug­gest that's not true," she said in an in­ter­view Tues­day. "The oil and gas in­dustry knows I've been a cham­pi­on for them since I came here to the Sen­ate."
Landrieu, first elec­ted to the Sen­ate in 1996, has long touted her ties to oil and gas in­terests in a state where the in­dustry's power­ful and a strong re­la­tion­ship with those groups is a giv­en. "She's been smart about that while she's been a sen­at­or," long­time Louisi­ana Re­pub­lic­an strategist Roy Fletch­er said. "That's a Louisi­ana in­terest."
Ac­cord­ing to Don Briggs, pres­id­ent of the Louisi­ana Oil and Gas As­so­ci­ation, Landrieu has been reach­ing out to oil and gas com­pan­ies, in­clud­ing mem­bers of LOGA, and ar­guing that if reelec­ted next year, she's poised to chair the En­ergy and Nat­ur­al Re­sources Com­mit­tee, where she could do much more for the in­dustry than a fresh­man sen­at­or.
"She nat­ur­ally is us­ing that as a tool, which she ought to, to help her get fund­ing for her reelec­tion," Briggs said, not­ing that while his as­so­ci­ation does not en­dorse can­did­ates, many of its mem­bers are sup­port­ing her reelec­tion ef­forts.
Cas­sidy, of course, is strong on oil and gas is­sues as well. "Put Bill and Mary to­geth­er, and you say how are they go­ing to vote on en­ergy? They're go­ing to vote right down the line. Mary's not go­ing to take a vote on en­ergy that Bill wouldn't take," Briggs said.
But the key for in­dustry groups is that en­ergy in­terests, es­pe­cially oil and gas, would lose much of their clout in the Sen­ate without Landrieu. "[Cas­sidy is] not go­ing to be chair­man of that com­mit­tee," Briggs said. Cas­sidy would enter the Sen­ate as a fresh­man, far from the kind of power that Landrieu would wield with the En­ergy gavel in her hands head­ing in­to 2015.
For his part, Cas­sidy is seek­ing to poke holes in Landrieu's sup­port for the in­dustry by point­ing out she voted to con­firm Pres­id­ent Obama's Cab­in­et mem­bers who then went on to pro­mote policies that hurt the in­dustry.
"Sen­at­or Landrieu's sup­port of oil and gas is not as steady as some sup­pose," said Joel Di­Grado, cam­paign man­ager for Cas­sidy's cam­paign. "She voted to re­strict hy­draul­ic frack­ing as a fa­vor to Ken Salaz­ar. She donates thou­sands to anti-oil and gas politi­cians, most re­cently Ed Mar­key and also Bar­bara Box­er and Ken Salaz­ar."
At least for now, many en­ergy com­pan­ies aren't buy­ing these ar­gu­ments.
"She has been an ar­dent sup­port­er of the in­dustry across the board the en­tire time she's been here," said the lob­by­ist from a ma­jor oil com­pany. "There is cer­tainly an ele­ment of: 'You dance with the one that brought you.' There's a cer­tain amount of loy­alty that is owed back."
Com­pan­ies and as­so­ci­ations that are sup­port­ing Landrieu more so than Cas­sidy in­clude Devon En­ergy, Cono­co­Phil­lips, Chev­ron, Te­soro, and the Amer­ic­an Pet­ro­leum In­sti­tute, which has not giv­en any money to Cas­sidy in the first three quar­ters of this year, ac­cord­ing to the Cen­ter for Re­spons­ive Polit­ics. (Fourth-quarter fil­ings are due by month's end.) En­ergy com­pan­ies sup­port­ing Cas­sidy more than Landrieu in­clude Koch In­dus­tries, which hasn't donated any money to Demo­crat­ic Sen­ate can­did­ates yet this cycle, and Hal­libur­ton, which gave $3,000 to Cas­sidy and $2,000 to Landrieu.
When asked about sup­port­ing Landrieu over Cas­sidy, API Pres­id­ent and CEO Jack Ger­ard de­flec­ted any dir­ect an­swer about that par­tic­u­lar race. In­stead, he noted the im­port­ance of vot­ing re­cords of all can­did­ates.
"There have been oc­ca­sions when rep­res­ent­ing in­dustry when mem­bers would call and say: 'Jack, let's do something for us,' and I'll look at the vot­ing re­cord, and I say 'No. No, you don't sup­port the in­dustry,' " Ger­ard said in a re­cent in­ter­view. "This isn't about just friends. It's about those who sup­port the in­dustry mov­ing for­ward. And you see that on both sides of the aisle."
In­deed, every so of­ten, it's an oil-friendly Demo­crat who wins the in­dustry's back­ing the most, even if it ir­rit­ates Re­pub­lic­ans.
"I think they real­ize and know that people like my­self — a more mod­er­ate Demo­crat — un­der­stand oil and gas de­vel­op­ment," Be­gich said Tues­day in an in­ter­view. "They re­cog­nize that it is not like it used to be that just Re­pub­lic­ans were some­how per­ceived as oil and gas sup­port­ers. There are a group of us Demo­crats that are in­clined to sup­port oil and gas."
Contributions by Ben Geman