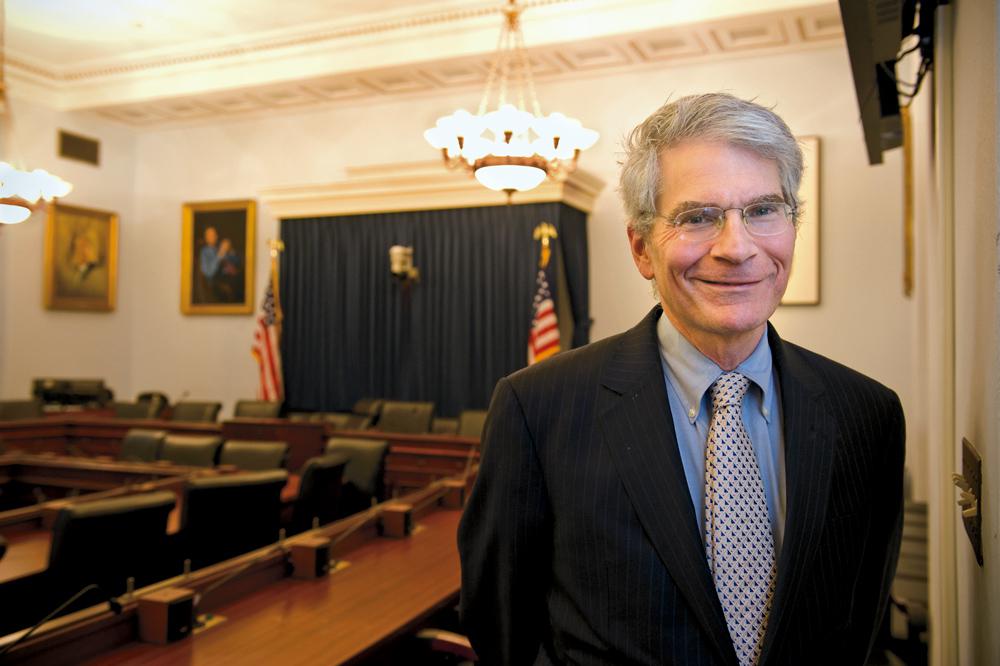 When Tom Kahn looks at the fed­er­al budget, he sees more than just dol­lars and cents.
"The budget is at the core of most key is­sues that elec­ted of­fi­cials de­cide: How much do we tax? How much do we spend on guns and but­ter?" Kahn says. "You have to al­ways re­mem­ber that be­hind a table of budget num­bers are mil­lions of real people."
Rep. Chris Van Hol­len, D-Md., the in­com­ing rank­ing mem­ber on the House Budget Com­mit­tee, has asked Kahn to stay on as Demo­crat­ic staff dir­ect­or and chief coun­sel. Kahn served as staff dir­ect­or for 14 years un­der Rep. John Spratt, the out­go­ing com­mit­tee chair­man, who was de­feated by South Car­o­lina state Sen. Mick Mul­vaney in Novem­ber.
Kahn, 55, says that his con­tinu­ing goal is to serve the mem­bers of the House Demo­crat­ic Caucus as the na­tion­al spot­light turns to the coun­try's long-term fisc­al chal­lenges.
A nat­ive of Brook­line, Mass., he gradu­ated from Tufts Uni­versity in Bo­ston in 1977. He's been on Cap­it­ol Hill ever since, tak­ing only one break to pick up his law de­gree from the Geor­getown Uni­versity Law Cen­ter and work for a private prac­tice from 1981 to '86.
Ex­cept for a stint on the Brook­line Town Coun­cil — a seat he won when he was 19 — Kahn has al­ways been more in­ter­ested in be­hind-the-scenes work than in elec­ted of­fice. One im­port­ant les­son he has drawn from work­ing on Cap­it­ol Hill while jug­gling his re­spons­ib­il­it­ies as fath­er to a 3-year-old and a 6-month-old: "Sleep is an op­tion."
Naur­een Khan
At the Bar
Stephanie Kan­wit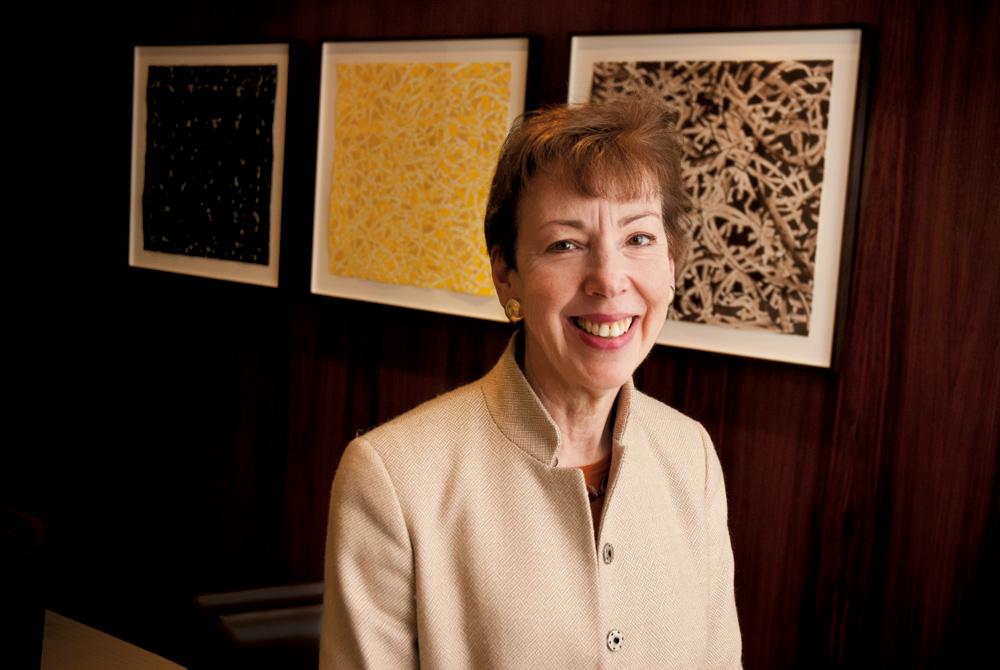 Stephanie Kan­wit was a stu­dent at the Columbia Uni­versity Law School when the cam­pus was con­vulsed by protests in the 1960s. "It was a hor­rible time. I can't say enough bad things about it," she says. "I think people show their worst sides when there's that kind of "¦ ten­sion in the polit­ic­al sys­tem."
Kan­wit ac­know­ledges, "Some­times, civil dis­obedi­ence is ne­ces­sary, but it's really the rare case. And in this par­tic­u­lar situ­ation, those protests brought out the worst in every­body."
She is the new­est ad­di­tion to the Wash­ing­ton of­fice of Man­att, Phelps & Phil­lips. A com­mer­cial lit­ig­at­or and a one­time re­gion­al dir­ect­or for the Fed­er­al Trade Com­mis­sion, Kan­wit has spent her leg­al ca­reer chip­ping away at sexu­al dis­crim­in­a­tion and "mak­ing sure that all Amer­ic­ans had equal rights un­der law." In the early 1970s, she was a plaintiff in a law­suit chal­len­ging Chica­go's male-only lunch­eon clubs, "which kept wo­men from real­iz­ing their full po­ten­tial by keep­ing them from sites where busi­ness was con­duc­ted," she says. Even though Kan­wit ul­ti­mately lost that case, "we had a lot of press cov­er­age, as you might ima­gine, and by the end of the 1970s, all of the clubs in Chica­go had ad­mit­ted wo­men."
In an­oth­er case, she sued the Chica­go Tribune, which had been run­ning "sex-greg­ated" want ads, in which po­ten­tial em­ploy­ers ex­pressed a gender pref­er­ence for ap­plic­ants. It was not a flag­rant in­stance of dis­crim­in­a­tion, but the ads did not ac­cord with mod­ern views of equal­ity. "The fed­er­al judge hear­ing the case ba­sic­ally said to the law­yers for those pa­pers, "˜You know, gen­tle­men, I think [stop­ping this prac­tice] is an idea whose time has come,' " she says.
Kan­wit's child­hood had a rus­tic fla­vor. Stony Creek, Conn., was "the kind of town where you'd let your kid walk a mile to school by him­self even when he was 5 years old." She and her broth­ers at­ten­ded a school "so small there were two, and some­times three, grades in one room." She col­lec­ted pol­ly­wogs in buck­ets and cof­fee cans, de­pos­it­ing her plun­der at home in an aquar­i­um to watch the lar­vae ma­ture.
A gradu­ate of Bryn Mawr Col­lege, Kan­wit has been a lifelong lov­er of ar­chae­ology. She has traveled to May­an ru­ins in Cent­ral Amer­ica, the an­cient city of Petra in Jordan, Greco-Ro­man temples in Si­cily, and ar­chae­olo­gic­al sites in Greece, Eng­land, Egypt, and Tur­key (three times).
She is also a self-pro­fessed op­era buff and used to serve on the board of the Lyr­ic Op­era of Chica­go. Kan­wit's "all-time fa­vor­ite" is Don Gio­vanni. "Wolfgang Amadeus Moz­art — I think he was a total geni­us."¦ If I could have someone come back to life and talk to me, it would be him."
Kan­wit, 67, has nine grand­chil­dren, enough to field a base­ball team, she says.
Chris­toph­er Snow Hop­kins
Con­sult­ing Game
Mark Seifert, Erik Hot­mire
After a few ac­tion-packed years in gov­ern­ment, Mark Seifert and Erik Hot­mire both made the leap last month to seni­or po­s­i­tions at the Brun­swick Group, a cor­por­ate-re­la­tions and com­mu­nic­a­tions firm.
Seifert, who joins the group as part­ner, had been at the Fed­er­al Com­mu­nic­a­tions Com­mis­sion since 1996, start­ing out as a staff law­yer and ul­ti­mately as­cend­ing to the post of deputy di­vi­sion chief. In 2006, he was de­tailed to serve as coun­sel for the House En­ergy and Com­merce Com­mit­tee, primar­ily work­ing on In­ter­net and tele­com­mu­nic­a­tions is­sues. Three years later, Seifert moved to the Com­merce De­part­ment's Na­tion­al Tele­com­mu­nic­a­tions and In­form­a­tion Agency, and ul­ti­mately be­came the seni­or ad­viser to the deputy sec­ret­ary. There, he worked to stra­tegic­ally in­vest mil­lions of stim­u­lus dol­lars in the de­ploy­ment of broad­band across the coun­try. Seifert re­calls that Larry Strick­ling, the head of NTIA, told him that he would be per­fect for the job but that he would have to give up 18 months of his life.
"There are some really great people who care in­tensely about get­ting it right," Seifert, 48, says of his work in gov­ern­ment. "They don't al­ways agree on both sides of the aisle, but they are smart, they are hard­work­ing, and they are pas­sion­ate in their be­liefs that tech­no­logy and tele­com can help people, wheth­er it's in­di­vidu­al con­sumers, busi­ness, or Amer­ica at large."
It was an un­likely ca­reer for someone who ma­jored in mu­sic and was think­ing about med­ic­al school when he was an un­der­gradu­ate at Birm­ing­ham South­ern Uni­versity in Alabama. Ul­ti­mately, Seifert in­stead de­cided to get a law de­gree from the Uni­versity of Vir­gin­ia and then "beat a path to Wash­ing­ton, D.C." He joined the FCC 14 years ago on the re­com­mend­a­tion of a friend, and was hooked.
Dur­ing the 2004 pres­id­en­tial cam­paign, however, Seifert found a cause im­port­ant enough to take a break from the FCC. He joined the Kerry-Ed­wards cam­paign as dir­ect­or of out­reach to les­bi­an, gay, bi­sexu­al, and trans­gender com­munit­ies.
"I went to the bur­eau chief at the time and said, "˜I'd like to take a year off and go work on a cam­paign,' " Seifert says. "It was the first polit­ic­al thing I had ever done, and it was a tri­al by fire."
The Kerry-Ed­wards bid may not have ended the way Seifert would have liked, but four years later, he was down­right bliss­ful on Pres­id­ent Obama's In­aug­ur­a­tion Day. That was the day he and his hus­band fought through the crowds to walk to the air­port and catch a flight to Wash­ing­ton state, where their ad­op­ted son was born.
"He's def­in­itely go­ing to get sick of hear­ing that story," Seifert says.
Erik Hot­mire joins the Brun­swick Group as dir­ect­or after an equally wild ride at the Se­cur­it­ies and Ex­change Com­mis­sion, where as a seni­or ad­viser, he spe­cial­ized in com­mu­nic­a­tions strategy and mes­saging after the 2008 fin­an­cial-in­dustry col­lapse.
"It was a dif­fi­cult time to be at the SEC, for the mar­kets and for the in­vestors — for ob­vi­ous reas­ons," he says. "As a prac­ti­tion­er of stra­tegic com­mu­nic­a­tions and crisis man­age­ment, which is what I've done throughout my ca­reer, it was a fas­cin­at­ing time."
Hot­mire, 37, began his ca­reer as a journ­al­ist at a com­mer­cial ra­dio sta­tion in north­west­ern Ohio at age 15. He con­tin­ued to work in broad­cast­ing throughout col­lege and as a young gradu­ate.
"I al­ways would, every even­ing, watch Wal­ter Cronkite," Hot­mire says. "As long as I can re­mem­ber, as soon I could read, I would ar­rive home from school and open the af­ter­noon pa­per."
In 1995, though, the lure of Wash­ing­ton and an of­fer to work in com­mu­nic­a­tions for Sen. Dan Coats, R-Ind., was too good for Hot­mire to pass up.
He also was in the George W. Bush ad­min­is­tra­tion, serving as a spokes­man for the USA Free­dom Corps, an agency es­tab­lished to pro­mote ser­vice in the wake of the 9/11 at­tacks, and as spe­cial as­sist­ant to the pres­id­ent.
N.K.
At the Bar
Read Van de Wa­ter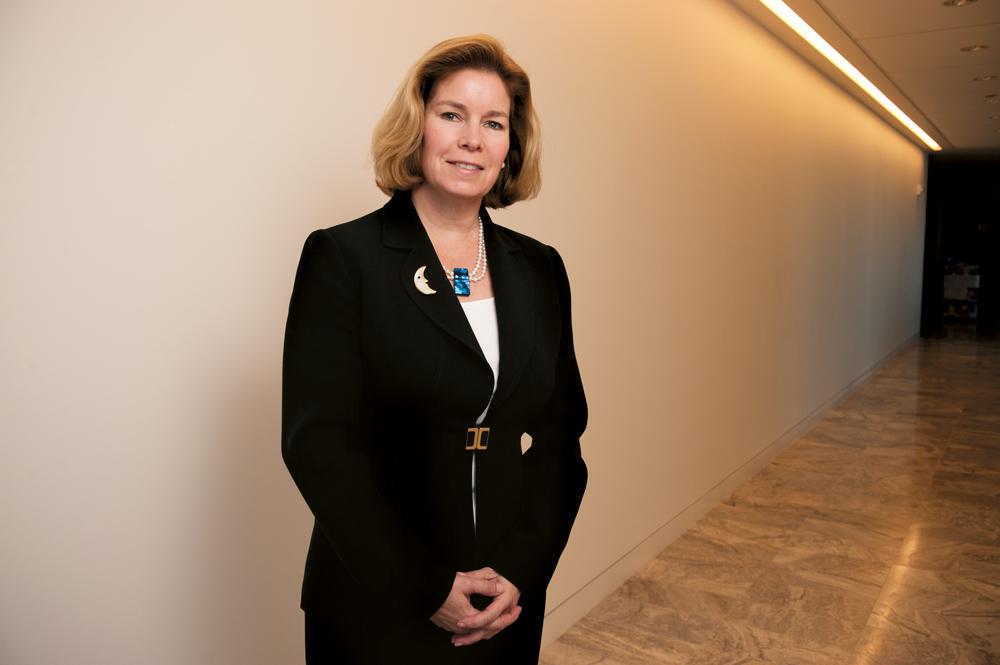 When Read Van de Wa­ter ar­rived on the Hill at age 22, an arth­ro­pod was in­stru­ment­al in get­ting her a job on the staff of then-Rep. Tom DeLay, R-Texas.
"I had a pretty funny in­ter­view" with Ken Car­roll, DeLay's chief of staff, says Van de Wa­ter, who is join­ing the health law/pub­lic-policy de­part­ment at Baker, Donel­son, Bear­man, Cald­well & Berkow­itz. "I was sit­ting on one of those big leath­er couches."¦ He was sit­ting across from me, and he was rolling up a New­s­week."¦ Then, he reached over and slammed it down next to my shoulder, and this gi­gant­ic dead cock­roach fell on the couch. And he looked at me and said, "˜Well, you didn't flinch — you're hired.' "
Van de Wa­ter was most re­cently head of the Na­tion­al Me­di­ation Board, an in­de­pend­ent fed­er­al agency that gov­erns labor-man­age­ment re­la­tions for the na­tion's rail­roads and air­lines. "In this coun­try, air­line and rail­road em­ploy­ees can­not strike at will," she says. "They can only strike when they're re­leased by the [board]."¦ That's why you don't see a lot of rail or air­line strikes."
Van de Wa­ter, 46, grew up in Char­lotte, N.C., one of six kids in a "Brady Bunch fam­ily," she says. Her step­fath­er, an otolaryngo­lo­gist, "had three boys, and he mar­ried my moth­er, who had three girls. I'm smack in the middle." After re­ceiv­ing a bach­el­or's de­gree in polit­ic­al sci­ence and Third World stud­ies at the Uni­versity of the South, Van de Wa­ter grav­it­ated north. She ar­rived in Wash­ing­ton "not know­ing any­one" and "went door to door on the Hill to every Re­pub­lic­an of­fice."
She was on DeLay's staff for four and a half years, also at­tend­ing night classes at the Geor­getown Uni­versity Law Cen­ter. In 1991, she left Cap­it­ol Hill for North­w­est Air­lines, serving first as dir­ect­or of gov­ern­ment af­fairs and, after she got her law de­gree, as le­gis­lat­ive coun­sel. A stint as le­gis­lat­ive coun­sel at the Busi­ness Roundtable came next.
In 2001, Van de Wa­ter was re­cruited for a seni­or po­s­i­tion in the Bush ad­min­is­tra­tion's Trans­port­a­tion De­part­ment. "The White House an­nounced the in­tent to nom­in­ate in the sum­mer," Van de Wa­ter says, "and I was go­ing through all the pa­per­work — and Septem­ber 11 hit. My pa­per­work went to the Hill on Septem­ber 12, and I was con­firmed as as­sist­ant sec­ret­ary for avi­ation and in­ter­na­tion­al af­fairs two weeks later." In the wake of 9/11, it was a "24/7 job."¦ We ate a lot out of vend­ing ma­chines. We did what had to be done. It wasn't a choice."
At Baker Donel­son, Van de Wa­ter will be work­ing on the same floor as her hus­band, Mark Van de Wa­ter, a seni­or pub­lic-policy ad­viser at the firm. The two met on a Coast Guard trip to Alaska when she was work­ing for DeLay and he was an aide to then-Rep. Les AuC­oin, D-Ore.
"We got a lot of raised eye­brows from people when we came back and an­nounced we were dat­ing. At our wed­ding, we had to ban all talk of taxes, primar­ily from my dad, who was about as con­ser­vat­ive as they come."
C.S.H.
In the Tanks
Daniel Runde
In 1999, Daniel Runde, who was en­am­ored with an Ar­gen­tine wo­man he had met on the first day of gradu­ate school, fol­lowed her to Buenos Aires after the couple gradu­ated from Har­vard's John F. Kennedy School of Gov­ern­ment.
The three years he spent in Ar­gen­tina as an as­sist­ant vice pres­id­ent for Cit­ibank and a con­sult­ant for Bank­Bo­ston, build­ing pub­lic-private part­ner­ships to strengthen pub­lic schools in the city, touched off a long ca­reer in in­ter­na­tion­al de­vel­op­ment. As an ad­ded bo­nus, Runde mar­ried his girl­friend in her nat­ive coun­try.
"I think liv­ing and work­ing in a de­vel­op­ing coun­try makes you real­ize that we're very for­tu­nate in the United States, be­cause we ex­pect things to work," Runde says. "In much of the world, people have little faith that any­thing will func­tion like it's sup­posed to, from traffic lights to the leg­al sys­tem."
He joins the Cen­ter for Stra­tegic and In­ter­na­tion­al Stud­ies as the dir­ect­or of the newly cre­ated pro­ject on prosper­ity and de­vel­op­ment, and the Schrey­er chair in glob­al ana­lys­is. In his post, Runde will be fo­cus­ing on how the United States should pro­ceed in in­ter­na­tion­al de­vel­op­ment, giv­en the rap­idly chan­ging glob­al en­vir­on­ment. He will par­tic­u­larly study the role that the private sec­tor can play.
Be­fore join­ing CSIS, Runde dir­ec­ted phil­an­thropy re­la­tions at the In­ter­na­tion­al Fin­ance Corp., the private-sec­tor branch of the World Bank. Earli­er, he was dir­ect­or of the Of­fice of Glob­al De­vel­op­ment Al­li­ances at the U.S. Agency for in­ter­na­tion­al De­vel­op­ment, where he con­trolled a $15 mil­lion budget to build in­ter­na­tion­al part­ner­ships.
The past 30 years have brought about a sea change in in­ter­na­tion­al de­vel­op­ment, Runde says. Most of the re­sources flow­ing from the United States to the de­vel­op­ing world were once in the form of gov­ern­ment aid, but today, in­vest­ments — largely by cor­por­a­tions — dom­in­ate. Runde has played a key role in this trans­form­a­tion. In 2002, he helped Chev­ron cre­ate the An­gola Part­ner­ship Ini­ti­at­ive to sup­port edu­ca­tion and small busi­nesses in that Afric­an coun­try.
For Runde, 38, de­vel­op­ment has been as much about the U.S. na­tion­al in­terest as about as­sist­ing ail­ing na­tions. His pat­ri­ot­ism was in­spired by his grand­fath­er, who served in the in­fantry in West­ern Europe dur­ing World War II.
"I wanted to find ways to sup­port the United States in do­ing great things around the world," Runde says.
N.K.
Cor­por­ate Life
T.J. Birkel
Farm­ing, like most pro­fes­sions, has its terms of art. Grow­ing up, T.J. Birkel "de­tasseled corn" and "walked beans." (The lat­ter in­volves walk­ing up and down rows of beans and cut­ting out weeds.) Birkel, who has been named Darden Res­taur­ants' man­ager of fed­er­al gov­ern­ment re­la­tions, is a proud nat­ive of Lin­coln, Neb., where "everything re­volves around ag­ri­cul­ture."
A gradu­ate of North Cent­ral Col­lege in Naperville, Ill., he got his first job in Wash­ing­ton as a staff as­sist­ant to Sen. Chuck Hagel, R-Neb., "mak­ing cof­fee, an­swer­ing the phones, and set­ting up tours."
Birkel was later pro­moted to le­gis­lat­ive as­sist­ant for ag­ri­cul­ture, but after three years he re­turned to Neb­raska (and his par­ents' base­ment) to as­sist in Re­pub­lic­an Mike Jo­hanns's 2008 sen­at­ori­al cam­paign. "When [Jo­hanns] won, I moved back out — my first day was swear­ing-in day in Janu­ary of '09."
Birkel, 28, was most re­cently Jo­hanns's speech­writer and le­gis­lat­ive as­sist­ant for ag­ri­cul­ture.
C.S.H.