Add to Briefcase
Dec. 19, 2013, 2:53 p.m.
Sen­ate Ma­jor­ity Lead­er Harry Re­id's re­cent de­cision to elim­in­ate fili­busters on most pres­id­en­tial ap­pointees is viewed al­most en­tirely through a par­tis­an prism, with Demo­crats cheer­ing and Re­pub­lic­ans jeer­ing.
A Na­tion­al Journ­al poll found a ma­jor­ity of Demo­crats, 59 per­cent, said they agreed with Re­id's move last month to gut the abil­ity of the minor­ity party stall pres­id­en­tial nom­in­ees. Re­pub­lic­ans strongly dis­agreed. Only 34 per­cent said the de­cision to al­low nom­in­ees to be con­firmed with only 51 votes was the right de­cision; 60 per­cent thought it was the wrong one.
In­de­pend­ents split the dif­fer­ence, with a nar­row plur­al­ity of 46 per­cent to 45 per­cent in fa­vor of the con­tro­ver­sial rule change.
The sharp par­tis­an di­vide in the sur­vey came even though the poll ques­tion did not men­tion which party was cur­rently in con­trol of the Sen­ate or had pushed through the rule change.
Over­all, a nar­row plur­al­ity of Amer­ic­ans sup­por­ted the over­haul of con­firm­a­tion rules, 47 per­cent to 44 per­cent.
Men (50 per­cent) were a bit more sup­port­ive of the fili­buster change than wo­men (43 per­cent), but over­all it was party af­fil­i­ation that provided the starkest con­trast. The poll showed no ma­jor dif­fer­ences in per­spect­ive between the young and the old, those earn­ing less and those earn­ing more than $50,000 per year, and those with col­lege de­grees and those without.
In the Sen­ate, lead­ers of both parties have flip-flopped on chan­ging the fili­buster rules — known in D.C. as the "nuc­le­ar op­tion." Dur­ing Pres­id­ent George W. Bush's term, when Re­pub­lic­ans were in con­trol of the Sen­ate, Re­id was among the strongest op­pon­ents and Sen. Mitch Mc­Con­nell, R-Ky., was a sup­port­er. Now that Re­id is in the ma­jor­ity and Mc­Con­nell is the minor­ity lead­er, their roles have re­versed.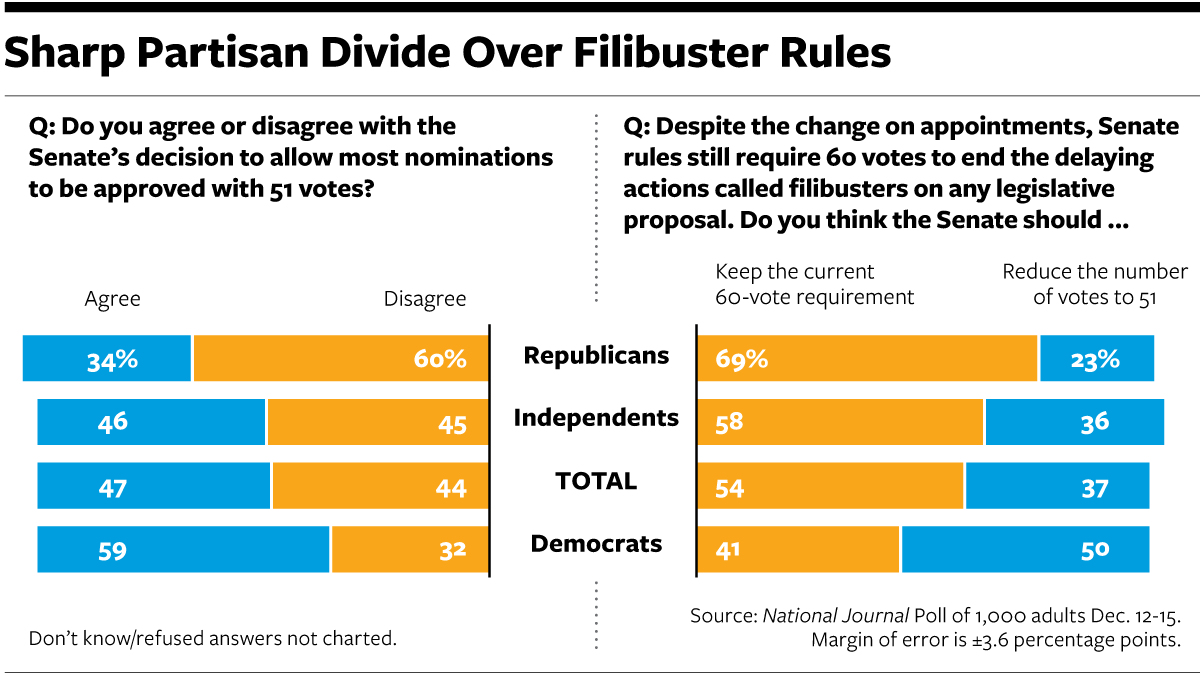 Na­tion­al Journ­al Poll show­ing the op­pos­ing view­points between Re­pub­lic­ans and Demo­crats re­gard­ing a new fili­buster rule. (Stephanie Stamm)The power to fili­buster re­mains in place for le­gis­la­tion, and a ma­jor­ity of Amer­ic­ans be­lieve it should stay that way. A sol­id 54 per­cent of re­spond­ents said they would prefer to keep the cur­rent 60-vote threshold that is needed to ad­vance most le­gis­la­tion — and end fili­busters — in the Sen­ate. Only 37 per­cent said they'd prefer to see the threshold be dropped to 51 votes, as it has been for con­firm­a­tions of all posts oth­er than the Su­preme Court.
Re­pub­lic­ans have said that Demo­crats "will pay a very, very heavy price for" chan­ging the rules, as Sen. John Mc­Cain, R-Ar­iz., put it. One pos­sib­il­ity that has been dangled is that a fu­ture GOP-con­trolled Sen­ate would do away with fili­busters on le­gis­la­tion now that Re­id opened the door to the ma­jor­ity party musc­ling through rules changes mid-ses­sion.
Amer­ic­ans' opin­ions were also di­vided by polit­ic­al party on the is­sue of chan­ging the vote threshold for le­gis­la­tion. More than two-thirds of Re­pub­lic­ans, 69 per­cent, want to keep the 60-vote re­quire­ment for new laws while a bare ma­jor­ity, 50 per­cent, of Demo­crats want to lower the threshold to 51. In­de­pend­ents, once again, fell in between, with 58 per­cent in fa­vor of the cur­rent threshold for le­gis­la­tion.
In­ter­est­ingly, young Amer­ic­ans, those between ages 18 and 29, were among the most in­tent on keep­ing the 60-vote threshold, with 60 per­cent of them sup­port­ing it. Those with col­lege de­grees (58 per­cent) were also more likely to sup­port the ex­ist­ing threshold for le­gis­la­tion than those with less school­ing.
The sur­vey of 1,000 adults was con­duc­ted by land­line and cell phone by Prin­ceton Sur­vey Re­search As­so­ci­ates In­ter­na­tion­al Dec. 12-15. The mar­gin of er­ror is plus or minus 3.6 per­cent­age points.