Dec. 19, 2013, 10:02 a.m.
U.S. sen­at­ors on Thursday in­tro­duced a bill threat­en­ing new sanc­tions on Ir­an, des­pite White House warn­ings that the le­gis­la­tion could dis­rupt nuc­le­ar talks.
The meas­ure al­lows for a 180-day sus­pen­sion of sanc­tions to fa­cil­it­ate dip­lomacy, plus ad­di­tion­al time if the White House judges a fi­nal deal to be im­min­ent. The le­gis­la­tion also in­cludes a "sense of Con­gress" that the "gov­ern­ment of Ir­an does not have an ab­so­lute or in­her­ent right to en­rich­ment and re­pro­cessing cap­ab­il­it­ies and tech­no­lo­gies," des­pite Tehran's past state­ments that it does main­tain such a right un­der the Nuc­le­ar Non­pro­lif­er­a­tion Treaty
Sen­ate For­eign Re­la­tions Com­mit­tee Chair­man Robert Men­en­dez (D-N.J.), who sponsored the Nuc­le­ar Weapon-Free Ir­an Act with 23 of his col­leagues, ar­gued that the meas­ure would raise pres­sure on Ir­an to fully re­lin­quish atom­ic activ­it­ies that could sup­port a fu­ture ca­pa­city to pro­duce nuc­le­ar weapons.
Ir­an in­sists that its nuc­le­ar pro­gram is peace­ful, and has warned that any new sanc­tions would threaten an ini­tial mul­ti­lat­er­al agree­ment reached last month on the na­tion's atom­ic ef­forts. The Obama ad­min­is­tra­tion hopes the Novem­ber deal will help ne­go­ti­at­ors ham­mer out longer-term re­stric­tions on the dis­puted Ir­a­ni­an nuc­le­ar activ­it­ies.
"Cur­rent sanc­tions brought Ir­an to the ne­go­ti­at­ing table and a cred­ible threat of fu­ture sanc­tions will re­quire Ir­an to co­oper­ate and act in good faith at the ne­go­ti­at­ing table," Men­en­dez said in re­leased re­marks. "[Ad­di­tion­al] sanc­tions will in­flu­ence Ir­an's cal­cu­lus and ac­cel­er­ate that pro­cess to­ward achiev­ing a mean­ing­ful dip­lo­mat­ic res­ol­u­tion."
White House spokes­man Jay Car­ney on Tues­day cau­tioned law­makers against tak­ing any im­me­di­ate ac­tion to pass new sanc­tions le­gis­la­tion.
"If they were to im­pose or pass new sanc­tions now," the move could "po­ten­tially scuttle the ini­tial pre­lim­in­ary agree­ment," Car­ney said.
This art­icle was pub­lished in Glob­al Se­cur­ity News­wire, which is pro­duced in­de­pend­ently by Na­tion­al Journ­al Group un­der con­tract with the Nuc­le­ar Threat Ini­ti­at­ive. NTI is a non­profit, non­par­tis­an group work­ing to re­duce glob­al threats from nuc­le­ar, bio­lo­gic­al, and chem­ic­al weapons.
What We're Following See More »
NEVER TRUMP
USA Today Weighs in on Presidential Race for First Time Ever
11 hours ago
THE DETAILS
"By all means vote, just not for Donald Trump." That's the message from USA Today editors, who are making the first recommendation on a presidential race in the paper's 34-year history. It's not exactly an endorsement; they make clear that the editorial board "does not have a consensus for a Clinton endorsement." But they state flatly that Donald Trump is, by "unanimous consensus of the editorial board, unfit for the presidency."
COMMISSIONERS NEED TO DELIBERATE MORE
FCC Pushes Vote on Set-Top Boxes
11 hours ago
THE LATEST
"Federal regulators on Thursday delayed a vote on a proposal to reshape the television market by freeing consumers from cable box rentals, putting into doubt a plan that has pitted technology companies against cable television providers. ... The proposal will still be considered for a future vote. But Tom Wheeler, chairman of the F.C.C., said commissioners needed more discussions."
UNTIL DEC. 9, ANYWAY
Obama Signs Bill to Fund Government
16 hours ago
IT'S ALL CLINTON
Reliable Poll Data Coming in RE: Debate #1
18 hours ago
WHY WE CARE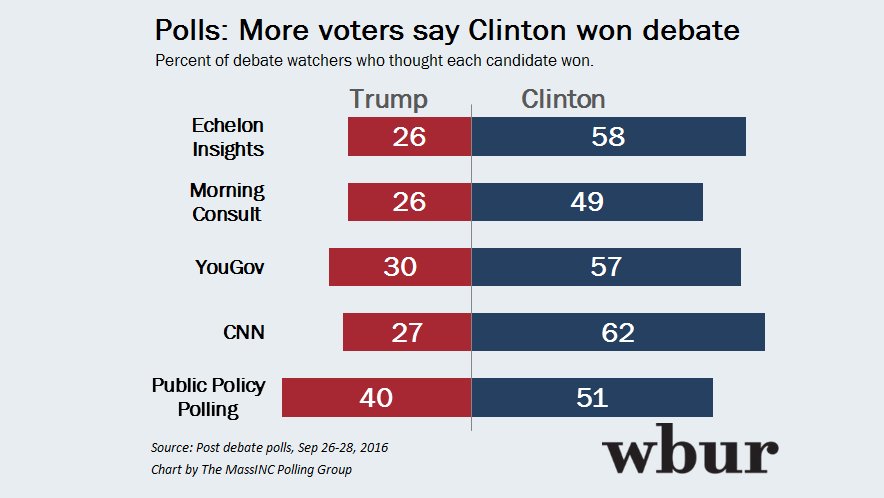 WHAT WILL PASS?
McConnell Doubts Criminal Justice Reform Can Pass This Year
20 hours ago