Dec. 19, 2013, 10:14 a.m.
Next year's single greatest ter­ror­ist threat will come from Syr­ia.
That's the word from Na­tion­al Coun­terter­ror­ism Cen­ter Dir­ect­or Mat­thew Olsen, who said ex­trem­ists are tak­ing ad­vant­age of the chaos cre­ated by the Syr­i­an civil war to cre­ate a threat to U.S. se­cur­ity.
A hodge­podge of rebel groups are bat­tling strong­man Bashar al-As­sad's forces in Syr­ia, in­clud­ing groups linked to al-Qaida. "As the con­flict in Syr­ia rages on, we are con­cerned about the flow of fight­ers to the coun­try and the like­li­hood that they will pose a threat when they re­turn from Syr­ia to their home coun­tries," Olsen said.
Deal­ing with this threat, Olsen said, "will be the primary fo­cus of our coun­terter­ror­ism ef­forts in 2014."
Olsen's com­ments come as Wash­ing­ton grows in­creas­ingly con­cerned that rad­ic­al, Qaida-linked groups have made ter­rit­ori­al gains in the coun­try. Thou­sands of for­eign fight­ers have traveled to Syr­ia, where some have joined with these groups and re­ceived train­ing and weapons, Olsen said, not­ing that hun­dreds of these in­di­vidu­als are from West­ern coun­tries, in­clud­ing some from the United States.
Frag­men­ted groups with­in Syr­ia present not just a coun­terter­ror­ism chal­lenge but a dip­lo­mat­ic one: Wash­ing­ton is in an in­creas­ingly tough po­s­i­tion, as the mod­er­ate and sec­u­lar groups it has sup­por­ted so far con­tin­ue to lose ground to re­li­gious fight­ers and As­sad's forces.
This week, Sec­ret­ary of State John Kerry said the Obama ad­min­is­tra­tion is will­ing to meet with Is­lam­ist fight­ers not af­fil­i­ated with ter­ror­ist groups in a bid to reach a dip­lo­mat­ic solu­tion to end the fight­ing — out­reach already scorned by some con­cerned mem­bers on Cap­it­ol Hill. The main tar­get of this out­reach is the Is­lam­ic Front, a new co­ali­tion of Is­lam­ist mi­li­tias that ex­cludes the key Qaida-linked groups in the coun­try.
Last week, the U.S. sus­pen­ded de­liv­ery of non­leth­al aid to the rebels in north­ern Syr­ia after the Is­lam­ic Front seized rebel-held ware­houses and headquar­ters where sup­plies were stored. The U.S. en­voy to Syr­ia, Robert Ford, has said the group re­fused to sit down with the ad­min­is­tra­tion without giv­ing any ex­plan­a­tion.  
The United Na­tions will hold a peace con­fer­ence start­ing Jan. 22.
What We're Following See More »
UNTIL DEC. 9, ANYWAY
Obama Signs Bill to Fund Government
56 minutes ago
REDSKINS IMPLICATIONS
SCOTUS to Hear Case on Offensive Trademarks
1 hours ago
WHY WE CARE
"The Supreme Court is taking up a First Amendment clash over the government's refusal to register offensive trademarks, a case that could affect the Washington Redskins in their legal fight over the team name. The justices agreed Thursday to hear a dispute involving an Asian-American rock band called the Slants, but they did not act on a separate request to hear the higher-profile Redskins case at the same time." Still, any precedent set by the case could have ramifications for the Washington football team.
STAFF PICKS
Bannon Still Collecting Royalties from 'Seinfeld'
2 hours ago
WHY WE CARE
The Hollywood Reporter takes a look at a little-known intersection of politics and entertainment, in which Trump campaign CEO Steve Bannon is still raking in residuals from Seinfeld. Here's the digest version: When Seinfeld was in its infancy, Ted Turner was in the process of acquiring its production company, Castle Rock, but he was under-capitalized. Bannon's fledgling media company put up the remaining funds, and he agreed to "participation rights" instead of a fee. "Seinfeld has reaped more than $3 billion in its post-network afterlife through syndication deals." Meanwhile, Bannon is "still cashing checks from Seinfeld, and observers say he has made nearly 25 times more off the Castle Rock deal than he had anticipated."
IT'S ALL CLINTON
Reliable Poll Data Coming in RE: Debate #1
2 hours ago
WHY WE CARE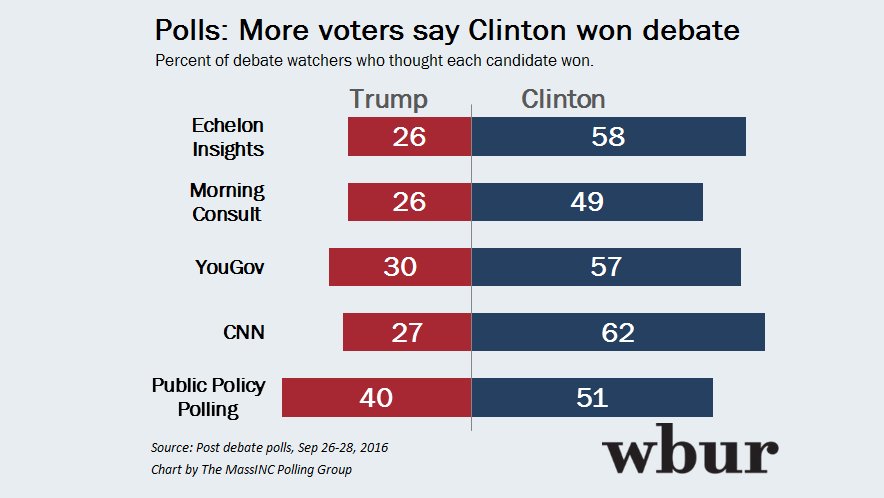 NEXT THURSDAY
Trump Transition Team Meeting with Silicon Valley VIPs
5 hours ago
THE DETAILS
Donald Trump's "transition team will meet next week with representatives of the tech industry, multiple sources confirmed, even as their candidate largely has been largely shunned by Silicon Valley. The meeting, scheduled for next Thursday at the offices of law and lobbying firm BakerHostetler, will include trade groups like the Information Technology Industry Council and the Internet Association that represent major Silicon Valley companies."