Dec. 19, 2013, 12:02 p.m.
The Los Angeles Times, like many big news or­gan­iz­a­tions, is cut­ting hun­dreds of jobs. The move has been dis­tress­ing to journ­al­ists, read­ers and, most re­cently, a con­gress­man.
Henry Wax­man, a Demo­crat­ic rep­res­ent­at­ive for Cali­for­nia's 33rd dis­trict, ex­pressed con­cern Thursday about the fu­ture of the coun­try's largest met­ro­pol­it­an daily news­pa­per in a let­ter to the head of its par­ent com­pany, the Tribune Com­pany.
"I am writ­ing on be­half of my con­stitu­ents who rely daily on the Los Angeles Times for their na­tion­al news and loc­al re­port­ing," Wax­man wrote to Tribune pres­id­ent and CEO Peter Liguori. "I am con­cerned that cor­por­ate ac­tions the Tribune Com­pany is tak­ing may not be in the best in­terests of the Los Angeles Times."
The let­ter de­tailed the num­ber of lay­offs the news­pa­per has seen each year since 2010, com­plete with foot­notes for the stat­ist­ics. The most re­cent lay­off an­nounce­ment came this Novem­ber, when Tribune said it would slash 700 jobs at the Los Angeles Times over the next year, rep­res­ent­ing a 6-per­cent re­duc­tion in its staff.
Last week, Tribune began pre­par­ing to spin off its en­tire news­pa­per unit and re­quire it to pay the com­pany a cash di­vidend. The unit in­cludes the Cali­for­nia news­pa­per, which must now pay the cor­por­a­tion rent for the pub­lic­a­tion's own build­ing. This de­vel­op­ment, Wax­man wrote, means "the dif­fi­culties faced by the Los Angeles Times may get worse."
The con­gress­man knows that ed­it­or­i­al staff cuts have be­come com­mon­place at U.S. news­pa­pers to off­set yearly rev­en­ue losses. However, this spe­cif­ic case seems fishy to him. "The re­quire­ment that the news­pa­per unit go in­to debt to pay a cash di­vidend to the Tribune Com­pany will un­doubtedly en­rich the Tribune Com­pany, but it may do so at the ex­pense of the fin­an­cial health of the Los Angeles Times," he wrote, not­ing that some have de­scribed the Times' rent re­quire­ment "as tan­tamount to 'life as a cor­por­ate orphan.'"
Wax­man closed his in­quiry with a re­quest to meet with Tribune of­fi­cials. The con­gress­man may not have the bul­ging wal­let and en­tre­pren­eur­i­al know-how of Jeff Bezos, but he ap­pears to be ready for battle to help save his ho­met­own pa­per.
What We're Following See More »
STAFF PICKS
Bannon Still Collecting Royalties from 'Seinfeld'
54 minutes ago
WHY WE CARE
The Hollywood Reporter takes a look at a little-known intersection of politics and entertainment, in which Trump campaign CEO Steve Bannon is still raking in residuals from Seinfeld. Here's the digest version: When Seinfeld was in its infancy, Ted Turner was in the process of acquiring its production company, Castle Rock, but he was under-capitalized. Bannon's fledgling media company put up the remaining funds, and he agreed to "participation rights" instead of a fee. "Seinfeld has reaped more than $3 billion in its post-network afterlife through syndication deals." Meanwhile, Bannon is "still cashing checks from Seinfeld, and observers say he has made nearly 25 times more off the Castle Rock deal than he had anticipated."
IT'S ALL CLINTON
Reliable Poll Data Coming in RE: Debate #1
1 hours ago
WHY WE CARE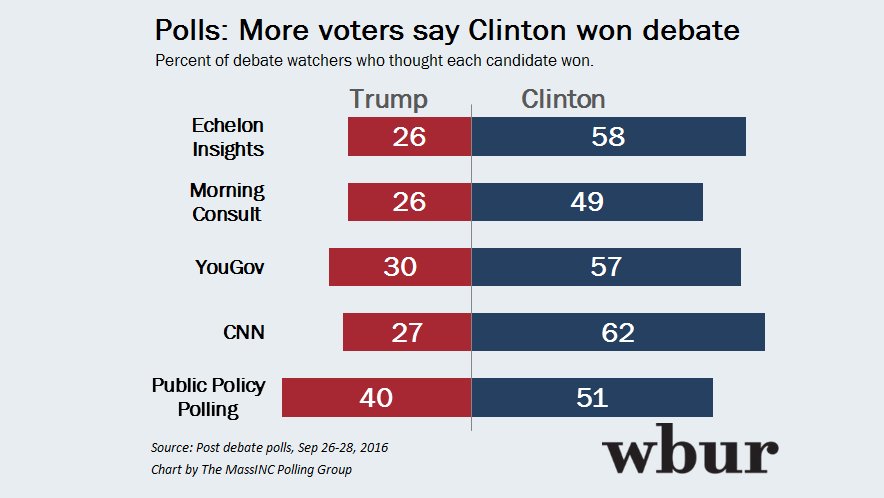 NEXT THURSDAY
Trump Transition Team Meeting with Silicon Valley VIPs
3 hours ago
THE DETAILS
Donald Trump's "transition team will meet next week with representatives of the tech industry, multiple sources confirmed, even as their candidate largely has been largely shunned by Silicon Valley. The meeting, scheduled for next Thursday at the offices of law and lobbying firm BakerHostetler, will include trade groups like the Information Technology Industry Council and the Internet Association that represent major Silicon Valley companies."
WHAT WILL PASS?
McConnell Doubts Criminal Justice Reform Can Pass This Year
3 hours ago
ALSO FIRED UNATTRACTIVE WAITRESSES
Trump Did Business with Cuba
4 hours ago
THE LATEST
Today in bad news for Donald Trump:
Newsweek found that a company he controlled did business with Cuba under Fidel Castro "despite strict American trade bans that made such undertakings illegal, according to interviews with former Trump executives, internal company records and court filings." In 1998, he spent at least $68,000 there, which was funneled through a consluting company "to make it appear legal."
The Los Angeles Times reports that at a golf club he owns in California, Trump ordered that unattractive female staff be fired and replaced with prettier women.