If you thought Con­gress hit rock-bot­tom in terms of how many laws they en­acted last ses­sion, check out the cur­rent House and Sen­ate.
Con­gress will close the year with 58 pub­lic bills (the con­gres­sion­al term for meas­ures with broad im­pact) en­acted in­to law, as­sum­ing that Pres­id­ent Obama signs the budget deal as prom­ised. They may add a few to that in the last few days of the year. But it won't change sub­stan­tially.
That's the low­est one-year out­put since at least 1947, and only the ti­ni­est frac­tion of the 6,366 bills in­tro­duced by law­makers, ac­cord­ing to House and Sen­ate re­cords.
"It cer­tainly feeds in­to the nar­rat­ive that people find con­geni­al — which is that Con­gress is not do­ing its job," sug­gests Ross Baker, a Rut­gers Uni­versity polit­ic­al sci­ent­ist. "But I think that do­ing a kind of le­gis­lat­ive body-count as the met­ric of an ef­fect­ive or in­ef­fect­ive House and Sen­ate can be spe­cious."
He ad­ded: "I think James Madis­on would have been baffled at that."
But the le­gis­lat­ive per­form­ance in the first half of the 113th adds more fod­der to the nar­rat­ive build­ing in re­cent years that it has be­come a dys­func­tion­al, po­lar­ized, overly par­tis­an le­gis­lat­ive body.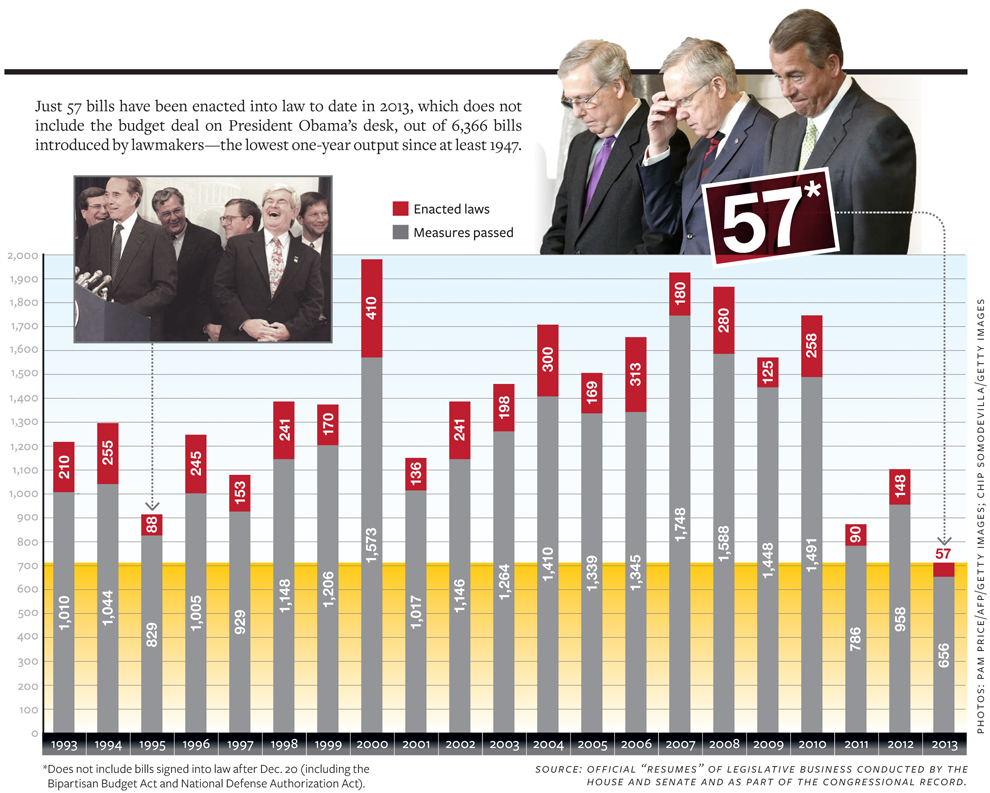 Of course, House lead­er­ship has done away with "feel-good" and com­mem­or­ative bills that helped in­flate totals in pre­vi­ous years. But those re­duc­tions do not ac­count for the in­creased in­ab­il­ity to agree on and en­act laws, high­lighted this year by a gov­ern­ment shut­down when law­makers could not agree on a spend­ing bill in time to pre­vent it. Click to see full graph­ic
Along the way, pub­lic dis­sat­is­fac­tion has been re­gistered in the low ap­prov­al rat­ings af­forded to Con­gress. Gal­lup re­ports that job-ap­prov­al rat­ings for Con­gress in 2013 av­er­aged 14 per­cent, the low­est in Gal­lup's his­tory.
Even the "do-noth­ing" Con­gress that Harry Tru­man de­rided in 1947 and 1948 ex­ceeded the out­put of the cur­rent House and Sen­ate. The 80th ses­sion of Con­gress pushed through 395 en­acted laws in its first year, and 511 in its second.
The only years that come close to Con­gress's 2013's out­put were 2011, when 90 laws were en­acted, and 1995, when 125 laws were en­acted. Last year, 148 pub­lic bills were signed in­to law.
By com­par­is­on, 258 bills were en­acted in 2010 — the last year Demo­crats were in con­trol of the House, as well as the Sen­ate — and 410 in 2000.
Demo­crats in the House minor­ity are among those most eager to bring up the low num­ber of bills en­acted in­to law this year. Last week, be­fore the House ad­journed for the year, Minor­ity Whip Steny Hoy­er presen­ted charts to re­port­ers to make the point — and to say that Re­pub­lic­ans are at fault.
"This is only one ses­sion [year] of the Con­gress, but the least pro­duct­ive Con­gress, cer­tainly, in which I have served and least pro­duct­ive in many re­spects in his­tory," Hoy­er said.
Of course, there are oth­er views. Mi­chael Steel, a spokes­man for House Speak­er John Boehner, re­spon­ded that "the House has passed a num­ber of bills to help the private sec­tor cre­ate jobs and pro­tect Amer­ic­an people from the im­pact of the pres­id­ent's health care law. Sen­ate Demo­crat­ic lead­ers have simply re­fused to act on them."
And there is truth to that. In fact, more than 40 re­peals or par­tial re­peals of Obama­care passed in the House have not passed the Sen­ate. But sup­pose they had? Some of the very same Demo­crats now cri­ti­ciz­ing the lack of volume would have been tre­mend­ously dis­tressed if those had passed the Sen­ate — and therein lies the basis for Baker's con­trari­an view: The volume of en­acted laws alone can be a mis­lead­ing in­dic­at­or of con­gres­sion­al suc­cess or pro­ductiv­ity, es­pe­cially in a di­vided Con­gress.
"I'm not deny­ing the po­lar­iz­a­tion — that it isn't a big im­ped­i­ment. And that alone is go­ing to lessen the num­ber of bills passed," Baker said.
"But clearly there are cer­tain things they have to do that are im­port­ant. I mean, the budget agree­ment was im­port­ant, the ap­pro­pri­ations bills that will have to be done now are im­port­ant, and the 'doc fix' is im­port­ant," he said.
And some law­makers re­main op­tim­ist­ic that 2014 may be dif­fer­ent. For one thing, the re­cently-passed budget deal could elim­in­ate some of the fisc­al fights that have hal­ted pro­gress on oth­er is­sues.
"I think it's pretty ex­cit­ing," said Rep. Glenn Thompson, R-Pa. "There are so many prob­lems that need to be re­solved, and chal­lenges that need solu­tions."
{{ BIZOBJ (video: 4636) }}