Is there any­thing you think Obama­care does well?
For the first time in a long con­ver­sa­tion, the ques­tion leaves Chris Jac­obs si­lent. A minute goes by be­fore he speaks: "I think I want to pass."
Jac­obs is the new policy dir­ect­or of the Bobby Jin­dal-foun­ded think tank Amer­ica Next, and that's not the con­ver­sa­tion he's in­ter­ested in hav­ing.
In­stead, Jac­obs — who comes to his new role by way of the Her­it­age Found­a­tion — re­peatedly em­phas­ized that his or­gan­iz­a­tion's aim was to put for­ward "al­tern­at­ive, con­ser­vat­ive solu­tions" in health care, en­ergy, and edu­ca­tion. But Jac­obs wants Amer­ica Next to go bey­ond put­ting solu­tions for­ward: He wants his or­gan­iz­a­tion to be gen­er­at­ing the policies that con­ser­vat­ives en­deavor to put in­to prac­tice.
"The goal is not to cre­ate a bunch of pa­pers that sit on shelves some­place," he said. "This is de­signed to be a series of ideas that the con­ser­vat­ive move­ment can really rally around."
Such uni­fy­ing pro­pos­als have been dif­fi­cult to find for the con­ser­vat­ive move­ment. "Re­peal and Re­place" Obama­care has been a con­sist­ent man­tra among con­ser­vat­ives, but — in Con­gress, at least — it's the "re­peal" por­tion that is get­ting the li­on's share of at­ten­tion.
The move­ment is still look­ing for a "re­place" pro­pos­al, or set of pro­pos­als, to el­ev­ate in­to the pub­lic arena. Without that, Re­pub­lic­ans will con­tinu­ally face cri­ti­cism that their agenda is more anti-Obama than any­thing else.
Jac­obs wouldn't say what those new ideas are, in part be­cause many are yet to be for­mu­lated, but he has an idea of where they'll come from.
Jac­obs sees the states as the primary in­cub­at­ors of con­ser­vat­ive ideals. "Wash­ing­ton has been dys­func­tion­al for years," he said. "In many cases, the solu­tions will come from the state­houses and the good con­ser­vat­ive ideas that are be­ing put for­ward and en­acted in states across the coun­try."
Some of the con­ser­vat­ive thought lead­ers he looks to for health care solu­tions in­clude Jin­dal, Rep. Paul Ry­an of Wis­con­sin, Sen. Tom Coburn of Ok­lahoma, and Rep. Tom Price of Geor­gia.
As Jac­obs puts it, he's "spent the last four or five years ar­tic­u­lat­ing the case against Obama­care," and now it's time to high­light ex­ist­ing al­tern­at­ives — in ad­di­tion to for­mu­lat­ing new ones — to push back against the pres­id­ent's agenda.
Jac­obs is a wonk in every sense of the term. He gets ex­cited talk­ing about Medi­care Part D re­form, and he spent free time as a 21-year-old on the budget com­mit­tee at Amer­ic­an Uni­versity, his alma ma­ter. He teaches health policy at Amer­ic­an now, and re­mem­bers what life was like dur­ing the fall of 2009 when he juggled his col­loqui­um with his work on the Hill.
"I was in meet­ings in the Cap­it­ol talk­ing about the Re­pub­lic­an al­tern­at­ive to Obama­care and sit­ting there with pa­pers mark­ing up gram­mar," Jac­obs said.
But what Jac­obs wants most is to see policy solu­tions — de­veloped at Amer­ica Next — put in­to ac­tion.
"It's something that we really haven't been able to do for the past, well, five years now, be­ing in the minor­ity," Jac­obs said. "To put these policies in­to prac­tice would be very grat­i­fy­ing."
Jac­obs will ex­pand his port­fo­lio at the or­gan­iz­a­tion to in­clude en­ergy and edu­ca­tion, but he re­mains most pas­sion­ate about health care.
"If you care about the fu­ture fisc­al policy of the coun­try, you have to care about health care," Jac­obs said. "Con­ser­vat­ives some­times just want to talk about tax policy or budgets, but all of it comes back down to health care in some way, shape, or form."
As one-sixth of the na­tion's eco­nomy,  health care is "the one policy area that af­fects every­body," Jac­obs says.
"Every­body has a health care story. Every­body has opin­ions on the health care sys­tem. It's why [Obama­care] has been such a hot-but­ton is­sue for the past four or five years," he said.
There are four reas­ons why the Obama­care fight is far from over, ac­cord­ing to Jac­obs.
"First of all, this is a bad law," he said. "And second of all, the ad­min­is­tra­tion isn't even fol­low­ing the law."
Jac­obs cites the string of delays in por­tions of the Af­ford­able Care Act among his reas­ons why he be­lieves the ad­min­is­tra­tion only en­forces the law "when it's polit­ic­ally con­veni­ent for them to do so."
His third con­cern is that the people who will be without health in­sur­ance will out­num­ber those who gain it come Janu­ary, giv­en the can­cel­la­tion no­tices sent to mil­lions of Amer­ic­ans who then struggled to nav­ig­ate through Health­Care.gov un­til the ma­jor­ity of the site's fixes were in place in Decem­ber.
Jac­obs hearkens back to fisc­al policy — the cost of provid­ing uni­ver­sal health in­sur­ance and premi­um tax as­sist­ance — for his fi­nal point.
The non­par­tis­an Con­gres­sion­al Budget Of­fice says the health in­sur­ance cov­er­age por­tions of the law will cost the gov­ern­ment $710 bil­lion between fisc­al 2014 and fisc­al 2019. CBO also says, however, that the law con­tains oth­er pro­vi­sions that will "re­duce de­fi­cits over the next 10 years and in the sub­sequent dec­ade."
Jac­obs isn't buy­ing it.
"There's go­ing to have to be a day of reck­on­ing when it comes to this law, be­cause our fisc­al situ­ation was already un­sus­tain­able. The idea that this law is in­vi­ol­ate and will nev­er be re­pealed or changed is just not ac­cur­ate. It's go­ing to have to be," he said. "And, soon­er or later, Demo­crats are go­ing to fig­ure that out."
What We're Following See More »
STAFF PICKS
Bannon Still Collecting Royalties from 'Seinfeld'
54 minutes ago
WHY WE CARE
The Hollywood Reporter takes a look at a little-known intersection of politics and entertainment, in which Trump campaign CEO Steve Bannon is still raking in residuals from Seinfeld. Here's the digest version: When Seinfeld was in its infancy, Ted Turner was in the process of acquiring its production company, Castle Rock, but he was under-capitalized. Bannon's fledgling media company put up the remaining funds, and he agreed to "participation rights" instead of a fee. "Seinfeld has reaped more than $3 billion in its post-network afterlife through syndication deals." Meanwhile, Bannon is "still cashing checks from Seinfeld, and observers say he has made nearly 25 times more off the Castle Rock deal than he had anticipated."
IT'S ALL CLINTON
Reliable Poll Data Coming in RE: Debate #1
1 hours ago
WHY WE CARE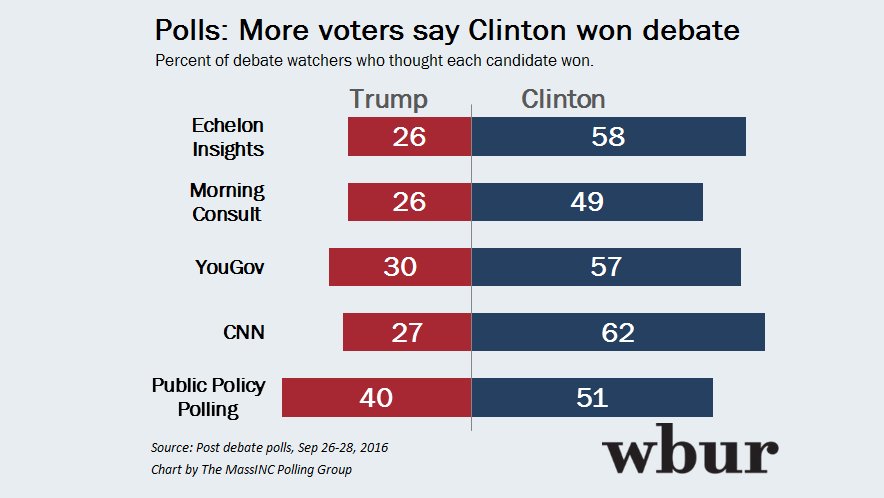 NEXT THURSDAY
Trump Transition Team Meeting with Silicon Valley VIPs
3 hours ago
THE DETAILS
Donald Trump's "transition team will meet next week with representatives of the tech industry, multiple sources confirmed, even as their candidate largely has been largely shunned by Silicon Valley. The meeting, scheduled for next Thursday at the offices of law and lobbying firm BakerHostetler, will include trade groups like the Information Technology Industry Council and the Internet Association that represent major Silicon Valley companies."
WHAT WILL PASS?
McConnell Doubts Criminal Justice Reform Can Pass This Year
3 hours ago
ALSO FIRED UNATTRACTIVE WAITRESSES
Trump Did Business with Cuba
4 hours ago
THE LATEST
Today in bad news for Donald Trump:
Newsweek found that a company he controlled did business with Cuba under Fidel Castro "despite strict American trade bans that made such undertakings illegal, according to interviews with former Trump executives, internal company records and court filings." In 1998, he spent at least $68,000 there, which was funneled through a consluting company "to make it appear legal."
The Los Angeles Times reports that at a golf club he owns in California, Trump ordered that unattractive female staff be fired and replaced with prettier women.