The of­fice of state at­tor­ney gen­er­al usu­ally comes with its polit­ic­al perks, in­clud­ing a semb­lance of bi­par­tis­an­ship, crime-fight­ing cred­ib­il­ity, and statewide name ID. But the last four years have shown it hardly renders a résumé fool­proof.
Since 2015, no cur­rent or former at­tor­ney gen­er­al has been elec­ted to fed­er­al or gubernat­ori­al of­fice, and just four have been elec­ted to those of­fices since 2012, ac­cord­ing to data provided by Bal­lot­pe­dia.
The most re­cent ex­ample is in North Dakota, where 15-year At­tor­ney Gen­er­al Wayne Stene­hjem was de­feated earli­er this month in the Re­pub­lic­an gubernat­ori­al primary. In In­di­ana last month, At­tor­ney Gen­er­al Greg Zoeller failed to se­cure the GOP nom­in­a­tion for an open House seat. And in Novem­ber, Ken­tucky At­tor­ney Gen­er­al Jack Con­way lost by a his­tor­ic mar­gin and failed to keep the gov­ernor­ship in Demo­crat­ic hands.
Each of those races were dif­fer­ent, but all three at­tor­neys gen­er­al faced self-pro­claimed polit­ic­al out­siders who spent mil­lions of dol­lars, of­ten their own.
In an in­ter­view, Con­way said, "Be­ing a sit­ting at­tor­ney gen­er­al for eight years cast me as someone that had been in gov­ern­ment. In Ken­tucky, Matt Bev­in, who I lost to, was prob­ably Don­ald Trump one year early."
Doug Bur­gum, a former Mi­crosoft ex­ec­ut­ive, de­feated Stene­hjem by ty­ing him and le­gis­lat­ors in Bis­mar­ck to the state's wan­ing eco­nom­ic out­look. He also doubled Stene­hjem's TV ad cam­paign and likely be­nefited from Demo­crat­ic cros­sov­er votes.­­­­­­­ A spokes­man for Stene­hjem did not re­spond to a re­quest for an in­ter­view.
In In­di­ana, Zoeller launched a lackluster cam­paign to re­place Rep. Todd Young, who is run­ning for Sen­ate. He fin­ished be­hind self-fund­ing busi­ness­man Trey Hollings­worth and state Sen. Erin Houchin after get­ting out­raised and out­spent by both in the primary. Pete Seat, who con­sul­ted on Zoeller's con­gres­sion­al cam­paign, said Zoeller's "earned me­dia" suc­cess didn't keep up with Hollings­worth's paid-me­dia bar­rage.
Un­like Stene­hjem and Zoeller, Con­way said he sur­vived the primary be­cause his name ID and pre­vi­ous statewide cam­paign ex­per­i­ence cleared the field. But when it came to the gen­er­al elec­tion, he says he was weighed down in part by his de­cision not to de­fend the state's gay-mar­riage ban.
The fail­ures were also pre­val­ent in the two years fol­low­ing Pres­id­ent Obama's reelec­tion. In 2013 and 2014, at­tor­neys gen­er­al also lost gov­ernor races in Mary­land, Neb­raska, New Mex­ico, Mas­sachu­setts, Wash­ing­ton, Maine, and Vir­gin­ia. Some were fa­cing in­cum­bents, in the case of New Mex­ico's Gary King chal­len­ging Gov. Susana Mar­tinez. Oth­ers were Demo­crats, like Con­way or Mas­sachu­setts's Martha Coakley, who fell dur­ing a na­tion­al cli­mate un­fa­vor­able to their party. And then there's Re­pub­lic­an Ken Cuc­cinelli of Vir­gin­ia, who nar­rowly lost to Demo­crat Terry McAul­iffe in 2013.
Even more didn't make it out of Re­pub­lic­an primar­ies for either gov­ernor or Sen­ate, like Don Sten­berg and Jon Brun­ing in Neb­raska or Wil­li­am Schneider in Maine. Mary­land AG Doug Gansler, after a num­ber of high-pro­file stumbles, fell to Lt. Gov. An­thony Brown in a com­pet­it­ive Demo­crat­ic primary to suc­ceed Gov. Mar­tin O'Mal­ley. Gansler said in an in­ter­view that Brown beat him be­cause, as O'Mal­ley's No. 2 and as an Afric­an-Amer­ic­an, Brown had high­er name re­cog­ni­tion and the be­ne­fit of fa­vor­able demo­graph­ics.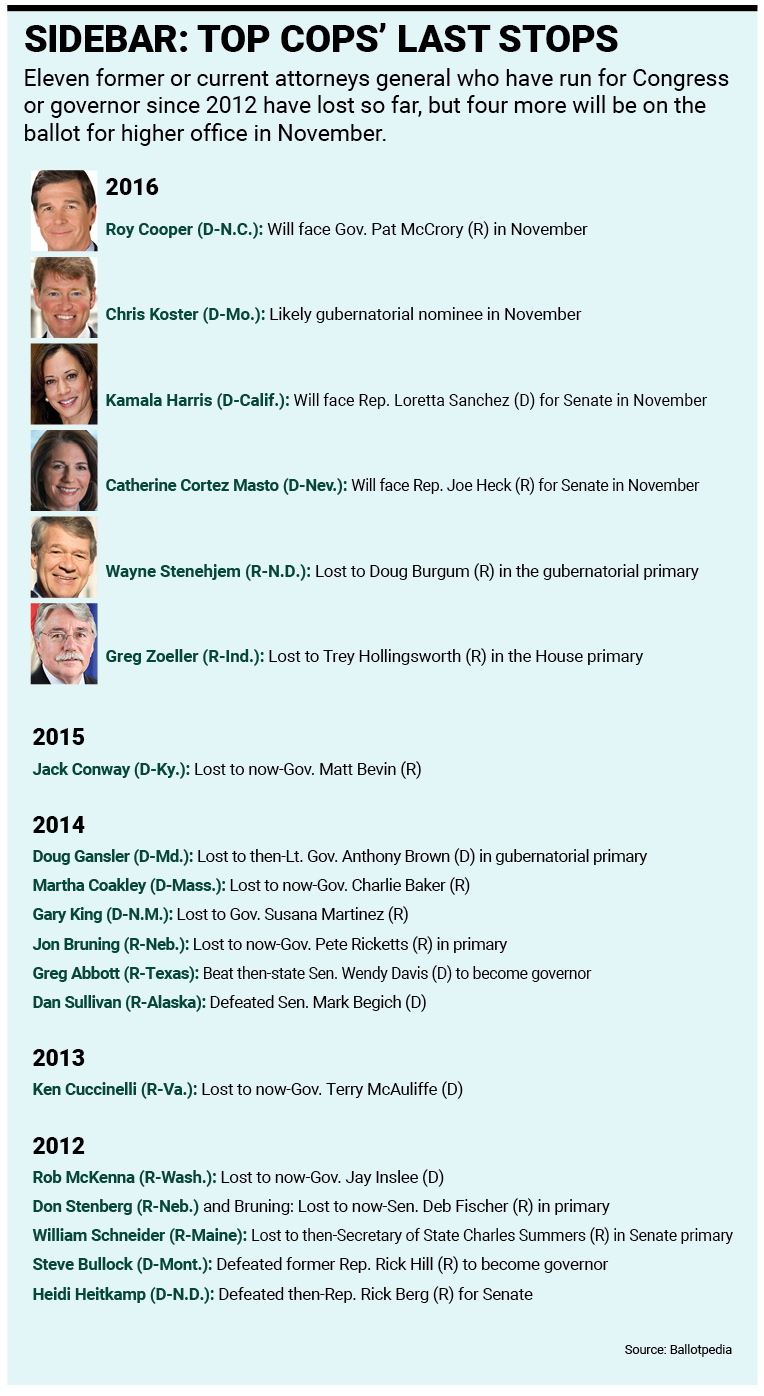 The re­cent trend runs counter to con­ven­tion­al wis­dom and the cur­rent makeup of the Sen­ate. Eight pre­vi­ous at­tor­neys gen­er­al cur­rently serve in the Sen­ate, ac­cord­ing to Eric Os­ter­mei­er, polit­ic­al sci­ence re­search as­so­ci­ate at the Uni­versity of Min­nesota. By con­trast, no cur­rent House mem­ber served as at­tor­ney gen­er­al be­fore com­ing to Wash­ing­ton.
Of course some at­tor­neys gen­er­al found suc­cess re­l­at­ively re­cently, in­clud­ing now-Gov. Greg Ab­bott in Texas and now-Sen. Dan Sul­li­van in Alaska in the 2014 midterms. Two years earli­er, Demo­crat­ic At­tor­neys Gen­er­al Steve Bul­lock of Montana and Heidi Heitkamp of North Dakota out­ran Obama's per­form­ance in deep-red states to be­come gov­ernor and sen­at­or, re­spect­ively.
"Be­ing at­tor­ney gen­er­al put me pretty much at the fore­front of every is­sue that was ad­dressed in North Dakota at the time," Heitkamp said in a brief in­ter­view in the Cap­it­ol last week.
"But," she ad­ded, "take care not to gen­er­al­ize. Be­cause many of­fices of at­tor­neys gen­er­al are way, way dif­fer­ent."
Only some of these can­did­ates had the be­ne­fit of pre­vi­ous statewide cam­paign ex­per­i­ence. Sul­li­van and Maine's Schneider were both ap­poin­ted to their po­s­i­tions. But Sul­li­van said his "num­ber of" law­suits against the Obama ad­min­is­tra­tion ac­quain­ted him with fed­er­al is­sues and Wash­ing­ton "over­reach."
"It's still prob­ably the biggest is­sue in the voters' minds," Sul­li­van said. "And it cuts across party."
While at­tor­neys gen­er­al can of­ten build bi­par­tis­an cre­den­tials by lead­ing on non­par­tis­an is­sues, Gansler sug­ges­ted that the form­a­tion of sep­ar­ate Re­pub­lic­an and Demo­crat­ic as­so­ci­ations at the turn of the cen­tury ac­cel­er­ated the polit­ic­al po­lar­iz­a­tion of the of­fice.
Gansler joked that the Na­tion­al As­so­ci­ation of At­tor­neys Gen­er­al, of which he used to be pres­id­ent, "con­ver­ted to the Na­tion­al As­so­ci­ation of As­pir­ing Gov­ernors."
"You're get­ting more polit­ic­al types that are run­ning for, be­com­ing at­tor­ney gen­er­al, some of whom have a cup of cof­fee and they're off to run for the next job," he said. "And that didn't use to be the case."
A few Demo­crat­ic at­tor­neys gen­er­al are still look­ing for pro­mo­tions in 2016. Demo­crats Roy Cooper in North Car­o­lina and Chris Koster in Mis­souri are in toss-up gov­ernor races in Novem­ber, and Cali­for­nia's Kamala Har­ris and Nevada's Cath­er­ine Cortez Masto, who left of­fice last year, are com­pet­ing for open seats in the Sen­ate.
"As Bill Clin­ton said privately to a num­ber of AGs … be­ing at­tor­ney gen­er­al is the best job in the coun­try," Con­way said. "If you ask him why, he just says, 'Well, you get to go after bad people, do right by good people. If you make any­body mad, you just blame it on the Con­sti­tu­tion.'"