"I prob­ably wouldn't know a traffic study if I tripped over it."
New Jer­sey Gov. Chris Christie clearly doesn't know what a traffic study is, but in all fair­ness, who does — oth­er than the oc­ca­sion­al urb­an-stud­ies stu­dent or mu­ni­cip­al em­ploy­ee? But a sup­posed traffic study is at the cen­ter of a con­tro­versy that has en­gulfed the Re­pub­lic­an gov­ernor's of­fice.
In Septem­ber, the Port Au­thor­ity closed down two of the three up­per-level toll lanes on the George Wash­ing­ton Bridge con­nect­ing New York and New Jer­sey. The clos­ures caused massive traffic jams, even slow­ing an emer­gency re­sponse for a wo­man who would later die. The af­ter­math of this con­tro­versy has left one of the gov­ernor's top aides without a job and threatens the pos­sible pres­id­en­tial pro­spects for the straight-talk­ing state ex­ec­ut­ive.
But what is a traffic study?
It's ac­tu­ally a com­mon tool used by mu­ni­cip­al gov­ern­ments con­sid­er­ing new de­vel­op­ments near ma­jor roads.
Be­fore con­struc­tion be­gins on a new road, traffic sig­nal, or turn lane, trans­port­a­tion of­fi­cials want to see the im­pact that con­struc­tion would have on loc­al traffic and what sort of de­mands would come from it.
So, of­fi­cials close down cer­tain roads or lanes to see how much con­ges­tion builds up and ob­serve what oth­er roads — usu­ally not used for through-traffic — people take to get around the block­age. The data that of­fi­cials gain through ob­serving the traffic jams will give mu­ni­cip­al­it­ies enough in­form­a­tion to jus­ti­fy cer­tain land use and pre­pare for the even­tu­al con­struc­tion.
Gen­er­ally, a road that would re­quire a traffic study is one with "100 newly gen­er­ated vehicle trips in the peak dir­ec­tion (in­bound or out­bound) dur­ing the site peak traffic," ac­cord­ing to guidelines from the In­sti­tute of Trans­port­a­tion En­gin­eers.
Even­tu­ally, the im­pact study will out­line how much traffic ex­ists dur­ing peak times, which roads vehicles util­ize, and what ad­just­ments need to be made in sur­round­ing road­ways.
In this case, the Port Au­thor­ity of New York and New Jer­sey was the ad­min­is­trat­ive body that sup­posedly con­duc­ted the traffic study. However, of­fi­cials say they doubt such a study ex­is­ted. Christie is leav­ing the door open: "There may still have been a traffic study."
It's un­clear what con­struc­tion pro­ject would have re­quired such a study. If he wants to in­vest­ig­ate this fur­ther, hope­fully Christie now knows what he's look­ing for.
What We're Following See More »
ABSENT FROM LIST: GENNIFER FLOWERS
Most Trump Guests Have Military Ties
39 minutes ago
TOP OF MIND
Trending on Google: 'Why Should Trump Not Be President'
49 minutes ago
THE DETAILS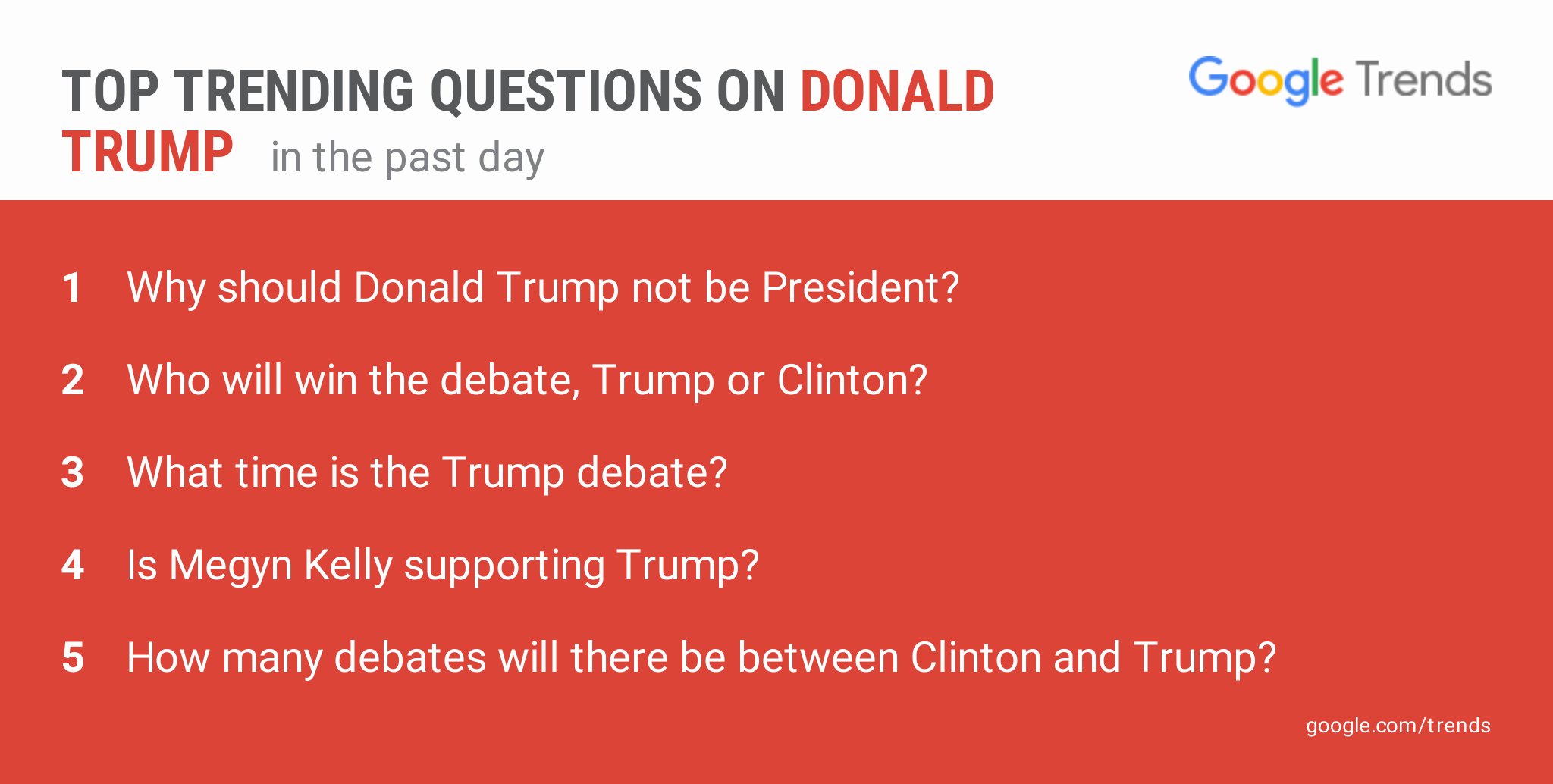 WHO PLAYED THE DONALD?
Longtime Clinton Aide Played Trump in Mock Debates
3 hours ago
THE DETAILS
After keeping the information private for most of the lead-up to the debate on Monday, it has been revealed that longtime Clinton aide Philippe Reines has been playing the role of Donald Trump in her debate prep. Reines knows Clinton better than most, able to identify both her strengths and weaknesses, and his selection for a sparring partner shows that Clinton is preparing for the brash and confrontational Donald Trump many have come to expect.
WEEKEND POLLING ROUNDUP
New Polls Still Show Razor-Thin Margins
3 hours ago
THE QUESTION
How Many Times Has the Trump Campaign Emailed Ted Cruz's Supporters?
3 hours ago
THE ANSWER
More than 30 times, in the case of some donors. Long before Cruz endorsed Trump—and before he even snubbed the nominee at the Republican National Convention—"the senator quietly began renting his vast donor email file to his former rival, pocketing at least tens of thousands of dollars, and more likely hundreds of thousands, that can be used to bankroll the Texan's own political future."