Sen. Kirsten Gil­librand is run­ning out of op­tions in her bid to as­semble the 60 votes she needs to win her high-pro­file battle to change the way the mil­it­ary handles sexu­al as­sault.
The New York Demo­crat has 53 sup­port­ers for her pro­pos­al, but that falls sev­en short of the tally likely needed to over­come the ever-present threat of a fili­buster. And though Gil­librand in­sists she's still build­ing sup­port, the roster of un­de­cided sen­at­ors is look­ing less and less friendly.
In late Novem­ber, Gil­librand's lob­by­ing al­lies made a list of 25 who had not yet com­mit­ted to the sen­tor's pro­pos­al but who — in the view of the ad­voc­ates — had not ex­pli­citly ruled out join­ing her ef­fort. The move to bring those 25 over, however, is founder­ing.
Of those 25 po­ten­tial votes, nine have joined Gil­librand's op­pos­i­tion, and eight are in­dic­at­ing they are at least lean­ing against her.
Now, the list of un­de­cideds in­cludes only one Demo­crat — Montana's Max Baucus — and sev­en Re­pub­lic­ans: Tom Coburn, Thad Co­chran, Or­rin Hatch, Mitch Mc­Con­nell, Jerry Mor­an, Marco Ru­bio, and Pat Toomey.
So why is Gil­librand's bid stalling?
For one, sev­er­al sen­at­ors are opt­ing to sup­port a sep­ar­ate, less con­tro­ver­sial mil­it­ary sexu­al-as­sault meas­ure.
Mis­souri Demo­crat Claire Mc­Caskill is pro­pos­ing a pack­age of more mod­er­ate re­forms that would in­crease com­mand­er ac­count­ab­il­ity, al­low sur­viv­ors to chal­lenge un­fair dis­charge from the ser­vice, and stop sol­diers from us­ing good mil­it­ary char­ac­ter as a de­fense. The plan is non­con­tro­ver­sial, en­joys broad bi­par­tis­an sup­port, and is ex­pec­ted to be ad­op­ted eas­ily whenev­er it comes up for a vote.
That meas­ure, however, doesn't in­clude one of the most highly sought-after re­forms by vic­tim ad­voc­ates: strip­ping the chain of com­mand of its power to de­cide wheth­er-sexu­al as­sault cases are pro­sec­uted. And that's the key switch Gil­librand is push­ing for.
Mc­Caskill isn't back­ing Gil­librand's bill — she act­ively op­poses it — and the two Demo­crats' re­la­tion­ship has grown tense over the mat­ter.
As well as Mc­Caskill's al­tern­at­ive, sev­er­al sen­at­ors said they felt Con­gress had just made sig­ni­fic­ant strides ad­dress­ing the is­sue with re­forms that were in­cluded in the Na­tion­al De­fense Au­thor­iz­a­tion Act that the Sen­ate passed just be­fore it ad­journed for the year.
"I ac­tu­ally think that the res­ult we ended up with in the de­fense au­thor­iz­a­tion bill is prob­ably the cor­rect way to go," said Sen. Ron John­son, R-Wis., who had been tar­geted as an un­de­cided sen­at­or, but con­firmed he plans to vote no on the Gil­librand bill.
Oth­ers did not real­ize the bill is pending on the cal­en­dar, or are du­bi­ous it will ac­tu­ally come up for a vote, which Sen­ate aides say would be Feb­ru­ary at the earli­est. With so much else, par­tic­u­larly fisc­al mat­ters, dom­in­at­ing the agenda, there is little driv­ing at­ten­tion on the Gil­librand bill, or the far less con­tro­ver­sial, al­tern­at­ive from Mc­Caskill and Sen. Kelly Ayotte, R-N.H., which would give Gil­librand op­pon­ents something to be "for."
"We'll see if they bring it up," said Sen. John Bar­rasso, R-Wyo., an­oth­er sen­at­or re­cently con­sidered un­de­cided, who now says he is a no. "You want to leave the chain of com­mand in charge. You need to do everything you can to lessen the amount of sexu­al as­sault. I think the Na­tion­al De­fense Au­thor­iz­a­tion Act has done a sig­ni­fic­ant amount; it could go fur­ther. I think that the Ayotte-Mc­Caskill bill ad­dresses that."
Mc­Caskill has ar­gued that Gil­librand's meas­ure would hurt rather than help the prob­lem. She is backed by re­tir­ing Sen­ate Armed Ser­vices Com­mit­tee Chair­man Carl Lev­in, D-Mich., and his heir ap­par­ent, Sen. Jack Reed, D-R.I.
Sen. Rob Port­man, R-Ohio., is tech­nic­ally un­declared but said he's plan­ning to sup­port Mc­Caskill and is prob­ably a "no" on Gilllibrand, be­cause of con­cerns he has heard from mil­it­ary lead­ers.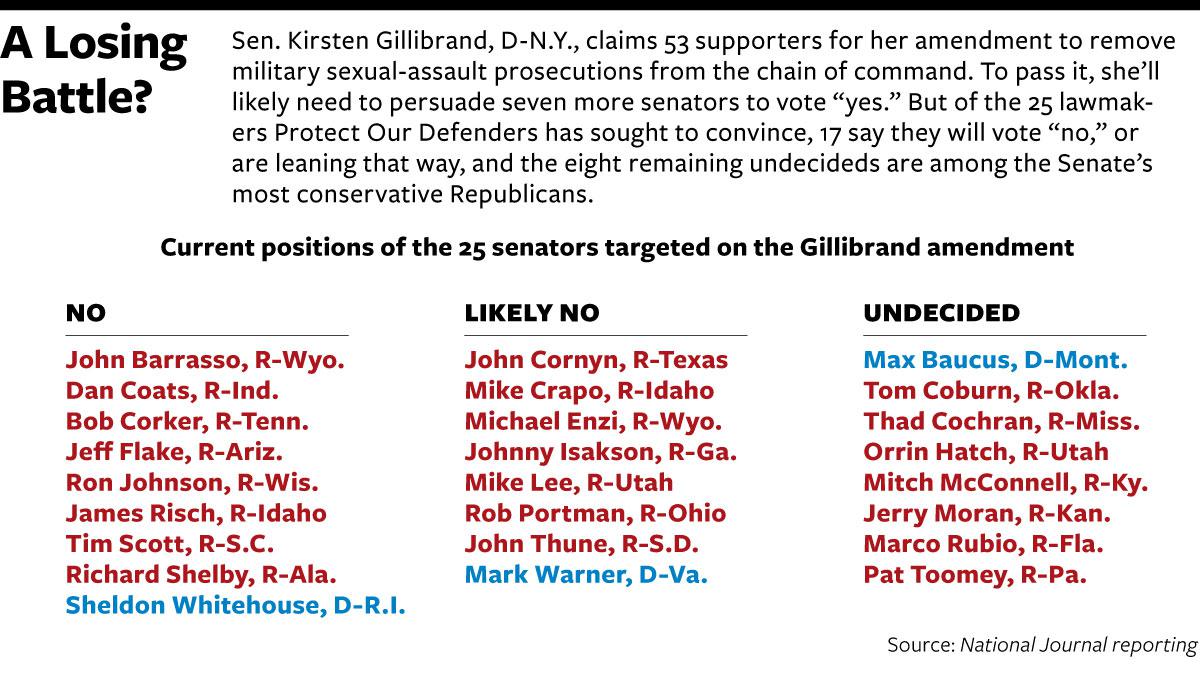 Sen. Shel­don White­house, D-R.I., an­oth­er sen­at­or who was re­cently con­sidered un­de­cided, said he is with Mc­Caskill and Reed, the seni­or sen­at­or from his state.
"I've been with Claire Mc­Caskill," White­house said. When asked why he is against the Gil­librand bill, he said, "I'm sup­port­ing Jack Reed."
Oth­er mem­bers — in­clud­ing a couple who re­main in the un­de­cided camp — aid they are un­com­fort­able with the fact that the Gil­librand bill would change the pro­tocol of the mil­it­ary-justice sys­tem bey­ond sexu­al crimes.
It would cov­er some oth­er crimes, con­sidered a felony in the ci­vil­ian justice sys­tem, that are pun­ish­able by a year or more in con­fine­ment — in­clud­ing rob­bery, for­gery, ex­tor­tion and even murder.
"I still haven't taken a po­s­i­tion on it," said Sen. Marco Ru­bio, R-Fla. "I still have been talk­ing to a lot of the mil­it­ary lead­ers in­clud­ing many in my own state to get a bet­ter in­dic­a­tion of how it would work"¦. It is a ma­jor change in the way we pro­sec­ute crimes in the mil­it­ary. I just want to make sure it doesn't un­der­mine the chain of com­mand."
The is­sue of en­com­passing a broad­er class of crimes than just sexu­al as­sault has so far been a deal break­er for some po­ten­tial sup­port­ers, but Sen­ate aides say that Gil­librand is not look­ing to fur­ther lim­it the scope of her bill as she had flir­ted with last year.
"I thought it was too broad for pulling out non-sexu­al-as­sault cases."¦ There hadn't been a prob­lem in that area," said Sen. Tim Kaine, D-Va., who said he is a "no" for now. "What we ought to do now is im­ple­ment those [re­forms in­cluded in the NDAA] and see how they work and if we haven't done enough and we need to do more we can re­vis­it it."
The pro­ced­ure for the vote has not been worked out yet. It is tech­nic­ally pos­sible that 60 votes would be re­quired to take up Gil­librand's bill, but that it could then pass with a simple ma­jor­ity. But Gil­librand has said she ex­pects ap­prov­al will re­quire 60 votes.
The last time the Gil­librand meas­ure was slated to come up for a vote, the sen­at­or en­joyed a sud­den surge of mo­mentum. She won six ad­di­tion­al sup­port­ers, in­clud­ing key mem­bers like Sen­ate Ma­jor­ity Lead­er Harry Re­id and Sen­ate Ma­jor­ity Whip Dick Durbin. They helped push her over the crit­ic­al simple ma­jor­ity threshold to her cur­rent tally, in the lead up to an ex­pec­ted vote on her meas­ure in the form of an amend­ment to the de­fense au­thor­iz­a­tion bill late last year.
Ad­voc­ates say they will need the pres­sure of law­makers star­ing down a vote again to fo­cus their at­ten­tion and re­start mo­mentum.
"Keep­ing mo­mentum, that is the chal­lenge," said Greg Jac­ob, the Ser­vice Wo­men's Ac­tion Net­work policy dir­ect­or and a former Mar­ine.
Nancy Par­rish, the pres­id­ent of Pro­tect Our De­fend­ers, said they will keep lob­by­ing un­de­cided and op­posed sen­at­ors to get 60 votes even if it takes mul­tiple years.
"We're not go­ing away," she said.
Gil­librand is con­tinu­ing to work her col­leagues. "The sur­viv­ors' day on the Sen­ate floor is com­ing and we will work as hard as we can un­til the gavel comes down to give them the justice sys­tem they de­serve," she said.
"Nowhere in Amer­ica does a boss get to de­cide wheth­er or not a sexu­al as­sault oc­curred ex­cept the mil­it­ary. That needs to change."
{{ BIZOBJ (video: 4424) }}