Add to Briefcase
Jan. 12, 2012, 11 a.m.
MANCHESTER, N.H. — Con­ser­vat­ives have nev­er en­joyed a more com­mand­ing po­s­i­tion in the Re­pub­lic­an Party. In Con­gress, they dom­in­ate the House and Sen­ate caucuses. At the grass­roots, they provided the shock troops for the tea party up­ris­ing that powered the GOP's 2010 land­slide. They sup­ply al­most all of the lead­ing voices on the talk-ra­dio and Fox News cir­cuit that provides the Right with its power­ful sys­tem of per­petu­al mo­bil­iz­a­tion. More than three-fifths of Re­pub­lic­an primary voters in 2008 iden­ti­fied with the con­ser­vat­ive la­bel. And polls show that the vast ma­jor­ity of Re­pub­lic­an voters co­alesce around con­ser­vat­ive po­s­i­tions on most key is­sues, es­pe­cially those re­lat­ing to shrink­ing gov­ern­ment. "This is a real doc­trin­aire set of con­ser­vat­ives who are con­ser­vat­ive in all re­spects and with little vari­ance," says An­drew Ko­hut, pres­id­ent of the non­par­tis­an Pew Re­search Cen­ter.
And yet, after Mitt Rom­ney's de­cis­ive vic­tory in Tues­day's New Hamp­shire primary, the GOP for the second con­sec­ut­ive pres­id­en­tial elec­tion ap­pears poised to pick a nom­in­ee whom much of its con­ser­vat­ive van­guard deeply dis­trusts. What's more, un­less con­ser­vat­ives can defy the odds and uni­fy for an ef­fect­ive stand against him next Sat­urday in South Car­o­lina, Rom­ney will be po­si­tioned to win the nom­in­a­tion even more eas­ily than John Mc­Cain did in 2008, des­pite the great skep­ti­cism that Mc­Cain also faced from move­ment con­ser­vat­ives. Rom­ney, in fact, could be poised to cap­ture the nom­in­a­tion more eas­ily than any pre­vi­ous con­tender in a con­tested GOP race since the mod­ern primary sys­tem took form in 1980.
For the Right, all of this has come out of left field. Many of the move­ment's lead­ing voices — from The Wall Street Journ­al ed­it­or­i­al page to talk-show host Rush Limbaugh to the in­flu­en­tial Red­State — have spent years dis­par­aging the former Mas­sachu­setts gov­ernor as a "polit­ic­al op­por­tun­ist" with a "sur­pris­ingly tim­id" eco­nom­ic plan and an un­re­li­able ideo­lo­gic­al com­pass. Freedom­Works, an­oth­er lead­ing con­ser­vat­ive group, pick­eted a tea party rally in New Hamp­shire last fall just be­cause it al­lowed Rom­ney to speak.
Ef­forts to stop Rom­ney are still swirl­ing on the right. After his Iowa vic­tory, both The Weekly Stand­ard magazine and The Journ­al's ed­it­or­i­al page urged Re­pub­lic­an voters to pre­vent a quick Rom­ney "coron­a­tion," as The Journ­al put it. Dozens of in­flu­en­tial cul­tur­al con­ser­vat­ive lead­ers are meet­ing this week­end in Texas to de­term­ine if they can uni­fy be­hind a can­did­ate, pre­sum­ably an al­tern­at­ive to Rom­ney, who faces wide­spread sus­pi­cion in those circles over both his Mor­mon re­li­gion and his com­mit­ment to so­cially con­ser­vat­ive causes like ban­ning abor­tion. The can­did­ates chas­ing him are barn­storm­ing South Car­o­lina this week, try­ing to mo­bil­ize con­ser­vat­ive voters against a vic­tory for the front-run­ner that would carry him to the brink of the nom­in­a­tion.
South Car­o­lina might trip Rom­ney and ex­tend the race. Yet even those en­gaged in these ef­forts are strug­gling to see how they might plaus­ibly over­come his ad­vant­ages. The Journ­al's ed­it­or­i­al the morn­ing after New Hamp­shire seemed much more resigned to a Rom­ney vic­tory than its call to arms after Iowa; on Wed­nes­day, Limbaugh, while still oth­er­wise crit­ic­al of Rom­ney, de­scribed his Tues­day-night vic­tory re­marks as maybe "the best speech he's ever giv­en." Mean­while, the at­tacks from Newt Gin­grich and Rick Perry por­tray­ing Rom­ney as a cor­por­ate raid­er "loot­ing" com­pan­ies have in­spired Limbaugh and oth­er con­ser­vat­ives to rally to his de­fense.
Those are all the sounds of Rom­ney's most in­tract­able crit­ics be­gin­ning to come to terms with what looks like the in­ev­it­able. "I think South Car­o­lina be­comes the last stand for con­ser­vat­ives," says Er­ick Er­ick­son, ed­it­or of Red­State. "And the fort does get run over by Rom­ney."¦ There are no good op­tions for con­ser­vat­ives right now."
How did a can­did­ate who faces such skep­ti­cism among so many con­ser­vat­ives slice through the field so eas­ily in a party that now leans so far to the right? Polls through 2011 con­sist­ently found that Rom­ney faced sub­stan­tial res­ist­ance among the party's most ideo­lo­gic­ally ar­dent ele­ments, par­tic­u­larly voters who iden­ti­fied with the tea party or as evan­gel­ic­al Chris­ti­ans. Even just last week in Iowa, Rom­ney won only one in sev­en of caucus-go­ers who called them­selves either strong tea party sup­port­ers or evan­gel­ic­als. (In New Hamp­shire, his home turf, he car­ried both groups as part of his de­cis­ive sweep.)
But none of Rom­ney's rivals has demon­strated the full set of at­trib­utes re­quired to con­sol­id­ate those voters against him. Rick San­tor­um of Pennsylvania has not held of­fice since he was routed in his Sen­ate reelec­tion race in 2006; Michele Bach­mann has func­tioned as a gad­fly, not a le­gis­lat­ive lead­er; Ron Paul has been such a fringe fig­ure in the House that he makes Bach­mann look like Sam Ray­burn. Her­man Cain has nev­er been elec­ted (or as it turned out vet­ted for scan­dal).
There are two par­tial ex­cep­tions to this pat­tern. One is Newt Gin­grich — but even he has not held of­fice since 1998, when he resigned as House speak­er amid a re­volt from fel­low Re­pub­lic­ans over his mer­cur­i­al man­age­ment style. The oth­er is Texas Gov. Rick Perry, whose un­waver­ing so­cial and fisc­al con­ser­vat­ism and bit­ing rhet­or­ic prob­ably best po­si­tioned him for the part but whose ini­tial per­form­ances showed him ill-pre­pared for such a big stage.
For many Re­pub­lic­ans, none of these al­tern­at­ives crossed the threshold as a cred­ible pres­id­ent. At a Rom­ney rally in the Rochester, N.H. op­era house last Sunday, Jeff Hilke, a Ports­mouth day trader, seemed al­most per­plexed when asked why he had chosen Rom­ney over his rivals. "He is just far bey­ond any of the oth­er can­did­ates — he comes across as very pres­id­en­tial," Hilke says. "It's nice the me­dia is por­tray­ing Gin­grich or San­tor­um as plaus­ible nom­in­ees, but I just don't see it. Good guys, good mes­sen­gers, but I just don't see a pres­id­ent there." In both the Iowa and New Hamp­shire exit polls, Rom­ney eas­ily car­ried voters who said their top con­cern was elect­ab­il­ity.
Rom­ney's rivals faced an­oth­er big hurdle. Apart per­haps from Perry and Bach­mann, each of whom quickly faded, none has emerged or­gan­ic­ally from the fe­ro­cious an­ti­gov­ern­ment back­lash that emerged dur­ing the fi­nal years of George W. Bush's pres­id­ency and then erup­ted early in Obama's. None of the her­oes of that move­ment — from New Jer­sey Gov. Chris Christie to Sen. Marco Ru­bio of Flor­ida to Rep. Paul Ry­an of Wis­con­sin — felt ready to run in 2012, either be­cause they were too young or too re­cently elec­ted, or both. Oth­er vet­er­an Re­pub­lic­ans po­ten­tially at­tract­ive to those voters also passed, in­clud­ing Rep. Mike Pence of In­di­ana and Mis­sis­sippi Gov. Haley Bar­bour.
Re­pub­lic­an voters were left to choose from a field filled by an older gen­er­a­tion that many of the new­er act­iv­ists view with sus­pi­cion. "In the next primary elec­tion, whenev­er it is, you've got a real group of po­ten­tial can­did­ates who are truly con­ser­vat­ive and pro-growth," says Chris Chocola, pres­id­ent of the Club for Growth, a lead­ing eco­nom­ic con­ser­vat­ive group. "It is an evol­u­tion. Re­pub­lic­ans went bad, and now [the move­ment] is get­ting bet­ter, and it's go­ing up through the House and Sen­ate, but it hasn't pro­duced a na­tion­al lead­er yet."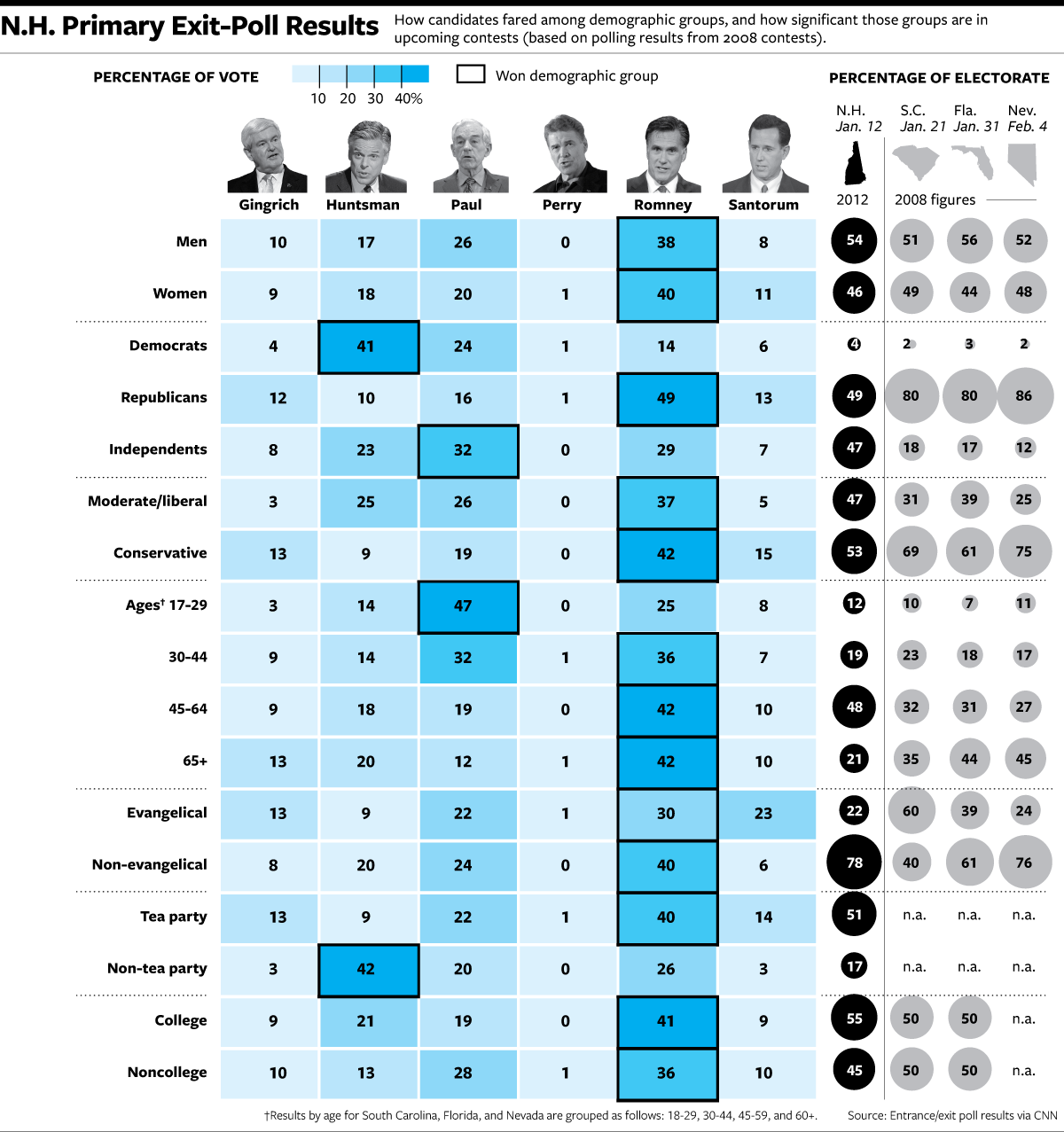 Largely be­cause of this gen­er­a­tion­al mis­match, all of the re­main­ing con­tenders faced their own doubts from a con­ser­vat­ive move­ment already in­clined to dis­trust the party's lead­er­ship. From the 1990s through Bush's second term, many Re­pub­lic­ans tried to reach bey­ond con­ser­vat­ive circles to court new con­stitu­en­cies with cen­ter-left po­s­i­tions on is­sues such as im­mig­ra­tion, cli­mate change, and health care re­form. But the con­ser­vat­ive back­lash that ex­ploded un­der Obama has pro­duced a back-to-ba­sics de­mand in the GOP that has rendered those views uni­formly sus­pect. That has com­pelled not only Rom­ney but also Gin­grich, Jon Hunts­man, and Tim Pawlenty (be­fore he quit the race) to re­nounce or apo­lo­gize for an ex­ten­ded list of earli­er be­liefs. Even Perry was stung by his em­brace of in-state tu­ition for the chil­dren of il­leg­al im­mig­rants — an idea that was not nearly so con­tro­ver­sial when he signed it in­to law.
Rom­ney's own apostas­ies (such as sup­port for an in­di­vidu­al health care man­date) seemed less con­spicu­ous against the back­drop of these oth­er ideo­lo­gic­al blem­ishes. Once Perry im­ploded, none of Rom­ney po­ten­tial rivals stirred genu­ine pas­sion among the in­sti­tu­tion­al or grass­roots Right. The Club for Growth's eco­nom­ic "white pa­pers" on the field reeked of dis­ap­point­ment not only with Rom­ney but also Gin­grich, San­tor­um, and Hunts­man. "Every­body asks them­selves that ques­tion — why don't we have an ob­vi­ous choice that every­one can get solidly be­hind and get en­thu­si­ast­ic about?" says Chocola, a former House mem­ber from In­di­ana. "I wish I had that an­swer."
That di­vi­sion helped Rom­ney win Iowa last week des­pite his mea­ger per­form­ance with tea party and evan­gel­ic­al Chris­ti­an voters: Con­ser­vat­ives frag­men­ted their votes across all of the al­tern­at­ives — San­tor­um, Paul, Perry, Gin­grich, and Bach­mann. Since then, the Right has made little pro­gress to­ward co­ales­cing. While The Weekly Stand­ard cheered San­tor­um's break­through, and con­ser­vat­ive act­iv­ist Gary Bauer en­dorsed him, The Wall Street Journ­al wrote an ed­it­or­i­al poin­tedly ques­tion­ing his eco­nom­ic plan and Er­ick­son at Red­State flatly de­nounced him as a "Big Gov­ern­ment con­ser­vat­ive."
After Rom­ney's re­sound­ing New Hamp­shire win, his crit­ics re­cog­nize that any last-ditch hope of stop­ping him will re­quire rap­id con­sol­id­a­tion around a single con­ser­vat­ive op­pon­ent. But that seems even less pos­sible after the most likely ral­ly­ing points — San­tor­um, Gin­grich, or Perry — turned in such dis­mal show­ings in the Gran­ite State. The highest-pro­file at­tempt to forge a united front is the so­cial-con­ser­vat­ive gath­er­ing this week­end in Texas. One par­ti­cipant, however, says the same dis­agree­ments that have pre­ven­ted uni­fied ac­tion so far will likely doom this at­tempt as well. "I think it will be a use­ful meet­ing," the par­ti­cipant says, "but I would be very sur­prised if there is con­sensus."
Seni­or aides in the cam­paigns chas­ing Rom­ney like­wise struggle to ar­tic­u­late a plaus­ible scen­ario in which South Car­o­lina's big con­ser­vat­ive vote will co­alesce be­hind one of them, es­pe­cially after Paul fin­ished second in New Hamp­shire, deny­ing a lift to any oth­er can­did­ate with a po­ten­tially high­er ceil­ing. In 2008, Mc­Cain cap­tured South Car­o­lina and ef­fect­ively sealed his nom­in­a­tion while at­tract­ing only 31 per­cent of self-iden­ti­fied Re­pub­lic­ans and 26 per­cent of self-iden­ti­fied con­ser­vat­ives be­cause the Right di­vided, primar­ily between Mike Hucka­bee and Fred Thompson. With San­tor­um, Perry, and Gin­grich again split­ting con­ser­vat­ive votes, Rom­ney could rep­lic­ate that for­mula to equally dev­ast­at­ing ef­fect in a state that has usu­ally favored es­tab­lish­ment over in­sur­gent can­did­ates in GOP pres­id­en­tial primar­ies.
That pro­spect re­flects the lar­ger di­lemma for Rom­ney's rivals: While many con­ser­vat­ive voters may prefer an al­tern­at­ive to the former Mas­sachu­setts gov­ernor, there's little evid­ence that most of them are so de­term­ined to stop him that they will en­list in an-any­body-but-Rom­ney cru­sade. In a Gal­lup sur­vey this week, 59 per­cent of con­ser­vat­ive Re­pub­lic­ans de­scribed Rom­ney as an ac­cept­able nom­in­ee — more than picked any oth­er can­did­ate. "Con­sol­id­a­tion against him is go­ing to be easi­er said than done," says a top ad­viser to one of Rom­ney's rivals.
Even if the Right can't stop Rom­ney, that doesn't mean it has been power­less in this race. Like all his op­pon­ents, Rom­ney this year is read­ing from a script largely craf­ted by con­ser­vat­ives. His agenda isn't as re­volu­tion­ary as Perry's or Gin­grich's, but if Rom­ney cap­tures the nom­in­a­tion, he would emerge with a plat­form more right-lean­ing than any Re­pub­lic­an nom­in­ee since at least Ron­ald Re­agan in 1980, if not Barry Gold­wa­ter in 1964.
From the out­set, the GOP nom­in­a­tion race has re­versed the usu­al re­la­tion­ship between can­did­ate and voter. The po­ten­tial nom­in­ees have not so much sought to im­pose their own vis­ion on the party as to demon­strate their re­li­ab­il­ity in im­ple­ment­ing the vis­ion that the party has already forged. "I think that they are ad­apt­ing to the party rather than the oth­er way around," says Pete Wehner, a former top White House ad­viser to George W. Bush who is now a seni­or fel­low at the Eth­ics and Pub­lic Policy Cen­ter. "This is not a Ron­ald Re­agan, Bill Clin­ton, George W. Bush mo­ment where by force of per­son­al­ity, view­point, and ideo­logy, those men re­shaped their party. In this case, no one is re­shap­ing the party; they are fall­ing over them­selves to prove who is the most com­mit­ted to or­tho­doxy. The real cen­ter of grav­ity is the party, rather than the can­did­ate."
That's evid­ent in Rom­ney's com­mit­ment to the House Re­pub­lic­an budget craf­ted by Ry­an that squeezes do­mest­ic spend­ing, con­verts Medi­caid (and oth­er an­ti­poverty pro­grams) in­to block grants, and trans­forms Medi­care in­to a vouch­er, or premi­um-sup­port, sys­tem. Rom­ney pledges to bal­ance the budget while lim­it­ing fed­er­al spend­ing to a lean 20 per­cent of the eco­nomy; de­nounces any path­way to cit­izen­ship for il­leg­al im­mig­rants; and prom­ises to re­peal Pres­id­ent Obama's health care re­form law.
Even so, many con­ser­vat­ive lead­ers still dis­trust Rom­ney and will be quick to bristle at slights to their val­ues if he's the nom­in­ee. "They ex­pect Rom­ney to do this play for in­de­pend­ents without do­ing any­thing to ex­cite the base," Er­ick­son says.
Demo­crats ex­pect, or at least hope, that hair-trig­ger sus­pi­cion will in­hib­it Rom­ney from court­ing cent­rist voters for fear of stir­ring a con­ser­vat­ive up­ris­ing, or even a ser­i­ous third-party chal­lenge, per­haps from the liber­tari­an con­stitu­ency blos­som­ing around Ron Paul. Vet­er­an Demo­crat­ic poll­ster Geoff Gar­in, who is ad­vising a pro-Obama su­per PAC, pre­dicts that Rom­ney that "will be look­ing over his shoulder" through Novem­ber.
Yet Rom­ney, while mov­ing right on is­sues like im­mig­ra­tion dur­ing the primary, already has stopped short of ac­cept­ing the Right's full de­mands on sev­er­al oth­er fronts — for in­stance, he main­tains an op­tion for con­ven­tion­al Medi­care in his premi­um-sup­port plan and doesn't pro­pose fur­ther tax cuts for up­per-in­come fam­il­ies. The fact that years of de­nun­ci­ation from the Right's lead­ing lights hasn't crys­tal­lized in­to a more ser­i­ous primary chal­lenge could em­bolden Rom­ney's camp to take more risks in pur­suit of swing voters if he cap­tures the prize.
"A real move­ment would have found a horse," one seni­or Rom­ney ad­viser says. "I hon­estly can't fig­ure it out. I don't know if the Wash­ing­ton people we all talk to don't com­mand the vast na­tion­al move­ment that they say they do." Even as his rivals muster for a last stand in South Car­o­lina, the Right and Rom­ney are both prob­ing to de­term­ine how much each can push the oth­er in a re­la­tion­ship that could prove more tu­mul­tu­ous and tax­ing than his race to the nom­in­a­tion it­self.